MULES, BRAHMAS FOOTBALL READY TO GO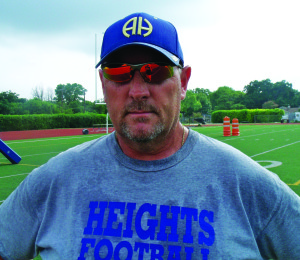 High school football is underway. Even though Alamo Heights High School finished 9-3 overall last season and 7-1 in District 27-5A, head coach Mike Norment sees this year as a fresh start after losing his star quarterback.
MacArthur High School finished second in District 26-6A with a 3-3 mark, 5-6 overall, but fell in the playoffs to a Steele Knights juggernaut that wound up in the state semifinals. Despite that stinging loss, head coach Ben Cook sees a chance to build upon gradual improvements his players have made in the last few seasons.
Now in his fourth year leading the Mules, Norment has 24 lettermen returning from a squad that finished in the second round of the Division I playoffs with a 20-13 loss to LBJ Austin. Five starters on offense and five defensive starters have all come back.
One of the biggest challenges the Mules are facing this fall is overcoming the loss of quarterback Dalton Banks, who is now at Cornell University. Senior Jack Woodland and sophomore Will Chaney were contesting for the QB's job in the preseason. Woodland completed 15 of 19 passes for 169 yards and threw for a touchdown in limited action in 2014.
While developing their passing game, the Mules look to rely on junior running back Deryl Reynolds to help establish a solid running game. He rushed 106 times for 590 yards and six touchdowns last year. Preston Taylor, who last year had 10 catches for 119 yards, looks to make a splash at wide receiver. Center Benji Cohen and offensive lineman Duncan Bartlett will be anchoring the offensive line. Defensive tackle Stone Tarver, defensive end Trem Carr and defensive tackle Brandon Peterson will lead the defensive line. Tarver, Carr and Peterson had 101, 72 and 23 tackles last year, respectively. Holden Daum, who had three interceptions last season, returns to the secondary.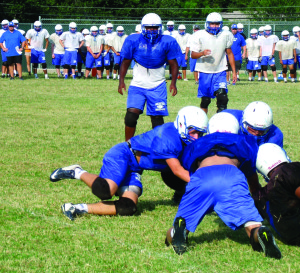 Aside from a few wrinkles here and there, the spread offense remains in Alamo Heights. But the defense has some adjustments to undergo as Josh Smith, defensive backs coach, was promoted to coordinate the defense. "We've made some changes based on personnel, but not much," Norment said.
Heights will begin the season with a non-district schedule against New Braunfels and O'Connor. District play starts on the road Sept. 11 vs. Kennedy. "The non-district matches will prepare us for district. New Braunfels is vastly improved from last year, and O'Connor is a winning program," Norment said. "We know in-district will give us a very tough challenge."
WHAT'S LIKELY AT MACARTHUR
Cook is entering his fifth year at MacArthur, which finished its last postseason with a 70-21 loss to Steele in a Class 6A Division II bidistrict game. The Brahmas have 29 returning lettermen and 11 starters coming back – seven on offense and four on defense.
Three-year letterman Josh Jung was expected to continue as starting QB, but has opted to stick with baseball at MacArthur. Sophomore Tyler Vitt looks to see action in Jung's place. He played mostly WR and was a returner last season. Charles Henderson also has been vying for the QB spot. "Tyler is an all-around good player. Charles is competitive," Cook said. "The seniors have rallied around both of them."
RB Dai'Jon Williams leads the running game. He rushed 109 times for 673 yards and seven TDs in 2014. He'll get help from offensive line anchors such as Michael Ramirez.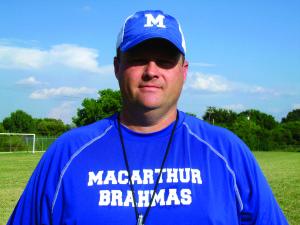 Three-year lettermen WRs Jeremiah Cura and Bobby Lepowitz will be enticing targets in the backfield for Vitt or Henderson. Cura had 44 catches for 749 yards while Lepovitz had 40 catches for 491 yards last season. Linebacker Joey Fiel (110 tackles, 2 INTs), RB Dwight Riley (101 tackles, two sacks) and DL Xavier Bryant (30 tackles) lead the defense.
Finishing under .500 for the season may seem disadvantageous in a strong district that includes the likes of Reagan, Johnson and Madison, but Cook views improvement play by play, game by game. In that sense, this Brahmas squad has been maturing under the same talented leadership. "The kids have a good way of looking at things now. They're thinking about the process of winning and losing rather than just wins and losses," Cook explained. "Our outlook is, we have to be better in Week 2 than we were in Week 1, and that has to be better than Week Zero."
MacArthur begins its season with non-district matches against Marshall, Clemens, South San Antonio High School and Clark before delving into district battle, starting with Madison on Sept. 26.
ALAMO HEIGHTS LITTLE LEAGUE FALL BALL 2015
Alamo Heights Little League takes place on Sunday
afternoons from Oct. 4th through Nov. 15th.
BOYS AND GIRLS T-BALL LEAGUE
Age 4-6
BOYS BASEBALL
Machine Pitch League, Age 7-8
Minor League, Age 9-11
Major League, Age 10-12
GIRLS SOFTBALL
Machine Pitch League, Age 7-8
Minor League, Age 9-10
(Softball Games will be played this Fall)
(All leagues subject to registration minimums)
*Boys League age defined as player's age on 04/30/2016
*Girls League age defined as player's age on 12/31/2015
REGISTRATION
Registration fee of $75
Register Online: with credit card at www.ahll.org
Sept.1-Sept. 25 or Register In Person: Sept. 20 and 27 from 12 noon to 3 pm at the Crow's Nest at the AHLL Park at Alamo Heights – in the Olmos Basin at 50 Alamo Heights Blvd.
If new to AHLL-Please register in person and provide proof of age
(birth certificate) and residence.
QUESTIONS?
See Website at www.ahll.org
Registration – Jon Fisher (jafisher@grandecom.net) 445-1162
T-Ball—Jason Register (jasonregister@carcomineral.com) 862-1139
Boys Machine Pitch— Jeff Beckel (jeff.beckel@frostbank.com) 219-2200
Boys Majors – Dave Curren (dcurren@aztechrental.com) 412-4298
Boys Minors – James Veale (jveale@brinandbrin.com) 391-1725
Girls Machine Pitch – David Hildebrand (david.hildebrand@valero.com) 878-5691
Girls Minors – John Colglazier (jcjr@colglazier.com) 771-0295
2015 ALAMO HEIGHTS FALL BASEBALL CAMPS
LOCATION: Alamo Heights High School Baseball Field
TIME: 4 – 5:30p.m.
CAMP I: 5th – 6th Graders; Tuesdays each week (September 8 – November 3rd *November 10 would be used for bad weather.
CAMP II: 3rd – 4th Graders; Thursdays each week (September 10 – November, *November 12 would be used for bad weather.
WHAT'S COVERED: All phases of hitting, fielding, and throwing, base-running, teamwork, situational games / all geared for this age group.
WHAT TO BRING: Campers bring own glove and bat (if you have one).
WHAT TO WEAR: Players should be comfortably dressed. (shorts, or sweats or baseball pants, etc. are all fine).
COST: $125 per camper (includes a T-Shirt); all checks should be made payable to Jason Thompson.
CAMP INSTRUCTORS: Jason Thompson – Alamo Heights head baseball coach.
TO REGISTER: Call coach Thompson at 979-373-1257 or email: jthompson@ahisd.net.
CAMBRIDGE ELEMENTARY STUDENT WINS PENTATHLON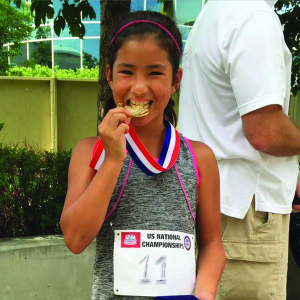 Lulu McCutchen of Cambridge Elementary won a gold medal in modern pentathlon at the Youth National Championships at the U.S. Olympic Training Center in Colorado Springs, CO. Coached by pentathlete Monica Rowland, Lulu swam, fenced and did the combined pistol shooting/running events.
BY EDMOND ORTIZ