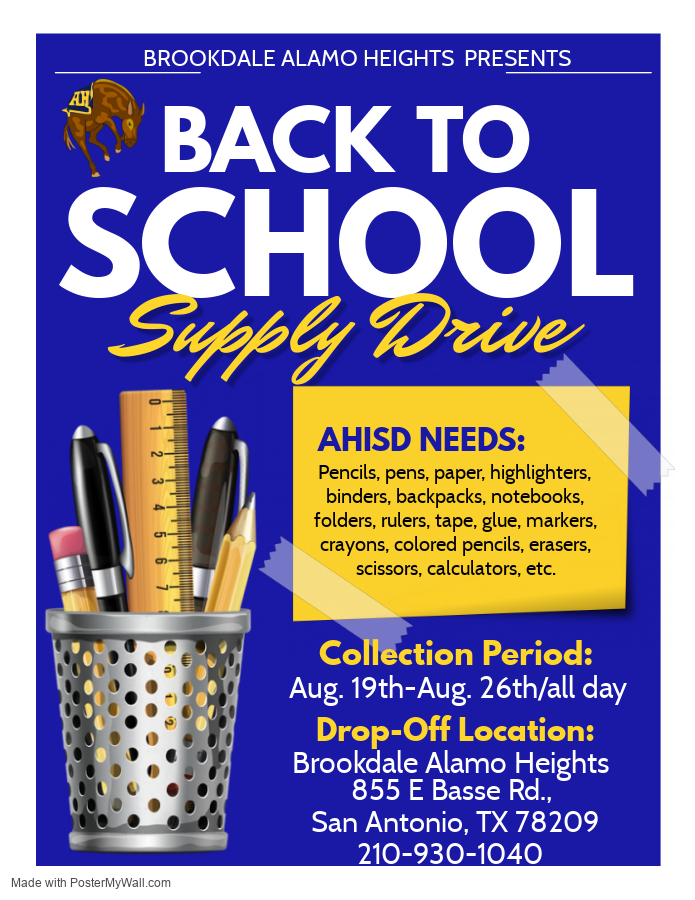 Hi Friends, Family and Alamo Heights Community!
As many of you know, Alamo Heights Mules kicked off the 2020-2021 school year this week with "Heights at Home" with the "Face to Face" schedule to start on Tues. September 8, 2020! Alamo Heights prides itself on the amazing education offered to every child within their reach and this year is no exception. Regardless of what the classroom looks like, kids will still require basic tools and resources to help them excel and prepare for their bright futures!
Many of our students and their families have been greatly affected by the COVID-19 pandemic with many without the means to provide the tools their children need to be successful at school! We hope you will join Brookdale Alamo Heights in our efforts to collect as many items possible so that every child has what they need to help them learn in the best way possible!
Most Requested Items:
Backpacks
Pens (black, blue and red), #2 pencils, mechanical pencils
Spiral Notebooks/Composition Notebooks
Notebook Paper
1" and 3" Notebooks
Pencil Bags
Markers/Colored Pencils
Glue Sticks/Elmer's Glue/Tape
Folders w/brads and pockets
Dividers for binders
Construction Paper
Post-It Notes (all sizes)/index cards
And of course our teachers need love too!!:
Tissues, hand sanitizer, dry erase markers, staples/stapler, paper clips, pens etc!!
The collection site will be located just in front of our Brookdale Alamo Heights community located at 855 E Basse Rd, San Antonio TX, 78209 from August 19th – August 26th! You can pull up, drop off and run!!