Tablescapes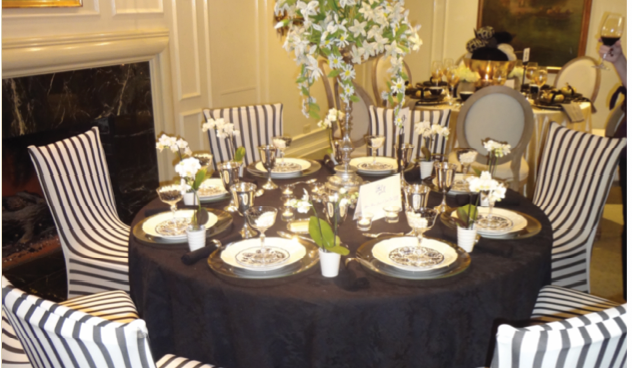 The ladies of Kappa Kappa Gamma outdid themselves once again with the presentation of the 2019 Tablescapes. If you have never attended the cocktail party or luncheon, you have truly missed the flair of local artists, designers, store owners, decorators, and other table designers who are at the top of their game when it comes to designing and presenting a table fit for royalty.
This year's luncheon featured Paloma Contreras, an award-winning interior decorator, tastemaker, and design blogger based in Houston, Texas. During the reception, she was signing her book, Dream Design Live, and visiting with attendees who would more than likely also attend the next day's luncheon.
A few designers included Julian Gold, Sunset Ridge Home & Hardware, Baker Tatum, Citrine/FRAMED, Pottery Barn Quarry Market, Frosted Home, J. McLaughlin, Invitations, Etc., Feliz Modern, Hanley-Wood Fine Gifts, Carroll Dorsey Walker, Paloma Blanca Mexican Cuisine, Trinity Flowers, and Memory Lane Monograms and Gifts. A few attendees included: Dolores and Danny Cuellar, Jamie Weyand, Emily Murdock, Jimmie Balling, Sharon Seal, Randall Hayes, Brooks Hagee, Kristal Gonzaba, Carroll Dorsey Walker, Colleen Monroe, Francie Mannix, Karen Harrison, and Stephanie Etlinger.
---
Autumn Affair
The Bexar County Women's Bar hosted its annual Autumn Affair recognizing the Fourth Court of Appeals and Belva Lockwood honorees. The Affair also funded Restore Education, whose mission is dedicated to transforming the lives of individuals, their families and community through education.
Autumn Affair's theme: Alice in Wonderland. Attendees spent their time purchasing raffle tickets, perusing the silent auction, and popping balloons for prizes. Great purchases included gift certificates for date night for a year, Movado ladies watch courtesy of Gurinski's Jewelers, a catered dinner for 20 courtesy of Spice of Life Catering, a $500 shopping gift certificate courtesy of Julian Gold, and princess for a day courtesy of Oak Haven Massage, Blo Dry Bar, and The Day Spa at Folawns.
Master of ceremonies, Chris Christal of Texas Star Documents introduced BCWB president Hella Scheuerman, and Autumn Affair co-chairs Kathleen Church and Durime Elmazi Fahim. Melanie Fry was recognized as Belva Lockwood Outstanding Young Lawyer and Hon. Rebecca Simmons was honored as Belva Lockwood Outstanding Lawyer.
The Bexar County Women's Bar was created to bring female attorneys, legal assistants, and law students in Bexar County together, and provide a forum for the exchange of ideas about women in the legal field. At the time it was founded, Texas had only thirty-two female jurists in the entire state. Prompted by a desire to appoint a female to an open judicial seat and place more women in leadership roles in the San Antonio Bar Association, organizational efforts by what would become the BCWB began to gather and meet.
---
Poinsettia Ball
Friends of Hospice hosted its annual Poinsettia Ball, a major signature event of the holiday season. The founders' vision for the Ball was to symbolize the true meaning of hospice, that life is to be cherished and celebrated until its end. They wanted to ensure that hospice services provided the love, compassion, and support needed by patients and their families and caregivers during a most challenging time. Monies raised from the annual Ball provide hospice services to uninsured patients and their families through the Friends of Hospice San Antonio Fund of the CHRISTUS Health Foundation.
Mary Overstreet provided the beautiful program artwork of, what else? — poinsettias! And each guest was invited to take a poinsettia plant as a present. The plants are plentiful and line the exterior of the ballroom. Betty Ferrell chaired the event with co-chair Melinda Schultz. A few guests, supporters and underwriters dressed in formal ball gowns and tuxedos included president Lois Armor, executive director Ginger Cave, Sue Dullnig, Derrick Dodge, Ruth and Bob Willoughby, Diana Ridgway, Mary Lou Vielock, Lori and Mark Wright, Olive Anne, Tres Kleberg, Nancy and Charlie Cheever, Patty and Robert Hayes, Paul Overstreet, Leslie and Richard Bennett, and LouAnn and Wayne Noll.
---
HOME
The San Antonio Council of Nationally Accredited Flower Show Judges, member of District VII of the Texas Garden Clubs Inc., and South Central Region of National Garden Clubs, Inc., will present 'HOME' a Standard Flower Show to be held at the San Antonio Garden Center, February 28th, from 3-7pm and February 29th, from 10am – 2pm. Admission is free and open to the public.
The title 'HOME' was selected for this show because it means so much, in so many ways to many. The classes are written to allow the designer the freedom to tell the story of what home means to them through floral design.
---
The Cowgirls Live Forever Luncheon & Fashion Show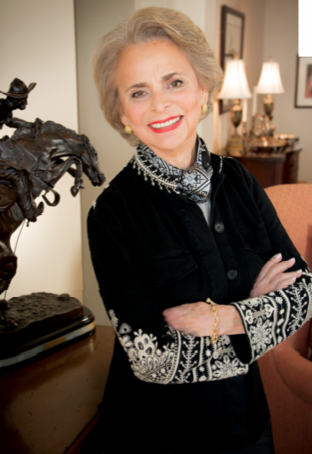 Congratulations to Leighton Donnell, 2020 Honoree for the Cowgirls Live Forever Luncheon & Fashion Show. She was chosen based on her independence, courage, and resilience that preserves our western heritage and helps shape the youth of Texas.
---
Save the Date
March 19
Fur Ball
Witte Museum
6 – 10 PM
The Animal Defense League of Texas is having their 9th annual Fur Ball. This is their largest fundraiser and directly benefits their programs and services to help care for animals. There will be cocktails, live music, a seated dinner, and auctions.
adltexas.org
April 2
Make It Your Mission Gala
Mission San José
6 – 9:30 PM
Celebrate the 29th annual Make It Your Mission Gala by the moonlight. Dance the night away to mariachis and feast on some delicious food. The funds raised during this event aid the protection and preservation of the historical park. This year's celebration coincides with 300th anniversary of Mission San José.
missionheritagepartners.org
April 17
St.PJ's Red Shoes Fiesta
Witte Museum
6 – 10:30 PM
The Red Shoes Fiesta helps support the mission of St. PJ's Children's Home of being a safe refuge for children in crisis. This Fiesta helps fund safe shelter, counseling, quality education, and social activities for the children.
stpjhome.org
April 4
San Antonio Heart Ball
La Cantera Resort & Spa
6 – 9:30 PM
The San Antonio Heart Ball celebrates the efforts of the American Heart Association supporters who help build a foundation of health in the community. The event will include cocktails, dinner, live auction, dessert, and Open Your Heart Appeal.
heart.org
By Leslie Foley