Le Brunch des Chapeaux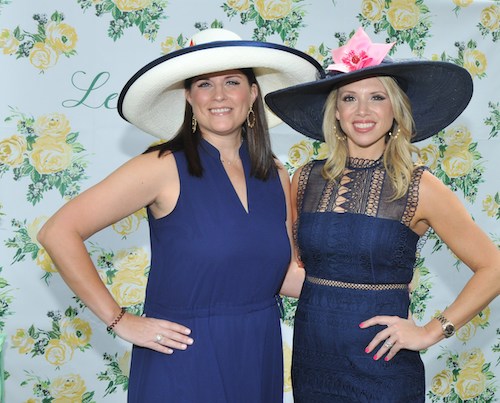 Stylish Co-chairs Linda Leavitt and Liz Lamoureux were all smiles during the 16th annual fundraising event benefiting the Autism Community Network. The sold-out luncheon featured Cloche Designs, founders Laura Nell Burton and Christin Gish, who were responsible for the décor, florals, venue, menu, and all things stylish; and Julian Gold for the newest spring fashions. Delicious desserts were provided by Jessica Hall with Baked Goodness. The table favors were from Super Goop. Illusions provided the rentals, and El Guapo Fabrications was responsible for the sign on the Instagram Wall/Step and Repeat. KSAT'S Ursula Pari emceed the fancy affair. Did I mention hats? These ladies go all out for a chapeaux worthy of the occasion, with unique, one-of-a-kind, chic, elegant, over-the-top, fancy, and classy accurately describing these required accouterments that made a statement. And what must one need to add a little sparkle to their fashionable chapeaux? Jewels of course! Raffle winners walked away with fabulous gifts generously donated from Julian Gold, Kelly Wade Jewelers, Lee Michaels Fine Jewelry & Shetler Fine Jewelers.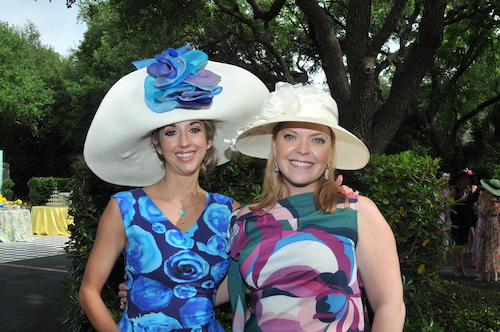 In addition, Julian Gold also hosted Christine A. Moore during a 3-day shopping event prior to the luncheon. Any sale from her 2019 spring hat collection included a 10% donation to the fundraiser. A few gorgeous gals sporting their chapeaux included: Linda Gail Dullnig, Emily McMichael, Kathleen Whitten, Rosanne DiGiacomo, Libby McKelvain, Cathy Haffner, Allison Hayne, Tiffany Fresher, Sara Hunter, Lisa Watel, Christi Tidwell, Jill Peavy, Kelly Wade Fry, Chief Development OfficerPatty Vela, Pam Gilbert, Liz Shumpes and Carroll Dorsey Walker. A tip of the hat to a classy committee and well-dressed attendees for helping to raise funds for the Autism Community Network.
Mind Science Foundation 
Caroline and Alex McAllister along with Daniela and Antonio Serna, IV, co-chaired the annual Mind Science Foundation, 2019 Night of Mystery Gala at the Argyle. The Tom Slick Memorial Treasure Hunt, brain mapping, an opportunity to purchase a themed escape room, the Argyle's delicious cuisine, and special entertainment and experiences were enjoyed by supporters and committee members including Ashley and Timo Hixon, Courtney and Steven Ogle, Jayme and William Russell, Suzie and Mike Bacon, Lindsay and Jack Guenther, Jr., Caroline and William Carrington, Connie and Sandy McNab, Lyn and Pete Selig, board chair Pat and Bud Smothers, Annlyn Osborn, Muffin Moorman, Catherine and Geary Atherton, Courtney and Tobin Smith, Anna and Todd Wulfe, executive director Meriam Good, and Allison and Elliott Hayne.
Co chairs Antonio and Daniela Serna

Co chairs Alex and Caroline McAllister
The Mind Science Foundation (MSF) is a private nonprofit scientific foundation established by philanthropist Thomas Baker Slick in 1958. The mission of the Mind Science Foundation is to explore the vast potential of the human mind in a scientific manner, for the betterment of humankind. Current areas of focus include supporting the search for an answer to one of the major questions of modern science – the puzzle of human consciousness. This is accomplished by funding innovative research and accessible educational programs focused on the mind, brain and human consciousness, all with the goal of improving the human condition. All proceeds from the evening support the important programs of the Mind Science Foundation, including its distinguished speakers series and cutting-edge research exploring the burgeoning field of neuroscience. Founder, Tom Slick, believed that the human mind is the most important frontier for scientific study; and that by understanding it, we can make our world a better place.
DoSeum's 4th Birthday Bash 
Birthday co chairs Ashley Weaver and Triana Grossman

Stacy Hoyt Elizabeth Marceau Elizabeth Reblin Claire Roose and Emily McMurray

Madison Mauze Barrett Tuttle Chris Petty and Meade Flavin
Come on out and celebrate – and they did…the sold-out crowd, 225 guests, led by co-chairs Triana and Brandon Grossman and Ashley and Rad Weaver celebrated the DoSeum's 4th annual birthday with cocktails, dining, and an after party. Guests enjoyed valet parking by Saks Fifth Avenue, sipped cocktails outdoors by Will's Stream, dined inside the DoSeum with Don Strange Catering and partied afterwards – outdoors around the Water Works exhibit to enjoy espresso martini's and macarons from Bakery Lorraine. As you entered the party, you walked through a lit archway of twinkling lights and greenery. The inside was outfitted for a birthday celebration with balloons everywhere, tables dressed with bright linens, balloon centerpieces, and adding to the merriment the wait staff wore white shirts with brightly colored matching ties that coordinated with the linens which helped set the mood for this adults-only celebration. Birthday guests and sponsors Emilie and Chris Petty, Susan Naylor, Xitlalt Herrera-Salazar, Heather Nations and daughter Nicole Nations, CEO Daniel J. Menelly, Suzanne and Jim Goudge, Emily and Richard Reynolds, Melissa Crea, Lisa Wolff, Madison Mauze, Meade Flavin, Jennifer Powers, Barrett Tuttle, Rita Feik, Amy Garcia, Ashley and Conner Quintanilla, Molly Forina and daughter Alex Escobedo, Gloria Leavitt and Dilley, Carla and John Brozovich, Sonya and Gene Williams, Collette and Ty Edwards, Sara and Jeff Brouillard, Danielle and Brooks Kieschnick, Kristal and Casey Taber enjoyed the party favor, the book, Be Our Guest! courtesy of Neiman Marcus with a card attached for a delicious NM Cookie Box available in their award-winning Mariposa Restaurant.
Save the Date
June 7
Super Art Museum Ball St. Anthony Hotel 7 – 10:30 PM
The San Antonio Museum of Art is hosting the Super Art Ball to celebrate their new special exhibit Men of Steel, Women of Wonder. Join them for cocktails, dinner, and dancing. Black tie—let your superhero be your inspiration.
June 9
River of Music Gala St. Anthony Hotel 6 – 10 PM
The San Antonio Symphony is hosting this black-tie affair to commemorate 80 years of magnificent music in our River City. There will be plenty of entertainment with a live and silent auction, prize drawings, and of course music. The Honorary Gala Chairs are Kelley and Pat Frost, Erika Prosper and Ron Nirenberg, Tracey and Nelson Wolff. This is a black-tie event or wear a 1930s or 1940s inspired ensemble.
June 18
9th Annual Art in the Dark La Villita 6:30 – 9 PM
The San Antonio Lighthouse for the Blind and Vision Impaired is having its 9th annual gala. Spend the evening with fabulous local artists, potters, sculptors and jewelry designers who have donated their artwork to this event. Bid on art pieces that catch your interest and take them home that night. Bring a friend, and enjoy cocktails, a musical performance by the Lighthouse Choir…. and delicious food from Chef Dady, Botika, Morton's Steakhouse, Southerleigh, Fogo de Chao, Paesanos, Aloha Kitchen, Sichuan House, and Kathy's Fine Chocolates.
By Leslie Foley