Hospice Annual Luncheon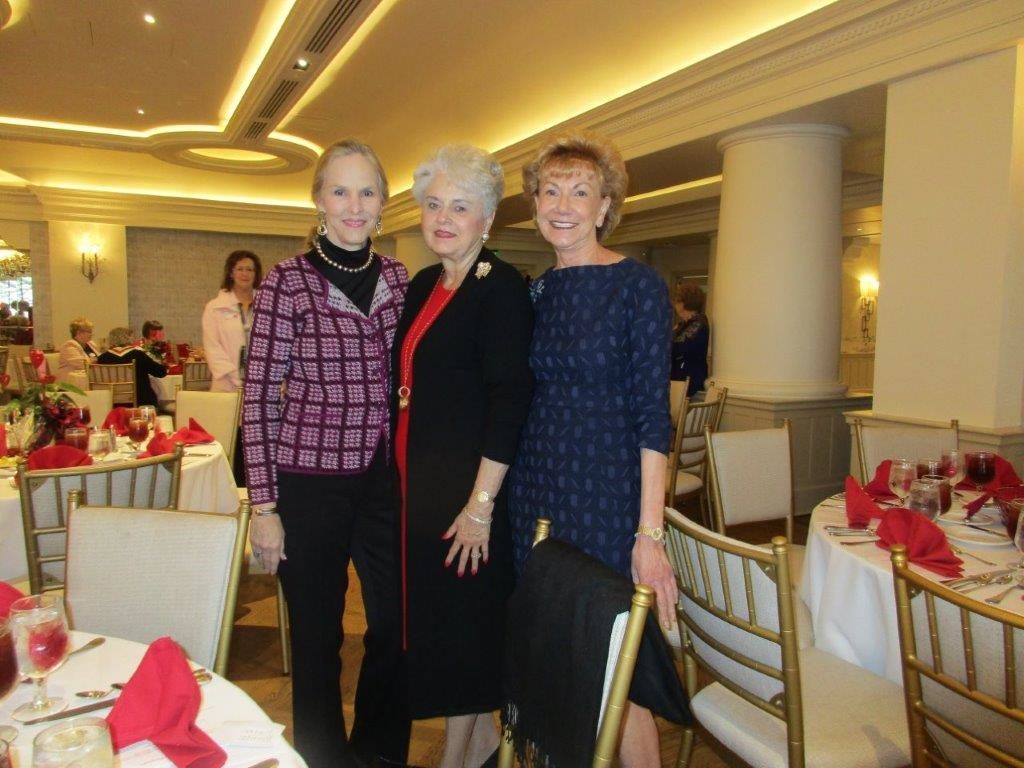 Friends of Hospice San Antonio, Inc., hosted its annual Valentine Luncheon at the San Antonio Country Club. More than 300 guests dressed in red and pink to celebrate and raise funds for this worthy cause. John Strand played the harp and serenaded guests as they arrived and placed bids at the auction tables. The main dining room was dressed in red too — white tablecloths with red napkins and red floral centerpieces with red hearts peeking through. Co-chairs Jane Crump and Judy Clifton, along with committee members Cynthia Duvall, Lois Armor, Patti King, Donna Vaughan, Nancy McHugh, Barbara Williams, Jackie Raney, Barbara Winship, Betty Ferrell, Mary Denny, Carolyn Tolar, Helen Bryan, Sally Ball and Mary Ann Franzke put on a fabulous luncheon.
Julian Gold provided fashions, and several club members modeled, including Heather Finkel, Judy Glotfelty, Kelli Grant, Orbilia Hayes and daughter Jackie Korcher, Heather Martin, Sandee Bryan Marion, LouAnn Noll, Carol O' Brien, Mary Overstreet, Bonnie Reed and Laura Watts. Bill Crump and Wayne Noll served as escorts. Among those enjoying the fashions were Jan Davis, Jan Fischer, Minnette Buzzini, Rose Marie Banack, Irene Shaw, Shirley Crews, Judy Burnside, Veronica Boldt, Becky Ownby Smith, Shirley Bryan, Yeola Mitchell, Frances Beauchamp, Joan Woodley, Anne Ownby, Karen Heintz, Shelly Harrell, Beverly Purcell-Guerra, Lois Jones, Susie Martin, Linda Hammond, Susan Edwards and Lori Wright.
Proceeds support the mission to increase community awareness and understanding of hospice and to raise funds in support of patients and their families in end-of-life-care. The 2017 Valentine Luncheon provides funds for uninsured patients of CHRISTUS VNA Hospice and Palliative Care. Friends of Hospice is celebrating 25 years of helping to ensure that no one is denied care because of inability to pay. It has raised over $4 million and in 2015-16 contributed $201,600 for end-of-life care. Their other major fundraiser is the annual Poinsettia Ball held in December.
Party Perfect!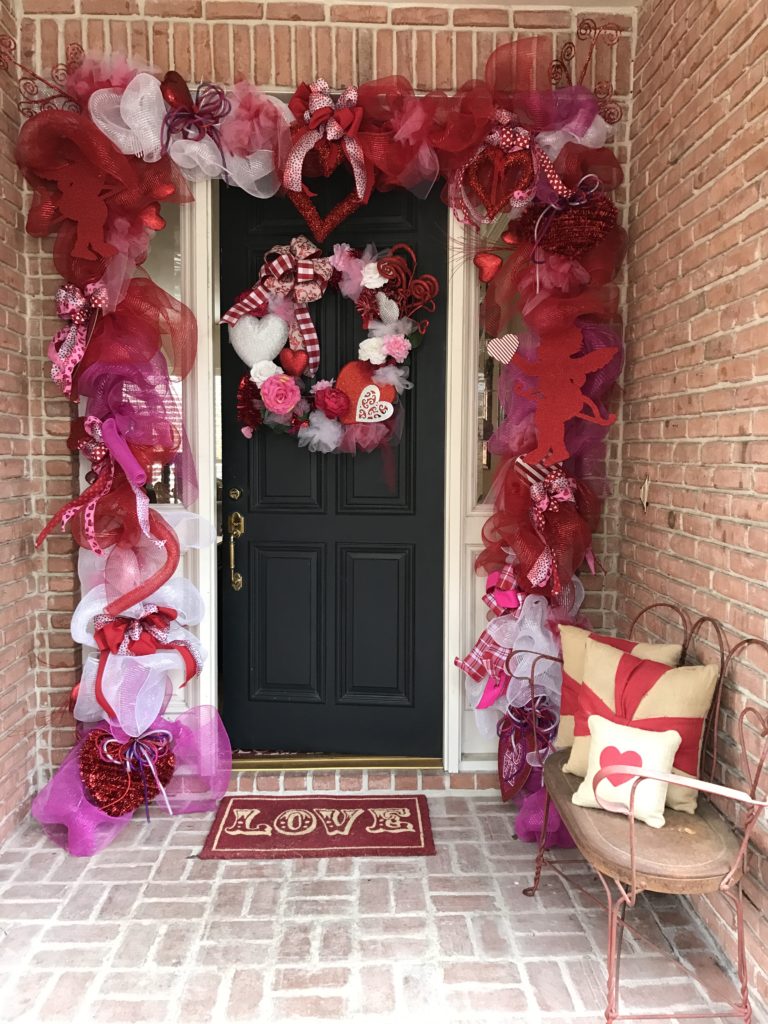 And speaking of hearts, pink, red and Valentine's Day, Debbie McDonald and Cyndee Dubinski hosted a Valentine's Day luncheon for 16 women from Military-Civilian Club. Members were greeted as they entered the house. Feather, Fluff & Flings, a seasonal decorating and event-planning business run by Cheri Stith and Jamie Weyand, outdid itself in decorating the entryway. The event was held at Debbie's beautifully decorated home in Lincoln Heights with a wonderful meal of tomato basil soup, smoked salmon over Caesar salad and chocolate-dipped strawberries, Hershey's kisses and cake balls decorated with x's and o's. We started the luncheon with raspberry prosecco fizz cocktails, a Valentine's icebreaker, followed by a delicious lunch. Among those in attendance were Mertie Wood, Tenchita Flores, Melinda Biggs, Barbara Zars, Sudie Holshouser, Joanne Holshouser, Lupita Medina, Terri Walsh, Caro Canales, Jeanette Rowden, Cindy Naething, Kathy Finley and me. Lovely luncheon, ladies!
Springtime in the City
America the Beautiful is the theme for the annual San Antonio Garden Center Flower Show — a fitting theme paying tribute to our armed forces the weekend before Memorial Day. For more information on exhibiting or viewing, visit www.SanAntonioGardenCenter.org or call 210-824-9981.
The show will take place May 20-21. Chairman Judith Boeckner selected the patriotic theme to pay tribute to the armed forces, and each design will be an interpretation of one of the stanzas in America the Beautiful.
It's also time to check out spring fashions: Reserve your seat at the Spring Catered Luncheon and Style Show benefiting San Antonio Garden Center Scholarship Fund on May 31. Garden Center members will model fashions from Chico's as guests enjoy entertainment provided by jazz keyboardist Claudette and American Swing Dance Revival. The Garden Center will award two scholarships to San Antonio area students majoring in horticulture or landscaping at Texas A&M University and Palo Alto College. For reservations go to Rhonda@sanantonioGardenCenter.org or call 210-824-9981.
Martini Time
You have probably heard of the Martini Party; after all, it's been around for 54 years. The event is hosted by the San Antonio Martini Foundation & Trust. There are 30 directors at any given time, and once you're voted in, that's for a lifetime. To become a member, you must be proposed, endorsed and voted in to gain membership and to be one of the directors. The club supports Boysville. The Martini Party is all about having fun; members and guests enjoy the evening, entertainment and libations. Chairman Luke Holland, a nine-year member, chaired the party for the fourth time. The event was held at La Villita Assembly Building in mid-March with an attendance of 2,000-plus guests.
Directors include chair Luke Holland, director emeritus; Larry Van Horn, Matias Allende, Taylor Allen, Gair Allie, Jr., Adam Buck, Jarod Cain, Miles Donnelly, Dr. John Edwards, Woody Graham, Dr. Brian Harle, Jim Hollerbach, Dr. Chris Labrie, Rafael Luebbert, Tristan Maldonado, Joe McClaran, Ron Ripps, Jason Ritterbusch, Charles Rubiola, Dean Salyer, Dr. Robert Schnitzler, Chip Simmonds, Bubba Storbeck, Stewart Wedge, Dr. Lin Weems, Travis Weems and Daryl Zumwalt. A few guests included Luke's wife, Andrea Holland; Ty Sheehan, Whitney Owens, Grace Boudewyns, Pilar Gonzalez, Margaux Gonzalez Huckabay, Paige Berry, Kim Biffle, Matt Baillio, Erika Gloria Baillio, Alyssa Jane Long, Jay Greathouse, Ryan Cox, Marissa Cox, Lindsey Spillman, Amber Thomas and Sloan Thomas.
Springtime Splendor in the French Quarter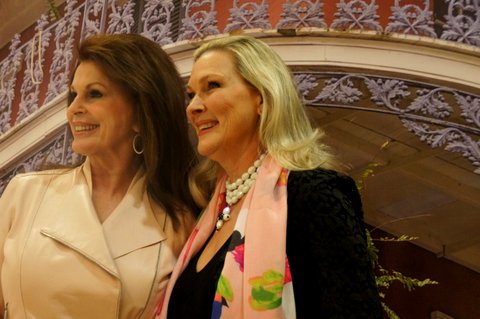 The San Antonio Gardenia and Musical Club hosted its annual luncheon at Oak Hills Country Club featuring fashions by Julian Gold. This year's theme featured French touches in the menu (upon entering the club, guests were greeted with a French 75 Champagne cocktail), and décor and gardenias were set at each place setting. Past presidents in attendance included DeeAnn Simpson, Liz Jauer, Joan Gaither, Carolina Canales, Mertie Wood, Veronica Boldt and Rose Marie Banack. The club was founded by Mrs. E.M. (Thelma R.) Stevens and organized in 1960. Its main objective is to further interest in the fine arts and promote friendships within the membership.
Beginning in 1970, the Queen's Coronation has been held each year in May or early June. The club also presents scholarships every year to students in the fine arts. The club has always participated in the Texas Cavaliers' Fiesta River Parade and in the annual Holiday River Parade and has become known throughout the city for exceptional floats. And, yes, I agree, they are festive and fun!
Models sashayed down the runway to showcase spring fashions. They included Pam Gilbert, Beverly Purcell-Guerra, Laura Humphries, Courtney Schultz, Lisa Astorga-Watel – owner of Bite Restaurant in Southtown, and Orbilia Hayes and daughter Jackie Korcher (these two beauties also modeled for the Hospice Valentine luncheon). Club president Siobhain Buckley — you know the one, the redheaded weather gal at News 4 San Antonio — introduced luncheon chairs Carroll Dorsey Walker and Sharron Batchelor, who outdid themselves with close to 250 guests in attendance.
Other attendees included Anne Gamboa, Suzanne Simpson, Dr. Nora Walker (Gardenia Queen Natalie Curran's mom), Britt Kleberg – winner of a few raffle prizes, Mary Bet Budenholzer, Mary Ann Franzke, Jan Briley, Kathleen Mayes, Denise DeGeare, Tricia Steves, Lulu Zertuche, Angela Troilo, Lori Wright, Debbie Flume, Patty Hayes, Melissa Rubiola, Dorothy Basso, Andrera Olson, Linda Kay Bowman, Dr. Dale Wood, Skinner Simpson, Claire Reynolds, Roslyn Casey, Robbie Casey (winner of a trip to New Orleans), Vivian Vance, Clarice Satel, Olive Ann Kleberg, Julian Gold's Bob Gurwitz and James Glover, Tenchita Flores, newly married Ursula Pari, Loretta Patterson, Carole Thompson, Paula Johnson, Anita Taylor, Melinda Schultz, Barbara Zars, Margie Klesse, Ginger Lord, Mary Ann Stumberg, Camille Magness and Cindy Comfort. Ç'est Magnifique!
Adelante Too Pop-Up Shop
There's a new pop-up shop located next to Adelante Boutique at The Pearl.
Whether it's Havaianas flip- flops, whimsical pool floats, bikinis, beach wear or beach bags you're after, you can find it here through the end of May. Offering caftans, sun hats, hammock chairs, Supergoop sunscreen and products, jewelry and TOMS sunnies eyewear, this pop-up is stocked and ready for some serious summer fun. Call 210-826-6770 for details or specific items.
Eating Healthy!
A VIP reception was held in celebration of the grand opening of the new Natural Grocers store in Alamo Heights. The store is located at 6514 N. New Braunfels Ave. Guests enjoyed a menu of culinary treats featuring organic fruits and vegetables, naturally raised meats and high-quality vegan alternatives. Founded in Colorado in 1955 by Margaret and Philip Isely. Natural Grocers was built on the premise that consumers should have access to affordable high-quality foods and dietary supplements, along with nutrition knowledge to help them support their own health.  The family-run store has since grown into a successful national chain with locations across 19 states.
The DoSeum Turns 2
The DoSeum Museum for kids celebrated with a birthday bash for adults only. Kerri and Rusty Hoermann, JJ and Tracee Feik, John and Rita Feik, Heather de Rojas, Mark and Amy Garcia, Karen and Ron Herrmann and co-chairs Emilie Petty and Carla Brozovich were entertained by the mariachi band during the cocktail hour, which was held outside of the museum. Board chair Suzanne Goudge and husband Jimmy, Chad and Tinsley Smith, Jimmy and Caroline Barnes, John and Maranda Kirk, Walter and Nel Belt, Kim Lewis, Will and Sarah Caruth, Cliff and Vanessa Hurd, Mark and Lauren Pepping, Bryan and Whitney Schones, Doreen Moore, Sergio and Ana Leah Montemayor and Brad and Katie Knolle enjoyed photo fun, fashion sketches and appetizers before heading indoors to dine.
John and Kristin Kellum, Kerr and Sara Hager, Trey and Lynnette Embrey and Jeremy and Caroline Barnes enjoyed the catered dinner by Rosemary's Catering, Saks Fifth Avenue party favors, dark chocolate cake pops with gold glitter and funfetti cake with gold leaf frosting and a glass of bubbly. Following the dinner hour, Jimmy and Fran McCloskey, Dr. Diana Oxford, Angelica Palm, J.B. Richter, Jacob and Hayley Shalley and Mark and Bonnie Muecke were among those treated to 5150 Productions DJ'd After Party with dancing and specialty treats by Bird Bakery and Cupcake Couture; Kahlua milkshakes and tater tots provided by Cheesy Jane's, pastel meringues from Bakery Lorraine and Crunch bars and ice cream cones. What a delicious birthday bash celebrating 2!
Charity Leagues New Chapter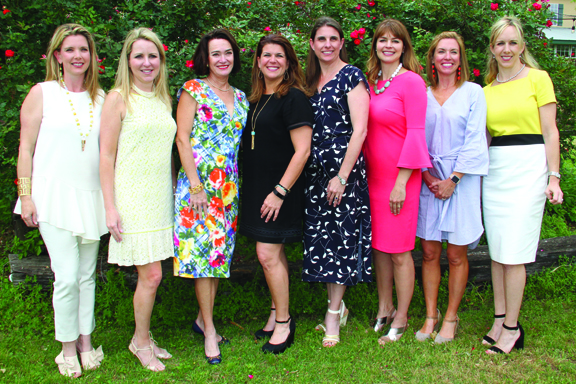 The new chapter of the National Charity League, Inc. (NCL) in Alamo Heights has completed it first year with full classes meeting a great need in the area. NCL, Inc. is a group of mothers and daughters serving the community by volunteering at local organizations. Girls learn parliamentary procedure, how to carry out an official meeting, and how to handle assigned duties for the chapter. The first year ended with the Mariposa Tea for the young ladies and adults.
By Leslie Foley