New York! New York!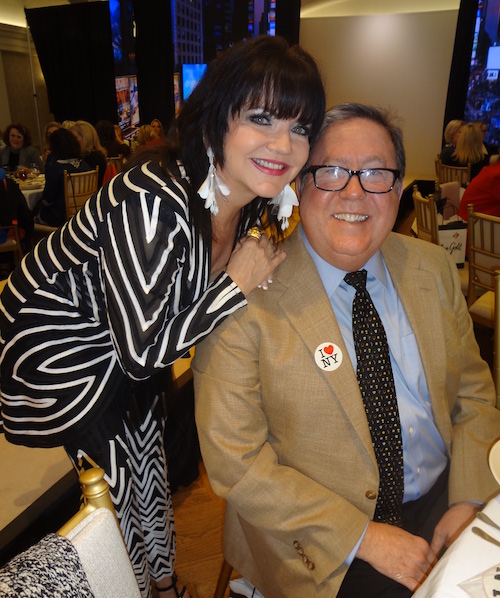 The San Antonio Gardenia Club presented the Julian Gold Spring Runway Show and Woodlawn Theatre Company Performers during its annual luncheon. Sharron Batchelor and her committee: President Carroll Dorsey Walker, Christi Tidwell, Pam Gilbert, Melissa Gonzalez, Denise DeGeare, Laura Humphries, Dee Ann Simpson, Norma Edwards, Kathryn Howie and Tammi McDaniel put together a Broadway hit!
President Carrol Dorsey Walker welcomed guests and Britt Kleberg gave the devotion, followed by the Playbill presentation in front of Times Square.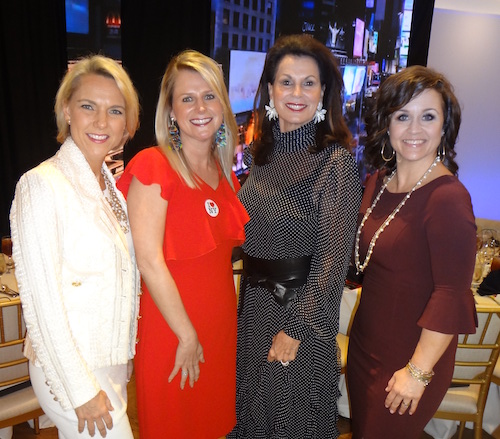 First Scene: Sipping at Tavern on the Green and shopping the silent auction on 5th Avenue. Scene two: Give our Regards to Broadway featuring Melissa Gonzalez belting out New York! New York! (think Liza Minnelli) accompanied by premier students of the Woodlawn Academy of Performing Arts, dressed like Broadway characters with Times Square in the background. Scene three: Fashion Week Runway Show by Julian Gold featuring club members modeling. Scene four: Park Avenue Luncheon, and Big Apple Trip Raffle Prize Drawing, courtesy of Christy Prescott and Corporate Travel Planners.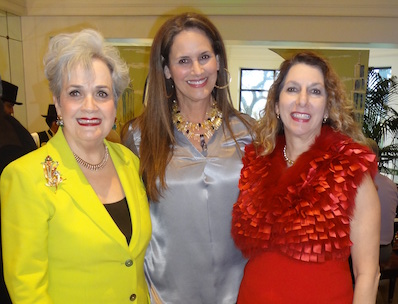 Attendees enjoying fashions included Mertie and Dale Wood, Brooke Bell, Courtney Schultz, Loretta Patterson, Lisa Astorga Watel – who modeled, Karen Heydenreich who won an attendance prize and was sitting with Lisa Wolff, Brandi Hollingshead and Joy Fuhrmann. Kay Bashara, James Glover, Carol Thompson – an auction winner of the package: Audrey Hepburn Would Approve; Lisa Swann, Claire Reynolds, Michelle Healy, Diana Morehouse, Lois Jones, Tenchita Flores, Judy Lachman, Dee Ann and Skinner Simpson, Lisa Blonkvist, Melissa Rubiola –another winner, Pam Wagner, Ursula Pari MacLeod – modeling fashions, Linda Kay Bowman, Robbie Casey, and Iris Ann Francis were enjoying the annual event and luncheon cuisine at San Antonio Country Club.
---
Congrats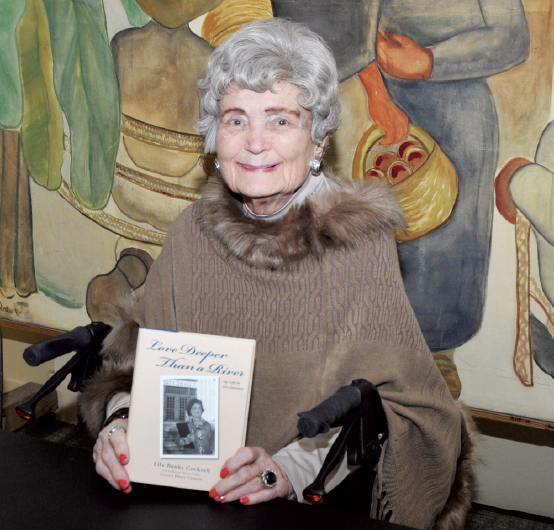 The San Antonio Women's Hall of Fame kicked off the year with a meeting at the San Antonio Conservation Society's Steves homestead in the River House. Dr. Ruth Ruprecht, a 2018 inductee, spoke on her many experiences, career endeavors, outstanding contributions and research advancements in finding a vaccine for AIDS. Following the presentation, Susan Yerkes introduced Mayor Lila Cockrell, a 1984 inductee, who debuted and signed copies of her book, Love Deeper Than A River. More surprises followed — a birthday cake for Lila celebrating her 97th birthday. Members and guests including Virginia Van Cleave, Chris Alderete, Joanna Weidman, Georgia Grubb, Dr. Adela Gonzalez, and Arline Patterson celebrated with cake while waiting for Lila to sign their book.
---
Santikos Art in the Garden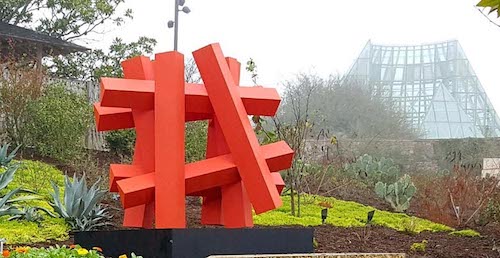 Santikos Art in the Garden presents Geometric Harmony by emerging Mexican artist, Alejandro Martin a.k.a. Otto at the San Antonio Botanical Garden. This is the artist's first solo exhibition. Geometric Harmony includes six of Otto's five-foot metal sculptures and will be on view through January 2020. Based in Mexico City, Otto's metal sculptures are informed by digital symbols of his generation. Bold, larger-than-life hashtags feature prominently in his work.
---
Gus Owen Stephens Foundation
The third annual luncheon was held to help children and their families cope with life-limiting illnesses. Co-founders Elizabeth and Scott Stephens faced what no parents want to face: The Stephens were called into a conference room by their infant son's team of doctors to be gently given the words no parents want to hear, "Your son has a rare genetic condition, so rare that there are only two other known, documented cases." They made the decision to pull their son off the ventilator.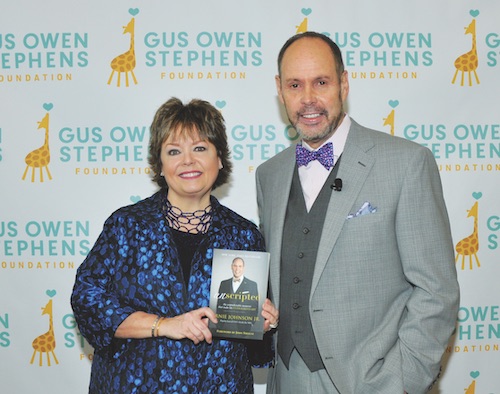 Then the family dedicated themselves to creating in-hospital spaces that felt like home, and called them Butterfly Bereavement Rooms. Their idea grew into developing a state-of-the-art Pediatric Palliative Care program at The Children's Hospital of San Antonio, the city's (and region's) only freestanding children's hospital.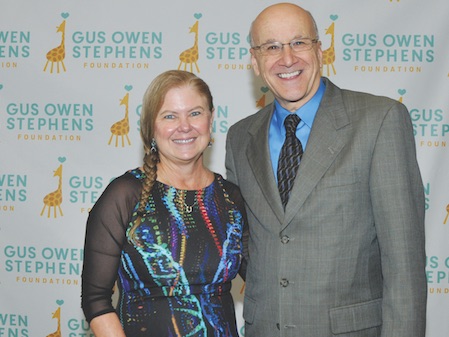 The third annual luncheon featured special guest and popular host of TNT's Inside the NBA, Ernie Johnson, Jr.. Guests attending included Cammie and Chris Moore, Lauren Kate and Peter J. Holt, Susan Naylor, Bert Pfiester, Dr. Daniel Sedillo, CEO at Children's Hospital of San Antonio Cris Daskevich, Beth Plummer, and president of the University Health System Foundation Lourdes Castro Ramirez.
---
Art for All
An exclusive art exhibit was held at the Arts Residences Sales Gallery featuring works of art by artist Eric Breish with AnArte Gallery and blown glass by Gina Garcia. Light Eyes, a mixed media on aluminum 60 x 60 was a standout. Art collectors including attorney Bill Kaufman, Lamont and Melinda Beckett, Suhail Arastu with Musical Bridges Around the World, and Chase Gorman sampled food from Cured and visited with Breish as well as Ana Montoya, owner of AnArte Gallery, Mary Whitten, director at AnArte Gallery, and Claudia Berteaux and Sonia Galarcep, both with Gini Garcia Art. AnArte creative director Louis Davila provided entertainment as guests visited about the new Arts Residences which are 70% sold. Other guests included Gobie Walsdorf, Chandra Handley, KaRynn O'Connell, and Sherie Lené Johnson.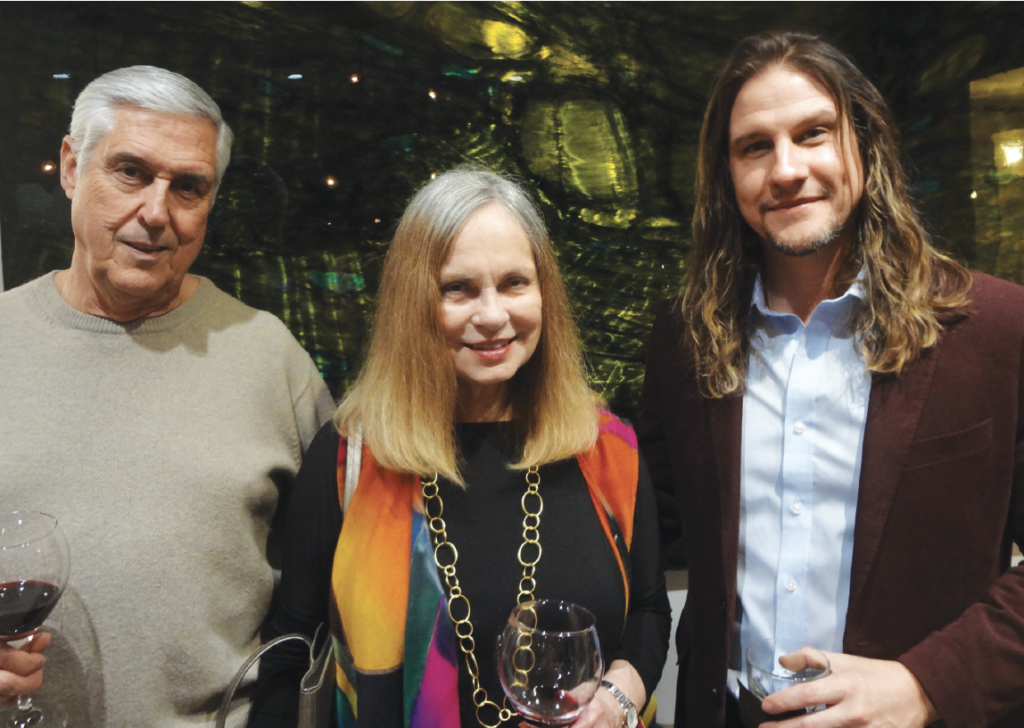 On the same night, curator Karen Evans hosted Art! In the Nude… Art Show, Sale, and Social. The show was held at Lopez Salas Architects and hosted by Rocky Lopez. Guests and artists included Megan Felsing, John De Leon, Chris Radel, Ralph Quintana, Alexandra Nelipa, Gilbert Duran, Anthony Gonzalez, Vie Dunn Harr, Robert Wilkens, Tony Pro, Rodulfo Gaudi, Janet Markstein, Hank Arriazola, and Abraham Mojica. Six paintings were sold during the evening.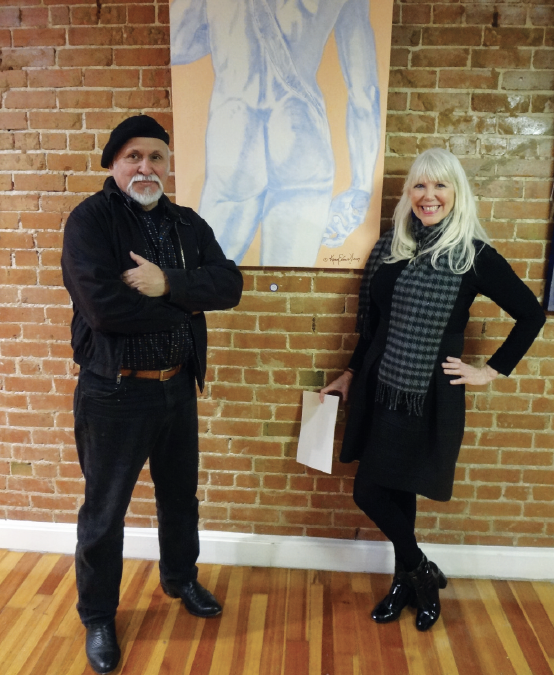 ---
Cheers to Chair-ity
The Texas Biomedical Forum hosted an historic chair auction to support Texas BioMed. Unused chairs from the Argyle were recreated by local artists and designers and auctioned to the highest bidder. President Jody Lutz and event co-chairs Emilie Petty and Mallory Moorman welcomed guests to the 2nd annual event which was held at the Argyle. Twelve artists and designers created works of art that were garnering high bids! Kate Kingman, Bonnie Chumbley, Maria Beck, Mary McNelis Interiors, Carolyn Gnam Design, Casey Roy, Whitney Schones Design, Raven Labatt, Shelby Ames Steed, Melissa Morgan –M Interiors, Debbie Baxter, and Kim Wolfe lent their creativity in support of Texas BioMed.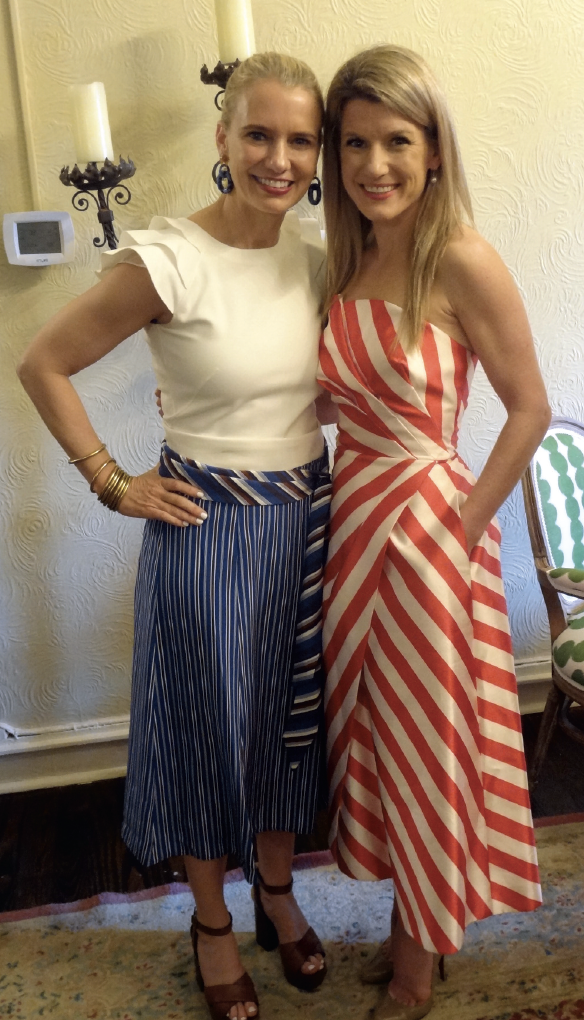 Guests bidding included Cindy Timmins, Tracee Feik, Lisa Wolff, last year's chair Adrian Frost, Karen Herrmann, Brooke Bell, Karen Harrison Mosley, Shannon Turner, Eleanor Pfirrmann, Avril Byrne, Sara Ames, Jessica Worth, Sarah Owens, Alex McDonald, and Christine Sawtelle.
---
Valentine Luncheon Style Show
Friends of Hospice hosted its annual Valentine Luncheon and Style Show at the San Antonio Country Club. Professional models and club members modeled fashions from Julian Gold for the 300 plus attendees who bid at the auction, purchased raffle tickets, and supported uninsured & underinsured patients served through the CHRISTUS Health Foundation. Committee members included co-chairs Melinda Schultz and Ruth Willoughby with Lois Armor, Joanne Cox, president Betty Ferrell, Beverly Pace, Mary Lou Vielock, Carolyn Tolar, Sue Dullnig, Mary Ann Franzke, Stacey Darr, Kenda Willoughby, executive director Ginger Cave, LouAnn Noll, Patti King, Janet Hughes, Diana Ridgway, Linda Jacobs, and O'Lene Stone. Jane Crump, Barbara Chumney, Kathryn Cocke, Donna Gilger, Patti Renfro, Jackie Kocher, and Beverly Purcell-Guerra were also enjoying the fashions and festivities.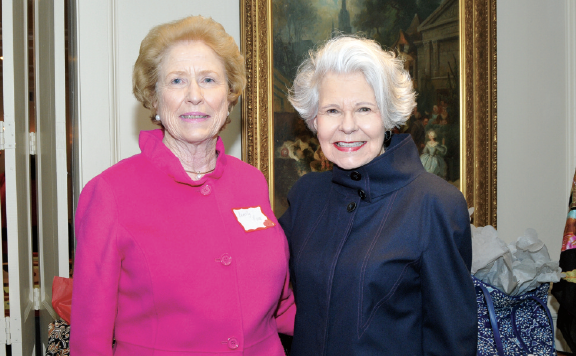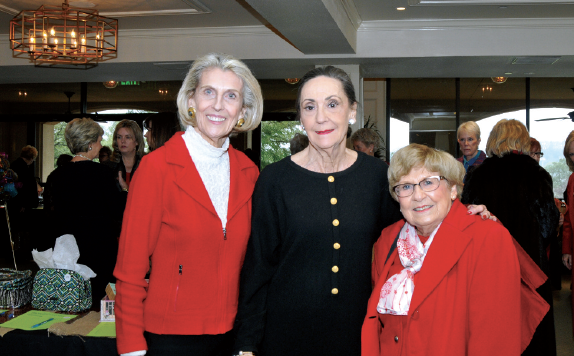 ---
Valentine Celebrations
Civilian ladies from the Military-Civilian Club hosted military ladies into their homes for the February in-home luncheons. For the 2nd time, I attended the home of Debbie McDonald with hostess Cyndee Dubinski. Another wonderful celebration with wonderful food, friends and festivities. Attendees included Terri Pixley, Laura Urbis, Susan Mengden, Beverly Purcell-Guerra, and Rosemary Bolte. Lunch was prepared by Cyndee and served on beautifully set tables for the Valentine luncheon.
---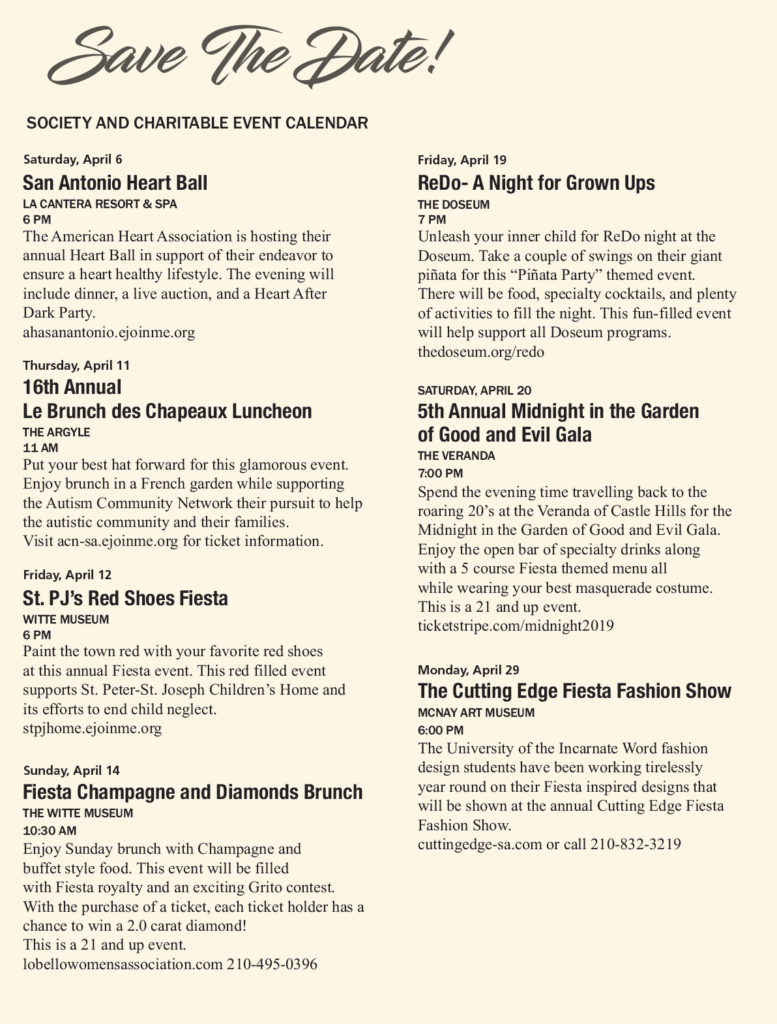 By Leslie Foley