The Witte Game Dinner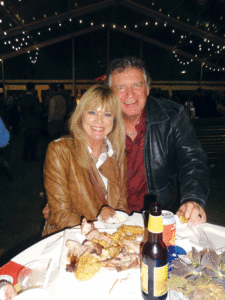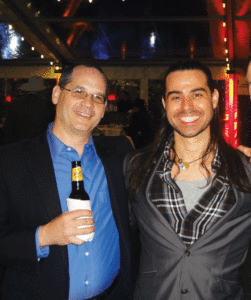 A little rain couldn't keep guests away from the 48th Annual Witte Game Dinner presented by H-E-B in mid-October. Rio Fandango celebrated San Antonio's pivotal role as a lifeline for generations before us and many to come, all with a Spanish flair. Usually held solely outdoors, this event moved inside throughout the Witte and into a tented area outdoors. All the favorites were served by the RK Group including prime rib, wild boar, free range game birds, venison enchiladas, paella, brisket nachos, sausage, wild turkey, ribs, chicken fried quail, gorditas, redfish, shrimp, crawfish, sliders and more. Cheesy Jane's has been serving the famous kahlua milkshakes at the event for 18 years. Thank you Jon Lindskog, dinner wouldn't be complete without them. Game dinner chairs Jessica and Ryan Berg had no worries, a great time was had by all including Texas Heritage Award Sponsor Susan Naylor, Janet Holliday, Allison Zeller, Shannon Gunn, Dr. John D. Edwards, Peggy Walker, Meredith Howard, Amy Garcia, Katie Reynolds, Jon Lindskog, CEO Marise McDermott, Bruce Wallace, Carrie Nicholas, Gayle Embrey, Denise and David Green, Elizabeth and Mitch West, Diane and Richard Azar, Rita and John Feik and Luke Holland. Walter Embrey received the Texas Heritage Award, and Kevin Fowler provided the boot scootin' tunes. Also in attendance, Susan Naylor was in a heated bidding war for Name That Alligator. She won and she named the American Alligator specimen after her son Charlie. She also won custom, made-to-measure boots courtesy of Little's Boot Company. Other auction items included a South African hunting experience, and a one-of-a-kind dove hunting weekend in the newly renovated Paloma Pachanga Hacienda Lodge in Hondo.
Game Dinner Vice chairs: Kathy and Jeff Bolner and the game dinner committee Tara and Bill Anderson, Iliana and Iñigo Arzac, Amanda and Rob Bezner, Michele Camp, Heather and Jeff de Rojas, Tracee and JJ Feik, Nancy and Rob Finney, Amy and Mark Garcia, Meredith and Mike Howard, Kim and Chris Kleberg, Nicole and Rob McClane, Susan Naylor, Daniela and Antonio Serna, IV, Jennifer and Jerry Soltis, Jodi Starr, David Tawil, and Judi and Jesse Travis worked hard to ensure that everyone had a great times at the wild game dinner.
The 2018 Chrysanthemum Ball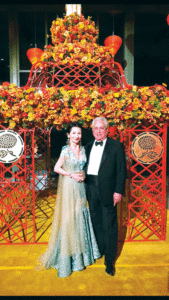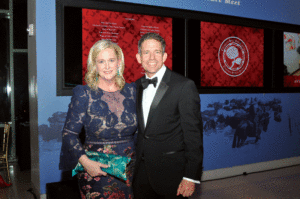 Since 1954, the Charity Ball Association has awarded grants totaling over 20 million dollars to agencies serving children in Bexar County. In 2018, the Charity Ball Association provided grants to the following organizations: Any Baby Can, Any Woman Can, AugustHeart, Blue Star Contemporary, Brighton Center, The Children's Hospital of San Antonio Foundation, Daughters of Charity, Down Syndrome Association of South Texas, Ella Austin Community Center, Family Violence Prevention Services, Inc., Haven for Hope, Kinetic Kids, Inc., KIPP Academy, Madonna Center, Northside Education Foundation, Presa Community Center, SAISD Foundation, San Antonio Food Bank, Seton Home, Sunshine Cottage, and the University Health System Foundation. Board chair Betty Venson and husband Mike, president Leslie Kingman with husband Dr. Tom, Cari Hill, Nancy Lehr, Lisa Thurmond who outdid herself with decor, Bonnie and John Korbell, Melissa and Warren Branch, Sheila Mayfield, Carolyn and Dr. Mark Thornton, Jill Vassar, Anna-Laura Howell Block and husband Michael, KaRynn and Keith O'Connell, Amy Vogt Swaney, Paola and David Lloyd, Sharon and Stuart Seal, Kelly and Kevin Kennedy, Michelle Shetler, Cory Bakke, Fabiola Kaase, Lynn and Thad W. Ziegler, Nel Belt, Terrie and Jamie Musselman, Jessie and Richard Kardys, Nancy and Jim Zachry, Scarlette and Bill West, Jean and Clyde Alexander, Diana Morehouse, Dolores and Danny Cuellar, Rhonda and Joe Calvert, Denise and David Green, and Sara Ames, who gave the invocation, were just a few of the many many patrons in attendance this year at the annual Ball held at the Witte Museum. The décor theme-Chinoiserie, which originated in the 17th century and was actually the European interpretation of the Asian style of décor.
The Women's Bar Foundation Autumn Affair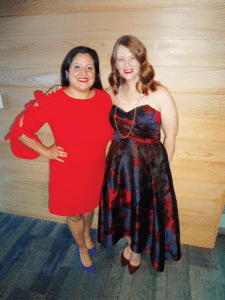 Bexar County Women's Bar Foundation hosted their annual event celebrating 35 years of BCWB. This year's event honored 2018 Belva Lockwood Award Recipients Monica Ramirez Trollinger and Ashley Senary Dahlberg. A huge crowd was on hand to congratulate the winners, recognize Providence Place, and dress to the 80's theme. A few attendees included: Julie Bray Patterson, Honorable Bonnie Reed, Mike O'Donnell, Veronica Vaszuez, Katherine Noll and Michelle Casillas. Proceeds benefitted Providence Place, which supports young adults with disabilities with independent living through their Legacy Transitional Housing Program and their Oasis Home. The story of Providence Place goes back to 1895 when brothel owner, Madame Volino, experiencing an epiphany, transformed her house of ill repute into the San Antonio Rescue Mission. There she cared for young women faced with the shame of having a baby out of wedlock and helped place their babies for adoption with loving families.
Botanical Beauty
Visit the beautiful Botanical Gardens with family and friends this holiday season to enjoy magical displays through the end of the year. Trimmed with garland and red ribbons, the holiday decorations welcome guests and make the Garden a perfect setting for family photographs. Escape to nature with a stroll around the East Texas Lake and see the beauty of the changing seasons.
Thursday, December 13
Friends of Hospice 30th Poinsettia Ball
GRAND HYATT HOTEL SAN ANTONIO
7pm
The evening begins with cocktails at 7:00 pm, followed by a double entrée dinner at 8:00 pm. A dance accompanied by the Nash Hernandez Orchestra completes this beautifully festive evening. Since its 1998 inception, the Poinsettia Ball has raised over $2 million to help thousands of San Antonio's uninsured and underinsured hospice patients and their families. Please support and continue this fundraising tradition by attending the 30th Poinsettia Ball.
friendsofhospicesa.org
January 14 – 20, 2019
The San Antonio Cocktail Conference
VARIOUS VENUES
The San Antonio Cocktail Conference brings together the city's top bartenders and cocktail enthusiasts for educational seminars, guided
tastings and cocktail parties. Houston Street Charities presents the San Antonio Cocktail Conference to celebrate the craft cocktail and
the experience that surrounds it, while engaging the community in supporting children's charities. The conference will donate 100 percent of its profits to benefit children. Past years' beneficiaries include Children's Shelter, ChildSafe, Clarity Child Guidance Center, HeartGift San Antonio, TEAMability and Transplants for Children.
sanantoniococktailconference.com
Saturday, January 19, 2019
Let's Rodeo Ball
JOE & HARRY FREEMAN COLISEUM
6:30 – 11:30PM
Cowboys and cowgirls can kick up their heels at this annual ball benefitting the S.A.L.E. Scholarship Fund. All guests must be over 21.
The dress code for women is Western glitz and sportscoats or jackets for men.
sarodeo.com/about/lets-rodeo-ball-tickets
Tuesday, January 22, 2019
The Cowgirls Live Forever Scholarship Luncheon & Fashion Show
THE MAYS FAMILY EVENT CENTER AT THE WITTE MUSEUM
11:30 – 1:30PM
Since its inception, the Cowgirls Live Forever Style Show has raised $1.8 million for scholarships. The honoree is chosen based on her independence, courage and resilience as a woman whose life exemplifies all the characteristics which preserve our western heritage and help to shape Texas agriculture and the youth of Texas.
sarodeo.com/about/cowgirls-live-forever-scholarship-luncheon-fashion-show
Saturday, January 26, 2019
The Khaki and Plaid Gala
THE HENRY B. GONZALEZ CENTER
6PM
The Khaki & Plaid Gala is one of the largest
fundraisers for Hope for the Future. This fun event brings together 1,300 guests that support Catholic school education in San Antonio. Thanks to the generous underwriters, sponsors, silent and live auction donors and event attendees, the Khaki & Plaid Gala helps provide critical funding that is distributed in the form of tuition assistance to families and students.
Saturday, January, 31, 2019
Broads, Bags & Bingo
THE SAN ANTONIO GARDEN CENTER
6PM
Play Bingo, sample delicious hors d oeuvres, enjoy cocktails from the cash bar and enter the prize raffle. Individual tickets for this event are $65 or purchase an entire table for eight players for $500. Proceeds from this event benefit the Miss Rodeo Texas Scholarship fund. To purchase tickets call Billy Harris at 210-844-8704 or Pat Bowen at 210-364-4388.
Saturday, February 9, 2019
THE LOVE RUN 5K
THE UT HEALTH SCIENCE CENTER
7703 FLOYD CURL DRIVE, SAN ANTONIO 78229
9AM
February is national heart awareness month and the nursing students, faculty and staff of the UTHSCSA School of Nursing invite you to join in at this health-focused event. The fee to enter is $25 and a portion of the proceeds from the run will be donated to the American Heart Association.
eventbrite.com/e/3rd-annual-5k-love-run-tickets
BY LESLIE FOLEY