What a festive and wonderful September and October! The Chrysanthemum Ball, Witte Game Dinner, Red and White Ball, Trefoil Luncheon, the Children's Bereavement Center's 20th Anniversary Luncheon, Taste of the Heights, Legacy of Hope Luncheon, the President's Gala — whew! I hope you donned your jeans or your tux and got out there and dined, danced and had one darn good time!
In our own backyard was Taste of the Heights, which was held at the DoSeum and benefited the children's museum as well as #DavidsLegacy: Stop BULLYINGNow: Stand Up Speak Out. Sampling a few '09 restaurants — Picante Grill, Cheesy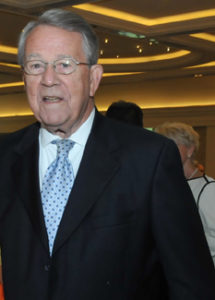 Jane's, Tomatillos and BurgerFi — were Anne Zbinden, Joe and Katherine Taylor, Molly and Michael Wilkes, Morris Kaye and Son's owner Carol Kay Glaze, and Nancy and Mike Gaffney. The Rev. Dr. Louis Zbinden was honored at the Legacy of Hope Luncheon, which featured speaker Mariel Hemingway. There were tributes and praise for Dr. Zbinden's service to the community, which has touched many. He's been a member of the board of Morningside Ministries, Mission Road Development Center, Haven for Hope, Samaritan Counseling Center and the Austin Presbyterian Theological Seminary. Plenty of friends and guests including Sharon and Stuart Seal, Marsha Singleton, Dr. Dale and Mertie Wood, Kim Smith, Tenchita Flores, LeeAnne Hendry and George and Charlotte Mitchell were in attendance to offer their congrats.
Another celebrity to visit San Antonio was Zak Williams, son of the late Robin Williams, who was the featured speaker at the 20th Anniversary Luncheon for the Children's Bereavement Center, chaired by Janie Worth with co-chairs Mallory Ahl, Sally Chasnoff and Linda Fugit. Pat and Tom Frost served as honorary chairs with numerous supporters in attendance.
And who could be a more deserving honoree than Janet Holliday at the 2016 Trefoil Luncheon hosted by the Girl Scouts of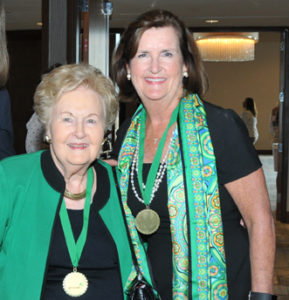 South Texas? She joins the ranks of previous Trefoil award recipients, including Suzanne Goudge, Nancy Zachry, Charline McCombs, Jocelyn L. Straus, and Edith McAllister. These women have done it all and done it right!
Second vice chair Mary Henrich was also there at the Grand Hyatt and returned two nights later with her husband, Dr. William Henrich, at the ninth annual President's Gala, an evening of tribute honoring Joe and Patty Robles in tribute to their service to the nation, our military community and USAA. Dr. Henrich, M.D., MACP, and president of UT Health Science Center San Antonio, welcomed the 1,100-plus attendees and introduced the honorees and the honorary co-chairs, Chancellor Bill and Georgeann McRaven. Supporters, friends and attendees included Dr. Richard and Bunny Becker, Phyllis and Jamie Browning, Paula and Clyde Johnson, Helen and Scott Bryan, Diane Rath and Gary Candy, Freddie Cervera, Ann Biggs and San Antonio Public Library Foundation's president, Tracey Bennett. This special patriotic evening began with the presentation of colors and the national anthem performed by the USAA choir.
Supporters in their tuxedos and ballgowns attended the Red and White Ball — the annual event for the Blood and Tissue Center Foundation, the President's Gala honoring Patty and Joe Robles, and the annual Chrysanthemum Ball, whose mission is to support and enhance the quality of life for children of Bexar County.
Rhonda Kolm Calvert, an elected member at large on the Charity Ball board, is also involved this year as the president of The Battle of Flowers Association. Yes, Rhonda will be overseeing San Antonio's biggest party of the year, scheduled for April 20-30, 2017. A member since 2005, she is stepping up after serving on numerous committees, including fundraising and chairing the parade. Calvert also serves on the board of directors for the San Antonio Chamber of Commerce, is involved with the Downtown Rotary Club and was recently honored as Volunteer Extraordinaire by the Junior League of San Antonio, where she also served as president. And she recently was recognized as 2016 Women's Leadership Award Winner from the San Antonio Business Journal. She is currently the market president of Comerica Bank San Antonio. An Alpha Delta Pi and member of the board of trustees at the United Way of San Antonio and Bexar County, she serves on the executive committee of the San Antonio Fiesta Commission and joined Military-Civilian Club in 2014.
This volunteer and leader holds down a full-time job with over 30 successful years in banking as a dynamic professional specializing in client relationship management, sales, marketing, business development, product presentations and client relations. I am sure you have seen her dedicating her time and talents to one or more of these organizations and always with a smile on her face. In her leisure time (she has any?) she enjoys outdoor activities and waterskiing. She is married to Joseph Dittmar Calvert.
The Military-Civilian Club of San Antonio, in existence for 95 years, held its first luncheon of the season on Oct. 3. The purpose of this organization is to foster patriotism and the integration of the military and civilian communities of San Antonio. It also provides scholarships. Members pay yearly dues and meet September-May, beginning each meeting with a prayer followed by the Pledge of Allegiance and the singing of our national anthem, (AND, YES, ALL OF OUR MEMBERS STAND!) A few past presidents include Sylvia Cutler, Rose Marie Banack, Susan Heinemeyer, Xonia Kargl, Liz Medley, Joan Gaither and Nancy Avellar. Spotted at the first luncheon were Cyndee Dubinski, Beany Berkey, Beverly Purcell-Guerra, Mertie Wood, Minnette Buzzini, Debbie McDonald, Melinda Biggs, Beth Plummer, Linda Skop, Sarah Forney, Lois Jones, Martha Smith and civilian president Cory Bakke.
BY LESLIE FOLEY