THE MCNAY CELEBRATES 60 YEARS
Over at the McNay Museum, there are festivities galore to celebrate 60 years of events, exhibitions, programs, parties and paintings. GET REEL: 60th Anniversary Series features films from 1954, such as Moulin Rouge, on Sunday, Oct. 5, at 3 p.m. Just in time for Halloween, how about a creepy viewing of Creature from the Black Lagoon on Thursday, Oct. 30, at 6:30 p.m.? Gather the family and travel to Paris without boarding a plane on free family day, Sunday, Oct. 26, 1 – 4 p.m., celebrating impressionist artists. French music, stories, programs and scientific discoveries await a passenger hungry for all things French. Several other fabulous ambiance de fête await. Of course, these events are inspired by the current exhibit, Intimate Impressionism, from the National Gallery of Art.
A STEP BEYOND THE ORDINARY
Aesthetic Options Medical Spa and Boutique is excited to unveil its expanded boutique. They have one-of-a-kind accessories, designer clothing, jewelry and so much more. Take a step beyond the ordinary with their designer boots! Located at 4025 Broadway. They can be reached at 210- 858-6868.
RANGER FIREARMS OPENS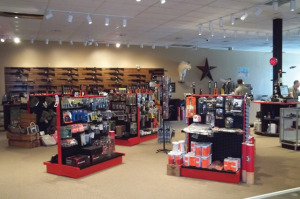 Attention, hunters — make plans to visit the new 5,000-square-foot Ranger Firearms at 1308 Austin Highway, Suite 500. The owner, Edward E. DeWees, III, is a lifelong resident of '09. Inventory at Ranger Firearms includes a variety of firearms, ammunition, optics, gun-cleaning supplies, clothing and supplies for hunters and outdoorsmen. They will gladly place special orders for merchandise that may not be in stock and typically have it ready in 24 hours. Ranger Firearms offers a variety of services, including hunting licenses, on-site gunsmithing and gun cleaning, consignment services and gun purchases. Layaway is available as well as a gun locker program that allows you to store your gun on the premises for safe keeping, always ready and clean for your next outing. They offer free ice to customers to fill their ice chests during store hours. Ranger Firearms employs six or seven salesmen, who are well-versed on all aspects of firearms, with each having special knowledge of particular types of guns.
HAPPENINGS AT THE BOTANICAL GARDEN
Don't miss Gardens by Moonlight on Oct. 11. You will enjoy this beautiful event at the San Antonio Botanical Garden, where the stars and moon cast a glow over the lush gardens, and there's gourmet cuisine and live musical performances on five different stages throughout the grounds. BOOtanica! is next – Oct. 25, 10 a.m. – 2 p.m. It's frighteningly fun for the entire family, with a children's costume contest, trick or treating and creepy crawlers too! Fall plants will be for sale. Craving more? Nov. 7 is Family Flashlight Night — who knows what you might find in the gardens after dark? And don't miss Holidays in Bloom beginning Nov. 28. Do make sure you see the LEGO exhibit — 27 sculptures placed throughout the garden that make up 14 displays created from nearly 500,000 LEGO® bricks! Kids of all ages will be in awe of the displays ranging in size from 6 inches to nearly 8 feet. The largest sculpture is a mother bison made from 45,143 bricks. Each sculpture has an internal structure built with steel rods and plates, which provide support and balance for the large works. Surrounding the support structure, each sculpture is constructed entirely from LEGO® bricks held together using only the connections of the bricks by artist Sean Kenney. Don't forget your camera.
NAPLES STYLE PIZZA – AT BRAZA BRAVA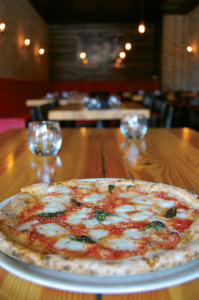 Braza Brava Pizzeria Napoletana at 7959 Broadway, Suite 300, is a family-owned restaurant following the strict traditions of Naples-style pizza, using the freshest ingredients possible. A warm combination of rustic elements and modern touches makes the dining room a cozy and inviting place to dine with friends and family. Unique features are the dining tables and bar top, which were handcrafted of repurposed longleaf pine by the owners. At the heart of this restaurant sits a beautiful wood-fired pizza oven, custom-built in Naples, Italy, and adorned with Valentine red tile. "Each and every day, I feel this positively stimulating energy working here with what feels like my friends and family," comments general manager Chris Guadiano. "I realize we have been truly blessed with a team of people who have a passion for what we do here. This passion is something that naturally translates to our guests as well, which is truly special." Enjoy a glass of wine or beer to complement the menu. Take advantage of Happy Hour offerings Monday through Friday from 3 to 5 p.m., featuring half-price wine by the glass, $2 off all beers and half-price on most appetizers.
EVENTS AT THE WITTE
Oct. 12: Grab your lawn chair and blanket, and head over for a relaxing Sunday afternoon of cool jazz featuring The Westside Horns — The Westside Sound. Kick back under the pecan trees from 3 to 6 p.m. for a memorable afternoon. Tickets are still available for the 44th annual Witte Game Dinner, Monday, Oct. 20, at 6 p.m., featuring entertainer Cory Morrow and tasty vittles from Catering by Rosemary. Delicious wild game, a lively auction, and Western chic-attired attendees make this annual shindig one not to miss! Cocktails & Culture — delight in an evening of cocktails, conversation and innovative museum cultural programming. Oct. 30, 6:30-8:30 p.m. And Grossology: (The IMPOLITE Science of the Human Body) answers all the questions you ever had about your body. Curious about runny noses, body odor, cuts, scrapes, oozy spots and things you usually don't discuss in public? Grossology will provide answers, now through Nov. 3.
BY LESLIE FOLEY