HEB BODY ADVENTURE OPENS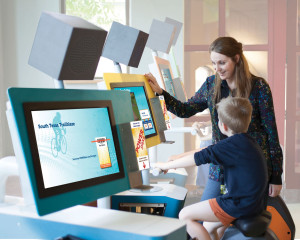 Summer's here, and the time is right for taking in some new adventures. You can start with the new H-E-B Body Adventure Powered by University Health System at the Witte Museum. This highly anticipated addition to the museum features four floors of interactive adventures for all ages. With a virtual buddy as your guide, you can enjoy a variety of virtual experiences from cycling through a San Antonio River landscape to examining a life-size human body on an anatomy table.
If you prefer your activities to be less "virtual" and more "hands-on," there are plenty of real-life activities to engage in, such as live cooking demonstrations and exercises in meditation and relaxation — who couldn't use that? For more information,
check out www.wittemusuem.org.
MASSAGE BY FOOT
If the kids are driving you crazy this summer, take a timeout for a massage with "sole." Heeling Sole Barefoot Massage and Yoga is open in the Carousel Court Shopping Center. Using techniques unlike anything you've ever experienced, these skillful massage therapists use their feet to tackle your deepest tissues, alleviating knots and tension. This may be the first time you've let someone walk all over you and ENJOYED it! Once you're nice and limbered up, take advantage of one of the many yoga classes offered throughout the day. You'll return home relaxed and ready for more summer family fun. For more information visit www.heelingsole.com.
MOVIE NIGHT IN THE HEIGHTS
Need family-friendly fun that doesn't involve theme parks, road trips or plane rides?  Then grab your coolers, chairs and blankets and head over to the Nature Trails parking lot of Viesca for Movie Nights in the Heights. First up is The Lego Movie on June 20 at 8:30 p.m.  It is cosponsored by Generations Credit Union and will feature goodie bags for the kids and the chance to win prizes for the grown-ups. Get there early for good seats!
GIRL SCOUTS WIN TOP HONOR
Four young women from the Alamo Heights area have won the Girl Scout Gold Award, the highest recognition earned by Girl Scouts in grades 9 through 12. They are Kathleen Weigel, Anna Heinemeyer, Virginia Seal and Rachel Vaughan.
Each girl spent 65 to 80 hours planning and implementing a meaningful Take Action project that fulfilled a need within the community. Kathleen Weigel worked at the Green Door thrift shop, which distributes all profits to charities, to improve organization and attract new customers. She will enter Sewanee, The University of the South, this fall.
Anna Heinemeyer created an interactive Junior Naturalist Program for children and their parents at the San Antonio Botanical Garden. She plans to attend Rhodes College in the fall. Virginia Seal initiated Comfort for Casualties to help deserving cats and dogs become better candidates for adoption. She attends the University of Texas at Austin.
Rachel Vaughan, who attends Saint Mary's Hall, worked with the Eastside Sprouts Community Garden to create a Have a Rainy Day project focusing on water conservation.
She installed two rainwater catchment barrels to irrigate the community garden more efficiently.
The four will join other Gold Award recipients from 21 counties in Southwest Texas who will be honored in a statewide ceremony at the State Capitol on June 14.
NORTHEAST OB/GYN ASSOCIATES
OPENS IN QUARRY VILLAGE II CENTER
Northeast OB/GYN Associates is excited to announce the opening of its Alamo Heights location at 250 East Basse Road, Suite 205 in the new Quarry Village II Center.
Its physicians are currently accepting new patients and most insurance plans.
The staff consists of Drs. R. Kent Sadler, Bruce Akright, Robin Womack, Marianna Law and Marcy Rosen plus Marney Kidwell, nurse practitioner.
Northeast OB/GYN Associates value your trust in our health care services. We are committed to delivering the highest quality in health care for women and in offering the most current and comprehensive treatment options available. Please call (210) 653-5501 to schedule an appointment.
ELECTION RESULTS
In case you haven't heard, the Alamo Heights' City Council election results are in, and the biggest news came with the upset of Elliot Weser by his opponent, Lynda Billa Burke. Burke secured the Place 4 position with 61 percent of the vote.  Other winners in the election include Fred Passel, who will serve a third consecutive term in Place 3, and John Savage, who will also be serving a third consecutive term as the Place 5 representative. In other political news, Anne Ballantyne defeated Michelle Brady with 67 percent of the vote to become the new mayor of Terrell Hills. She will fill the shoes that have been filled by Mayor Brad Camp for the past 12 years.  Charles Parish and John Low secured council Places 1 and 2 in uncontested races.