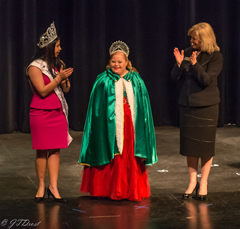 FIESTA ESPECIAL QUEEN 
This year's Fiesta Especial queen is fellow '09er Lindsay Moharam. Lindsay received her sash, cape and crown at the Fiesta Especial royal court coronation on Feb. 17 at Texas A & M University-San Antonio.
Fiesta Especial, an official Fiesta San Antonio event, by RMI is an educational outreach program of Reaching Maximum Independence, Inc. This year's court raised over $18,000.00 for programs and services which benefit individuals with disabilities in the San Antonio area. Fiesta Especial by RMI creates inclusive and educational experiences engaging individuals with disabilities in the culture, diversity and celebrations of Fiesta through community instruction and training.
COOKIES FOR FIESTA
Cookie Cab Cookie Company (try saying that three times fast) is back with their famous Fiesta Lime cookie. If you had it before, you know why I am writing this. If not, order plenty for your Fiesta fun.Visit Cookiecab.com or call 210-848-9920 to order and check out additional flavors. Follow on Facebook, Instagram, and Twitter to get the coupon codes.
FIESTA IN BLOOM
A Fiesta of Violets will take place this month at San Antonio Garden Center, 3310 N. New Braunfels. Beautifully grown African violet plants, courtesy of Magic Knight African Violet Society, will be for sale April 8 from 1 to 4 p.m. and April 9, 9 a.m.-3 p.m. And a Festival of Orchids, presented by the Alamo Orchid Society, will be on display and for sale April 15-17. Learn tips, caring and growing ideas for these beautiful flowers from eight different regional vendors. Visit www.alamoorchidsociety.org for details. Free admission.
Annual Fiesta show and sale by San Antonio Cactus & Xerophyte Society at the Garden Center will be held April 21-23, 9 a.m. – 4 p.m. each day, with free admission. Plant auction is at 2 p.m. Friday and Saturday.
Last but not least, the San Antonio Rose Society's Spring show and sale is Saturday, April 30, 1- 4 p.m. This judged show is free to the public with award-winning roses depicting the theme "The Wizard of Oz in Roses." There is also a rose growing seminar at 2 p.m. You can't believe the finished designs!
Joe Don Zetzsche, director of H-E-B Blooms floral department, and the man in charge of H-E-B's 250 floral shops, will take you behind the scenes at 9:30 a.m. at the Garden Center on April 6. He will share his knowledge of flowers and other plants.
And for collectors, the Garden Center is selling its first Fiesta medal to benefit the Scholarship Fund. Fiesta medals are available for purchase for $7.
Dressed to Kill: Glam and Gore in Theater
Dressed to Kill explores the provocative pairing of glamour and gore in the theater. Drawing upon the McNay's Tobin Collection of Theatre Arts, this exhibition focuses on stylish seductresses and fashionable fiends that are among the most memorable characters of the musical stage. Designs for Mozart's Don Giovanni, Bizet's Carmen, Puccini's Turandot and Elton John's Lestat reveal one of the great strengths of the Tobin Collection — suites of costume drawings for entire productions. This exhibition runs through June 5.
Also at the McNay, ArtFULL Wednesdays: Food for Thought: Sauerkraut and Pickle – Taste-test food and drink related to art on view, April 20, noon – 1 p.m. That should tickle your taste buds — only for those who dare!
FRONTIER BURGER TO OPEN
Frontier Burger is bringing the charbroiled burgers of 1940's back to San Antonio and we can't wait. They will serve delicious all-American burgers, fries, onion rings and hand-spun milkshakes. Frontier Burger is under construction at 838 NE Loop 410. Stay tuned, they will be charcoal broiling burgers soon!
Paint it Pretty
Instructor Lesta Frank will help you create a memorable Mother's Day card with watercolors/mixed media. The event will take place at the San Antonio Botanical Garden on April 24 at 1:30 p.m. The fee, $45, includes supplies. Won't your mom be pleasantly surprised at your creativity? Call 210-536-1400 for details.
Congratulations, Oak Park/Northwood
Congratulations to all in Oak Park/Northwood HOA Nextdoor members for recognition with Chief McManus for having the most members on Nextdoor! Jonathan Delmer and a fellow Nextdoor lead were present to accept the recognition. Deputy Chief Trevino was also thanked for his support and advocacy for improved safety in our neighborhood.
Wear your food? Share your life?
BarbacoApparel is for you. This locally based clothing line (www.barbacoapparel.com) celebrates SA culture and folklore, Hispanic culture and the Texan lifestyle with a collection of themed T-shirts, postcards, accessories and artwork. Would you wear a shirt that says Potato & Egg? Or dress your kid in their onesie that reads Bean & Cheese? Well, if you answered yes, you may purchase at Whole Earth Provision Co., in the Quarry, among other locations and pop-up places.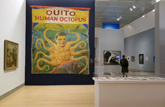 VISIONS OF CONEY ISLAND
Coney Island: Visions of an American Dreamland, 1861–2008 will open at the McNay on May 11 and run through Sept. 11. The McNay is the exhibition's only Southwest venue.
It explores 150 years of Coney Island, the most iconic amusement park in American history, a cultural symbol that served as inspiration to so many artists, musicians, novelists, poets, and filmmakers. The exhibition follows the rise and some would say "fall" of Coney Island. It will feature more than 140 objects, comprising both celebrated icons of American art and rarely shown works from both public and private collections, including paintings, drawings, photographs, prints, circus posters, sideshow banners, architectural artifacts and carousel animals. Visitors to the exhibition will be immersed in the culture of Coney Island through memorabilia, sound recordings and film clips, including documentaries and popular films.
BEYOND RUBIK'S CUBE EXHIBIT LANDS AT THE DOSEUM
The DoSeum's first ever special exhibit, Beyond Rubik's Cube is the new exhibit that celebrates the world's most enduring puzzle in an entertaining, interactive setting. Solve, play, and have fun, all in the ultimate hands-on exhibit.
Beyond Rubik's Cube celebrates the world's bestselling puzzle toy. The multimillion-dollar exhibition invites audiences to examine why a small puzzle became, and remains, a phenomenon that resonates with a global audience and connects to fields across the spectrum of human creativity. The three exhibition zones, Play, Invent, and Inspire, offer access points for guests of all ages, backgrounds, and interests as they showcase the art, invention, and scientific exploration that have sprung from Ernő Rubik's timeless invention.
By Leslie Foley