BROADWAY BANK CELEBRATES 75TH YEAR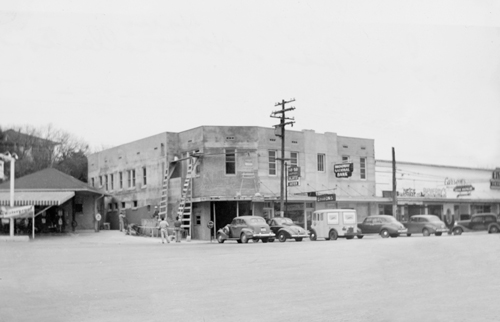 Col. Charles E. Cheever Sr. and Betty Cheever opened Broadway Bank on Feb.15, 1941, at 5044 Broadway Street in Alamo Heights with five employees, $60,000 and a dream. There was no heat or air conditioning — only the wafts of freshly brewed coffee, fried eggs and hamburgers from the restaurant next door.
Today, 75 years later, Broadway Bank is still family-owned and locally operated with 39 banking centers throughout San Antonio, Austin, the Hill Country and surrounding communities. Now, with more than 630 employees, the bank has more than $3 billion in assets and upholds a reputation for being the first to offer innovation and convenience in products and services to customers.
Back in 1941, Col. Cheever said, "If we take care of our customers and employees, the numbers will take care of themselves." And now, during this milestone year, third- and fourth-generation family members work at Broadway Bank, while Charles E. Cheever Jr. serves as chairman emeritus. The bank, through the efforts of the family and dedicated employees, continues to offer the perfect balance of innovative banking and personalized attention — the hallmark of the Broadway Bank experience. It has earned the bank the loyalty of customers, and it is just the sort of warm welcome that brings in new customers.
In 2016, with at-your-fingertips banking now the norm, the Broadway Bank leadership team elevates the banking experience to meet the customer's on-demand financial expectations. The bank offers private, commercial, personal and military banking and wealth management. Services, including online and mobile banking, mobile check deposit, Apple PayTM, biometrics and eBanking, are geared toward meeting the customer's goals. In keeping with being a trendsetter, the new state-of-the-art banking centers feature bistros, charging stations and SMART ATMs that allow customers to deposit cash and checks without having to fill out a deposit slip or use an envelope.
Honoring the legacy of giving back that was handed down by bank founders Col. Cheever and Betty, Broadway Bank established Care Corps, the bank's well-known volunteer organization. Donning red T-shirts, volunteers span out to make a difference in all the Broadway Bank hometowns and communities. In 2015, Care Corps volunteers spent almost 13,000 hours in local communities with more than 100 charitable projects.
With the ideas, innovation and ingenuity from generations of employees, Broadway Bank is excitedly looking forward to the next 75 years of being "here for good."

SPLENDOR ON THE RANGE:
AMERICAN INDIANS AND THE HORSE
The Splendor on the Range exhibition will be on display at the Witte Museum March 5-Aug. 21. The exhibit explores how life changed for American Indians after the Spanish brought the horse to North America in the 1500s. Curated by Bruce Shackelford, the exhibition examines the culture and lifestyle of tribes throughout the Plains and the Southwest before and after the arrival of the horse. Experience this original, interactive Witte exhibit featuring a stunning array of artifacts from the museum's unparalleled American Indian collection. The exhibit is sponsored, in part, by PlainsCapital Bank.
Spring Plant Sales and Storybook Houses
Storybook Houses at the San Antonio Botanical Garden will come in all shapes and sizes during this family-friendly exhibit in partnership with AIA San Antonio. This unique and engaging playhouse exhibit is the fourth collaboration between the Botanical Garden and area architects and designers. The exhibit runs March 5-July 10. For details go to www.sabot.org.
After checking out Storybook Houses, shop for San Antonio-friendly plants grown by volunteers at the Botanical Garden during the annual Monday-Friday spring plant sale, which runs March 14-18, 10 a.m.- 2 p.m. Choose selections for your landscape that save you time, money, and water. Visit with the growers and volunteers for tips, ideas and pointers to create a beautiful yard that's habitat-friendly for birds and butterflies. One-gallon-size plants available for purchase.
SA Garden Center Hosts Annual Plant Sale
It's the San Antonio Garden Center's annual plant sale, a spring tradition, and Punxsutawney Phil says winter is over! March 18-19 at the Garden Center, 3310 N. New Braunfels, is the place to buy daylilies, herbs and hanging baskets, drought-tolerant and locally grown, and "most requested" Strawberry Sizzle geraniums. Volunteers are also needed for setup, to serve as cashiers and checking out. Call Barbara Lutz at 210-699-0663 if you are interested in volunteering your green thumb.
50 Years of All Things Irish
The Harp and Shamrock Society of Texas (HSS) continues its 20-year history of celebrating its annual Harp and Shamrock Festival on Saturday, March 19, noon-8 p.m., on the campus of the University of the Incarnate Word. Irish music, dancers and singers will entertain. Food trucks offering Irish foods such as corned beef and Irish stew will be on hand. Don't miss the Irish parade, "Passport to Ireland," and, of course, a Guinness or two! Free parking is available on campus, and admission fees will help raise funds for HSS's scholarship program. Be sure to attend this 50-year anniversary, and don't forget to wear your green on March 17, St. Patrick's Day.
For information about other events including the annual Murphy's St. Patrick's River Parade, Donovan's Memorial Day Fun Run and St. Patrick's Day Alamo Wreath Laying, visit www.harpandshamrock.org or call 210-896-1598. And for those of you that collect Fiesta medals, don't miss the Society's 50th anniversary medal available at all the events and at the Fiesta Commission Store.
Spring Luncheon and Style Show
Models wearing Chico's fashions for spring will be sashaying as guests gather to benefit the San Antonio Garden Center Scholarship Fund April 1 at the San Antonio Garden Center. Models from Greek alumnae chapters will present fashions with flair for spring and summer. Proceeds will enable the center to award two scholarships to San Antonio area students majoring in horticulture or landscaping at Texas A&M University and Palo Alto College. For tickets and information, call 210-824-9981 or email Rhonda@sanantoniogardencenter.org.
CUTTING EDGE FASHION SHOW
Experience the latest fashions created and presented by UIW's fashion design students at the UIW's 2016 Cutting Edge™ Fiesta® Fashion Show on Monday, April 11 in the McCombs Center Rosenberg Sky Room. The Fashion Show displays new talent set to the professional standard of a New York-style runway show. Student designers present collections they have illustrated, designed and constructed in a yearlong fashion capstone course. This annual event is entirely produced by students – from sound and lighting, to staging and contracting professional models – UIW students experience every aspect of planning a professional runway show. Proceeds benefit scholarships for students in UIW's fashion management program. For more information visit us online at www.cuttingedge-sa.com. Doors open at 6 p.m. The show begins at 7 p.m. Single tickets are $35 (seat only) and $75 (includes a light meal & drink.) Tables of 10 are available for $750, $1,000 and $1,250. For tickets and details, contact UIW Development Office (210) 829-6013 or development@uiwtx.edu.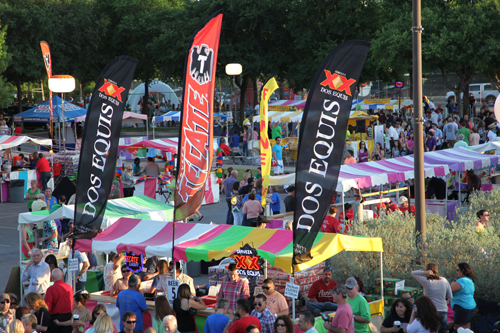 The 30th Annual Alamo Heights Night Set for April 15
The 30th annual Alamo Heights Night celebration will take place on Friday, April 15, 5:30 to 11:30 pm on the University of the Incarnate Word campus at 4301 Broadway.
"This year will be our 30th annual event. It has grown significantly over the years but still retains its fun, family-oriented atmosphere. Proceeds from the event have provided scholarships to hundreds of students attending university and vocational training programs and raised over $1 million for local charities and special projects," said Rick Berchin, operations manager. "Our club is looking forward to another 30 years of successful events and community support."
The event dubbed "Party Time in '09" is famous for an incredible selection of food from some of San Antonio's favorite restaurants. This year's bill of fare will feature sweet and savory items from restaurants such as Rainforest Cafe, Los Barrios, La Madeleine, Fresh Horizons Catering, Al's Nuts and Bunuelos.
The family-friendly atmosphere will deliver entertainment and activities for kids of all ages, including a carnival midway and a performance by Fire on the Mountain Cloggers. Live music will take place all night on multiple stages as Hotcakes will return to perform on the main stage along with Suede, the premier variety cover band from Austin that made its Alamo Heights Night debut last year. Additional entertainment will include the Rick Cavender Band, Tennessee Valley Authority, mariachis and other special surprises.
Admission is free for children under 12 and for all active duty military with a valid ID. Tickets are $5 for ages 12-17 and students with a valid ID and $12 for adults. All ticket sales will take place at the event site (no advance sales). Free park-and-ride service is available from Alamo Heights Methodist Church and Alamo Heights High School. Shuttles will run from 5:15 p.m. until midnight. Parking will be available in the AT&T lot at Hildebrand and Broadway, and VIA will offer park-and-ride service from Wonderland Mall of the Americas/Crossroads Mall.
The Alamo Heights Rotary Club has raised over $2 million in support of nonprofit organizations and community service activities since its inception. Alamo Heights Night is the largest fund-raiser, organized by over 100 volunteer Rotarians who head numerous committees and recruit 700-plus volunteers to make the event a success.
Visit www.AlamoHeightsNight.org for more information, find them on Facebook at facebook.com/AlamoHeightsNight, or call 210-842-2462.
BY LESLIE FOLEY