Cars and Cocktails with hors d'oeuvres by Chef Michael Bomberg, cocktails by Seersucker Gin, classic cars inspired by the 1950s and 1960s, and music from The Rick Cavender Band… car aficionados celebrated the closing of American Dreams: Classic Cars and Postwar Paintings for a once-in-a-lifetime evening as they took a look under the hoods of ten stunning dream cars. This awesome exhibition paired 10 classic cars with art at the McNay. Organized by the McNay, American Dreams: Classic Cars and Postwar Paintings explored the ingenuity and innovation of postwar America. This period, known as America's Golden Age, witnessed the explosion of Abstract Expressionism, Pop art, and Op art; the mass production of automobiles; and increased wealth and consumerism.
Characterized by exaggerated tailfins, wraparound windshields, and generous chrome detail, these classics of the 1950s and 1960s were called dream cars. From a rare 1948 Tucker Torpedo—one of only 51 Tuckers ever made—to the beloved 1963 Chevrolet Corvette, a pinnacle of vintage 'Vette design, many of the cars on view pushed design boundaries through expansive volume, nontraditional color combinations, and highly styled flourishes.
Additional highlights included a 1957 Pontiac Star Chief convertible with missile-shaped side trim, and a 1956 DeSoto Firedome sporting factory colors of pink and iridescent plum. Classics restored to factory-correct interiors and exteriors were joined by several restoration-modification ("resto-mod") cars, most notably the Spurs Camaro restored and generously lent by Larry Mills, Executive Vice President, of the Holt Companies, San Antonio.
Car buffs dined on foods from the 1950s and 60s; enjoying tater tots, burgers, meatballs, pizza and 50's carhop ice cream floats. Car enthusiasts Larry and Betty Hicks, Lori and Bob West, Cari Hill, Wendy Stieren, Alli Heinemeyer, Judge Wayne Christian, Debbie and Jim Gibson, Jennifer and Tim Morrow, and 250 others dined, danced and dreamed of a time back when….. San Antonio Gardenia Club Coronation The San Antonio Gardenia Club hosted its annual Gardenia Coronation with presentation of the queen and her court. This year's queen is 16 year-old sophomore Rachel Marie Jones, daughter of Col. and Mrs. Ray A. Jones. The queen's grandmother, Veronica Boldt, along with Pam Gilbert and Randy Lenz, Pam Embrey, Mertie and Dale Wood, Linda Kay Bowman, Damien and Lisa Astorga Watel, Dee Ann Simpson, Carol and Dr. Gregg Thompson, Liz Jauer, Kristine Schwope, Cheryl Stocker, Sharron Batchelor, Kathryn Howie, Laura Humphries, Michelle Healy, Tenchita, and Alfredo Flores kicked off the evening with cocktails, photos and mingling.
Emcee Siobhain Anders introduced the court, Britt Kleberg gave the invocation, and Carroll Dorsey Walker presided over the coronation. Queen Rachel Marie Jones court included Scepter-Bearer Rowan Clark Simpson, son of Mr. and Mrs. Brad Simpson, Paiges Loma Lake Laird, son of Ms. Dana Laird; Evan Reyes and Lucas Reyes, sons of Dr. Joel Reyes and Dr. Erika Gonzalez; and Enzo Lucca Watel, son of Mr. and Mrs. Damien Watel. Flower girls included Coco Dee Ann Kleberg, daughter of Mr. and Mrs. Cardo Kleberg, and Greta Mae Tidwell, daughter of Mr. and Mrs. Brian Tidwell. Junior Princesses included Catherine Embrey, daughter of Mr. and Mrs. Chris Embrey; and Emma Embrey and Evie Embrey, daughters of Mr. and Mrs. Dane Embrey. Escorts included Jackson Charles Beamer, son of Randy Beamer, and Ursula Pari and Patrick Macleod; Gage Alexander Bieschwale, son of Mr. and Mrs. Joe DeGeare; James Harrison Stocker and Jordan Hamilton Stocker, sons of Mr. and Mrs. Robert Stocker. Princesses included Elizabeth Gray Altmeyer and Katherine Anne Stewart Altmeyer, daughters of Drs. Wilson and Mary Altmeyer; Georgia Kennedy Beamer, daughter of Randy Beamer, and Ursula Pari and Patrick Macleod; Caroline Embrey and Clairee Ann Embrey, daughters of Mr. and Mrs. Chris Embrey; Olivia Claire Humphries, daughter of Mr. and Mrs. Mark Humphries; Jessie Elizabeth Reeves, daughter of Ms. Dorian Reeves; Chelsea Dee Ann Simpson, daughter of Mr. and Mrs. Brad Simpson; Julia Evelyn Schwope, daughter of Mr. and Mrs. Charles T. Schwope; and Julia Moselle Staffel, daughter of Mr. and Mrs. Ross Staffel. The purpose of the San Antonio Gardenia and Musical Club is to further interest in the fine arts by providing scholarships to students within the San Antonio area and to promote friendships within the membership.
Whimsical Garden Tea an afternoon family tea party at the Witte Museum featured an opportunity to enjoy high tea while sampling assorted finger sandwiches, mini quiches, fruit kabobs, scones and other heavenly desserts. Activities included face painting, color and sketching, a science garden, and family/children's portraits. With a beautiful floral backdrop, participants took turns taking pictures and posing. In addition, guests were encouraged to take the self-guided tour: The Art of Texas: 250 years. And of course, it wouldn't be a high tea without flavored teas, manners and sweet treats.
Josie Williams, Zizi Azar, Francie Dechard, Lucy Decherd, Serena Kested, Lauren Gordon, Sharon and Howard Hunter, Vanessa Mullin, Adrien Frank, Heather Welder Russo, Mamie Frank, Hazel Davis, and Margaret Pape are a few who enjoyed the afternoon festivities.
August 8 Evenings on the Edge at Topaz SA LIBRARY FOUNDATION's Beach Party The La Cantera Resort & Spa 7-11pm
Sip on summer-inspired cocktails over live music by the Passing Strangers Band and unrivaled Hill Country views at the San Antonio Library Foundation Beach Party. Attendees will receive a complimentary cocktail upon entry and a sunset toast brought to you by Moët Chandon. lacanteraresort.com
September 7 11th Annual Starry Night Camp Gala The San Antonio Country Club 6PM
The Children's Association for Maximum Potential (CAMP) is hosting their 11th annual gala and celebrating 40 years of helping those with medical or special needs, and those who care for them. CAMP provides resources, care, education, awareness, and financial assistance for those in need. More than 400 local leaders, business owners, and community members attend this event. campcamp.org
September 19 2019 Ranch Chic Fashion Show The Rosenberg Sky Room University of the Incarnate Word 5:30 – 9PM
This unique fashion show is an opportunity to view the best Ranch Chic gear before the big Cattle Baron's Gala while raising awareness for cancer. Strutting down the runway will be professional models and cancer survivors. In addition to the fashion show, there will be plenty of delicious food, by Don Strange and a raffle of great items. hpd.ejoinme.org/MyEvents/ 2019SanAntonioCattleBaronsGala/ RanchChicFashionShow/
September 14 35th Annual San Antonio Zoo Run San Antonio Zoo 8:30AM
Lace up your sneakers and round up three of your friends for this relay race supporting the San Antonio Zoo. This is an event for adults and children to participate in. solerssports.raceentry.com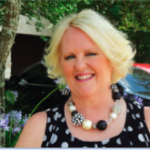 Leslie Foley, columnist for The Buzz and Outside 78209, was born and raised in Oklahoma, where she earned a public relations and journalism degree from Oklahoma State. She moved to Texas over 30 years ago and has made it her home ever since.  Aside from her work with 78209 Magazine, Leslie works full time with the Ronald McDonald House as their capital campaign coordinator. She enjoys the opportunity to stay connected to people, events and happenings across the city. In her free time, she likes spending time in her gardens, visiting with friends and family, photographing events, catching a Spurs game or simply relaxing by watching an old classic movie.