MacArthur Student Speaks at Mayor's State of the City Luncheon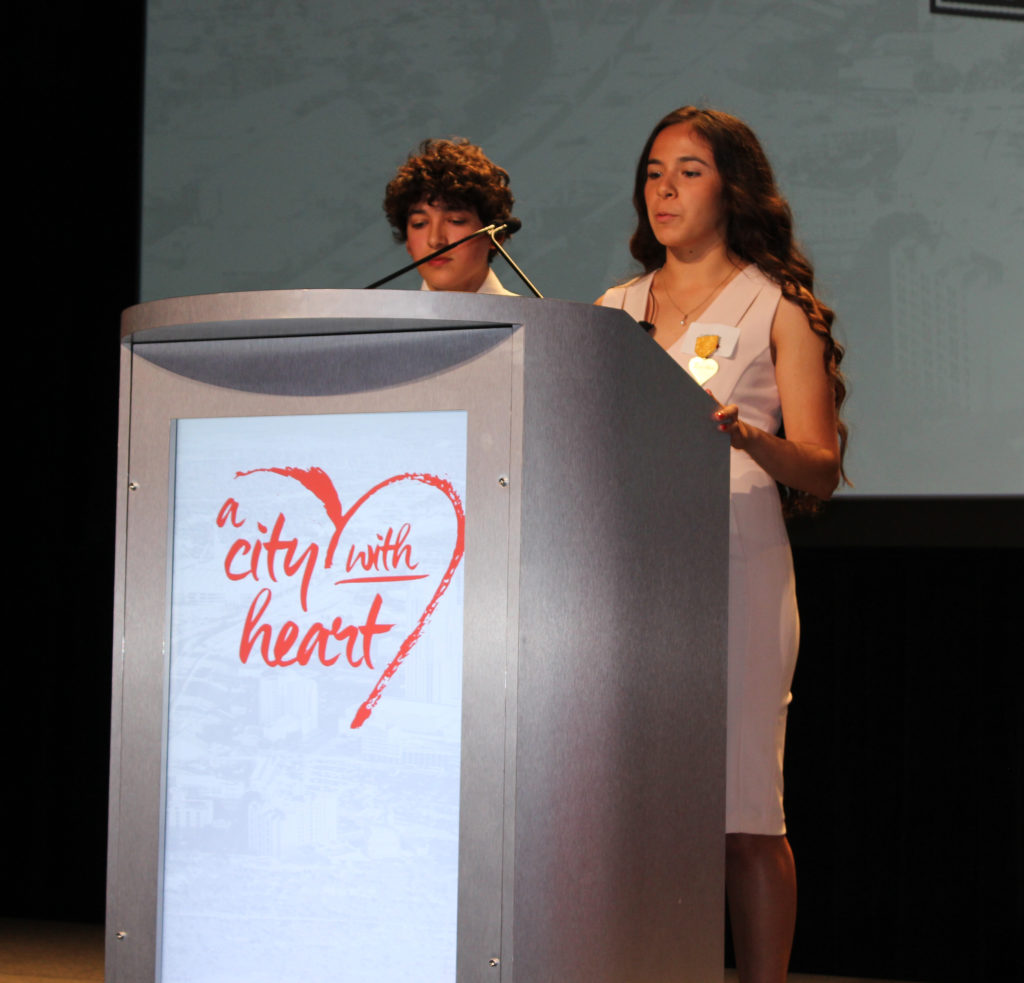 MacArthur High School student Analisa Pompa was invited to attend the 2017 United State of the City with Mayor Ivy Taylor on Wednesday, April 19. This event is one of the city's most popular annual events, where Mayor Taylor shares her accomplishments, future plans, and stories about the people who make San Antonio "A City with Heart." Pompa was personally selected by Mayor Taylor after the mayor watched a news story about the Mac student and her grab-and-go breakfast cart on campus. She was so impressed by Pompa that she asked if she could introduce her at the event.
"I am elated," said Pompa. "It is such an honor to have been selected to introduce the Mayor and tell the community about the great things we are doing at MacArthur."
Thanks to this health-conscious senior, rushed MacArthur students get an extra boost of energy in the morning. MacArthur has been testing out a "Grab-and-Go Breakfast Cart" on campus to make it easier for students to fit in a quick meal before class. Students can choose entrées like mini pancakes, sausage and biscuits, yogurt, muffins and cereal along with fresh fruit and milk.
Pompa graduates this month with a Summa Cum Laude degree from MacArthur. She aims to further sharpen her leadership qualities in college, as she looks forward to earning a degree in neuroscience.
Alamo Heights Dominating Spring Season Tennis
By Daniel Macias And Hunter Farrimond
The 2017 tennis spring season officially began in February and both boys and girl's teams look to dominate their seasons and advance to state. Coming off a strong 2016 campaign, there is a lot to live up to for the 2017 teams. However, both teams have strong members to help the transition from last year go as smoothly as possible.
"After training through a long and hard off season, I think we are ready," senior Ramsey Robinson said.
The girl's team, led by freshman Fiona Crawley, senior Brittney Wilbur and junior Emma Reeves, look to win most of their matches and tournaments.
Wilbur, who recently signed to play college tennis at Wofford University, looks to lead the girls. Especially after a strong performance in their first tournament, the season looks very bright.
"We are a young team this year," Wilbur said. "But we have a ton of talent to make up for that."
The boy's team, led by senior James Taylor, junior Campbell Erwin and junior Will Walsh, all look to have an extremely successful season. Taylor, looking to end his senior year strong, will push his teammates to make sure his senior season is one to remember. Poised for a big run, the boys and the girls need all the support they can get.
"We lost some seniors from last year," Taylor said. "But we should still have a lot of success in state this year."
Track Teams Working Hard
By Brandon Johnson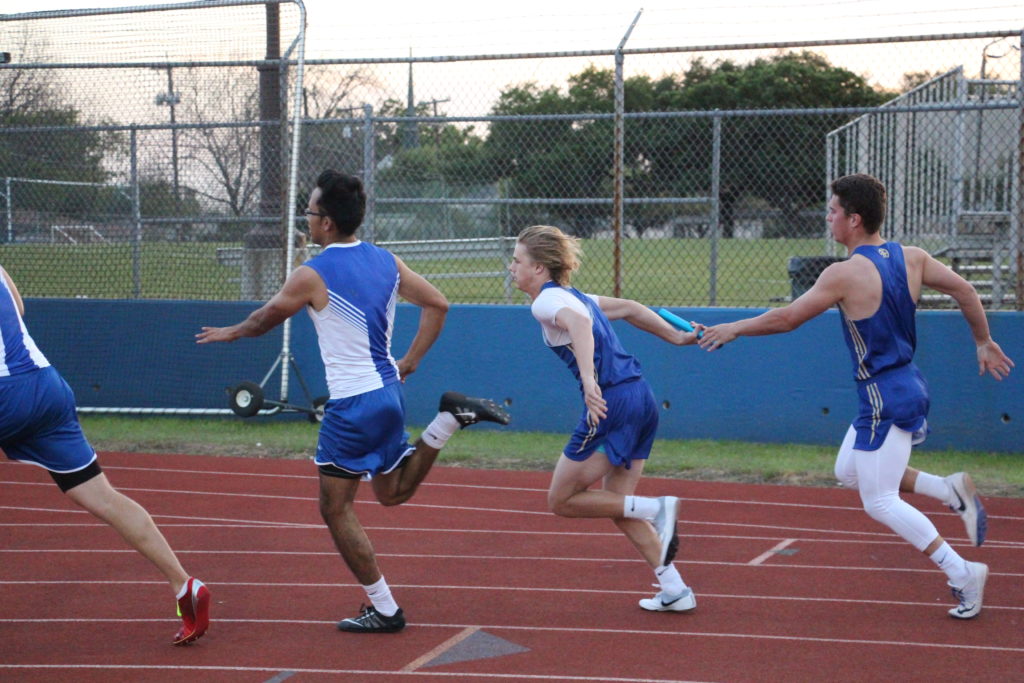 When spring arrives, so does the beginning of track and field.
"Track is my favorite sport by far," junior Auburn Lucas said. "I like it because you can compete in so many different events and see people try their hardest."
There are 23 events in which 50 AH athletes participate. Many compete in multiple events.
"Running and jumping in multiple events is really fun and challenging," sophomore Nik Proctor said. "But at the end of a meet I'm really tired."
Before and after school almost every day, head coach Randy Osborne leads the boys and head coach Brian Rickets leads the girls. The coaches give the athletes a specific workout that they want them to complete, and the workouts usually concentrate on areas in which the respective athletes need to improve. "Practicing isn't very much fun, but I get to see all my friends and practice with them," junior Kamilla Moreno said. "And I know I can't get any better if I don't practice."
The Mules have competed in four meets and have finished first in the Southside Meet. The meets are scored by a points system. For example, each race is in heats, and the fastest time out of all the heats gets the points.
"It was really cool getting first in the Southside Meet," sophomore Noble Gilmour said. "It's good that we got rewarded for all the hard work we've been putting in this year."
The Mules want to continue their success in the next couple of meets and work toward another championship.
"I'm really excited about this track season," freshman Barrett Miller said. "I feel like we could make something happen."
Elective Course Teaches Valuable Life Lessons – Students Prepare For Future In Food Science
By Alex Wagner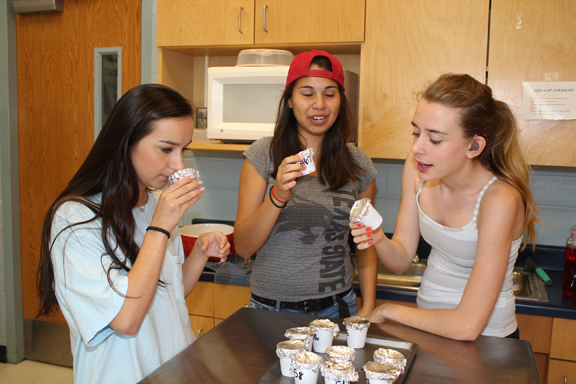 The high school has always offered a wide variety of elective classes. Food science is one of the most unusual courses that students have the option to take. Emily Brand teaches the class, and —it's the only class that involves anything from biscuits and gravy to gummy bears. While many people think that food science consists only of hands-on food prep, the majority of the class is actually spent in the classroom, where students learn the science behind the food they're exploring.
"Mrs. Brand is the best food science teacher," senior Sophie LePere said. "She's so nice and she cares about everything from safety to nutrition."
Actual cooking takes place roughly every other week. During this time, students are expected to follow basic kitchen etiquette, like using good behavior and following the recipe or the teacher's instructions. Another thing that students always do while cooking is to keep their area clean during and after the process.
"There are thousands of rules in the kitchen," senior Ryan Rodgers said. "It's important to be smart so that you don't make a mess, cause an accident or prepare the food incorrectly."
Many food science students have learned that the key to being a good cook is to understand how certain ingredients influence food. By learning the chemical and physical properties of specific foods, students are able to gain refined knowledge of the art of cooking. Another interesting thing that food science covers is which foods can lead to food poisoning and how to avoid this issue. Additionally, students are taught what makes some food healthy and others not so much. Being conscious of the nutritional value behind all meals they prepare is a key part of the class. High school is a great time to be immersed in the science of smart eating.
"Food science taught me how not to rely on TV dinners," junior Sumrith Ray said. "There aren't many courses out there that make such an impact on my daily life."
Food science seniors have learned that they took this class at the perfect time, just before they will be forced to come up with daily meals on their own. But there is no reason why a student who isn't a senior shouldn't take the class if they have the opportunity. The course is available for every student —freshmen, sophomores and juniors included. Regardless of age, the recipes and techniques can be translated to the home. Whether students replicate a meal they created one day in class or simply use their knowledge of ingredients to create another yummy meal, the food science course is bound to improve at-home cooking skills. It also encourages students to take the initiative to cook their own food more often, which is a gift to their family.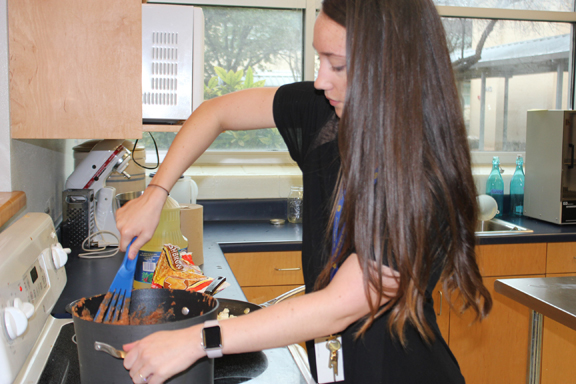 "Recently, I made my parents salmon," junior Shyanna Esquivel said. "I learned how to flavor it in nutrition class."
It's clear that food science makes a big impression on students both in and out of the class. Besides, how many classes not only allow but also encourage eating food? This class is a great endeavor for students who love to cook or even those who just love to eat. Students with a culinary interest should consider food science for next year's courses. By the end, they will come out with better knowledge of both nutrition and cooking, and how these things impact both body and life in general.
"Food science is a phenomenal class and is incredibly rewarding in both talent and heart," senior Allie Shub said. "I think everyone should take the class."
Putting Knowledge To Test With Exams Students Gear Up For Advanced Placement Weeks
By Estee Steves
Students of all grades, who participate in AP classes have the opportunity to earn college credits during the second-semester AP tests. With AP and Pre-AP classes beginning freshman year, students learn college course material prepared by the AP College Board to ready themselves for the national testing weeks. Advanced Placement (AP) teachers give students the chance to broaden their knowledge on college curriculums and to get ahead on college hours.
"AP testing is stressful but worth the college credit," senior Sine Scribbick said. "I will be happy in May when it is over."
Students began online registration for the exams as early as March 11 and continued until March 23 through the PTSO link on the high school's website. Also, students ordered the exams through the school's guidance office, March 20-23.The cost for each exam is $96, and students must attend a mandatory pre-administration session to fill out bubbling sheets."It's encouraging to know I may be able to get college credit if I do well on my AP tests," senior Paige Johnson said. "This gives me more motivation to study for them."
The high school's AP testing dates are May 1-5 and 8-12. There are two exams every day, one at 8 a.m. and the next at 12 p.m. Students should arrive 15 minutes before each exam. All exams will take place in the Sky Gym, where pencils, pens and calculators (if needed) will be provided.
"I enjoy taking AP classes, and because of that, I feel very prepared," junior Matthew Pisano said. "I am taking four AP exams this year."
AP teachers supervise students throughout the four-hour tests. Hourly reminders will be given to the students so that they know the time remaining in the test. Sitting in alphabetical order, students will be allowed to read a book and sit there quietly till all other students are finished. No cellphones or technological devices are allowed in the tests.
"AP exams help admissions gauge if you are ready for college work and if you can earn college credits," history teacher Stephen Tucker said. "These credits earned at the high school level can be financially beneficial for you and your family."
A.P. TESTING SCHEDULE
May 1: Chemistry at 8am and Psychology at noon
May 2: Spanish Language and Computer Science at 8am
May 3: English Literature and Composition at 8am
May 4: US Government and Politics at 8am
May 5: United States History and Studio Arts at 8am
May 8: Biology and Music Theory at 8am and Physics C: Mechanics at noon, Physics C: E&M at 2pm
May 9: AB Calculus and BC Calculus at 8am, Spanish
Literature and French Language and Culture at noon.
May 10: English Language and Composition at 8am
May 11: World History at 8am and Statistics at noon
May 12: Human Geography and Microeconomics at 8am and Latin at noon
Mules Golf Shoots For State Seniors Dominating Spring Play On Courses
By Jeremy Wasson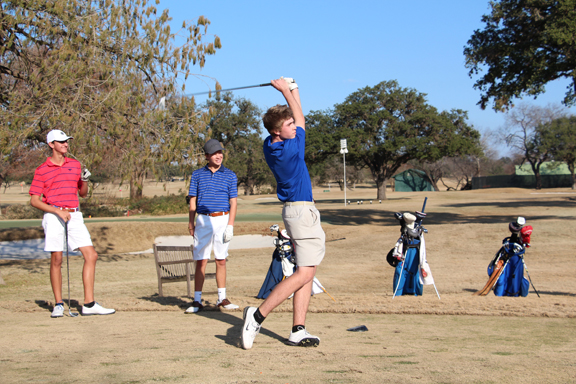 The Mules Golf Team has had a great beginning for their season, and they are looking forward to district, regional and, perhaps, state. Senior Mac Meissner is looking to take his third individual district title, while seniors Thomas Fitch, Sam Berryman and Jack Callahan aim to lead the way to the team district title.
"We are all looking forward to the district tournament and have been training hard," Fitch said. "We all believe we can keep our win streak alive."
The Mules have been focused and training every day under head coach Danny Hayes. They start the week by hitting balls at The First Tee on Monday. On Tuesday and Wednesday, the team goes to the San Antonio Country Club to play practice rounds. The Mules then have tournaments on Thursdays and Fridays. On Feb. 24-25 the Mules placed first at the Concan Tournament. The team won by 19 shots, and Meissner won individual by 12 shots.
"Watching members of our team is fun when we are playing so well," Callahan said. "I have been really impressed by all of us."
On Mar. 23, they traveled to the Golf Club of Texas for a district preview tournament. Meissner shot a school record score of 64 during the first 18 holes and a 67 during the second 18 holes for a combined 13 under. The next tournament was for the district title on April 3- 4, also held at the Golf Club of Texas. The Mules then got almost a month off with the regional tournament being on April 24-25 at the same location.
"Shooting such a good score on the course where we will have district and regionals really boosts my confidence," Meissner said. "It looks like we could be going all the way this year."