St. Luke's Episcopal School Launches Rocketry Program
St. Luke's Episcopal School is excited to announce the launch of its new rocketry program for students in grades four through eight. The after-school club will expose participants to concepts including an introduction to physics, flight trajectory forecasting and atmospheric analysis, while giving students the opportunity to put scientific principles to work in an exciting, hands-on curriculum.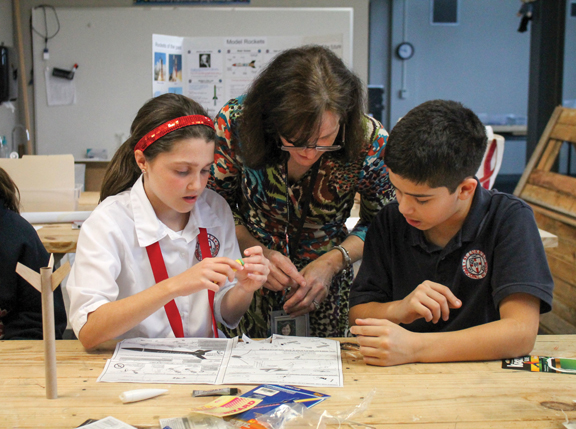 The program began with the successful test launch of five rockets. The young scientists are now building their own rockets in the school's iLab, an innovative STEM space built last year. Each team will build a different type of rocket, encouraging students to explore how construction of various elements such as fin design impact flight.
AHHS Cheerleading Takes State, Ranked Top 10 in Nation
By Colby Davis, AHHS
Alamo Heights High School's cheerleaders walked away from the state competition in Fort Worth with big smiles and even bigger plans. After winning first place at the state competition for the second consecutive year, both Coach Ashley Johnson and the cheer teams began preparations for their greatest challenge: nationals.
"The state competition was a lot of fun," sophomore Sloane Davis said. "We worked extremely hard to prepare for it, and we got to prove it to the state of Texas."
When competing, the high school's cheerleaders always represent their school with pride. They use a powerful routine without music that involves a combination of stunts and props. They use megaphones to chant a fight song for the high school and large posters to display the words "blue" and "gold." The cheerleaders also get to show off their skills by performing carefully crafted choreography to music selected by the coaches.
It takes a lot of courage to perform as a cheerleader. The team must present themselves in front of very large audiences while perfecting their routines. Cheerleading performances may be tedious, but they pay off for the team members.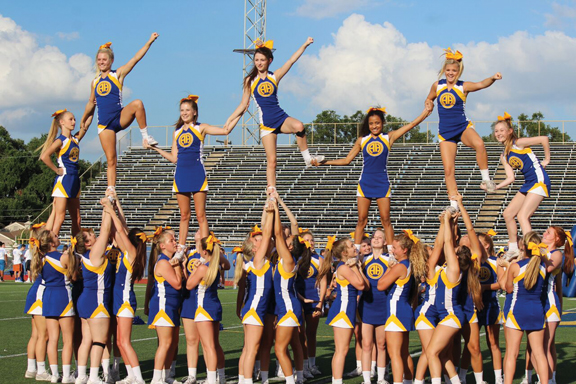 "The greatest moment for me as a cheerleader is when we finish our Mules Fight Song," sophomore Sarah Hayne said. "We yell, 'Fight, Mules, Fight,' and then walk off the stage knowing we just performed a really great routine to the best of our abilities!"
The cheerleaders are called a team for a reason. If one member makes a mistake, it affects the presentation of everyone on the mat. The team relies on strength and trust to get to the top of the cheerleading pyramid.
"The most important quality that a cheerleader can have is a good attitude," sophomore Faith Christianson said. "One bad attitude can ruin an entire performance."
During the past month, the cheerleaders worked to maintain those positive attitudes, sharing big smiles, knowing that every hour of preparation would pay off when they competed at nationals. "Being on a team that is state and nationally ranked is very rewarding," sophomore Camille Dewees said. "My team makes me want to work harder to be better for my team."
The national competition took place in Orlando Feb. 9-14, and the top state team did not disappoint. The team was named to the Top Ten Cheer Squads in the nation, earning an individual team ranking of eighth place.
While cheerleading may look like a natural sport, every member of the team is passionate about what she does. The cheerleaders want their peers and audiences to realize how much work goes into the final show. "We put in so many hours of hard work," sophomore Berkley Behnke said. "At the end of the day, we are one big hard-working family with an extra-strong bond."
Coaching Staff Response Saves Mac Football Player
MacArthur High School trainers Chad Sutherland and Jeffery Schmidt took heroic action to save the life of 16-year-old Kenneth Major, who collapsed Feb. 7 after football practice. During a team huddle, Sutherland noticed one athlete stumbling on the field and having labored breathing. It was then that Kenneth lost consciousness and collapsed.
Sutherland was one of several people on the scene who rushed to Kenneth's side. He checked his vitals and performed the sternal rub. When there was still no response, both trainers sprang into action by initiating the District Emergency Action Plan. Coaches called 911, then first aid was given and compressions begun. When initial CPR efforts didn't revive Kenneth, the defibrillator was used.
"I almost felt like it was an out-of-body experience doing all the procedures we had been taught," Sutherland stated. "When we go through first-aid and CPR training, we go through it very intently."
Both trainers acted very quickly and stayed calm. The entire athletic department with the assistance of community partners sprang into action and did their job well, earning praise for their heroism and compassion in an emergency situation.
"It was a coordination of so many people," MacArthur principal Peter Martinez said. "Everyone did exactly what they had to do, and it's attributed to North East having the equipment and training we need at the right time."
Coaches and staff at the school are required to undergo first-aid and CPR training every two years, and the training and procedures taught saved a life that day. Kenneth was transported to North East Baptist and was soon awake, alert and doing well.
Showcasing Student Design
The Alamo Heights ISD Showcase of Engaged Learning T-shirt contest winner is Micah Gentles, a student at Alamo Heights Junior School. Her artwork represents this year's Showcase theme, "Shaping Our Future," and was one of many great designs submitted by students of all ages during the logo design contest.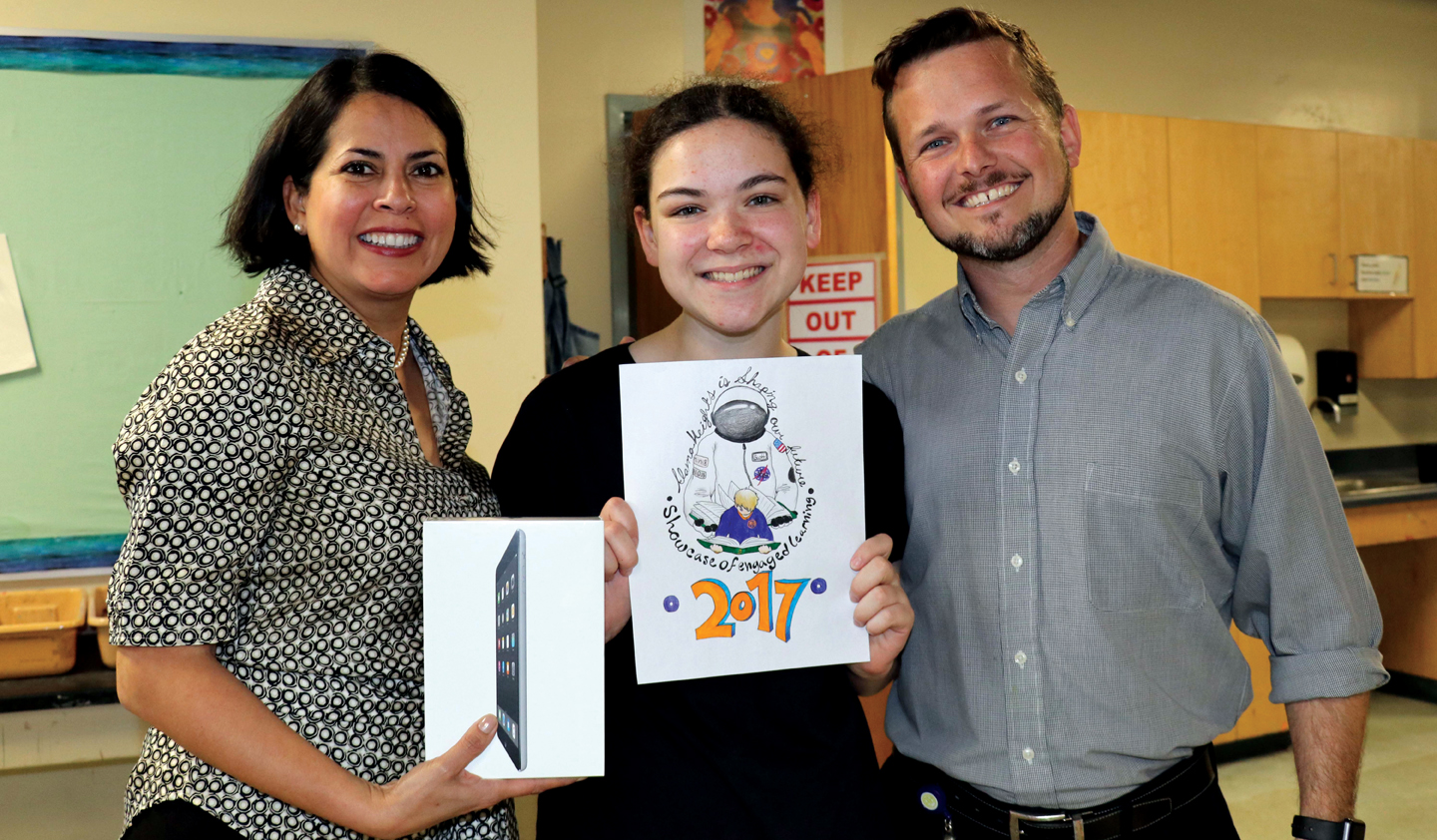 The event provides an opportunity for the community to see the work that's occurring in AHISD classrooms. Set for Wednesday, April 5, from 6-7:30 p.m. at Alamo Heights High School, the event will showcase numerous student-led performances and exhibits.
Best-selling Author Visits Saint Mary's Hall
Dr. Leonard Sax, author of The New York Times bestseller The Collapse of Parenting, presented to the Saint Mary's Hall community at two important talks in January. Before a full auditorium of parents, Dr. Sax talked about raising self-reliant children and posed this question to parents:
"Why are so many kids today so fragile?" He shared ways parents can help children transition into adulthood by allowing them to experience adversity, and through their involvement in a multi-generational community.
Dr. Sax also presented to faculty about "The Four Bullies." His talk centered on the wide range of behaviors encompassed in the word "bullying" and strategies to prevent and eliminate bullying on and off campus.
Learning from experts like Dr. Sax offers our parents and faculty the opportunity to engage in meaningful and educational dialogue, to the betterment of our students! For more information about the ways in which our community supports health, wellness, and socio-emotional growth, please visit www.smhall.org/campus-life.
Golf Players Take Swing at State
The following stories were written by Alamo Heights High School journalism students.
By Reed Sechler, AHHS
Head Coach Danny Hayes has led the Alamo Heights High School golf teams to a successful mid-season mark. The teams have played in four tournaments, earning the top spot in three. With three tournaments remaining until they begin district play in April, the team is working hard to be ready, with their sights always set, even now, on state.
The boys' golf team is headed by team captain and SMU Commit Mac Meissner. a four-year varsity letterman. He has had a tremendous tenure at the high school and has won the team's Coach's Cup all four years.
"The last four years playing golf at Heights have been a great growing experience for my golf game," Meissner said. "It is crazy to think that I'm in the closing stages of my golf career at Alamo Heights, but I'm excited to continue my golf career at the collegiate level."
The boys' golf team is filled with seniors who have a true knack for the "gentleman's game." Seniors Sam Berryman, Thomas Fitch and Jack Callahan provide veteran leadership and consistent scoring to help the team win their tournaments. Berryman, who has been on varsity for three years, has developed into a great golfer under the guidance of Hayes. "I am so thankful to have a mentor like Coach Hayes," Berryman said. "I have really embraced all of the tips Coach has given me, and it has made me the golfer I am today."
The boys' team puts in a lot of work in order to have a swing at the state title. They seem to be in a groove right now and are in reach of making it to the state tourney, although they will need all the scoring they can get against a talented rival, Highland Park.
"I really think we have a great chance of competing for state this year," Callahan said. "We seem to be hitting all of our shots, and the team has high hopes to continue this streak through district and all the way to state."
The girls' team is having a great season as well, even without the support of well-seasoned seniors. This year's girls' team captain is junior Ali Brusenhan. She is in her second year on the girls' varsity golf team and looks to lead their team through the tournaments. "I'm having a blast playing this year with my awesome teammates," Brusenhan said. "I hope we can make it far this year."
Both teams are playing great golf and practice Mondays through Thursdays every week in order to continue their dominance. The teams hope they can get the support of the community as they make their playoff push.
"All the hard work we put in at practice shows in our rounds," junior Parker Ray said. "Hopefully, our work ethic will pay off in a run to state."
Mules Soccer Is Back
By Deryl Reynolds, AHHS
If football is led by the "boys of fall," then spring brings boys' and girls' soccer to the fields.
The girls' team is off to a strong start, having four wins and one loss. Their wins are a great representation of the team chemistry. "It really helps us work together and win more when we all get along and trust each other on and off the field," senior forward Sophie Tippit said. "I feel our chemistry can only get stronger as the season continues."
The girls recently competed in a tournament in Lubbock. They beat the Cooper Pirates 7-0 to win their fourth game of the season. Tournaments are usually held throughout the weekend, and players must win to advance to the next round.
"Tournaments are my favorite because they allow me to bond with my teammates and create that sister relationship with them," senior mid-field Abby Armstrong said. "Also, competing with teams from all over the state is exciting."
The boys are off to a hot start as well, winning five of their seven games to date. The team is led by a strong senior class that has been playing together on the varsity level for quite some time. The hard work put in during practice really shows on the field.
"The practices are lots of fun. It helps us work on our game strategy for the opposing team," said senior defensive midfielder Samuel Flores. "It's fun getting to compete with my teammates and friends."
When asked about their favorite part about soccer, the boys all had one answer that stood out. "My teammates, the road trips and being able to play the sport I love is what I think tops all," senior forward Travis Baer said. "I've been playing this sport for so long and created great relationships with people."
This year, the boys' and girls' teams both feel very confident that they can make another deep run into the playoffs. By using their leadership, athleticism and mindsets, they can accomplish their goals.
Basketball Moves into Playoffs
By Brandon Johnson, AHHS
Earlier in the season, the varsity boys' basketball team found itself in a three-way tie for third with a 4-3 record (with losses to Dripping Springs, 53-40, Boerne Champion, 48-41, and Medina Valley, 52-51.) The Mules worked to turn district play around and try to win during the second round.
"Losing those three games was really hard for everyone on the team, especially for the seniors," senior guard Luke Wright said. "But we are turning things around for the second round and using those losses as fuel."
Leading the Mules is senior captain Will Schmacker with 13.3 points per game and junior post Evan Carcanagues with 13.5 points per game. A big part of the team is the supporting cast of seniors, including post EJ Aranda, Wright, junior guard Tyler Glover, and junior guard Matthew Pisano
"It's an honor to be a captain of this team," Schmacker said. "All of these guys work really hard both on and off the court."
The Lady Mules continued district play with a win over Medina Valley 43-38 with sophomore guard Maylina Hudock leading the Mules with 7.3 points per game. "I love playing with these girls," sophomore guard Peyton Puhl said. "It's really cool to see my teammates get better and play hard."
Under new Head Coach Megan Trosper, the Lady Mules are working to turn their season around and finish strong. "Coach Trosper is an awesome coach," Hudock said. "She always pushes us to be our best and work really hard."
Entering the second round of district play, both the Mules and the Lady Mules need to raise the intensity of their game and keep up the work. This means the teams need to adjust to each opponent and learn from their previous mistakes. "Playing everyone twice is always difficult because they know our stuff and we know theirs," Carcanagues said. "We just need to work and out-play our opponent."
Aquatic All Stars Take Center Stage
By Luke Coerver, AHHS
After many early morning practices and months of training, the AHHS swim team competed in the 28 5A District title meet on Jan. 27 at Palo Alto, where both the boys' and girls' teams finished first. Head Coach Donald Walker has pushed the team all fall and named seniors Grace Strash, Ellery Parish, Sofia Rodriguez, Cameron Young and Seth Ryherd as team captains to help keep the team motivated.
"Winning state freshman year was a great feeling, and I have always wanted another title," Strash said. "We have all been working really hard to make it to the state meet again."
Both teams have made many memories during the year. The girls' team had a 200 to 122 win over Champion High School, while the boys also came out on top of Champion with a 170 to 122 victory. Other notable accomplishments from the meet include senior Sine Scribbick, who was named Diver of the Year; Parish, who was named Girl Swimmer of the Year; and Young, named Boy Swimmer of the Year.
"After a long fall, it feels good to finally win district and move forward through the regional competition," sophomore Maya Clark said. "We are all looking forward to the state championships."
The team competed at the state level Feb. 17-18.