GAME TIME
MULES, BRAHMAS FOOTBALL READY FOR COMPETITIVE SEASON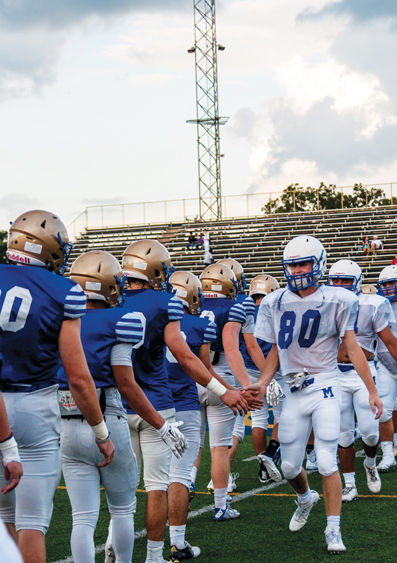 Are you ready for some high school football? Alamo Heights and MacArthur are ready as the 2016 campaign begins, but both schools are seeing their toughest competition yet in their respective districts.
Dave Campbell's Texas Football publication picks the Mules to finish fourth in 26-5A, which will likely see Boerne Champion, Kerrville Tivy and Dripping Springs square off for the district title.
Alamo Heights has 12 starters returning from its 6-4 season, which ended with a 71-57 loss to district champion Tivy and no trip to the playoffs. Under head coach Mike Norment, Mules look to mount a postseason push by relying on a stout defense and a veteran backfield. Defensive backs Joe McGrath and Holden Daum and defensive linemen Brandon Peterson and Tyjah Shaver are going to be key. McGrath had 52 tackles, and Daum recorded 66 tackles and three interceptions last year.
Nik Proctor doubles as wide receiver/DB. Last year, he had four returns for TDs. Linebacker Maki Carabin tallied 99 tackles and one pick last season as a freshman.
Quarterback Will Cheney will be the starter following a season that saw him be part of a two-QB system. In 2015, he logged 1,498 yards and 14 TDs passing, and 302 yards and four TDs rushing. This year, Cheney will be missing prime targets such as Antoine Cole and Brandon McClinton, but he has a solid offensive line in place. Offensive linemen Walker Hankinson and Sandor Valer will be key members here. So will running backs Deryl Reynolds (693 yards and eight TDs rushing), and Tucker Azar (509 yards, 13 TDs rushing).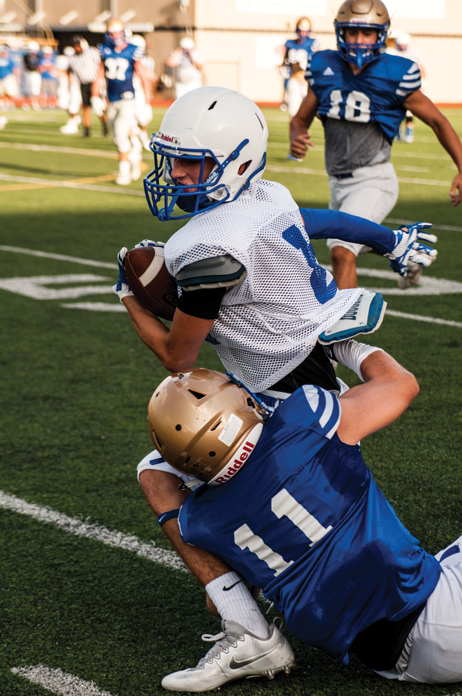 Texas Football magazine picks MacArthur for a fifth-place finish in District 26-6A. The Brahmas finished last season as a bi-district finalist at 6-5. As usual, Reagan and Johnson look to vie for the district championship, but Churchill and Roosevelt will be in the running. Head coach Ben Cook has seven starters returning from the 2015 campaign, including quarterback Joe Vitt. Vitt earned all-state honors, among other accolades, last year after tallying 3,245 yards and 32 TDs passing, and 335 yards and four TDs rushing.
Vitt has a quality offensive line that features guard Jonathan Gessner, a three-year letterman, and guard Michael Ramirez.
Other notable players on offense include wide receiver Reece Deering, who collected 47 yards and one TD receiving in 2015, and running back Zach Perez, who had 192 yards and four TDs rushing. The defense is powered by defensive end Xavier Bryant (40 tackles, three sacks), DE Kam Bryant (82 tackles, three sacks), and DB Coulton Hamby (23 tackles).
DB Martin Apopot (54 tackles) and defensive tackle T.J. Cook (27 tackles, two sacks) also will be key to the Brahmas' defense.
In area college football, the University of the Incarnate Word recorded its first winning season in 2015 at 6-5. What a turnaround, given the year before the Cardinals wound up 2-9 and riddled with injuries. In his fifth season as coach, Larry Kennan looks to QB Trent Brittain, linebacker Josh Zellers, offensive lineman Draven Taylor, WR Kody Edwards and DL Corey Lee to help UIW build upon the success of last year. Brittain was one of the best Southland Conference QBs, passing for 2,254 yards and nine TDs. He holds several school records.
Construction of UIW's School of Osteopathic Medicine Achieves a Milestone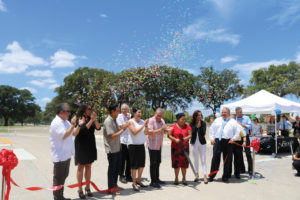 Representatives of the University of Incarnate Word were on hand at the August 8 ribbon cutting event to celebrate the completion of the $9.1 million in improvements to the newly-minted Kennedy Hill Road, a key thoroughfare that will feature UIW's School of Osteopathic Medicine, scheduled for completion by fall 2017. UIW president, Dr. Lou Agnese provided those in attendance a first-hand look at the progress of UIW's medical school construction. "The completion of Kennedy Hill road represents another important milestone in the development of our School of Osteopathic Medicine at Brooks City Base," said Agnese. "We're grateful to all who've been involved with this project, which will greatly increase access to the school when it opens in 2017."
Top 2016 Great Colleges to Work For Names UIW To List
For the eighth consecutive year, the University of the Incarnate Word (UIW) has been named one of the best colleges in the nation to work for, according to a survey by The Chronicle of Higher Education.
The results, released in The Chronicle's annual report on The Academic Workplace that gauges specific best practices and policies, are based on a national survey of 281 colleges and universities. Results are reported for small, medium and large institutions. UIW is included among the medium universities, which is reserved for institutions with 3,000 to 9,999 students. This is the seventh consecutive year that UIW has received the prestigious Honor Roll designation.
"Our team members make the University of the Incarnate Word a great place to work. Many are drawn to our mission, which is built on the values of our founding congregation, the Sisters of Charity of the Incarnate Word. They're motivated by the values and also the opportunity to have a positive impact on others. The result is that our team members do great work every day because ours is a community that values everyone," said Dr. Louis J. Agnese, Jr., UIW president.
UIW won honors in 11 categories:
• Collaborative Governance
• Compensation and Benefits
• Confidence in Senior Leadership
• Job Satisfaction
• Professional/Career Development
• Respect and Appreciation
• Supervisor/Department Chair Relationship
• Teaching Environment
• Tenure Clarity and Process
• Work/Life Balance
• Honor Roll
Great Colleges to Work For is one of the largest and most respected workplace-recognition programs in the country. For more information and to view all the results of the survey, visit The Chronicle's Web site at http://chronicle.com/AW16.
UIW Pastoral Institute Hires New Director, Looks to Future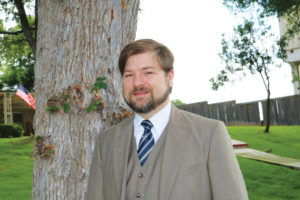 The University of the Incarnate Word (UIW) is proud to welcome Dr. Jakob Karl Rinderknecht as director of UIW's Pastoral Institute.
Rinderknecht comes to UIW via St. John's University in Collegeville, Minn., where he was a visiting professor. He also served in the department of theology at Marquette University in Milwaukee. Rinderknecht earned a bachelor's degree in liturgical studies from Valparaiso University, a master of arts in theology from St. John's University and a doctor of philosophy in religious studies from Marquette University.
He is looking forward to developing current programs hosted by the Institute and continuing UIW's long-standing commitment to making education available to the local church. During this coming year, the university will be looking for ways to strengthen the MA program. "We are looking at a variety of options now," Rinderknecht says, "which will likely include expanded blended and online offerings, along with some revisions to the program to suit the needs of today's lay ministers. We would be grateful for input from alumni and from others as to what needs there are, and how best to serve the local church."
Initiated in 1968 as an undergraduate certificate program and expanded in 1972 to the graduate level, the Pastoral Institute has consistently responded to the educational needs of individuals in or preparing for professional or volunteer ministries and service in the church. While Roman Catholic in its orientation, the program is open to applicants from other denominational backgrounds. Graduates of the Pastoral Institute serve in a wide variety of settings, including Catholic and religious education, as wells as diocesan program administration.
MacArthur High School Has Orchestra Director of the Year
MacArthur High School is proud to be home to this year's TODA (Texas Orchestra Directors Association) Orchestra Director of the Year. Jan Garverick is a dedicated music educator who delights in helping students and teachers learn more about string pedagogy. It's one of her many passions. In her 43 years of teaching, Jan has been dedicated to the enrichment of life through music and finds fulfillment in the fact that many of her former students have become orchestra directors.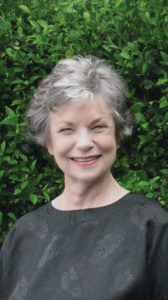 According to the TODA website, Garverick earned degrees in English and music as well as a Ph.D. in fine arts with a major in music education from Texas Tech University. Beginning her career as an itinerant string teacher in the elementary schools of North East ISD, she has taught strings from kindergarten through university levels. In NEISD, she organized and implemented the first middle school string program, developed a high school string program and founded the NEISD Summer Orchestra Workshop, serving as its first teacher and coordinator for 12 years. Garverick has served in every office of the Texas Chapter of the American String Teachers Association, including president. An active member of the Texas Music Adjudicators Association, the Texas Music Educators National Conference, Texas Music Educators Association, Mu Omicron and the Texas Orchestra Directors Association, she has presented clinics at TMEA, TODA and at National ASTA. In addition, she has taught at the Texas Tech Orchestra Camp for 22 summers.
NEISD's Innovative New Sports Fields
Hundreds of North East ISD students take part in athletics where they develop good citizenship traits and an appreciation for sportsmanship. NEISD is excited to announce that as of August these students accomplish this on a field equipped with the latest safety technology.
As part of the 2015 Bond Program, NEISD is installing Brock PowerBase underneath eight synthetic turf fields to help prevent injuries and keep student athletes safe. This industry leading shock pad and drainage layer has been proven to reduce G-max, the peak force of impact, which may reduce the risk of a concussion.
NEISD is the first school district in San Antonio to use Brock PowerBase and the first in Texas to use it district wide. All seven NEISD high school main football fields and Comalander Stadium have the shock pads installed for the 2016-17 school year.
With escalating concerns about concussions, football programs from high school to professional level are using the latest technological innovations in areas like shock pads to build state-of-the-art synthetic turf fields that mimic not only the footing of natural grass, but also its safety.
"Brock PowerBase is made from Code 5 polypropylene, the same material used in food container products," said Dan Sawyer, CEO of Brock International. "There is no leaching, odor, chemicals, or heavy metals, and it will never go to a landfill, so NEISD has chosen the safest, most environmental approach to these fields."
NEISD will be using the same safety padding currently used by other successful programs. Currently, it is in a multipurpose 12,000-seat indoor stadium and two outdoor fields used by the NFL's Dallas Cowboys, city of Frisco and Frisco ISD. Brock fields are also used in Harvard Stadium, the University of Oregon Autzen Stadium and on the Houston Texans, San Francisco 49ers and Arizona Cardinals practice fields. NEISD athletes and their families can feel confident this school year knowing that they are playing on a safer sports surface that will increase safety without hindering performance.This sports surface is an investment that will last several turf life cycles, saving the district money when the turf is replaced.
"It's important to note that the addition of these shock pads did not affect the costs associated with this bond project," said Gary Sullivan, executive director of construction for NEISD. "It fell within the scope of what was approved by our taxpayers, an obligation we take very seriously."
AHISD Unveils New Engaged Classrooms
During the fall of 2015, a team of teachers, administrators, community members and students crafted the AHISD Profile of a Learner to depict the AHISD learning experience students could achieve.  The Profile of a Learner was then designed into the AH Blueprint for Learning for implementation within the classrooms.
In order to bring about this transformation of practice, AHISD committed to a responsible roll out plan that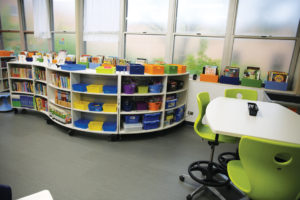 identified 17 classrooms as Engaged Classrooms charged with the implementation of the AHISD Blueprint. Each of the 17 classroom teachers will be supported by an instructional coach as they move away from a teacher platform of instruction to a student-led learner platform of instruction. In AHISD, the goal is for students to take ownership of their learning, ultimately leading to more personalized, customized learning experiences. In addition to this support, Engaged Classroom teachers attended a week-long professional development session on the Blueprint for Learning. They will continue to attend on-going support through PD efforts throughout the year.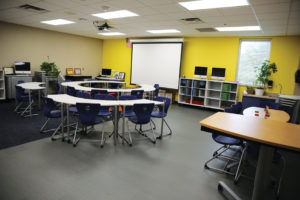 The Engaged Classrooms are all equipped with furniture that is conducive to mobility, flexibility, collaboration and transition. We know that the traditional classroom furniture setup where desks are in rows, permanently arranged for the school year, is not natural for students. That old standardized way of arranging rooms does not encourage communication, interaction and collaboration between the students. The goal for Engaged Classrooms is to help facilitate the personalized learning. These classrooms also have technology devices in a 1:1 ratio to the students to promote learning on demand and also beyond the classroom walls.
Teachers were selected for participation in this first cohort through an application process.  Every one of our five campuses is home to two to four Engaged Classroom teachers.  This responsible rollout plan is set up to ensure success of this first cohort, before moving into year 2-4 of implementation.
AHHS Cheerleaders Earn Awards At Cheer Camp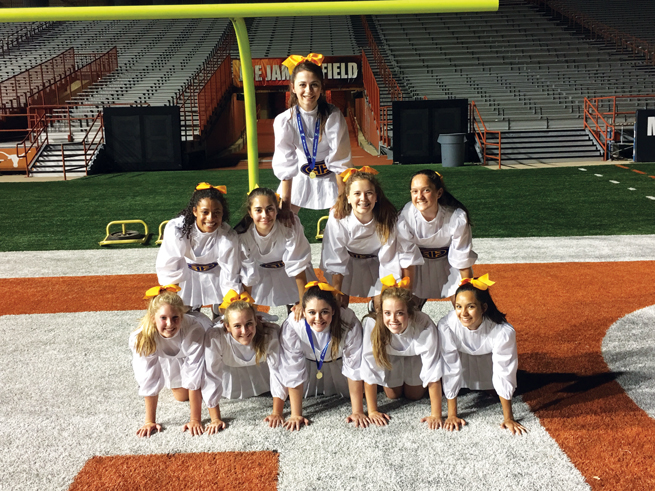 Alamo Heights High School cheerleaders were awarded the following distinctions when they participated in cheer camp at the University of Texas at Austin this summer: The girls worked together learning new cheers, dances, and stunts, earning recognition as they led the way in the annual "game day" competition. Many in the group were part of last year's squad, who brought home the first-ever Class 5A UIL State Cheer title. With the hope of earning another, the girls worked hard and bonded as a team.
Distinctions earned include JV, 1st in cheer, 1st in game day, 2nd in extreme routine and 2nd in sideline varsity; and varsity, 1st in extreme routine, 2nd in sideline, 3rd in cheer and 3rd in game day.
AHISD Students to Showcase Talent for TASA/TASB
Alamo Heights ISD students are set to inspire educators from across Texas as they prepare to perform their "Shaping the Future of Texas" show for the Texas Association of School Administrators (TASA) and Texas Association of School Boards (TASB) Conference in Houston, Sept. 24 at the George Brown Convention Center.
The students were invited to perform during the annual conference as part of the president's welcome in which AHISD superintendent of schools, Dr. Kevin Brown will preside over the convention. Dr. Brown is currently serving as the president for TASA. Singers, dancers, artists and instrumentalists from the AHISD elementary schools, junior school and high school have volunteered to participate in the program that highlights the importance of public education. All teachers, staff and administrators from across the state will be recognized for their role in shaping the future of Texas through public education, during the 20-minute performance.
The show will be performed locally for the Alamo Heights community, on Sunday, Sept. 18 at 2 p.m. at the Alamo Heights high school auditorium. The performance is free to the community.
Meet the Mules
Alamo Heights High School hosted the annual Meet the Mules activity in partnership with Mule Team to kick-off the sports season. The event featured performances by the Alamo Heights High School Band, Cheerleaders and Spurs, with introductions of the various sports teams. The Mule Team hosted a BBQ Dinner with all proceeds going to benefit athletics at AHHS. The event was held on August 24.
AHISD SEPTEMBER CALENDAR
September 5
LABOR DAY HOLIDAY:
No school for students.
Schools and offices closed.
September 15
AHISD BOARD MEETING:
AHISD Board Room, 7101 Broadway, 7 p.m.
September 18
STUDENT SHOWCASE
COMMUNITY PERFORMANCE:
AHHS Auditorium, 6900 Broadway, 2 p.m. AHISD students will be featured performers at the Texas Association of School Administrators and Texas Association of School Boards state conference in September. The community is invited to see the show locally before the premiere in Houston.
AHISD Back-to-School Begins with Convocation
Before students take their seats in classrooms across our city, teachers and staff begin preparing for the academic year ahead with professional development and planning days. In Alamo Heights ISD, the first day back for teachers is always lively as colleagues and friends greet one another after the long summer break. The day begins with the district's annual convocation ceremony, which was held on August 15. Employees reconnected over breakfast, sponsored by Randolph Brooks Federal Credit Union (RBFCU), and then enjoyed listening to featured speakers including: Michelle Candland, AHISD teacher of the year and Trinity Prize honoree, Bonnie Giddens, AHISD board of trustees president, Sheila Mayweather, Alamo Heights School Foundation board president, and Dr. Kevin Brown, superintendent of schools.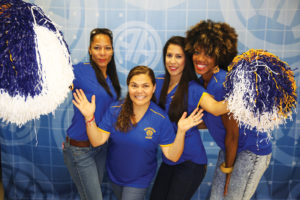 This year, the faculty and staff were able to take a sneak peek at the student showcase featuring 100 AHISD students. The program will be performed at the Texas Association of School Administrators (TASA) and Texas Association of School Boards (TASB) Conference in Houston on Sept. 24. Sharing the message of how each one of our AHISD team members is "Shaping the Future," the annual convocation event is a tradition that allows all staff to come together, reconnect and set the tone for a successful academic year.
BY EDMOND ORTIZ
PHOTOGRAPHY BY EBER GUERRERO