MacArthur Senior Launches Grab and Go Breakfast Cart
Thanks to a health-conscious student at MacArthur High School, students in a rush will get an extra boost of energy in the morning. The campus is testing out a Grab and Go Breakfast Cart on campus to make it easier for students to fit in a quick meal before class. Analisa Pompa partnered up with North East ISD's School Nutrition Services Department to provide the breakfast cart for students in need of a quick eat. Students can choose entrées like pancakes, sausage and biscuits, yogurt, muffins, cereal along with fresh fruit and milk.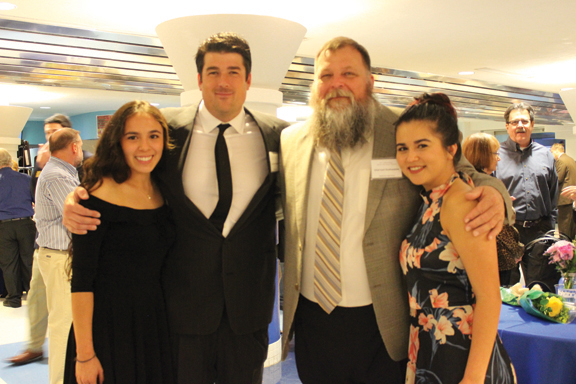 "I think in today's society a problem we tend to encounter is convenience over health, and the breakfast cart offers both," said Pompa, a senior at MacArthur. "It has been statistically proven that kids that have breakfast in the morning perform a lot better at school, and I think that's super important as a student."
School districts all over the nation are trying to reach out to where students are outside of the cafeteria to offer great breakfast options to help kick-start their day. NEISD is well aware of the benefits of a Grab and Go Breakfast Cart program at the high school level. The program was first launched at Lee High School and has been a big hit for the students. The district also has breakfast carts at four elementary schools and five middle schools.
MacArthur Honors Summas and Their Teachers
On March 8, MacArthur High School celebrated the outstanding accomplishments of 78 of its highest achieving students. They are graduating this June, after 12 years of hard work and dedication, with a 100+ grade point average. They are the school's Summa Cum Laude graduates.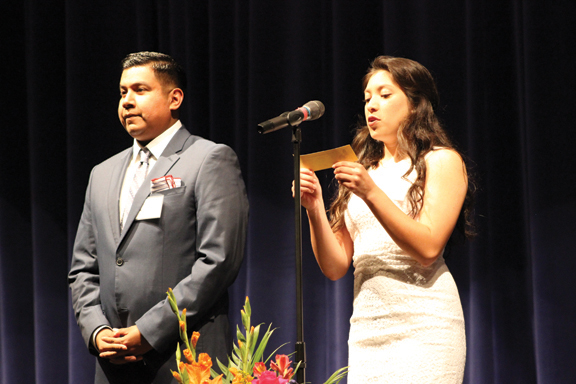 At a special reception with family and guests, each of these Summas recognized a teacher who had the most impact on their lives. It was a night of warm memories, stories and lots of hugs.
In addition to family and friends, the campus welcomed special guests Dr. Brian G. Gottardy, superintendent of schools; Dr. Donna Newman, associate superintendent of campus support and human resources; Jim Wheat, NEISD board member; and Bill Boyd, executive director of campus administration.
Woodridge's Gonzales Earns Second Trip to State
HEB Excellence in Education Awards team made their way through the hallways of Woodridge Elementary in early March to surprise Alma Gonzales, fifth grade teacher, announcing that she was a two-time state finalist in the HEB Excellence Awards in the Lifetime Achievement Category. The Lifetime Achievement Category salutes teachers with more than 20 years of experience. State winners would receive $25,000 in cash for themselves and a $25,000 grant for their school.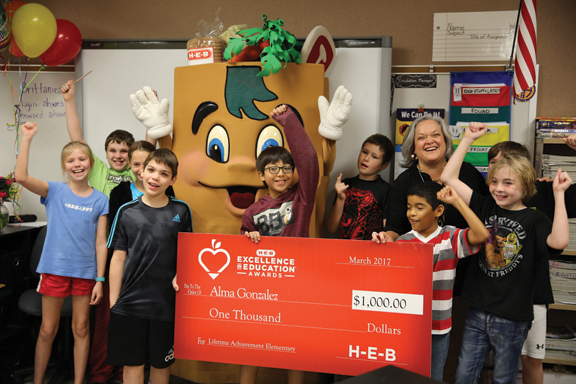 Alma was surprised and honored, knowing she would be competing against the most talented and experienced educators in Texas.
"I'm so humbled and honored to be recognized by HEB! This is a tremendous honor and it means so much to me and public school educators across Texas," shared Gonzales.
When asked why she was an educator, Gonzales replied, "I am an ordinary person who wants extraordinary things for my students. I hope to help each one of them realize and reach their full extraordinary potential".
Gonzales will be recognized during the state-level celebration as a regional finalist. She will compete to be named the lone Lifetime Achievement Award recipient in May, alongside her home district, Alamo Heights ISD, one of three finalists for the state Small District Award with the potential to win $50,000.
Lions, Tigers and Trees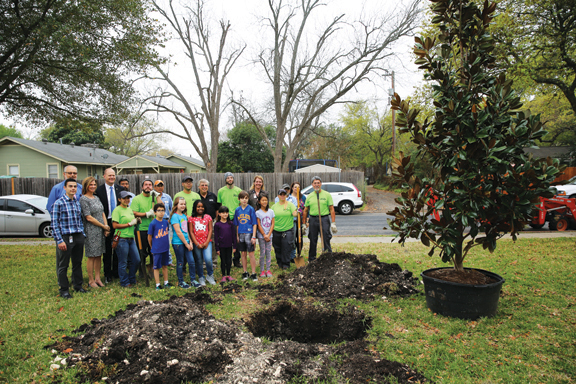 Woodridge Elementary students and staff welcomed team members from the San Antonio Zoo on the school's front lawn as the Zoo team donated two trees to the campus. After hearing about the damage sustained in the Woodridge community after the tornado, the Zoo wanted to donate the trees to enhance the area. Students were grateful for the donation and helped plant the tree along with Zoo staff.
Basics of the Alamo Heights Independent School Districts $135 million Bond
The Alamo Heights Independent School District board of trustees has called for a $135 million bond issue election to be held on Saturday, May 6. Here are some important facts about the bond:
• Every penny of bond revenue will stay in the district.
• The estimated debt service tax rate implication is 5.5 cents per $100 dollar valuation.
• Seniors age 65 and over generally have frozen school taxes.
The total amount of the bond is $135 million.
Proceeds from the bond will be used for improvements at the high school, junior school, Robbins, Woodridge, Cambridge and Howard campuses.
For more information, visit www.ahisd.net
Collaborative Effort Sounds Success for "Music Man"
By Estee Steves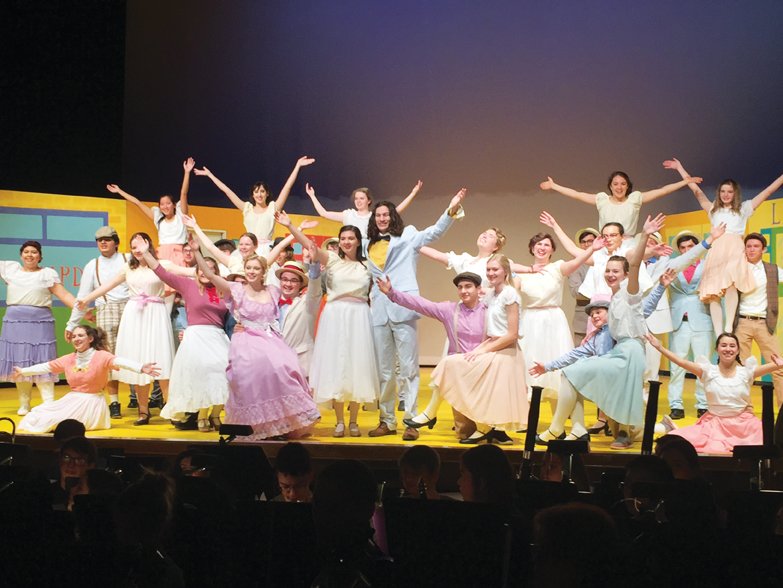 This year, the theater department at the high school performed a big Broadway musical, The Music Man. Every two years, the theater department directs and choreographs a musical that shows the talent of students participating in orchestra and choir along with those who participate in theater production, theater performance and technical theater classes.
"I had so much fun performing with all my friends," senior Mia McFarland said. "I made so many friends in the process of putting the show together."
The Music Man, written by Meredith Wilson, is about a con man named Harold Hill who impersonates a band director, promising to teach music lessons to students in an Iowa town. But he plans to skip out with all of their money. Plans go awry when he falls in love with Marian, the sweet and smart librarian.
"It was one of the best experiences of my life working with the cast and crew," senior Eric Anderson said. "It was a great way to top off my senior year."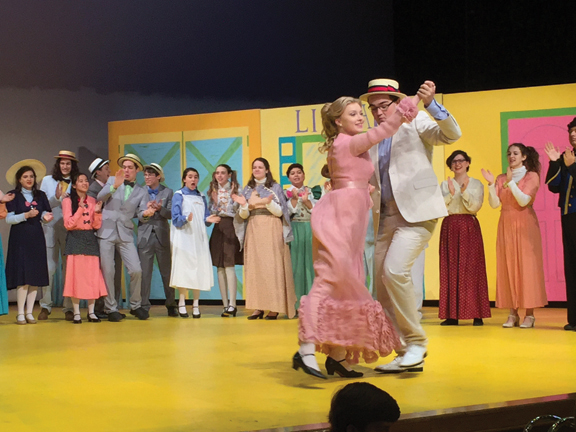 The musical was chosen by collaboration between orchestra director Colin Meinecke, choir director Angus McLeod and theater director Andrew Denny. About 100 students participated. Rehearsals started in October and ran for three months, at which point cast rehearsals began after Christmas and ran for one month. Senior Alice Lammers made most of the costumes by hand.
"I am very proud of the students and their effort to make the show what it was," Denny said. "The students worked through some very difficult circumstances and still put on an amazing show."
Popular songs in the show include Shipoopi, Seventy-Six Trombones, The Wells Fargo Wagon and Till There Was You.
"Learning the Shipoopi song was a lot of fun," junior Molly Brown said. "We rehearsed for quite a long time, but it was worth all the hard work when the show opened."
Dancing Their Way to Success
By Colby Davis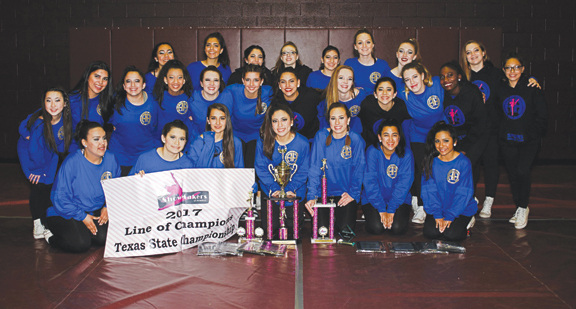 After many long hours of practice and hard work, the Alamo Heights High School Spurs Dance Team showcased their talents at the state level, dancing their way through another successful year.
From football game halftime shows to pep rally performances, the Spurs use all opportunities to get the team ready for their unique regional and state level competitions in the spring. Led by coach Jessica Marie Sanchez, the Spurs share their commitment and enthusiasm in all.
"Serving as a leader for this team, I worked to motivate the girls," senior Sarah Diaz said. "I had to be strong no matter what happened."
Members of the Spurs put in over 10 hours of practice a week, which makes for long school days. They support the football team during the fall, basketball team during the winter and start their competition cycle in the spring. The week begins with the officers meeting to discuss choreography and watch the routines they will teach their team of dancers. From Monday to Thursday, the team joins the officers for morning practice, which includes working-out and dancing. During the football season, the Spurs have football buddies when they are assigned to a varsity football player and bring food and posters to their player's home on Thursday nights. On game day, the Spurs show off their main routine at halftime and are also in the stands cheering on the players.
"The best way to prepare for any performance is practice, practice, practice," shared sophomore Courtney Morin. "We put in the amount of work we expect to get out of each performance."
The Spurs have many duties, and the leadership of students is important to their success. There are five officers who include two executive officers, two lt. colonels and one Colonel along with the line members. The process of becoming an officer is long and grueling and begins as soon as the dancers try out, with a continuous assessment of attitude, behavior, and more. In April, they perform in front of a set of judges and also go through a series of interviews. Once completed, the judges and Sanchez decide who will be assigned to each position. The officers are distinct on the field in that they wear white uniforms and lead the team out for performances. Each officer is in charge of a certain number of girls and makes sure they are informed about all practices and activities in which the Spurs participate.
"The process of becoming an officer was super stressful," senior Robyn Reuter said. "When it was all over, I was so relieved. It has been an honor to serve in a leadership role with the Spurs."
To complete their season, the Spurs compete state-wide, performing specialty routines that include hip-hop, clog, pom-pom and contemporary dances. They perform a total of four routines, which takes hours of practice to master. When the season is over, dance team members share that the experience has been much more than a dance performance; it is a friendship and a family with girls they might never have known.
"I loved being able to bond with my team," junior Riley McCann said. "I love all of these girls and am so glad I am part of this team."
The girls have earned numerous accolades this season, earning top honors in the Crowd Pleasers of America Regional Competition and Showmakers of America State Competition to include unique accolades like:
Top Scoring Team-Judges Champions Cup Award; – Highest Scores in Showmanship from All Judges-Showmanship Award; Highest Scores in Choreography from All Judges-Choreography Award; Highest Scores in Technique from All Judges-Technique; and, the Champions Cup "Award of Excellence" for Highest Point Team of the Day (Regardless of Division Size) and "Most Inspirational Team" as voted by all participating teams and staff.
Above Par, On Course
By Daniel Macias And Hunter Farrimond
Coming off their win at the 5A regional preview held at the Golf Club of Texas, the boy's golf team looks to get their minds right before their spring tournaments. Led by senior Mac Meissner, the Mules want to preside over these upcoming tournaments before state.
"I think we have gotten off to a very hot start," Meissner said. "I hope we can carry that momentum into spring play because we have a lot of potential."
Looking to deliver a young Tiger-like performance, the boys are loaded not only with a future division one athlete but also with other talent such as senior Sam Berryman, who finished second in the last tournament and junior Parker Ray. The boys team not only expects a win but also hopes to dominate, and with these players at the helm, it looks like it will happen.
"I am excited because I really think we can win," Ray said.
The girls golf team is playing well and having fun. The girls are preparing for their spring tournaments with juniors Ali Brusenhan and Kathleen Calgaard at the helm. With no seniors on the team this year, the team is working to improve, with sights set on the future.
"I think the future looks great for the golf program," Brusenhan said. "Both boys and girls need to continue to work hard and stay focused in order to improve."
Overall, both golf teams show strong signs of being able to dominate in their tournaments. The boys will continue their tear through the tournaments while the girls keep quietly dominating in theirs. Both teams are looking for support in the future, so be sure to go out and show some support to help them win.
"The season is going great for both teams," Calgaard said. "Hopefully, we can finish out strong."
Baseball, Softball Swing into Action
By Jeremy Wasson
Spring marks the start of the baseball and softball seasons, and both are in the swing of things. The baseball team is led by head coach Jason Thompson and second year assistant coach Weston Heiligman. Since Thompson took over the baseball program, success has been better than ever. In his first year as a Mule, Thompson led the Mules to the fourth round of the playoffs and last year, the Mules were a state finalist, finishing second. This year the team's mindset has not changed. The goal is to get back to Round Rock.
"Getting to state has always been the goal for us," senior centerfielder Parker Taylor said. "And this year nothing has changed and we will do anything to get back there."
The softball team is led by head coach Maggi Welham and assistant coaches Todd Dorgan and Joe Osterman. The softball team is prepared to bounce back from last year and make a run in district and get into the playoffs. The team is ready to play against the three new teams in district, and those returning to the district.
For both boys and girls, the spring season really jumpstarts during the summer.
"Many of the girls play year-round to prepare for the high school season. As soon as the high school season ends, the weekend summer tournaments begin, carrying us well into winter and the double-headers of fall ball," shared sophomore catcher, Destiny Bullis. "We love the game of softball and play as much as we can to learn and improve."
"Playing in tournaments is huge for the team," senior Pitcher Matthew Butler said. "These tournaments help us get ready for district and let us know where our team is, so we know what we need to do to get where we want to be."
With high expectations, both teams have added a new element to their off-season training.
Players attended a presentation by Steve Springer to help them gain quality at bats through mental preparedness.
Springer served as the performance coach and major league scout for the Toronto Blue Jays, playing over 14 years as a professional and compiling over 1,600 professional hits. Springer served over 30 years in professional baseball as a player, agent and scout. He is the author of Quality At-Bats and the founder of Quality At-Bats Academy.
"The entire softball team enjoyed the opportunity to meet Mr. Springer. His message of mental preparation has helped each of us to grow stronger as we work to support our team," shared junior pitcher Jackie Hernandez.