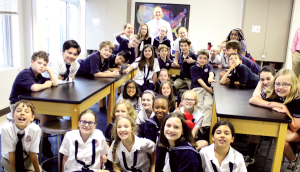 AHHS PERFORMS AND ADVANCES WITH RADIUM GIRLS IN ONE-ACT PLAY COMPETITION
In March, the cast of the one-act play, Radium Girls, performed in the UIL One Act Play Zone competition at Edgewood Academy of Fine Arts. At the Zone competition, several actors and crew received awards. Junior Matilda Gonzalez was named All Star Technician; junior Michael Nicholas, sophomore Cooper Noble and senior Daniel Collins received Honorable Mention All Star Cast, and seniors Annie Harris, Margaret Poore and Cally Decherd were named to the All Star Cast. The play advanced to the District competition in late March and again to Bi-District in early April. Students earning awards at the District competition were Genevieve Scott, All Star Technician, and Michael Nicholas and Annie Harris All Star Cast. Radium Girls is set in the 1920's and tells the story of a group of women who go to court after being poisoned by radium contained in the paint at the watch-dial factory where they work. Before performing, the cast rehearsed for many months under the direction of theater teacher Charlcy Nichols. "Radium Girls was selected as our play by Mrs. Nichols," senior Kylee Nienstedt said. "She seems to favor historical plays with a strong sense of girl power." "The cast really came together and told a great story," Nichols said. "I was very proud of them." Auditions for the play were held in December, and students were asked to read monologues and do some scene work. "I was excited after my audition," senior Maddie Dean said. "I got dual roles as the judge and health department clerk." The cast and crew began rehearsing in February and have practiced every day since, during theater production class and most days after school. "At a typical practice, we did a run-through of the play," freshman Presley Weber said. "We also worked on individual scenes at practice, depending on how much time we had." Radium Girls had 13 roles with many actors accepting the challenge of playing dual roles. Many of the actors also practiced on their own time in order to ensure the performance was the best. "I practiced outside of scheduled practices because I wanted to experience method acting," junior Michael Nicholas said. "I memorized my lines but actually focused on becoming the character." At the submission of this article, the students were still competing at the Bi-District level.
NORTH EAST ISD IS HOME TO BEST BUS TECHNICIAN IN THE STATE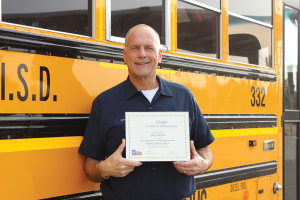 Larry Norris, bus technician in the North East ISD Transportation Department, returned from the Texas Association of Bus Technicians state competition with some major bragging rights. Norris competed against 20 of the state's best school bus technicians in the Texas Best Technician Competition on March 28 and took first place. The entire Transportation Department is truly proud of his achievement. "I learn each time I go there and meet new friends," said Norris, who has competed in the Texas Best Technician Competition for eight years. "The technology is constantly changing in these buses, and you have to keep up." The challenge was closely graded for both accuracy and time management. Competitors must earn points through several rounds that feature a book test, followed by the diagnostic and repair of three buses, and lastly, a timed diagnostic and repair of a bus. Norris will be presented with the official first place trophy and a victory celebration at the conference in Dallas this June. He is now looking forward to attending the national competition later this year.
NORTH EAST ISD ADULT EDUCATION STUDENTS INDUCTED IN HONOR SOCIETY
The North East ISD Adult Education Honor Society induction ceremony took place April 9 for adult education students and their families. Led by the Adult Education staff, the special ceremony recognized students for attending class, cooperation and self-reliance. In addition, honorees received a letter of recommendation from the National Honor Society headquarters that may be used when applying for employment, a scholarship or financial aid in the future. More than a decade ago, Lloyd Weaver, a director of an adult education program in South Carolina, took the initiative to create a meaningful recognition for adult education students, which led to the founding of the National Adult Education Honor Society. In 2002, NEISD Adult Education applied for and was granted a charter in the organization.
ST. LUKE'S LIBRARIAN AND STUDENT PARTICIPATE IN SAN ANTONIO BOOK FESTIVAL
St. Luke's Episcopal School librarian Mary Milligan and fourth-grade student Kate Van Zandt were participants in the San Antonio Book Festival on April 11. Head librarian and Bluebonnet Selection Committee member Milligan sat on a three-person panel to discuss Texas women writers and the anthology, Her Texas: Women Write About the Texas Experience. A short story written by Milligan is included in the anthology. The panel met on the campus of the Southwest School of Art. St. Luke's student Kate Van Zandt introduced author Jen Bryant and her book, The Right Word: Roget and His Thesaurus, in the Children's Tent. "The San Antonio Book Festival is a fabulous celebration of books, libraries and literary culture," says Milligan.
HOWARD, CAMBRIDGE AND WOODRIDGE SCHOOLS JOIN THE CARDBOARD KIDS CAMPAIGN
April 9 was Reveal Day as Alamo Heights Independent School District students and staff shared their _#_CardboardKidsSA_ to support @ChildSafe in their mission to end child abuse and neglect.
METEOROLOGIST EDUCATES ST. LUKE'S EPISCOPAL SCHOOL STUDENTS
KSAT Weather Authority meteorologist Adam Caskey visited St. Luke's Episcopal School fourth-graders April 1. Students have been studying weather patterns, atmosphere, the water cycle and cloud types as a part of the fourth-grade science curriculum. Caskey entertained students with stories about how weather is predicted and the challenges of being in front of the camera. "It was great to hear about the education that it takes, especially in math, to become a meteorologist," said fourth-grade math and science teacher Heather Crow. Caskey's visit piqued several students' interest in meteorology and broadcast journalism. At the end of the presentation, Casey took a "selfie" with the class and displayed it on the evening broadcast.
ST. DAVID'S EPISCOPAL SCHOOL'S SPRING FLING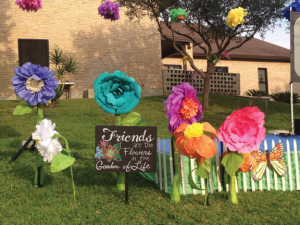 St. David's Episcopal School's main fundraising event of the year, Spring Fling, was held April 9 on St. David's Episcopal Church's grounds and spilling into Terrell Hills streets. Close to 400 parents and supporters were in attendance. The event included a silent auction with cocktails and dinner, followed by a spirited live auction of big-ticket items and class projects. This year's theme was Let the Good Times Grow, and the event was headed by volunteer co-chairs Angel Schneider and Holly Besing. Funds raised are applied to major facility improvements such as playground areas and equipment, learning resources, tuition assistance, technology, staff development, special events and other items.
ST. PETER PRINCE OF THE APOSTLES SCHOOL: BRAINPOWER SUMMER CAMP
Age-appropriate activities for ages 18 months-10 years are available through St. Peter Prince of the Apostles School's Brainpower Summer Camp. The camp features weekly themes for activities, including indoor gym games, playground time, arts and crafts, water fun and swimming, technology, sports, field trips, reading and visiting performers. Early camp care starts at 7am, and late camp care ends at 6 pm. Registration is under way and forms are available online at www.stpeterprince.org (click on Student Life and then Brainpower Summer Camp).
BY ANNABELLE SPEZIA-LINDNER