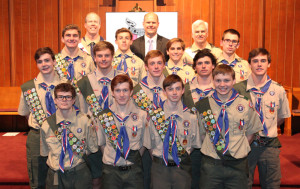 Thirteen Young Men Reach Boy Scout's Highest Eagle Scout Rank
Boy Scouts of America, Troop 809, chartered through Alamo Heights Presbyterian Church, held a Court of Honor on Jan. 31 to recognize 13 Eagle Scout-rank recipients.  Statistics indicate that some 5 percent of all boys who join Scouts will make it to Eagle rank. The honorees attend Alamo Heights High School, Highland Park High School (Dallas) and Saint Mary's Hall. AHISD Superintendent Kevin Brown delivered congratulatory remarks.
To earn the Eagle Scout rank, the highest attainable rank in Scouting, a Boy Scout must earn a minimum of 21 merit badges, serve in various leadership positions, and create,  organize and manage an extensive Eagle Scout Leadership Service Project to benefit various organizations, churches, parks and others in need of a lasting improvement or contribution.
Front row, from left, Larkin Crow, Robert Lemke, Robert Alluson, Emory Word. Second row,  Jack Heydenreich, David Shetler, William Krenger, Parker Taylor, James Tyng.  Third row, Edward Bass, Benjamin Fitch, Bennett Comeaux, Zachary Maxwell.  Back row, Scoutmaster John Fitch, guest speaker Dr. Kevin Brown, committee chairman John Bass.
St. Luke's Student Is Top 10 Finalist in SA Book Festival Fiction Contest 
St. Luke's Episcopal School eighth-grader Katharine Stevens has been named a Top 10 finalist (grades 7 and 8) in the San Antonio Book Festival fiction contest.  Her story, "The Lonely, Little, Old Lady," was chosen from 175 submissions from 40 schools. This is the first time a St. Luke's student has participated in the fiction contest. "I am proud of the students who took the creative initiative to write a 1,000-1,500 word story in response to the contest's prompt: 'Not all heroes wear capes,'" says St. Luke's communication and literacy chair, Anne Burnson. "I hope Katherine's experience will encourage other SLES students to enter this prestigious contest."
Stevens felt that the process of writing the story was quite easy, but she wanted to make her story stand out. "I didn't want to write about doctors who save lives or policemen who keep people safe," says Stevens. "My hero was a Girl Scout that saved someone by bringing happiness into the home of an elderly woman. The story encourages you to be kind to everyone because you never know what people are feeling or hiding behind."
Winners from each grade category will have their works showcased at the San Antonio Book Festival, ride on the official Texas Cavaliers Fiesta float in the River Parade and have their stories published in the Texas Cavaliers' official program. To read Katharine's winning story, visit HYPERLINK "http://www.saplf.org/festival/fiction-contest/"http://www.saplf.org/festival/fiction-contest/.
St. Luke's Students Fill Local Food Pantry With 4,855 Food Items 
St. Luke's Episcopal School students collected 4,855 nonperishable food items in an effort to fill the Good Samaritan Community Services' food pantry. The school has partnered with Good Sam for their Silver & Black Give Back Team Up Challenge project. Each week, middle school students package weekend snack bags for children experiencing hunger. Through this experience, St. Luke's students learned that many local families face food insecurity year round.  During the holidays, food pantries are filled and then promptly emptied as food is distributed to needy families. The continuous need for food inspired the school community to help fight hunger in San Antonio with a canned food drive.
The school's donation completely stocked the Good Samaritan food pantry. The fourth grade class alone donated 1,257 items, averaging an impressive 47 items per student. Servant leadership is a hallmark of the St. Luke's educational experience. "St. Luke's is committed to service learning at every age and grade level," says Robin Davenport,  director of student life. "It was amazing to see 3-year-old students walking into school carrying bags of food bigger than themselves!"
History Lesson Captivates Garner Parent Academy 
The Garner Middle School Parent Academy received a special treat for their class on Jan. 12 when instructional coach, Chad Anderson, provided a history lesson. Parents were provided with artifacts in history ranging from the 1800s through the 1900s and investigated details of the artifacts to learn about them. The artifacts were then placed in a timeline.
Anderson surprised the parents as he explained that the artifacts were from his own family tree and represented people and places in history from the Civil War, World War  I, West Virginia and Marshall University. Additionally, the parents were amazed to learn that as a young boy, Anderson received a letter and picture from President Ronald Reagan.
Lamar Elementary Celebrates 100th Day of School
[PHOTO]
Lamar Elementary prekindergarten students celebrated the 100th day of school in style. Pre-K teacher Ms. Ureta and her kids dressed up for the event.
MacArthur Electrical Habitat for Humanity
HYPERLINK "http://www.neisd.net/ComRel/news.cfm?ID=1770"
Students enrolled in MacArthur High School's Electrical Systems Technology (EST) Technical Apprentice Program and their sponsors worked on new homes in a Habitat for Humanity neighborhood on Jan. 20. There were 43 students on the project installing the electrical wires at four homes in the Coleman Ridge community. The students were excited to put their classroom skills to the test for a good cause. "It is such a satisfying feeling," said Larry Coltonburg, junior at MacArthur. "The pride to help give someone a house — there is nothing better."
"It's a win-win partnership," said Stephanie Wiese, vice president at Habitat for Humanity of San Antonio. "We really appreciate the school bringing the students." Jesse Aguilar, owner of Platinum Electric, sponsored the project. His journeymen helped guide the students on the job. He also bought lunch for the students.
This is the eighth year EST has participated in a Habitat for Humanity construction project.
MacArthur Hosts Cafeteria Taste Test
NEISD is looking to add some spice to the cafeteria menus next school year. The School Nutrition Services department asked students to try out new recipes to decide what should be added. At the third annual Cafeteria Taste Test, held on Jan. 20 at MacArthur High School, students tried a variety of new foods like a buffalo chicken sandwich, Italian flatbread, tamales, an Asian salad and smoothies.
Students were impressed with many of the items and filled out surveys for each sample. Students from across the district involved in PALS, JROTC, Student Council and wellness activities on their campus were invited to the tasting. In the past, students have approved the addition of healthy menu items like made-to-order burritos, fish sandwiches, chile-lime seasoned vegetables, apple cinnamon bread and Dutch waffles. School Nutrition Services strives to find healthy recipes that taste good.