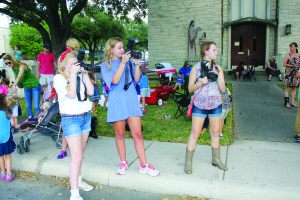 ALAMO HEIGHTS JOURNALISM PROGRAM FINISHES STRONG
The Alamo Heights High School journalism department had a busy year capturing and sharing the school's events. The team of writers soon made news, as both The Olmos yearbook and The Hoof Print newspaper staffs won the UIL Award Of Distinguished Merit, the state's highest honor. This was the seventh year in a row for the award for the yearbook staff, but the first ever for the newspaper staff. The yearbook staff also won Balfour Publishing's Yearbook Award for the ninth year in a row.
Vital to both staffs were the editors. For the yearbook, the co-editors were Hannah Williams, Mollie Farrimond and Rachel Williams. For the newspaper, co-editors included Ellen Dyer, Grant Sechler and Gabi Valasco. Although editors manage two different publications, they had similar responsibilities, and all played important roles in the completion of their respective publications. The editors attributed the success of the publications to their staffs, whose members split the work on the various portions of the publications.
"I loved watching the yearbook come together," Williams said. "We have such a great staff, and I was excited to lead them." Farrimond added, "Being an editor was hard and a lot of work. But I liked being able to see the entire process of completing the yearbook."
Members of The Hoof Print split into different groups and were assigned to such areas as news, sports, features, entertainment, photos or world news. "Being entertainment editor was fun," senior Chris Jackson said. "I had a lot of responsibility and enjoyed researching the topic. I was happy to work with a team."
Students worked countless hours to produce nine issues during the year. "I was so happy when I found out we won the Distinguished Merit Award," senior Marshall Dilling said. "It made me happy to know that our hard work didn't go unnoticed."
In order to participate in either staff, students must have completed the journalism I course, where they learned the journalistic writing style, rules of captions, how to take quality pictures and necessary knowledge to work on a publication. "Every day in journalism was fun," sophomore Paulina Alcala said. "We learned something new, and each day was exciting."
In addition to completing their duties for the publications, many members of the department competed in Journalism UIL events. This year the team won first place at the district meet and advanced six people to the regional competitions in seven events where they placed second as a team. Delaney King and Katherine Holmes advanced to the state competition with Annabelle Spezia-Lindner and Rachel Williams as alternates. Holmes placed second in editorial writing.
ST.LUKE'S EPISCOPAL GRADUATION
St. Luke's Episcopal School celebrated the eighth-grade class of 2015 on May 22. The 36 graduates will attend 10 high schools across the nation. Among the graduates were five St. Luke's "lifers," students who have attended the school since pre-kindergarten 3. "We will miss the class of 2015," said assistant Head of School Christopher Bertha. "We are confident they will continue to be shining examples of the 'St. Luke's Way' in the next steps of their journey."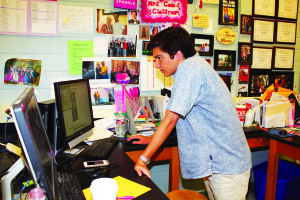 NORTH EAST EDUCATIONAL FOUNDATION AWARDS RECORD $185,000 FOR PROJECTS
The North East Educational Foundation (NEEF) surprised teachers across North East ISD with a record $185,000 in grants for their school projects. This increased $24,000 from last year's giveaway amount. The NEEF board of directors traveled to 35 North East ISD campuses on June 1 and 2 to award checks to 47 innovative classroom projects.
Northwood Elementary School received two grants from NEEF for literature resources, and MacArthur High School received a grant to buy 10 field microscopes. Alicia Mein-Johnson, a teacher at MacArthur, applied for the grant to give students the opportunity to form a deeper understanding of science.
"While our students love counting birds, identifying native plants and netting fish, they currently miss seeing an entire world of microbiology," Ms. Mein-Johnson said. "Protists that look like monsters, fungi decomposing organics and the intricate world of soil bacteria are missed by our students simply because they can't see it." Now, all MacArthur science students will be able to venture out to Salado Creek and use microscopes in the field, all thanks to the funds given by NEEF.
"We can take a soil sample and look for fungal spores and evidence of decomposition, visualize various plant pollens and even see the intricacy of scales on butterfly wings," Ms. Mein-Johnson said. "With just 10 microscopes, we can greatly enhance our curriculum and student engagement with the microscopic world."
NEEF funds grants for innovative ideas that will supplement NEISD curriculum and help teachers bring learning to life for their students. These funds are raised by the NEEF board of directors through annual events and donations from the NEISD business partners and community members. Teachers like Ms. Mein-Johnson are extremely grateful.
NEEF is an independent nonprofit board dedicated to providing educational opportunities that directly benefit North East ISD students district-wide. To learn more about NEEF, visit http://northeastfoundation.org/.