MacArthur Prom Raises Thousands for Charity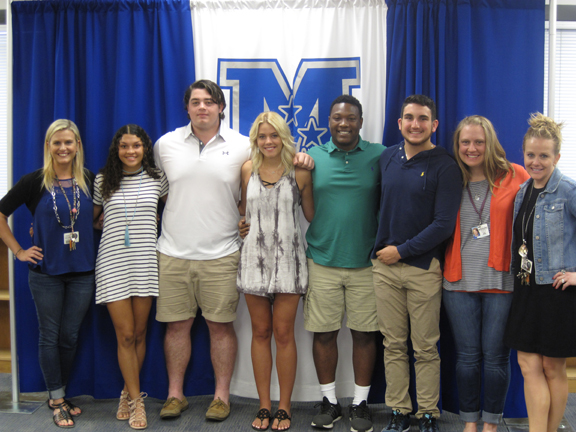 In lieu of selecting Prom King and Queen at MacArthur High School, each Court member chooses a charity that means something to them and they fundraise for a certain amount of time. The male student who raises the most money for his charity is crowned king at prom, and the female student who raises the most money for her charity is crowned queen.
It is not a popularity contest at Mac, but rather a service project that the kids enjoy because they truly appreciate being able to give back to the community. This year the six Prom Court members raised a total of $10,884.83 for charity. Johnathan Gessner was crowned Prom King after raising $1,466 for his charity, NK in USA, and Hailey Dieckow was crowned Prom Queen after raising $5,319 for the American Cancer Society.
Instead of keeping his crown, Johnathan Gessner bestowed the title of Prom King on Eddie Shoemo, who raised $149.99 for the American Heart Association. Eddie's mother had recently passed away, and this is a gift that Johnathan felt Eddie deserved more than anyone.
This is just another example of what a familial community has been built at MacArthur. Kyies Heidari raised a total of $1,280.84 for The Wounded Warrior Project. Ashton Woods raised $1,434 for her charity, Action Against Hunger. Finally, Elizabeth Hudson raised $1,235 for Child Safe.
Because Hailey Dieckow managed to raise over $5,300, The American Cancer Society will honored her with a check presentation ceremony on May 18 in the MacArthur Library. These six students truly embody the school motto of "Duty, Honor, and Country."
Churchhill And MacArthur Host Raider Competition
On Saturday, April 22, Churchill and MacArthur High School Junior Reserve Officer Training Corps (JROTC) cadets hosted the fourth and final Raider Challenge of the 2016-2017 school year, marking the culmination of an outstanding year of competition showcasing the talents and teamwork of hundreds of cadets from across Texas. The final competition included more than 350 cadets comprising teams from 13 area schools that traveled from as far away as Clear Falls and Laredo to compete in one of the state's premier Raider Challenge series available to high school athletes.
The Raider Challenge events are designed to test physical fitness, mental toughness and teamwork. Saturday's competition included a 2.5 mile ruck run, an obstacle course, a combat fitness challenge and a team rope bridge construction. The six to eight cadets depending on the category of competition, were required to complete all four events in sequence, in a 5-hour period. One particularly unusual aspect of the Raider competition is the inclusion of a mixed team category consisting of young men and women serving on the same team.
"I love competing as a mixed team" said Cadet Major Miranda Leija, commander of the varsity mixed team for Winston Churchill High School. "I have competed in all-female teams and mixed teams. By far, my favorite is competing as a mixed team. We have the opportunity to assemble a team that includes the best of the best. It does not matter if you are a boy or a girl."
Miranda has competed at the national level in Molena, Georgia, for each of the last four years. Raider competitions provide an opportunity for students of all ability levels to compete, build strong relationships of trust and develop a sense of esprit de corps among their teams and schools.
The competition is both physically and mentally demanding "You can tell by the looks on the cadet's faces at the end of the day," said First Sergeant William Parr, Army instructor at Winston Churchill High School, "these kids are giving it all that they have."
The Raider training program has grown in popularity in recent years and has become a major focus for the JROTC cadre responsible for managing them. This year nearly 50 of the 180 Cadets enrolled in the JROTC program at Winston Churchill High School participated in Raider and orienteering training. Next year the number is expected to grow as the sport continues to draw more attention and greater participation. The next Raider competition is set for late September and will be held at the JROTC Urban Raider Confidence Course near Heroes Stadium. For more information visit http://wchsjrotc.weebly.com/urban-raider-challenge.html.
MacTEACH is Named Team Up MVP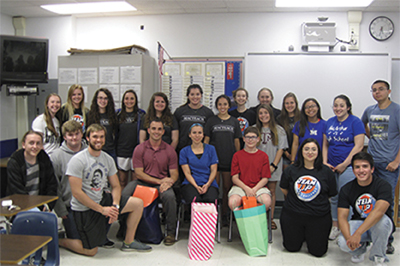 On May 17, the MacTEACH students of MacArthur High School were presented with a $10,000 check from the San Antonio Spurs Coyote and Silver Dancers. They along with Silver & Black Give Back representatives showed up at the school to let the students know that they had been selected as the 2016-2017 Team Up Challenge MVP's and winners of $10,000.
Earlier in the school year, MacArthur was named a Challenge finalist and received $14,000 to continue and expand their MacTEACH program.
MacTEACH is a peer tutoring program that aims to enrich lives globally through community projects and humanitarian outreach programs. Among many other activities, students involved in the MacTEACH program spend countless hours each week before and after school tutoring students in writing, reading and motor skills. The program has expanded to include two elementary schools in the MacArthur cluster: Oak Grove and Regency Place, and has grown to include tutoring programs for Advanced Placement classes, another for Burmese refugees, a strings program in partnership with the Youth Orchestra of San Antonio, and a tutoring program for students at Garner Middle School, among others. This program goes far beyond just tutoring. The MacTEACH students also host special events for ALE students, and just this year have raised money for military families in need.
Luckily, the Team Up Challenge encourages students to apply what they are learning in the classroom to the real world, bringing education alive in powerful ways. This is just another way MacTEACH can continue its rippling effect.
Journalism Department Finishes Year Strong, Wins Awards
By Colby Davis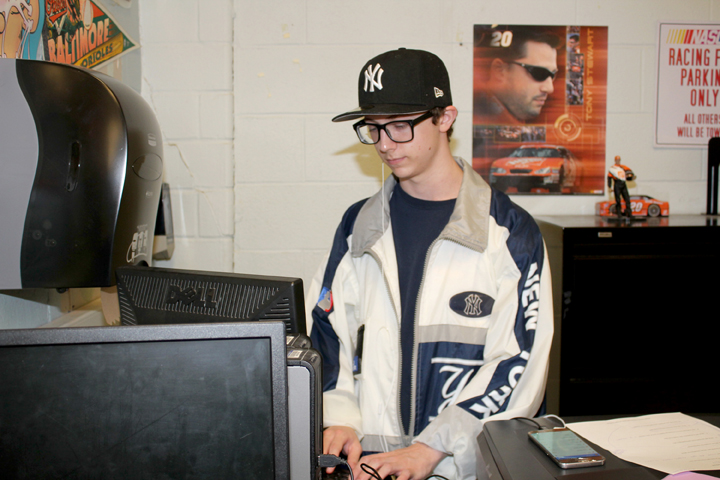 This year was a very successful one for the journalism program at AHHS. The yearbook and newspaper were both awarded the UIL Award of Distinguished Merit. This was the ninth time in a row for the yearbook and the second time ever in school history for the newspaper. The yearbook, for the 11th year in a row, was also awarded Balfour Publishing's Yearbook Award. This was also a big year for the newspaper staff, nominated for the UIL Star Award, which is one of the most exclusive awards in the state. Only 10 percent of Texas newspapers are nominated for this award-making Alamo Heights one of the best newspapers in the state of Texas.
"I am so proud of both my staffs because they worked so hard to produce the best possible publications," journalism teacher and adviser Kristin Cade said. "Meeting deadlines can be stressful, but it helps when you love what you are doing."
The Olmos staff worked very hard to produce another award-winning yearbook. The newspaper staff has been keeping up with school events to produce a monthly newspaper reflecting on what has been going on in the school for that month's publication. Journalism UIL students participated in meets where they competed in various events against other schools. The journalism UIL team placed first at the district meet for the sixth straight year and placed second in the regional meet. They had two students who qualified for the state meet: junior Carrie Mullins in Headline Writing and sophomore Sarah McFarland in Editorial Writing. Senior Avery Myers also made the trip to Austin as the alternate for headline writing. McFarland placed in the top 12 in editorial writing and Mullins won the headline writing competition and was the first state journalism winner in school history.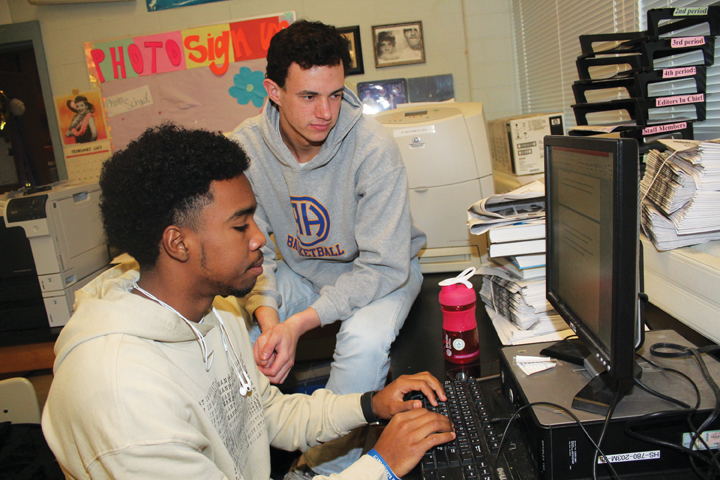 "I was so surprised when I found out that I won first place," Mullins said. "Mrs. Cade called me to tell me, and she couldn't stop crying."
Both staffs were led by their wonderful editors, who have worked hard all year on making the best issues and best yearbook pages possible. Hoof Print editors senior Alex Wagner and Colby Davis proofed endless stories to make sure they were error free for the final publication of each issue. The Olmos was led by their senior editors – Andrea Magoon, Avery Myers, Allie Spies, Aubrey Rosenthal and Emma Valero. These girls put in endless hours proofing every single page for the upcoming yearbook. The editors wouldn't be complete without their staffs, which include groups to complete different tasks at once. The Hoof Print has six different staffs including sports, entertainment, fun news, features, photos and news.
"Being the entertainment editor was a pleasure," senior Parker Howie said. "The ability to write about anything you wanted was amazing."
The Hoof Print completed nine issues over the school year. Each monthly issue covered sports, interesting news and various up-to-date topics. On average, two to three weeks was required to complete an issue because of the amount of work involved in writing, photography and layout. The editors had to proof each story.
"I liked being editor because I was able to review everyone's stories before they went to Mrs. Cade," Wagner said. "I will miss being the editor of The Hoof Print and hope the next editors enjoy it as much as I did."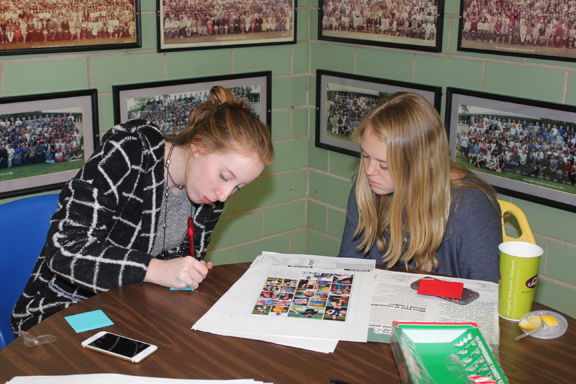 Before applying for the Olmos or Hoof Print, students had to complete Journalism 1. In this class, taken as a sophomore or junior, students learn the ins and out of both staffs, how to write stories, how to place the stories, how to obtain quotes the right way and much more. The work that is done by these two publications is not easy and it takes practice to learn what to do and how to do it the AP-style way.
"I enjoyed finally being in a purely journalism class," sophomore Brian Yancelson said. "It was great to learn everything required to be on staff next year."
On this last issue of The Hoof Print, the staffs worked endless hours to make sure the seniors were recognized for their hard work these last four years. Each Hoof Print senior was in charge of writing his or her own senior column, which was a look back on their years in high school and advice to anyone who might be struggling. The Olmos staff will continue working up to the last day of school because the yearbook isn't published until the beginning of the next school year. At the moment, Journalism 1 students are completing their applications to be part of one of the two staffs next year. No matter what happens in the end, as many students as possible will have a chance to be a part of these two amazing programs.
"I hope I am able to be part of the yearbook staff next year," sophomore Camille Dewees said. "I loved learning how to do everything and hope to put my skills to work."
Kindergartener Takes Top VIA Art Award
VIA Metropolitan Transit presented its 22nd Annual Youth Art Contest inviting all students, grades Pre-K through 12, to submit their artwork to the contest.
The theme: EXPLORE…Plan your next adventure on VIA, encouraged contestants to highlight landmarks and recognizable locations from across community, including the Missions of San Antonio, museums, parks and similar places.
Howard Early Childhood Center student Molly Lawhorn shared her art in the Kindergarten category and earned top honors!
A first and second place winner in each grade category as well as a "Best of Show" from all entries were selected.
Alamo Heights Students Earn Top Honors in First FAME Awards
For the past three years, the Junior Service League of San Antonio has hosted the FAME or Funding Arts and Music Education Awards.
This year, Alamo Heights ISD joined in the contest and was named one of the Top Three Talents in the city in the Vocals category with the performance of Eleanor Anderson and Sarah Hernandez' rendition of "Better Place" by Rachel Platten. The girls performed the piece as part of the statewide Student Showcase Performance earlier in the year at the TASA/TASB Conference and were invited to share their talent in the FAME competition. Little did they know they would be selected as one of the Top Three in the city and earn a trip to perform at Trinity University's Laurie Auditorium in April. The girls earned individual plaques for themselves, a trophy for their school and a check in the amount of $250 to support arts in their school.
The Funding Arts and Music Education (FAME) Committee of the Junior League of San Antonio, Inc. is dedicated to encouraging San Antonio youth in the performing arts. Their mission is to organize and coordinate the Margaret Tobin FAME Awards, which recognizes the best and brightest performing arts programs in public and private high schools in San Antonio and surrounding areas.
The Margaret Tobin FAME Awards are named for Margaret Tobin (1900-1989), civic leader and Junior League of San Antonio member, in honor of her vision and generous support of the performing arts.  Through the FAME Awards, the Junior League of San Antonio is able to impact arts education and support local youth in the performing arts.  Junior League of San Antonio volunteers organize and coordinate the event, and monetary awards are granted to the arts programs of the award winners.
Incarnate Word High School Softball Team TAPPS State Champions for 3rd Year in a Row
The Incarnate Word High School (IWHS) Shamrock Softball Team took first place at the Texas Association of Private and Parochial Schools (TAPPS) state competition held in Austin on May 11. This is the third year in a row that the Shamrocks have brought home this honor. IWHS beat rival Antonian College Prep in a decisive 21 – 6 win. Incarnate Word has won four state softball championships in five years.
The Shamrock team included Ashley Meinecke, Morgan Barr, Ashley Acosta, Brooke Orme, Athena Garza, Marissa Hernandez, Sofia Herrera, Briley Winge, Danielle Diaz, Carolina Vasquez, Cameron Sotelo, Bailey Rivera, Elissa Simmons, Cassandra Rodriguez, Analiese Galdeano, Megan Jimenez, Michelle Iparraguirre and Gianna Brown. The Shamrock team is coached by Hector Garza, Savanah Jackson and Louie Berlanga.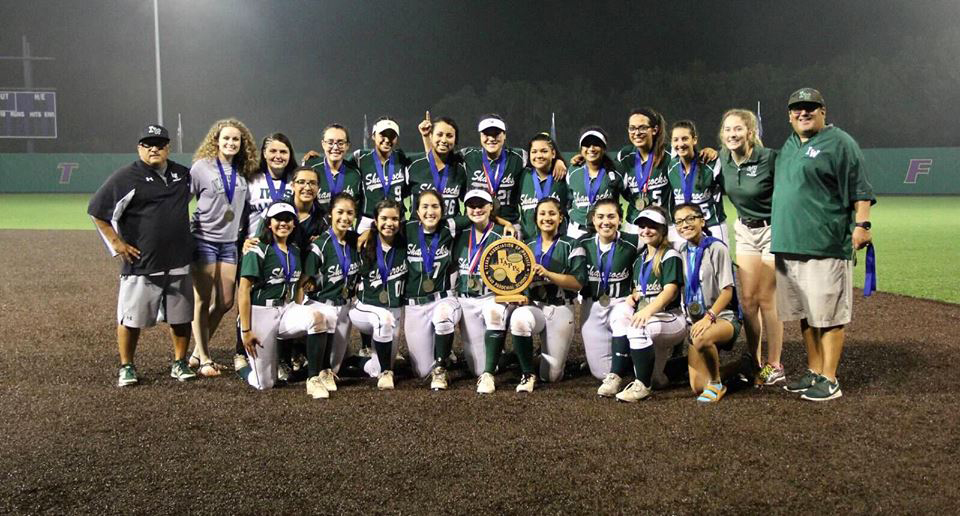 The following members of the team were named:
1st Team All-District: Megan Jimenez, Michelle Iparraguirre, Gianna Brown, Analiese Galdeano, Morgan Barr, Danielle Diaz, Bailey Rivera
2nd Team All-District: Cassandra Rodriguez, Ashley Acosta, Marissa Hernandez, Briley Winge, Athena Garza, Carolina Vasquez
All-State Tournament: Gianna Brown, Megan Jimenez, Michelle Iparraguirre, Analiese Galdeano
Of its nine competitive athletic teams, IWHS has won two TAPPS state championships in 2017, one in golf and the other in softball.
Saint Mary's Hall Student Earns the Only 2017 U.S. Presidential Scholar Designation in the City
On May 5, Saint Mary's Hall (SMH) senior Gabby Escalante was selected as a 2017 U.S. Presidential Scholar, one of the nation's highest awards bestowed upon a graduating high school senior.
Winners are selected annually by the White House Commission on Presidential Scholars Escalante was the only student from San Antonio, one of eight from Texas, and one of 161 students nationwide to receive the distinction. A ceremony will be held June 18 in Washington D.C. when each honoree will receive a presidential Scholar chosen from SMH. Sarah Beck (Class of 1995) and Anthony Kayruz (Class of 2013) received the honor in 1995 and 2013 respectively.
In addition, each U.S. Presidential Scholar was offered the opportunity to name their most influential teacher. Escalante chose SMH Upper School math teacher Jennifer Jacobson, earning Jacobson the title of a 2017 U.S. Presidential Scholar Program Distinguished Teacher. Each distinguished teacher is honored with a personal letter from the Secretary of Education.
Created in 1964, the U.S. Presidential Scholar Program has honored almost 7,500 of the nation's top-performing students. Selection of scholars is based on academic success, artistic excellence, essays, school evaluations and transcripts, as well as evidence of community service, leadership and demonstrated commitment to high ideals. Scholars comprised of one young man and woman from each state, D.C. and Puerto Rico, and from U.S. families living abroad, as well as 15 chosen at-large, 20 U.S. Presidential Scholars in the arts and 20 U.S. Presidential Scholars in careers and technical education.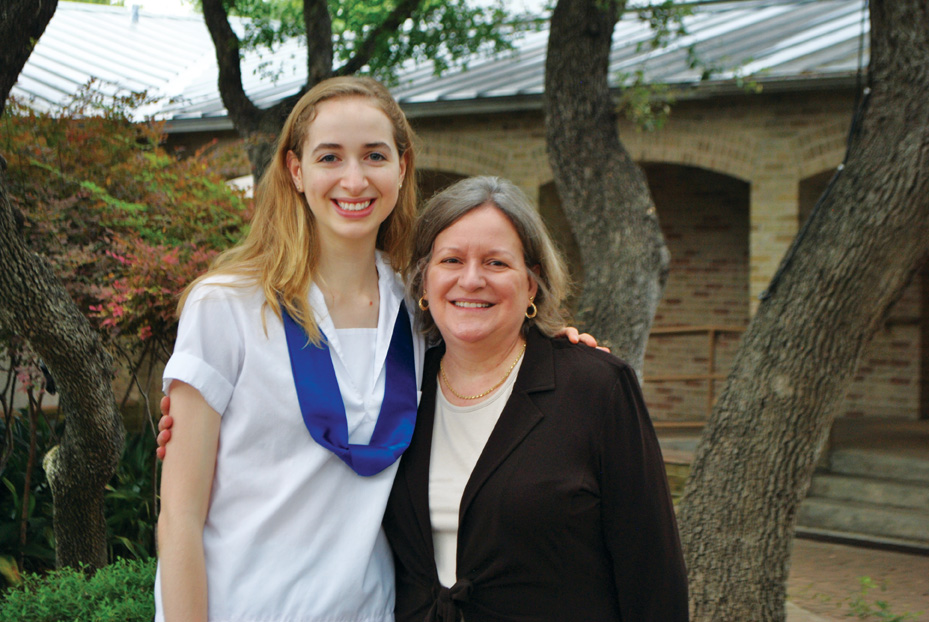 Saint Mary's Hall Hosts Biennial Passport Fundraiser
Saint Mary's Hall (SMH) hosted its biennial Passport fundraising gala themed "Simple Things" on May 5. Generous guests ensured the school could continue meeting its mission of preparing students for success in college and fulfillment in life by helping fund student financial aid, teacher compensation and new programs. Through Passport and the Windham Fund for Excellence, an endowed fund for teacher salaries and student financial aid, the SMH community raised $959,000. Under the leadership of Joan and Richey Wyatt, Passport raised $753,000 toward school programs, bridging the gap between tuition and the true cost of educating students. In addition, SMH added more than $206,000 to the Windham Fund for Excellence. It was an inspiring evening with the SMH community coming together to support the school's mission.