BACK TO SCHOOL!
After a great summer for our extraordinary Alamo Heights ISD families and staff, everyone was reunited on August 16 for our first day of the 2021-2022 school year!
The lead-up, however, felt like more of an extended festivity, especially for our new Mules and younger kiddos. This year, Howard, Woodridge, and Cambridge celebrated their own Meet the Teacher events, billed as Mulefest!
Expectedly, the youngsters were plenty excited to meet the new, friendly faces but our teachers and staff might have been even more elated.
"We've waited all summer for the kiddos, and we're super ready and excited to get back to work!" exclaimed Howard teacher Adrienna Huizar.
Woodridge principal Salena Valdes matched the feeling. "So ready, this is exciting seeing all the faces," Valdes said.
Woodridge strings teacher Joshua Younke can't wait to share some of the new creativity he has planned out all summer. "We know what to expect this year. There are a lot of new ideas that are coming, and we're excited about that," he said.
Most importantly, the end result is what matters to him and his colleagues.
"It's all about the kids. The kids are going to be excited, and we're excited to teach them all the things they need to learn!"
ATHLETICS – Game On!
We are beyond excited to start using these new facilities at Alamo Heights High School. They are simply amazing, and we are so happy to use these new spaces with our students.
Construction began in June of 2019, and the completed facilities are open and in use by students since the start of the school year. The final piece of the 2017 Bond, the district students, and staff extend their sincere thanks and appreciation to our community for supporting these new spaces.
The photos share the final steps in the project, one that will inspire and encourage Mules to embrace their talents and skills.
There are some unique features in these new facilities that will provide a sense of pride to all who prepare, practice, and compete here. We are beyond excited to "Throw Our Mules Up" in these beautiful custom learning spaces!
Alamo Heights Teacher Named Principle Auto Teacher of the Year
Bryan Stanton just learned that he will drive a new Principle vehicle every three months, culminating a year with four different Cars-4-All-Seasons!
Stanton was named the Alamo Heights ISD District Teacher of the Year earlier this Spring. He has been celebrated as a secondary honoree for the Trinity Prize and a nominee for the Region 20 Education Service Center's Regional Teacher of the Year. This summer, Stanton has also earned the Educational Theater Association's President's Award for his exceptional contributions to the association, its leadership, and members. Stanton recently learned that he has also been named Texas Thespian Trailblazer Award Winner.
Stanton is a Theater Arts Teacher at Alamo Heights High School.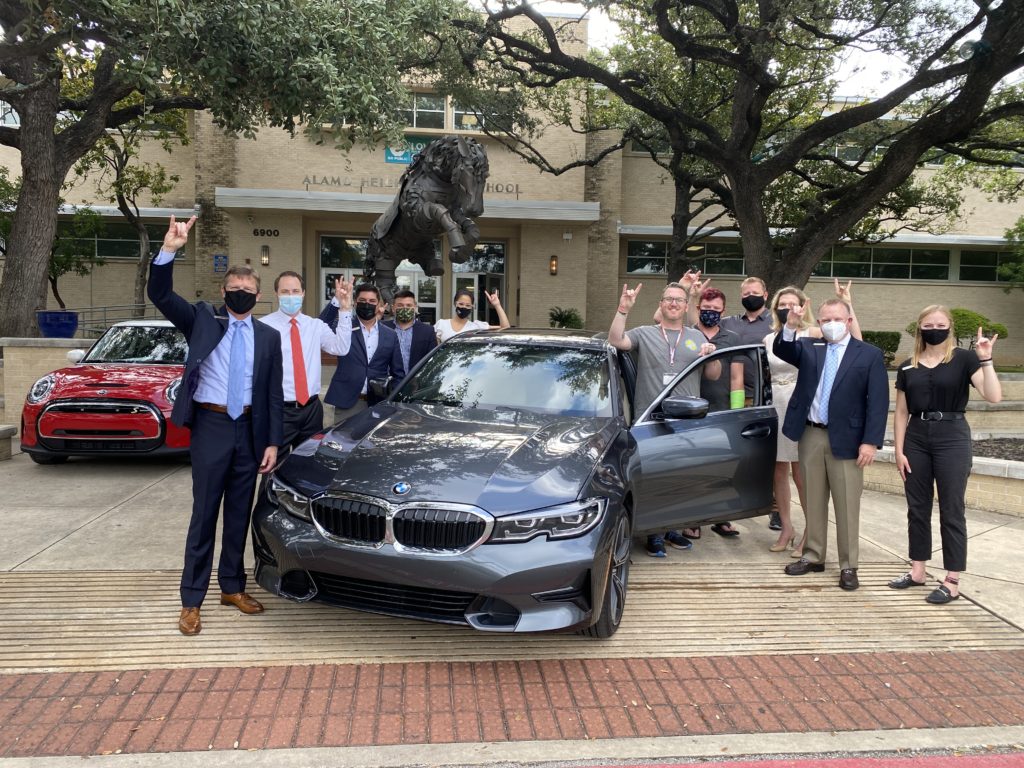 Mule for a Day
In Alamo Height ISD, we "Throw Our Mules Up" to celebrate what it means to be Mule.
On Saturday, September 25, Kindergarten through 5th graders can have the full experience of what it means to be a Mule during the Mule for a Day event hosted by the Alamo Heights High School Varsity Football Team.
The event is scheduled for September 25, from noon to 2 pm. It features one-of-kind, first-ever experiences, including a tour of the new home side of the Harry B. Orem Stadium and adjoining locker room and athletic facilities. The event includes an afternoon filled with fun activities led by the varsity football players, a commemorative t-shirt, and the opportunity to be a part of the pre-game tunnel run-through with the mighty Mules at the October 22 home football game against Boerne Champion.
For additional information, contact Sarah Kardys at sarcri@aol.com.
Register for this fun event by September 17 and support the Mules football program through your registration.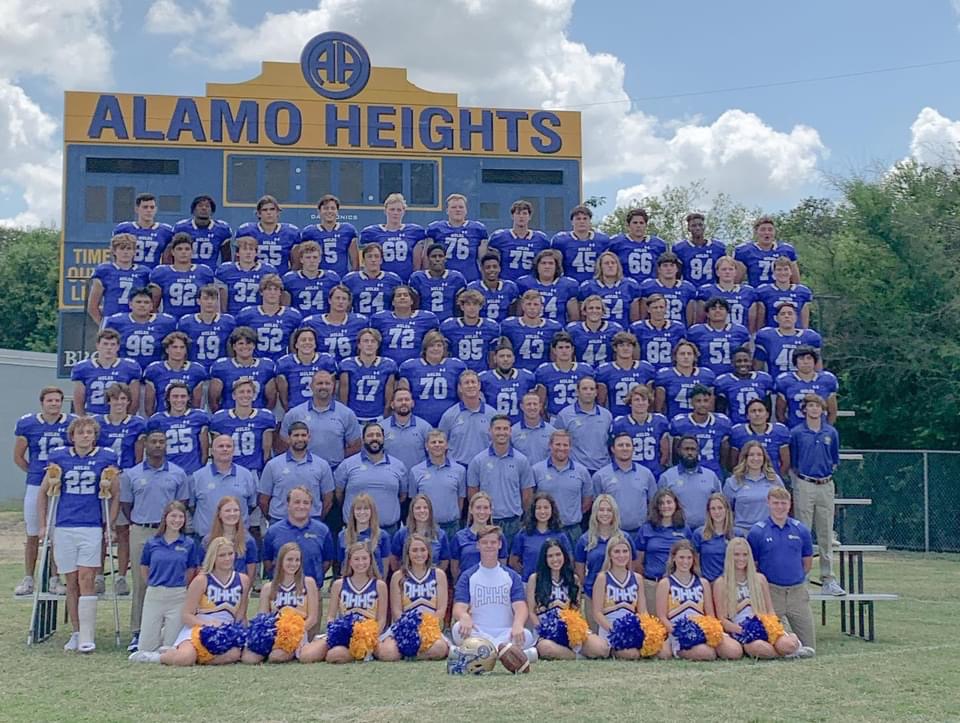 Alamo Heights Mules Cycling Team
The Alamo Heights Mules Cycling Team is ready to roll this school year and is open to all students in grades 6 – 12 who want to be part of an inclusive group interested in learning about and competing in the sport of mountain biking.
Cycling encompasses many developmental attributes, including improving self-confidence, learning and maintaining physical activity for a healthy lifestyle, developing friendships, and providing positive role models in the lives of student-athletes.
Founded in December 2018, the team had a stellar first season with 12 trailblazing student-athletes, and in the second season, we doubled the size of the group. The third season brought a triple-sized team, and we are expecting even more growth this coming season. Student-athletes compete against teams from across Texas as part of the Texas Interscholastic Mountain Bike Team, organized by the National Interscholastic Cycling Association (NICA).
For the past 2021 season, the Mules Cycling team finished in 3rd place out of 25 teams—incredible success—lifted by high school podium finishers Aidan Kane, Cohen Kinsey, Joshua Murguia, and Caroline Daskevich.
The team is open for females and males at AHJS and AHHS this Fall 2021/Spring 2022. For information on the parent/student info meeting this fall and follow Mules Cycling go to mulescycling.org.
SMH Welcomes Stellar New Full-Time Coaches
The coaching staff at Saint Mary's Hall (SMH) is one of a number of competitive advantages the school possesses with their dedication and passion for helping student-athletes reach not only their full potential on the track, courts, and fields but in the classroom and in life. SMH is excited to welcome three outstanding full-time head coaches and educators. These versatile mentors bring a wealth of coaching, playing, and life experience to the athletics program and school.
Hector Cano returns to SMH as a Physical Education Coach and Director of Sports Performance & Athletic Mindset. With 20 years of honorable service in the United States Air Force, Cano holds more than 12 years of soccer coaching experience, having also coached at the United States Air Force Academy, club levels in Texas and Colorado, and at the semi-professional level in Europe.
Valerie Lohr joins SMH as the Coordinator of Student Well-Being and Head Coach of Varsity Field Hockey. She comes to SMH from Allegheny College in Pennsylvania, where she served as Head Coach of the field hockey program, an adjunct faculty member, an Independent Study Supervisor, and the Title IX Deputy Coordinator. Valerie will be working closely with students and faculty as well as teaching Health and Wellness. She recently joined the AAU Junior Olympic Games Coaching Staff for the 2021 AAU Junior Olympic Games.
Mark McNeill joins SMH as Director of Admission Outreach and Varsity Head Lacrosse Coach. A professional lacrosse player and a midfielder for the Archers LC in the Premier Lacrosse League, he has also spent the last seven years coaching various age groups. Mark will be strengthening SMH's admission network and outreach program. This summer, he was invited to participate in the Premier Lacrosse League All-Star Game.