Hats Off to the Class of 2021
Taking those final steps as an Alamo Heights High School Mule meant so much more than simply crossing a stage to receive a diploma in the 2020-2021 school year. It was a time to celebrate with classmates and teachers, marking all of the challenges they faced with grit, perseverance, and success. The Class of 2021 faced many challenges during their Senior year, but they embraced it all, marking the transition from high school senior to Alamo Heights graduate.
The graduation ceremony was held at the Real-Life Amphitheater, formerly the Verizon Amphitheater, on May 27, at 7 pm. Graduates and their families enjoyed a traditional celebration, celebrating together, in person, at the open-air amphitheater. A presentation of diplomas was held in front of Alamo Heights High School on May 28, at 9 am, with students who preferred this alternative ceremony arriving in cap and gown at the Mule statue to receive their diploma while being cheered on by family and friends.
The high school staff honored two students with Outstanding Senior Girl and Boy, awards selected annually to recognize two students who exemplify great character, academic excellence, and a heart for service. The 2021 Outstanding Senior Girl was Emma Dolat, and the Outstanding Senior Boy was Parker Klumpp. (Photos for Emma Dolat and Parker Klumpp are marked in DropBox.)
Mules Up for the Class of 2021!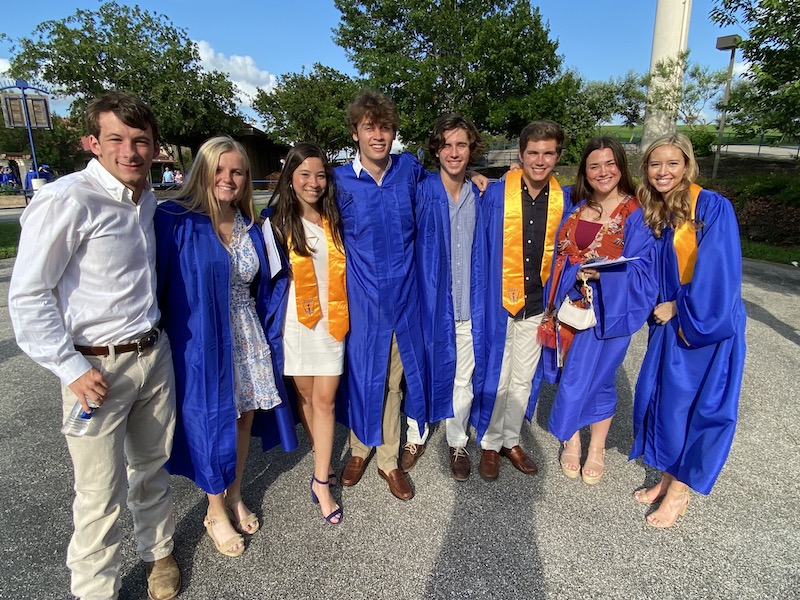 Fun in the Summer at Heights Sun
Enrichment and fun in a summer camp setting; that's Summer at Heights! Designed for students in Kindergarten through 8th grade, SAH hosts courses provided by AHISD and other certified teachers in the area, as well as some of San Antonio's leading professionals. Campers experience new adventures, expand existing horizons, arouse curiosity, exchange ideas and products, stimulate creativity and enjoy lots of fun in the process!
Summer School
Summer can be a great time for kids to learn new skills or work on existing ones. Students have the chance to experience a different school environment in the summer. They meet teachers and administrators from various other schools,
giving them a broader view of their school and community. Numerous enrichment activities include; unique themes, guest speakers, field trips and more, during the shortened summer instructional time.
AHHS's 2020 Rocket Cleared for Launch
Alamo Heights High School rocketry students were excited to have the opportunity to launch their 2020 rocket at White Sands Missile Range (WSMR) at the end of June! This group of dedicated students completed their build in the summer of 2020, but, as you would expect, due to COVID-19, the team could not launch their rocket. So, a year later than hoped, the team of now college students was more than ready to embark on their journey to New Mexico and the WSMR. The team departed June 24, with a launch window of June 26-27. At publication, the students were headed to their destination, sharing that they would report the outcome of their mission and launch in the next issue of 78209 Magazine. Stay tuned!
We did get to see their first step in the journey, the unveiling of their vehicle. Congrats to this team of AH-mazing students for completing their rocket, weighing in at 390 pounds, one of the lightest vehicles ever built at AHHS. The team shared that they took the body down from 10 diameters to a trim eight and will load a payload of a petri dish containing penicillin in the nose cone to test how atmospheric pressure affects it.
The students are beyond excited, and their teacher, Colin Lang, shared just how amazing it was to complete a rocket of this size and capacity in a year of a pandemic. Fittingly, the students have named the rocket the "Lone Survivor" as it was the only rocket to be completed in 2020 by SystemsGo teams. Mules Up for a successful launch!
SMH Class of 2021 Embarks on Next Steps Toward Success
On May 21, Saint Mary's Hall (SMH) celebrated its 140th Commencement Ceremony, officially graduating 92 members of the Class of 2021. The ceremony was held on campus at the Alonso Ancira Event Center.
The graduates, who hail from 28 zip codes (three of whom drove over an hour back and forth to campus each day), have proven to be one of the most resilient by overcoming the pandemic. This class has earned more than $11 million in merit scholarships. One senior was awarded a National Merit Scholarship, three were named National Merit Finalists, three were named National Hispanic Scholars, and six were named National Commended Scholars, among other accolades. The class completed a collective total of 16,589 community service hours. They will attend 54 different colleges and universities in 20 different states and three countries outside of the United States, with 64% of the class earning placement in their self-identified first-choice college. Thirteen of the class's student-athletes will go on to compete collegiately.
The talents and achievements of the Class of 2021 are varied and vast. They represent the incredible breadth and depth of the school and reflect the deep legacy of those who came before them.
Circle School Pre-K
Circle School PreK students finished the school year with a walking field trip to play in Brackenridge Park and ride the Zoo Train. It was a lot of walking for such little legs, but they sure had fun!
Heading out for a walk is a part of the class routine at The Circle School. Whether walking in a nearby park or just around the block, our students learn to listen, look, and learn as they walk to re-center themselves and reconnect with the natural world while also getting the wiggles out! "Go for walks frequently — walks expand vocabulary by giving the children the opportunity to look for new words to describe their world." – Isabeth Hardy, Circle School Founder
Circle School students of all ages spent an average of 8 hours outside each week in 2020-2021, a 45% increase from 2019-2020! This year outside time has been more important than ever, and our school values outside time as an intentional priority rather than an afterthought. The outdoors is our learning laboratory in so many ways; between free play recess, neighborhood walks, PE, yoga, gardening, snack, lunch, and outdoor lessons and explorations, the time quickly adds up. The Circle School believes that for children to grow to care deeply about the Earth, they have to experience it firsthand! The research-supported benefits of outdoor learning are immense and diverse. Providing hands-on learning opportunities to connect with the natural world is essential to growing the next generation of leaders and changemakers.