AHISD Honors Campus Teachers of the Year, Names District Teacher of the Year
Alamo Heights ISD announced the Campus Teachers of the Year for each of the district's five campuses. Honorees were selected by their peers and will represent their campus throughout 2021. Honorees included: Bryan Stanton, Alamo Heights High School; Michael McElrath, Alamo Heights Junior School; Carly Leech, Howard Early Childhood Center; Mariana Medaris, Cambridge Elementary; and Barbara Iverson, Woodridge Elementary. The district honored these outstanding teachers during the board meeting in February, announcing the district-level Teacher of the Year, Bryan Stanton, in an announcement also presented live on Facebook and YouTube. The district honoree will move on to compete for the Trinity Prize and Region 20 ESC Teacher of the Year and be recognized as the Principle Auto Car-4-All-Seasons Outstanding Teacher.
Meet AHISD's Extraordinary Campus Teachers of the Year: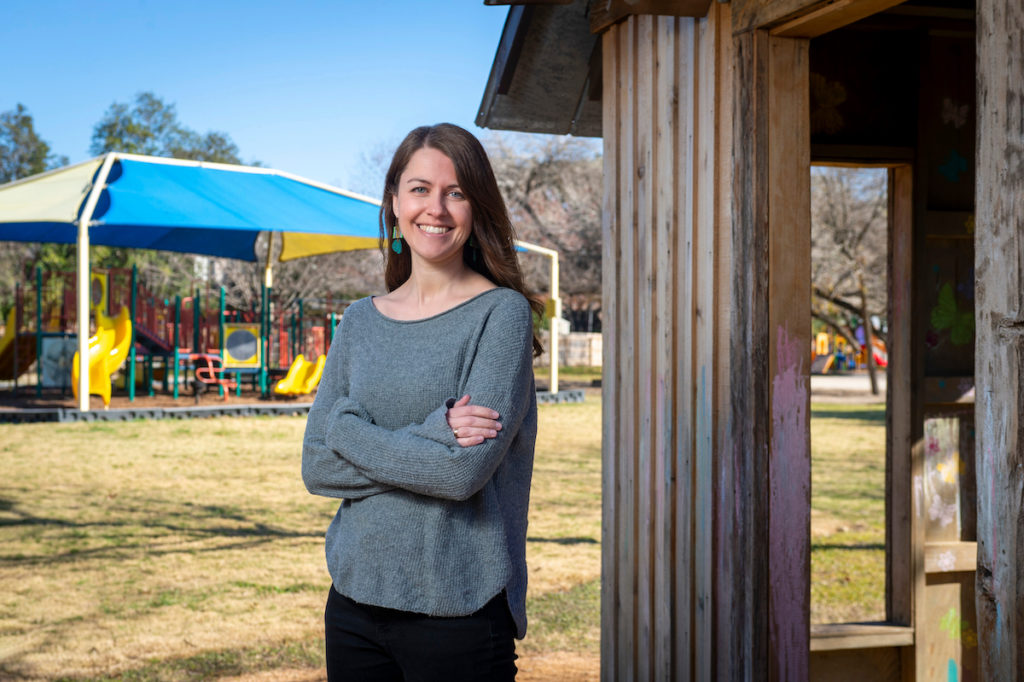 CARLY LEECH
Campus Bilingual Coordinator/Bilingual Interventionist, Howard Early Childhood Center
"I became enthralled by the idea of bilingual education, which eventually led me to San Antonio in pursuit of a career helping English learners reach high levels of achievement, bilingualism, and biliteracy in English and Spanish. In addition to my passion for supporting emerging bilingual students, I have become deeply involved in weekend volunteer work supporting families seeking asylum in the United States. I work with the Interfaith Welcome Coalition (IWC) to help immigrant families who were approved by the U.S. Immigration and Customs Enforcement (ICE) to plead their cases in court to be released from Texas family detention centers to travel to their sponsors. These parents, mostly women, and their children are fleeing extremely violent and unstable living conditions from many countries. Some have been separated from their children by ICE. When I first learned that most families leaving the immigration detention centers are dropped off at the bus terminal with next to nothing, having exhausted their travel funds, there was no turning back for me. I had to help them in any way I could; it doesn't even feel like a choice. Just like the way my students bring me joy and strength, the families I help bring me strength and perspective."
Principal Susan Peery shares, "As an Interventionist, Carly has embraced our children with special needs and persevered to provide extra support in reading from a general education perspective. She demonstrates passion and persistence and seeks help and support from her colleagues in special education to best serve the children. When identifying her core values, Carly embraces love and advocacy. She leans into these two values in all that she does. She has a gentle strength and a loving heart for children, their families, and her colleagues."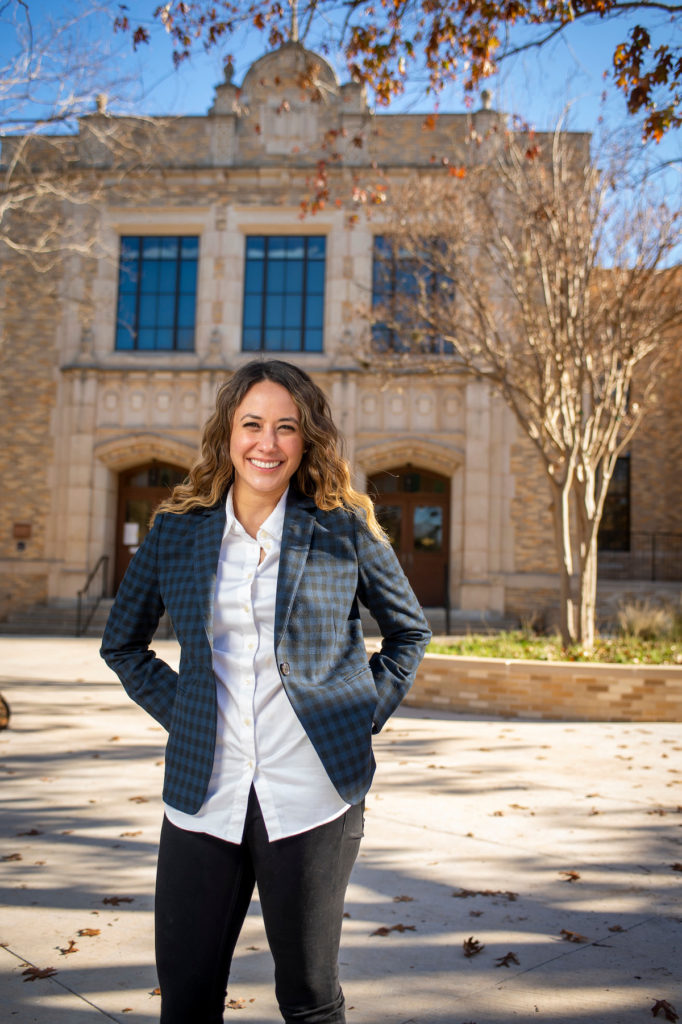 MARIANA MEDARIS
Campus Bilingual Coordinator/Bilingual Interventionist, Cambridge Elementary
"An outstanding teacher seeks to understand and know their students. An exceptional teacher creates a culturally inclusive classroom learning environment where students become compassionate, confident citizens with a strong sense of identity and worth. An exceptional teacher inspires lifelong learning by offering engaging, challenging, and culturally relevant experiences where students feel successful and empowered."
Principal Jana Hawkins shares, "When we have new EL families that register at Cambridge, Mariana spends time with them and helps develop their sense of belonging. Starting with her very first introduction, she builds a relationship with the family. She makes great classroom placement decisions based on student abilities that ensure the student the best start to their learning at Cambridge. She has taken a personal interest in ensuring that all of our EL Families are fully informed and feel comfortable with their child's learning. Her heart for helping students, teachers, and families is genuine. She has a passion for making sure that there is equity in their opportunities and learning."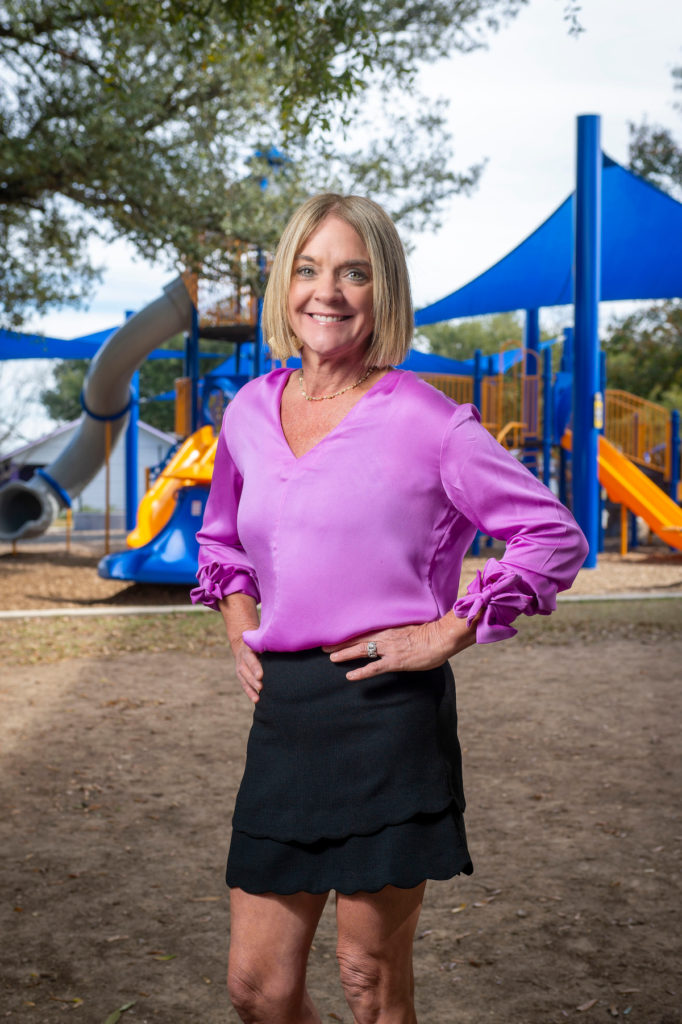 BARBARA IVERSON
Physical Education Teacher, Woodridge Elementary
"Physical Education teachers are fortunate in that we have the privilege of serving the entire student body. For me, building relationships with every child that enters my gym and embracing opportunities to support the integration of whole group game instruction and differentiated skills stations to meet the needs of my students allows them to be successful, challenge themselves to step outside of their comfort zones, and, most of all, have fun! I love watching my students engage and grow physically and socially while enjoying new, innovative activities."
Principal Gerrie Spellmann shares, "Barbara Iverson makes an impact on the lives of her students in PE. She not only works to develop skills within the physical realm but fosters relationships with students. She makes PE fun and exciting no matter the time of year! She is a team player in every sense of the word. She helps develop innovative initiatives from which all students can benefit and is always dependable and well organized. Barbara is conscientious, dedicated, and one that serves our students and school community with an upbeat attitude and big heart."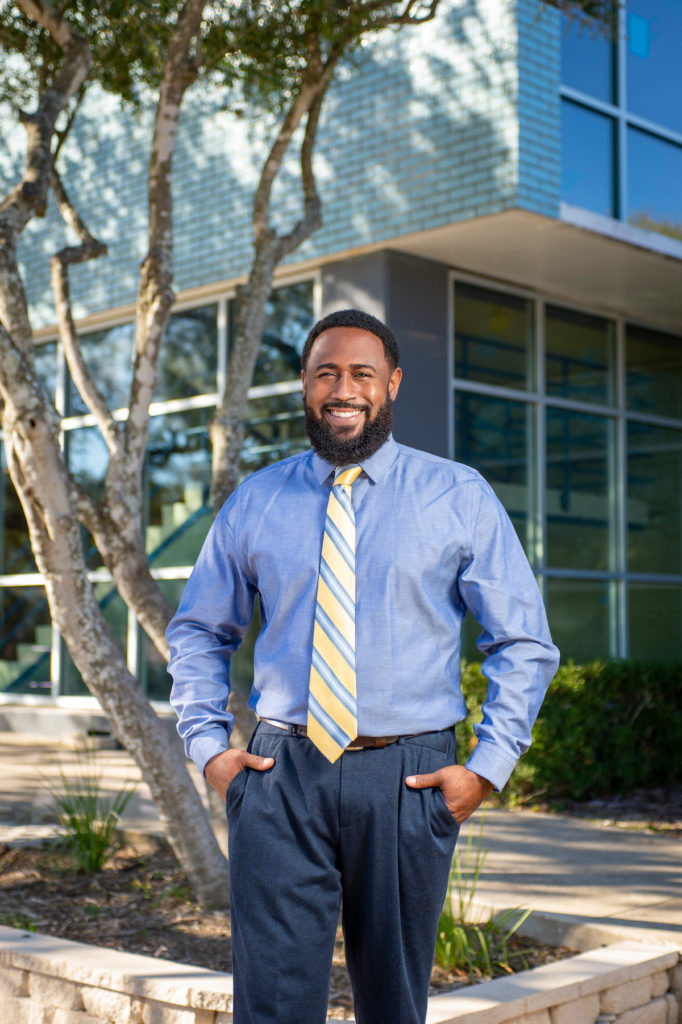 MICHAEL McELRATH
Texas History Teacher, Alamo Heights Junior School
Football & Track Coach, Alamo Heights High School
"I believe one of the most important aspects of teaching is building relationships and rapport with my students and colleagues. First, it is important to establish a solid base of trust and mutual respect to build the educational process upon. I want to be known for my ability to motivate and teach any individual into their best performance and version of themselves. Teaching makes me better, and I am blessed to give that back to my students."
Principal, Laura Ancira, shared, "Michael models and practices his values and beliefs every day with a caring heart. This speaks volumes about his teaching philosophy: respect, love, empathy, courage, dignity, resilience and humility, are the values he models and teaches all of his students. Not only does he passionately teach his content and coach sports, but he also teaches students about the soft skills they need to survive and thrive in our world."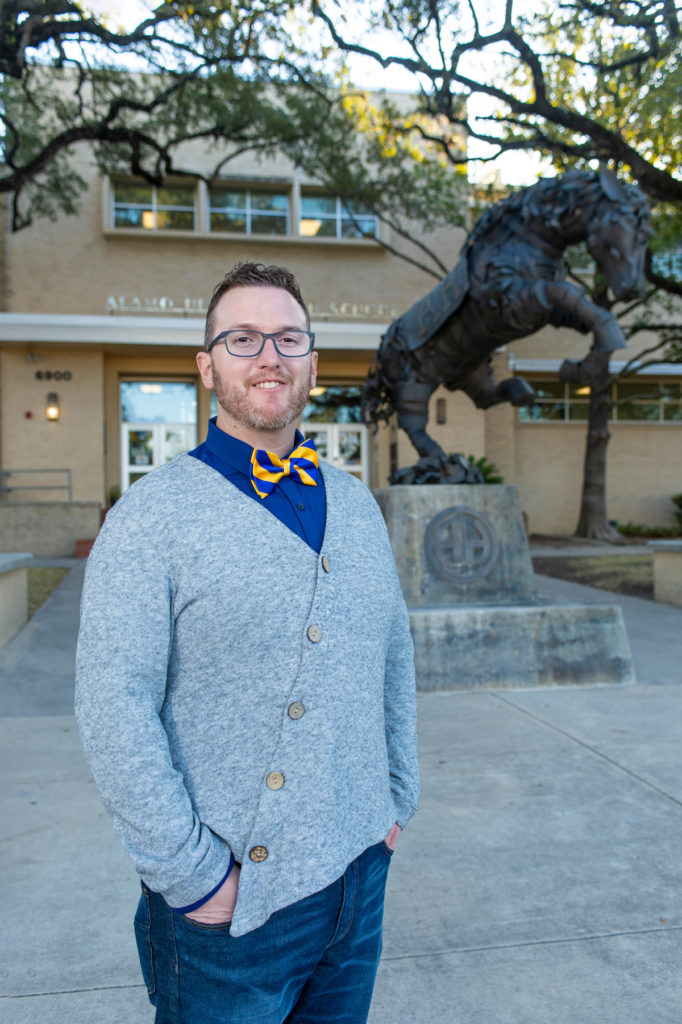 BRYAN STANTON
Theater Arts Teacher, Alamo Heights High School
"I have the unique honor of being able to help students find their voice and passion. I tell students, in this space, you are allowed to be your authentic self, unapologetically. This an environment where you are free to take risks and explore. As you grow into yourselves as an actor, technician, and person, you will explore characters and social situations that may differ from your own. This allows you to use your character acting experience to understand the perspective of others in the world. One distinct difference between my theatre class and others you may have experienced is that you will apply your learning realistically by doing philanthropic theatre work to tie non-profit organizations to our curriculum and performances. This bridge allows you to impact the greater community and grow in your empathy for fellow human beings and the natural world. By doing this, our AHISD "Profile of a Learner" comes to life."
AHHS Principal Cory Smith shares, "Bryan has found a way to connect theatre to philanthropic work in both the local and global communities through his work, and as a result, has received recognition from Character.org. Mr. Stanton makes himself available for students and colleagues alike, understanding the importance of social-emotional well-being and its role in academic success. He has become the "go-to guy" on campus, a reliable, trusted professional, and friend to many in these uncertain times. Bryan Stanton has added a bright spark to our Theatre department, one that continues to spread through his example of kindness, inclusion, and compassion."
Alamo Heights PTO/PTSO President's Council to host AHISD School Board Candidates Forum
On Tuesday, April 13, 2021, from 6-7:30 pm, AHISD School Board Candidates for the 2021 election will meet virtually for a Candidate Forum hosted by the Alamo Heights PTO/PTSO Presidents' Council.
Ready for Kindergarten?

Ready for Kindergarten? Register for the Howard Kinder Preview!
The Kinder Preview provides valuable information about AHISD's kindergarten programs and all that our littlest Mules will enjoy during their first year as a student.
Attendees will:
Meet the Interim Principal, Liz Acevedo
Learn about the Kindergarten Program
Take a peek at a "Day in the Life" video
Virtually Tour a LIVE Kindergarten classroom for your child (You child will jump on the Google Preview with you at this time.)
Share in an opportunity for Q & A
Dates for Kinder Preview (Google Meet):
Google Kinder Preview, April 8, 12 noon
Campus Tour, April 9, 3:30 pm
Google Kinder Preview, April 15, 12 noon
Campus Tour, April 16, 3:30 pm
Google Kinder Previews are limited to 40 children and their families, so register early. At the close of the Google Kinder Preview, you will receive the link to register for the Campus Tour. Campus Tours are open to all who are interested, but not required. Registration for the Campus Tours are limited to 5-7 families per tour group.
Have questions?
Contact Kim Romines: kromines@ahisd.net
Veronica Ochoa: heccenrollment@ahisd.net
Alamo Heights High School Aquatics
At the regional swim meet, senior Allie Janes comes up for air. "We had a great meet and it was exciting to go to state," Janes said. The girls won the regional meet and advanced to state where they tied for fourth place, earning a coveted state banner. Photo by Meredith Carpio-Walker
Using his arms, sophomore Vance Matthews heads for the wall during his race at the regional meet. "It was so exciting to have a successful meet," Matthews said. The boys advanced to the state meet, earning eighth place, with mere points separating them from ranking in the top five. Photo by Sarah Mann
Barons for Books Brings Brightness to SMH
Though the pandemic has changed our way of life, it has also created opportunities for the community to support one another. Saint Mary's Hall (SMH) students have shown resilience by creating new initiatives to connect with each other.
SMH Form 6 student Divya Beeram is the founder of a new reading program called "Barons for Books." As a virtual learner, Divya wanted to provide a means for virtual students to have more opportunities to connect with on-campus students. Barons for Books is currently made up of virtual Middle School students who read to Lower School classes (Kindergarten to Form 3) during lunch using the teachers' classroom Zoom links.
Divya, who has been at SMH since Kindergarten, is not only learning how to be a creative problem-solver, she is also gaining a vast amount of experience in leadership. She started the program working alongside Lower School Librarian/Instructional Technologist Linda Wells and several Lower School teachers. Each week, Divya puts together a list of Middle School readers and matches them with Lower School classes. She also helps guide and approve the readers' book selection.
Divya was inspired to come up with "Barons for Books" because of her love for reading. When asked about the program, she shared, "I have loved books for as long as I can remember, and the library, especially, has always felt like a safe place, a sanctuary. I chose a reading initiative for almost the same reasons. I want to help kids learn to love (and find joy in) reading because that was something that brought me so much joy when I was their age and continues to bring me happiness today."
Part of the SMH experience is cultivating students' innate leadership abilities and providing opportunities for students to serve in roles of leadership and service.
Tree Adoption with Circle School Changemakers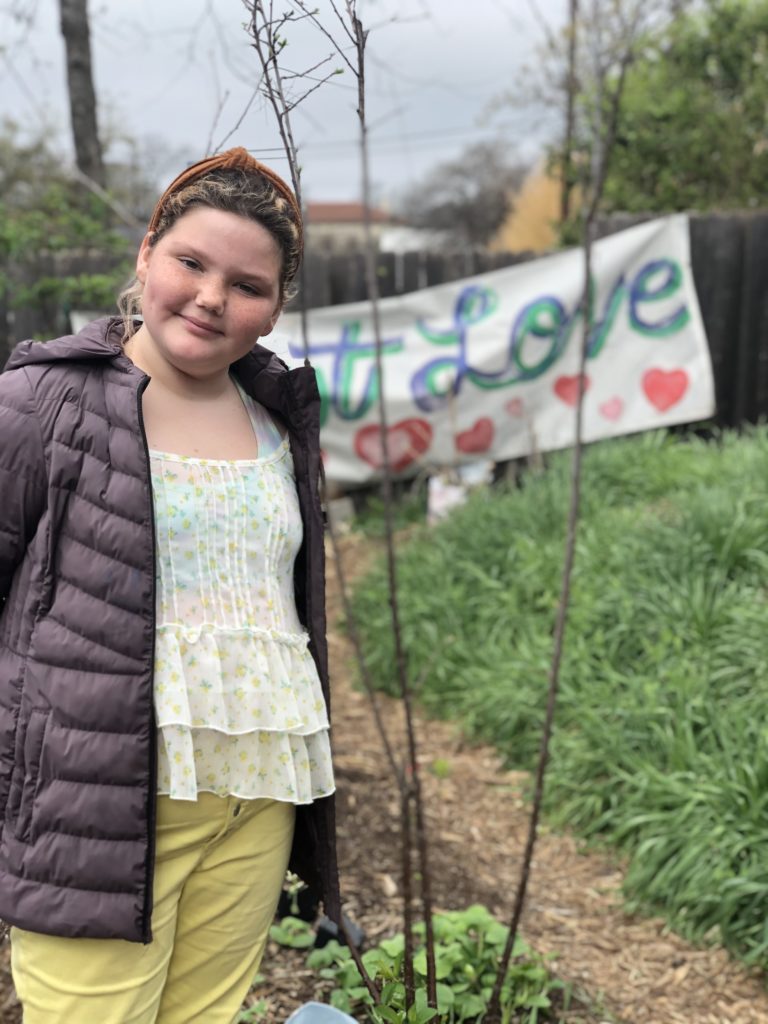 In partnership with the City of San Antonio's Compassion Tree Project, Circle School Changemakers organized a free tree adoption event in March. The Compassion Tree Project starts at the local level as a symbolic representation of the commitment and responsibility to re-green the world. Trees are distributed to be planted throughout the involved communities.
200 native Texas trees & fruit trees were distributed to Circle School families and members of the San Antonio Community along with instructions to care for their new trees. Pick up times were staggered, masking required, and all efforts were made to maintain social distancing and a safe environment for participants and volunteers.
For 55 years, The Circle School has been teaching peace with our students and their families through a nature-based curriculum that encourages environmental stewardship, empathy, and understanding diverse cultures.
Changemaker projects like this one model the transformative power of compassion and service. Changemaker projects have become an integral part of our curriculum and our school culture, but even more so for this school year: 2020 has given us many challenges to turn into opportunities to hone our skills of problem-solving for the common good.
This January we were named as the 2021 San Antonio Peace Laureate, a position we will continue to use to amplify our community's voice about the importance of nature-based learning and compassionate treatment of each other and our world.