Rittimann, Mules Adjusting to World's Challenges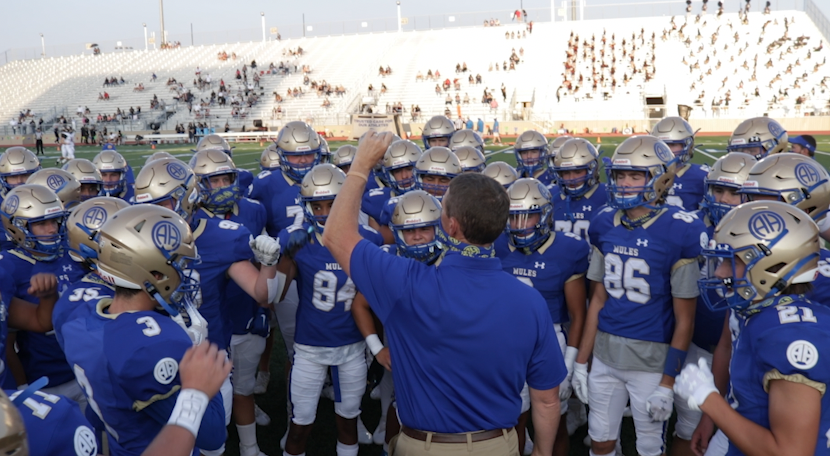 If there's anything we've come to expect over the past few months is to forever expect the unexpected.
It's also applicable for taking a new job. Throw in all the extenuating circumstances the world has seen since March, the natural learning curve of starting a new gig now takes an endless number of twists and turns.
Classify new athletic director and head football coach Ron Rittimann in that category. Less than a month on the job when COVID-19 began mass shutdowns in mid-March, the veteran of the business encountered his most unique challenge yet.
"I'm still trying to meet most people on campus, I'm barely moved into my office, and all of a sudden, everything is put on pause. I can't see most of my guys, and you're kinda starting from scratch again," Rittimann said.
An even more unique aspect is that his obligations to Johnson, where he served in the same role for the previous 12 years, did not end until the end of the month.
"At that point, it's trying to make sure everything is squared away at a good point [at Johnson], and you can't necessarily get off going here," Rittimann said, "I've never seen anything like that."
Thankfully, normalcy is slowly starting to settle in for him, his staff, and his Mules as they adjust to the times.
"It was just so great to get back to work and see a lot of these guys for basically the first time. Months of Zooms and FaceTimes don't do it justice."
Most importantly, their reunion is being put together safely.
Each player has to pass a screening on their phones before even being allowed onto the field to practice. Once they get there, it's followed by subsequent temperature checks, and consistent cleaning and sanitizing from the second practice starts when they sound the day's final whistle.
"I'm proud of everyone for doing their part. This isn't easy for anyone involved with the program, even beyond the players and coaches. We're accommodating, we're adjusting, and we're getting there."
More importantly, as he continues to transition to the new phase of his career, he's glad he and his team can focus on the fun part and reprieve of this all: being able to finally play.
"This community has been great. Just so many great, helpful and understanding people have helped us get to this point," Rittimann said.
"There is no other place I'd rather be than Alamo Heights."
Kindness on Campus
The Alamo Heights High School Investment Club, led by students James Schnoebelen, James Schupbach, and Patrick Maloney, sponsored by teachers Cathy Klumpp and Patrice Bartlett, raised $8,000 for the AHHS Angel Program. The Angel Program, facilitated by Dawn Hedgepeth and Stephanie Hughes, helps students and families dealing with financial hardships. These students exemplify the district Profile of a Learner, engaging socially and globally, adding value to the world through their service and kindness.
---
Celebrating Academic Success
Our district is committed to continual improvement to best meet the unique and individual needs of our students. Through careful analysis of multiple data sources, authentic assessment opportunities, observations, and feedback from stakeholders, we monitor our curriculum's academic standards and the academic achievement of our students.
We are proud of our students' exemplary academic achievement, and we recognize that high scholastic and academic achievement needs to be pursued with a renewed focus and drive. We are proud to recognize our National Merit Commended Students, National Merit Hispanic Students, and DUKE Talent Identification Program Students.
NATIONAL MERIT SCHOLARS
The National Merit® Scholarship Program is an academic competition for recognition and scholarships.
Congratulations to the following students from the Class of 2021 who are receiving recognition through the NMSC (National Merit Scholarship Corporation) for their performance on the PSAT/NMSQT. Approximately 1.6 million high school students enter the program each year.
The 2021 Semifinalist Scholars are Daniel Halff, James Schnoebelen, and Theodore Yun.
The 2021 Commended Scholars
John Brysacz, Ethan Coleman, Caroline Delmer, Daniel Halff, Robert Hunt, Brayden Jaeckle, James Schnoebelen, Theodore Yun.
The 2021 National Hispanic Recognition Program Scholars
Claudia Olson, Sofia Lloyd, Luz Rojo Name, Olivia Rojas, Nicolas Esteva, Madeline Shults, Ayden Trevino, Jack Lopez, Jacqueline Davis, Bella Chase.
High School students who meet published program entry and participation requirements enter the National Merit® Scholarship Program by taking the Preliminary SAT/National Merit Scholarship Qualifying Test (PSAT/NMSQT®) at the specified time in the high school program, usually as juniors.
Registration for the test is by high school rather than individual students. Interested students should see their counselor at the beginning of the school year to plan to take the PSAT/NMSQT at the school in the fall.
Alamo Heights Junior School Students Honored by DUKE TIP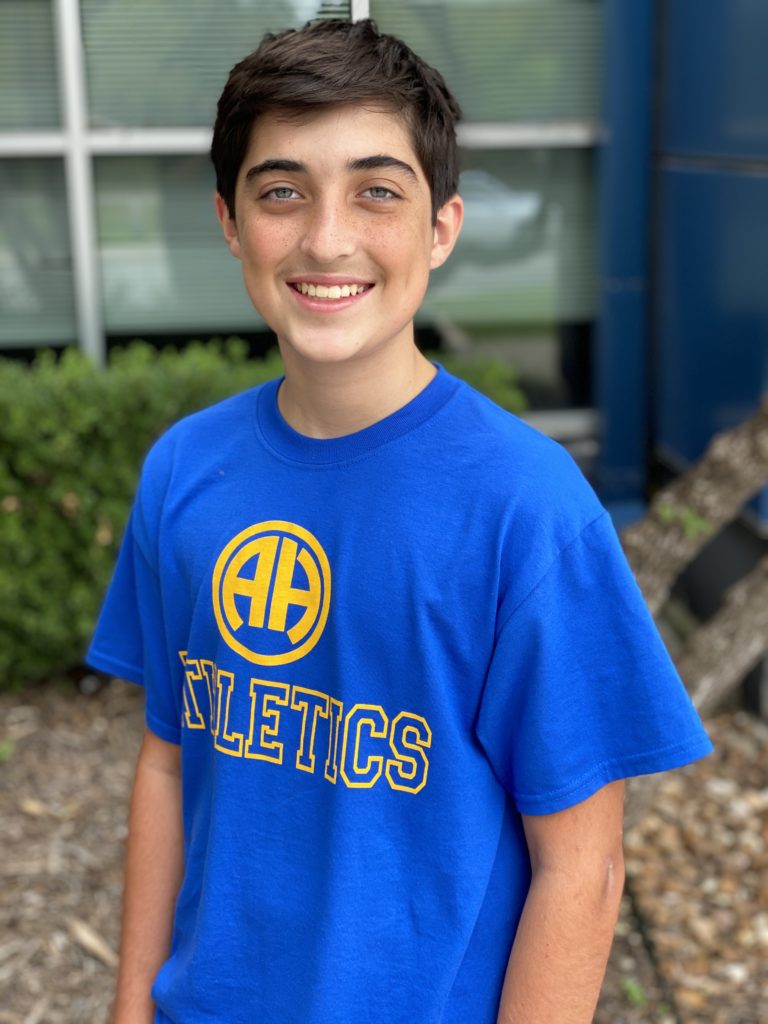 Nine students at Alamo Heights Junior School have been distinguished with the Duke University Talent Identification Program (DUKE TIP) recognition. DUKE TIP is a nonprofit organization dedicated to serving academically gifted and talented youth.
Elijah Yun earned Grand Recognition. Students earning State Recognition include Emiliano Aguilar, Quentin Elder, Andrew Lindner, Vincent Mahar, Carter Mayfield, Phifer Olsen, James Saunders, Elijah Yun, and Leo Zhang.
We are very proud of the academic highlights of our students.
---
Beloved SMH Faculty Member Honored with Outstanding Educator Award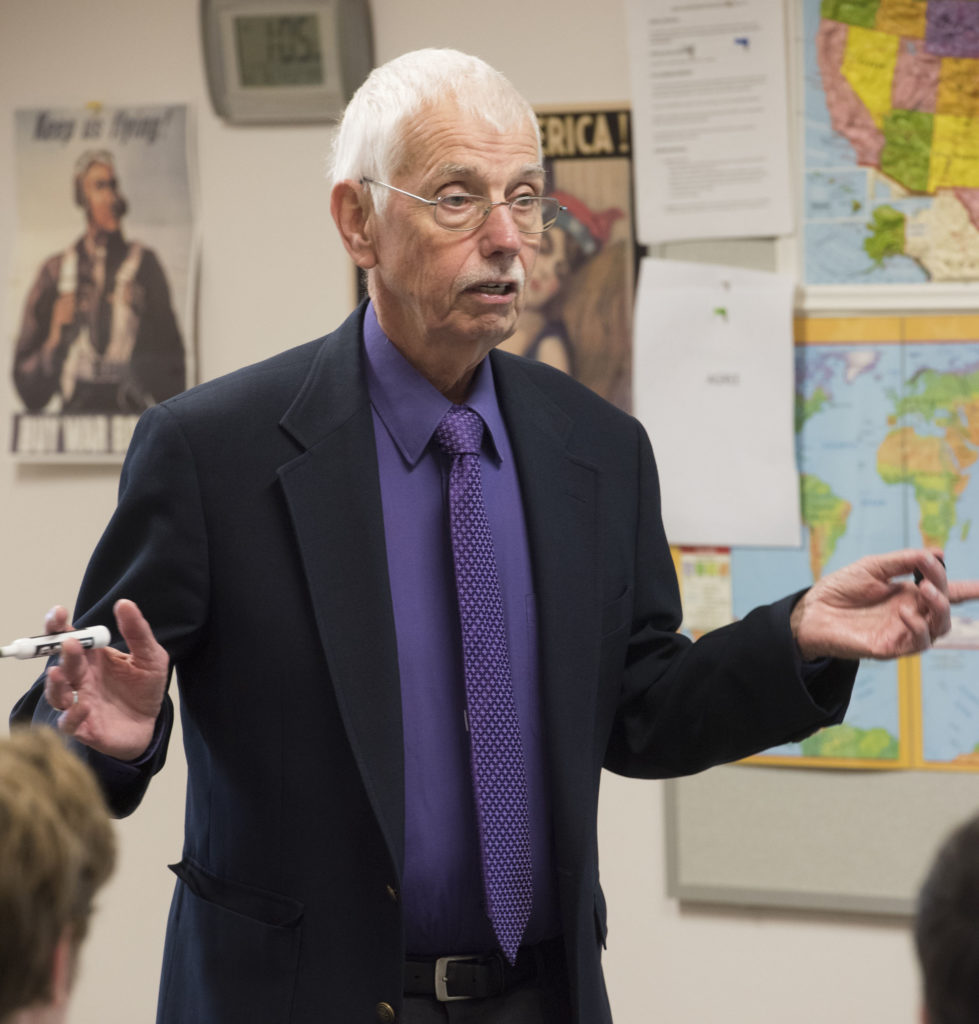 Former Saint Mary's Hall (SMH) Upper School Social Studies Teacher Paul Gage, beloved by many students, alumni, and colleagues, has been selected for the University of Chicago's Outstanding Educator Award. Students accepted into the University of Chicago Class of 2024 were asked to nominate an educator who has positively impacted their lives and whose guidance has helped them along the path toward intellectual growth. Responses were received from thousands of students in recognition of these educators.
Mr. Gage joined the Saint Mary's Hall faculty in 2003 and retired after 17 years. He received SMH's Master Teacher Award in 2009 and 2015. Mr. Gage has impacted generations of SMH families over the years and has attended many basketball games, acted as an extra in numerous school productions, and actively keeps in touch with many alumni. Today he serves as a substitute teacher.
The University of Chicago's distinguished award, which has existed for more than 30 years, honors educators such as Mr. Gage, who are exceptional in their field and are role models for their students. Award winners receive a commemorative award, certificate, and letter that includes details from the student who nominated them. A virtual event celebrating this year's winners was held on October 21.
"Receiving the Outstanding Educator Award from the University of Chicago was a wonderful retirement gift and such a positive way to end a 50-plus-year career in education. I have been especially impressed with how the university has personalized the experience," said Mr. Gage. "They shared Sam Eckert's '20 very touching and thoughtful nominating statement. It is an award I value and treasure."
Saint Mary's Hall teachers often serve as mentors for life to many of our students. The school will never exceed the quality and impact of its faculty, leaving an indelible mark on students as they continue their journey beyond the halls of SMH.
---
ART, MUSIC, YOGA, AND GARDENING AS JUST AS IMPORTANT AS ACADEMIC CORE SUBJECTS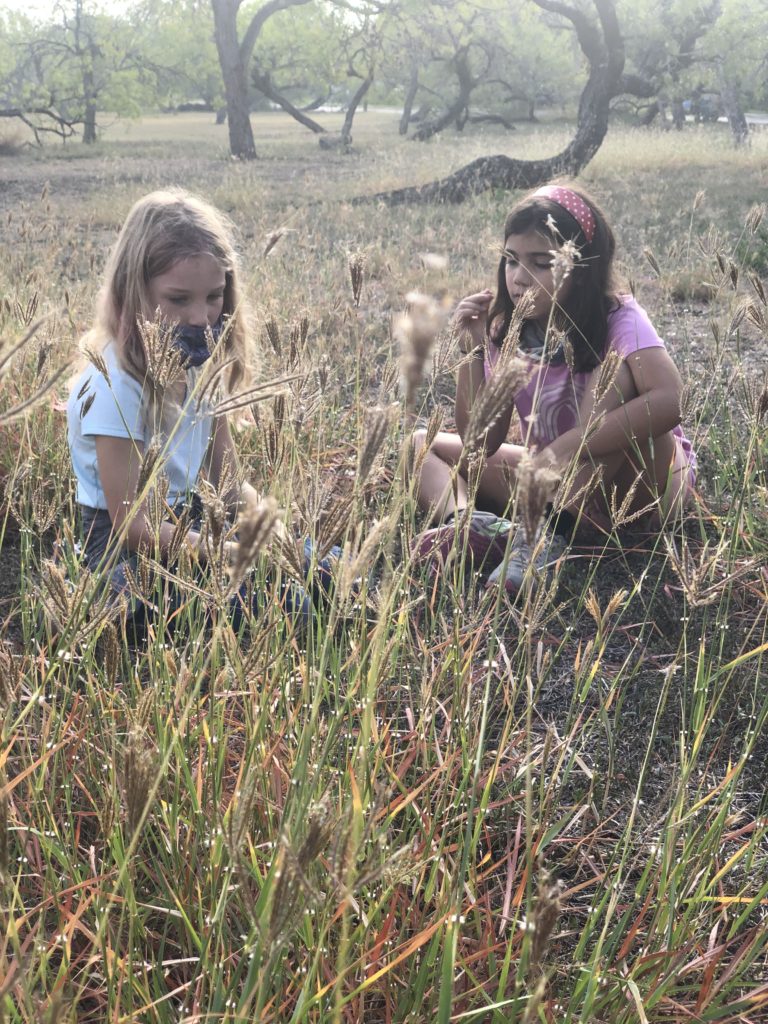 Circle school founder Isabeth Hardy saw Specials classes like art, music, yoga, and gardening as just as important as academic core subjects. In her thesis — which has shaped the path of our school since we opened in 1965 — Hardy writes, "Increasingly in this society, life is disjointed, segmental, privatized and isolated, specific and unshared. The divisions among individuals, groups, and the earth is profound. Human memory is lost. Human vision is short. The human mission is personal and momentary." Integration is the practice our founder offers as a counterbalance: to integrate is to weave parts into a greater whole, to generate a curriculum that is "an education for life." Integration connects us with the wheel of life as a whole and connects each individual into our community and culture. At The Circle School, "Integration is both the process and the goal."
Specials have always been an integral part of the whole child curriculum at The Circle School, but this year has highlighted the importance of gardening, P.E./Yoga, music, and art as key elements integrating our education of the whole child: body, mind, heart, and spirit. Reforming our circle on campus, time outside in nature, moving our bodies, using our hands and voices to create art, and bonding over the joy of the world around us take on new value after months of distance learning.
This year, connecting and integrating our cooperative community also looks different. We can't hold our usual community events due to COVID-19, but that won't stop us from hosting a unique, Circle School-style, online silent auction. We will be offering the skills and talents of our co-op members to the public in an online silent auction, inviting everyone to connect with The Circle School community.
---
Mule Spirit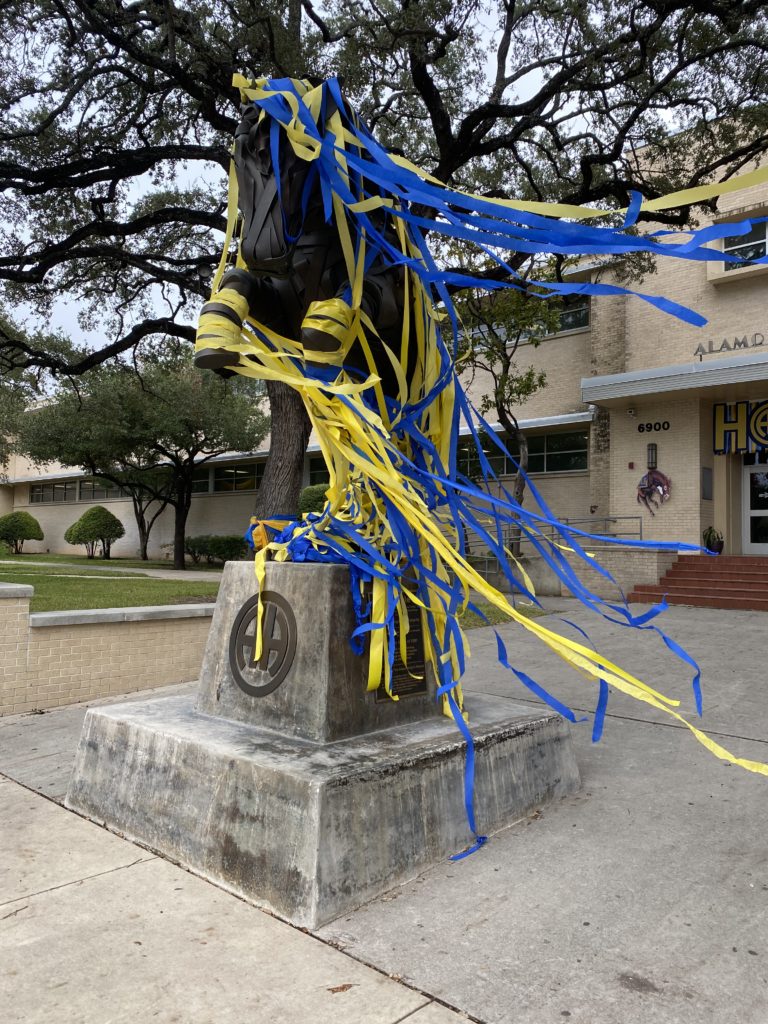 Mule spirit starts at an early age in Alamo Heights ISD and lasts a lifetime. The phrase, "Once a Mule, Always a Mule" is a mantra that is shared by many. Throwing your Mules Up and bringing the Blue and Gold is a way of life for the Alamo Heights community and one that is honored over a lifetime.
Homecoming is just one of the celebrations that unite both current and former Mules as they reflect and honor the rich traditions of their school. While the celebrations looked a little different this year, the meaning behind the traditions held strong, as Mules found new ways to honor the Blue & Gold.