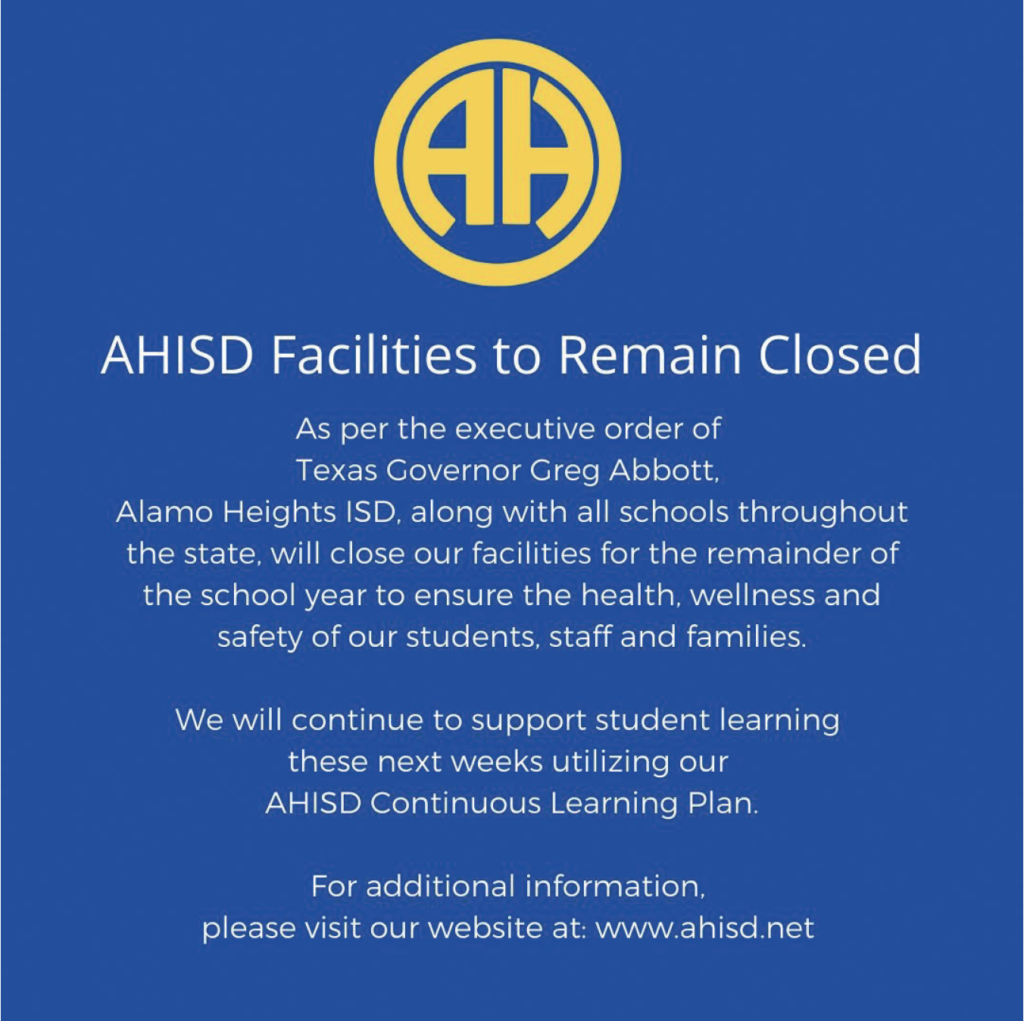 School Facilities Closed
As per the executive order of Texas Governor Greg Abbott, Alamo Heights ISD will close our facilities for the remainder of the school year to ensure the health, wellness and safety of our students, staff and families.
We will continue to support student learning these final weeks utilizing our AHISD Continuous Learning Plan. We will continue to connect with our students daily making sure they know that they are missed and loved, and we will continue to seek innovative ways to engage them during this time of distance learning. Our Mule Meal Drive-Thru and delivery servic-es will continue on Tuesdays, and we will continue to support students with devices and materials as needed.
Superintendent of Schools, Dr. Dana Bashara, shared "I know that like me, you have witnessed the extraordinary efforts of our staff these past four weeks of closure, and I hope that brings comfort and assurance as we look to finishing out the final weeks this way."
As the district moves forward in planning for end of the year events like Senior Graduation, and even Summer School services, we will rely on the guidance of the Texas Education Agency and state and local officials to ensure the health and wellness of our students and staff. Updates on any new devel-opments will be communicated through email, on our website, and through our AHISD social media channels.
"Although this is not the end of the year that we had hoped for, I'm confident that through the talent of our staff, and the thoughtfulness of our plan, our district is meeting the needs of our students in a most responsive way," said Bashara. "I encourage you to stay connected and support your child in staying connected as well. Communication and connection are essential to all of us during this time of distancing- our AHISD faculty and staff are all available to support our students and families."
---
Alamo Heights ISD welcomes Cory Smith as the new Principal of Alamo Heights High School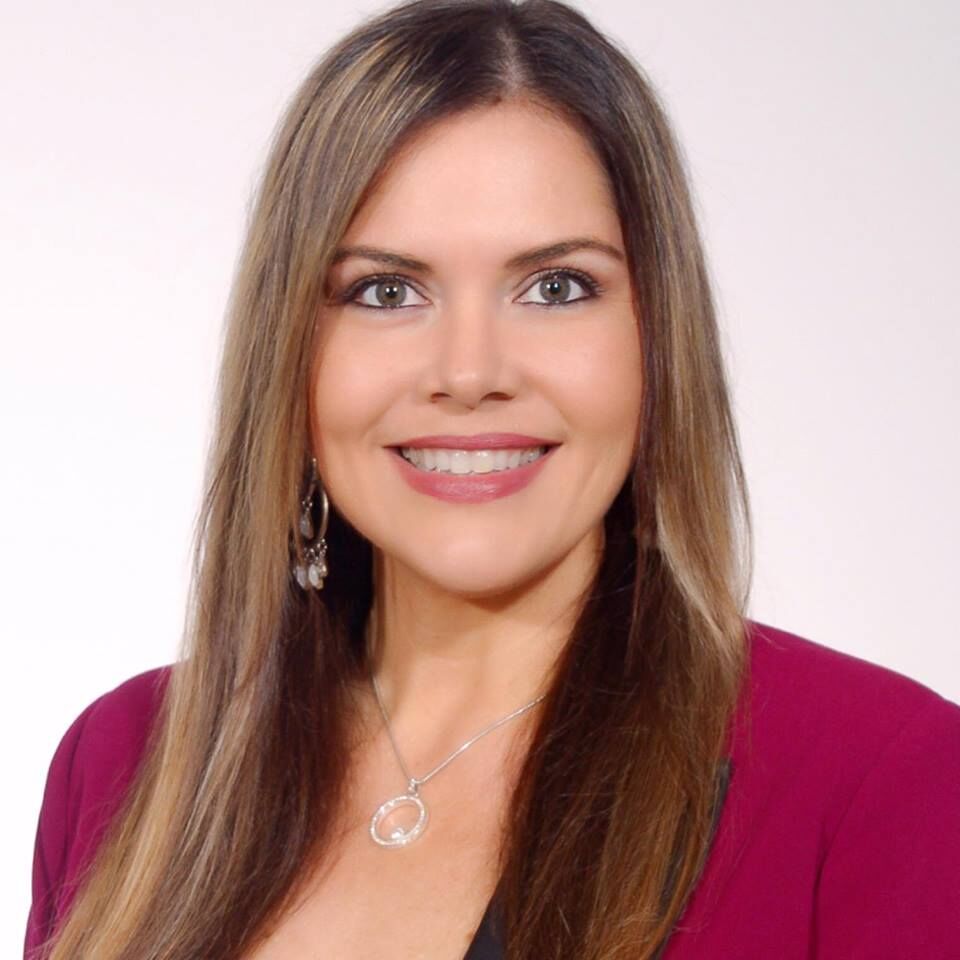 Smith is currently serving as Principal at Ramblewood Middle School in Broward County Public Schools.
Smith is focused on igniting student passion for lifelong learning through rigorous classroom instruction supported by appropriate and innovative technologies, and community outreach, with the goal of creating civic-minded citizens with global perspectives. She works collaboratively with teachers and staff to provide structured, high-quality instruction for all students and sets a climate of high expectations as a foundation for success.
---
STEM Education Excellence Recognized: Colin Lang Honored for Building Future of Aviation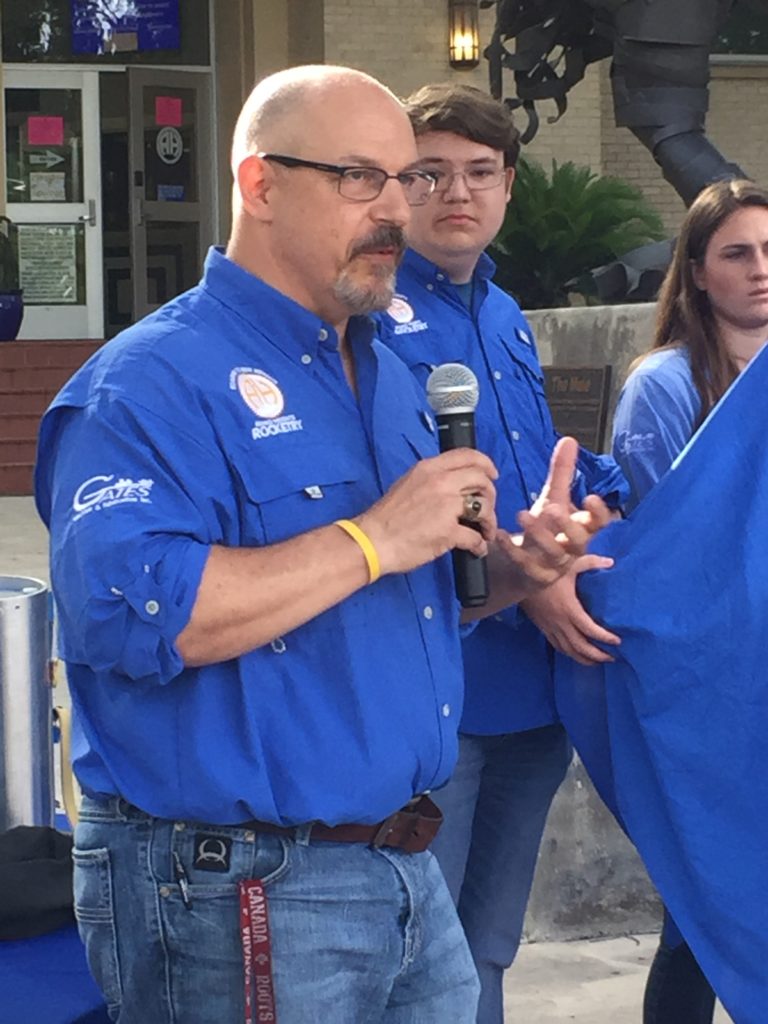 Colin Lang, the Systems Go Aerospace Studies program teacher, mentor, and coach at Alamo Heights High School is one of only two recipients of The Dee Howard Foundation STEM Education Excellence Award (SEEA) for 2020.
The Dee Howard Foundation created The Dee Howard Foundation STEM Education Excellence Award (SEEA) to recognize Pre-K thru 12 STEM teachers and administrators and to help incorporate aviation and aerospace subject matter in STEM programs primality focused on underserved students in the San Antonio Area.
The Dee Howard Foundation was founded to build on the legacy of legendary aviation pioneer and entrepreneur Dee Howard by preserving the rich history of aviation in San Antonio of which Dee was a part, and to build and expand on that history for current and future generations.
The Dee Howard Foundation Pre-K thru 12 Aeronautical STEM Initiative currently has programs in fourteen schools in six school districts in the San Antonio area and plans to expand its programming in the 2020/2021 academic year.
---
Saint Mary's Hall Thrives with Distance Learning Program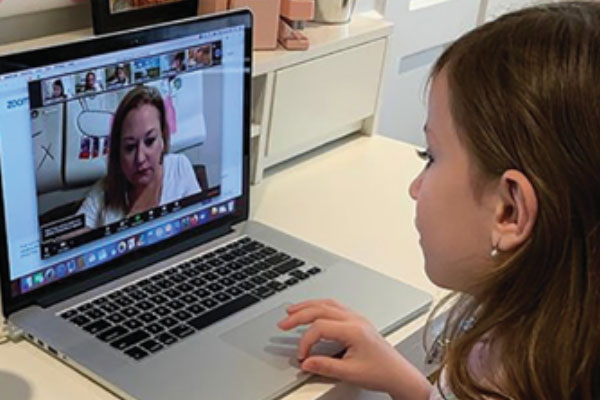 Saint Mary's Hall (SMH) is known throughout the San Antonio community for its robust curriculum and extensive fine arts, athletics, and character education programs. Now they can also add a thriving and successful distance learning program to their resume, once more showing how the school offers the best independent school education in the city.
In this difficult time of school campus closures due to COVID-19, SMH introduced their Distance Learning Plan in March to promote continued learning and important connection. All three divisions (Lower, Middle, and Upper School) have implemented virtual education for all students coupled with continued learning in fine arts, athletics, and health and wellness components. SMH is fulfilling their school's mission by offering a dynamic online curriculum that melds classroom learning and technology. Here's what the school is doing virtually to fulfill its commitment to educating its students:
• SMH classes have moved from on campus to Zoom (the leader in modern video communications), Skype, and/or Microsoft Team.
• Students leverage pre-existing technology methods such OneDrive, Google Drive, school email, and the My SMH Backpack (with virtual classrooms, grad-ing, and assignments).
• Faculty are focusing on important concepts and skills for students, giving them plenty of time to complete work, ask questions, and receive help. With students going to class every day, it is almost like being in school. Almost. Stu-dents still follow a daily schedule, and are able to participate in non-traditional classes like the arts, physical education, wellness, and Chapel.
– All fine arts classes, including private lessons and all dance classes, are taught online during their regularly scheduled periods.
– PE teachers send weekly physical education activities to teachers to apply to their online instructions, and head coaches create daily workouts for their team members and email the team those workouts.
– To help students enhance their spiritual and mental wellness, the school's Chaplain shares a video reflection weekly, and the director of wellness sends a communication with informative, helpful wellness resources to families weekly.
• Their dedicated college counselors continue to work daily with seniors to meet their college deadlines, submit documentation, and select the college that best fits them.
Saint Mary's Hall is always finding ways to meld traditional learning with technology in order to accomplish its mission to Prepare Students for Success in College and Fulfillment in Life. The school has pledged to exercise extreme flexibility and compassion while providing a quality education through distance learning and beyond.
---
We May be Apart, But We're Still Together at The Circle School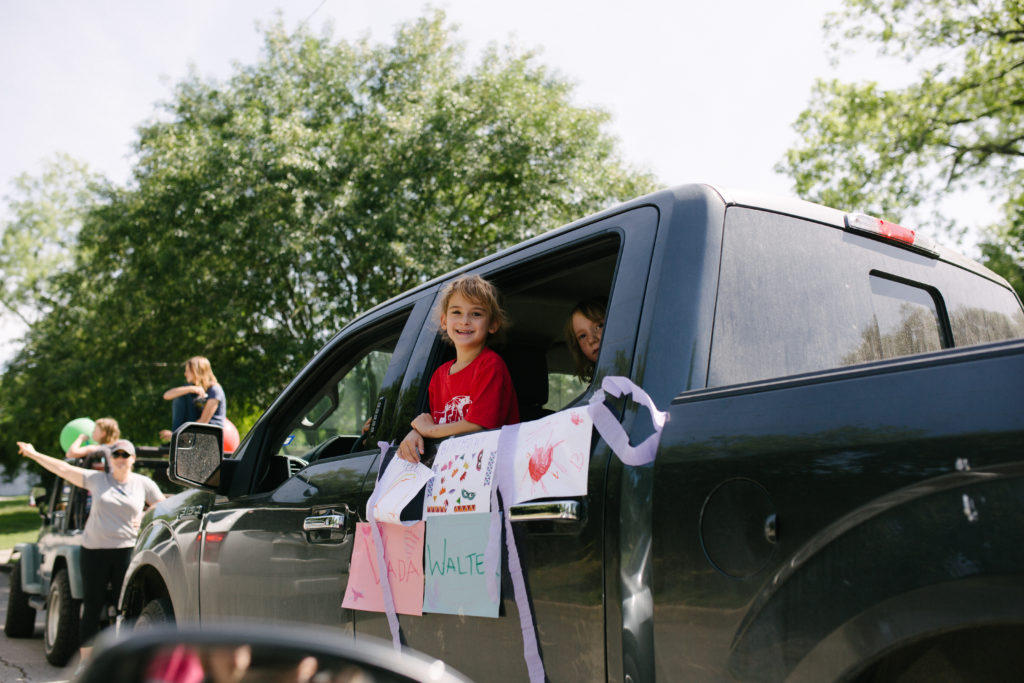 Even with necessary campus closures, The Circle School is still proud to be a strong, supportive community of learning. Our school was able to quickly engage with students and families in a distance format. Teachers connect with students daily. They film stories and lessons, have Zoom class times, and adapt classroom projects for home learning. Our families continue to connect and support each other from a distance as well. Every Friday morning, our entire community comes together for a virtual Morning Circle to listen to a story and song, share announcements, and just see each other's faces.
---
Capturing the Moments at AHISD
Here is a peek into the ways our district embraced the new normal.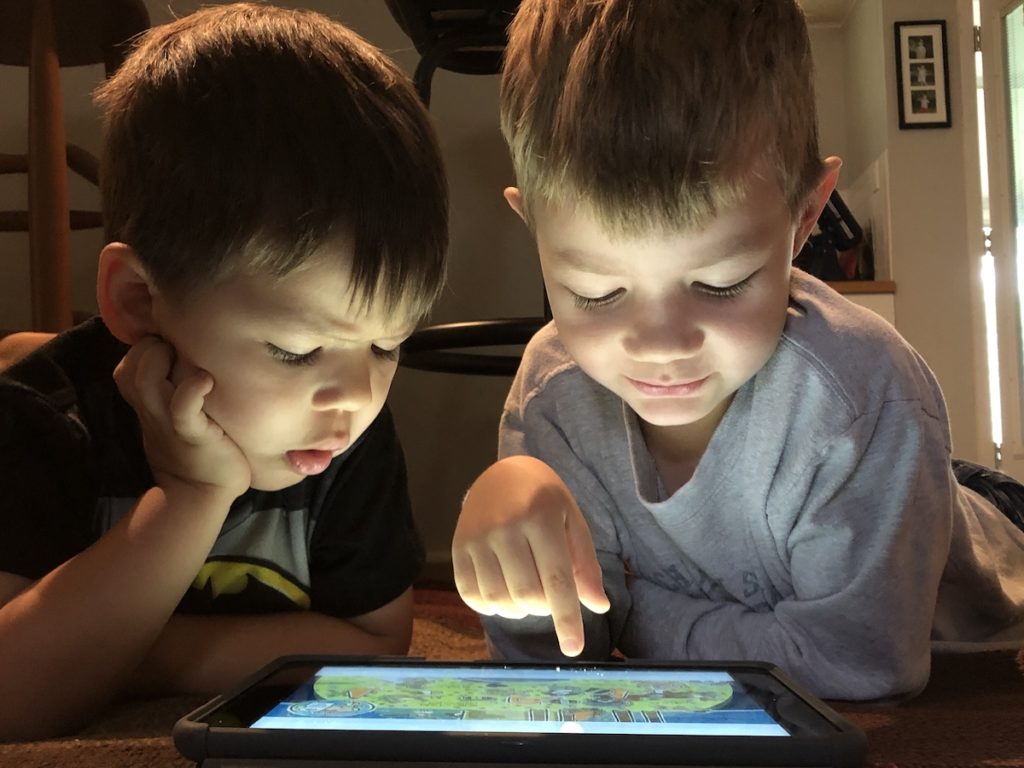 ---
Looking Ahead
WE ARE GETTING READY
We are now taking registrations for the 2020-2021 Pre-K Head Start program for children who will be 4 on or before September 1st 2020.
Contact Veronica Ochoa or Kimberly Romines at Howard ECC by email for information at vochoa@ahisd.net or kromines@ahisd.net.
Y'ALL READY?
Kickoff is coming! This year, when the Mules open their season they will play their home varsity football games just down Broadway, at the University of Incarnate Word (UIW), with all sub-varsity games played at Harry B. Orem Stadium, with seating available on the visitor's side. Let's Go Heights!