Saint Mary's Hall Senior Wins Jefferson Bank Investor Challenge
Saint Mary's Hall (SMH) senior, Thomas Garrett, was awarded first place in the Jefferson Bank Investor Challenge, hosted by the University of the Incarnate Word's (UIW) H-E-B School of Business and Administration (HEBSBA). The Jefferson Bank Investor Challenge gives San Antonio-area high school students the opportunity to learn fundamentals of investment strategy on the UIW campus and to try their hand at portfolio management for a chance to win $500.
"The program gave me greater insight into the market economy and helped me observe the subtle movements that go on in the stock exchange," said Garrett. "It required patience and you have to discipline yourself to not get emotional. It was rewarding to see the return increase and a great learning experience."
The Jefferson Bank Investor Challenge introduces students to the concepts of financial literacy, planning, and the stock market. Students apply the skills they learn in an online-simulated investment portfolio. The challenge consists of attending one week of classroom instruction during the summer with faculty members from the UIW Finance Department. This instruction is followed by a 20-week long stock-market simulation, which Thomas was able to nearly double his money with a 94% return. He competed with 45 other students from 21 San Antonio-area high schools.
---
Reunite at Heights Luncheon to Honor Hall of Fame Recipients
Tickets, tables, and sponsorships for Reunite at Heights are available at ahschoolfoundation.org. This inaugural event will be held on Saturday, February 29th at the Oaks. During this luncheon, they will honor this year's Hall of Fame recipients while also celebrating alumni and volunteers from the community. The 2020 Hall of Fame honorees for distinguished alumni are: Joseph Lambert '58, Everett Fly '70, and Pat Frost '78. The distinguished service honorees are: Patti and Mark Mays and lifetime educator Paul Forester. For additional information about this event contact Alexis Moore at amoore@ahisd.net.
---
Got Mules? Ready for Kindergarten?
Howard is offering an opportunity for parents to learn more about our program while their child spends an hour participating in a fun-filled kindergarten classroom. You and your child will also tour the building. This opportunity is offered to families with children eligible to attend kindergarten at Howard in 2020-2021.
Register for one session on either January 22, February 12, March 19, April 1, April 14, or April 29. There will be one session each day (1:15 p.m. – 2:30 p.m.). The sessions will be held at Howard Early Childhood Center in the Alamo Heights Independent School District. Enrollment is limited to 30 students per session. The registration form for these sessions may be obtained from Howard ECC or by downloading here.
Online Kindergarten pre-registration for the 2020-2021 school year begins the week of January 27. Parents attending a preview session may pick up a registration packet at the preview and start the online portion. Registration is not complete until all documents and forms are returned to the office. Parents not wishing to attend the information session must remain on campus during this one-hour session. For more information contact Contact Veronica Ochoa, the registrar via email at: vochoa@ahisd.net
---
Alamo Heights School Calendar
February 17
PRESIDENTS' DAY
PROFESSIONAL DEVELOPMENT
Students will not have school as staff
attends professional development.
February 20
AHISD BOARD MEETING
AHISD Board Room,
7101 Broadway, 6 p.m.
March 3-5
EARLY RELEASE
Early Release at Elementary Campuses for Parent Conferences
March 5
EARLY RELEASE
Early Release at All Campuses
for Staff Development
March 9-13
SPRING BREAK
No school for students.
Schools and offices closed.
---
St. Luke's Episcopal School Students Compete at Yale University
St. Luke's Episcopal students participated in the World Scholar's Cup Tournament of Champions at Yale University this past November. 5 Students, both current middle schoolers and recently graduated alumni competed. The Tournament of Champions event at Yale University is a culmination of the regional and global rounds with only the most competitive and high-ranking teams competing. The winning teams from the World Scholar's Cup Global Round engaged in challenging team and community events that reflected this year's theme, "A World on the Margins."
Teams of students compete against each other in events such as collaborative writing, debate, and the scholar's bowl, drawing on their knowledge in subject areas ranging from science to art and music. This year's Tournament of Champions event drew 3,000 students representing 65 different nations. Two teams competed – one team consisted of eighth-grade students Mia Miller, Marcus Miller, and Irene Sheerin. The second team was composed of SLES graduates Mikaela Miller ('18) and Gabby Luna ('19). The eighth-grade team earned a Silver medal in the Team Debate category. Mia Miller earned Silver medals in Debate, Writing, Science Challenge, and Special Topic Challenge. Irene Sheerin, earned a Gold medal in Debate and a Silver medal in Writing. Recent SLES graduate Gabby Luna earned a Silver medal in the Debate category. Additionally, the SLES alumni team earned a Silver Medal in the Scholar's Bowl event.
St. Luke's students have competed in the World Scholar's Cup since 2017. The school's team has traveled to Houston, the Hague, Netherlands, and Yale University in New Haven, Connecticut for regional and international events. SLES Director of 1st – 8th Grade, Christopher Duke, has served at the school's World Scholar's Cup advisor since 2017. "The world is rapidly changing and students need to know more than how to just pass a test," said Duke. "World Scholar's Cup allows our students to learn about topics beyond the traditional curricula. They have the distinct opportunity to interact with kids from different cultures and nationalities while debating and collaborating on activities about ideas and issues that are relevant on a global level."
---
A Celebration of Culture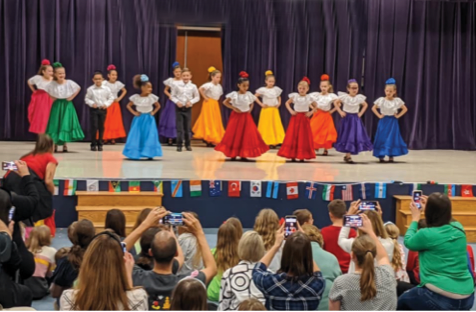 Alamo Heights Independent School District celebrated its fourth annual Culture Night in January at Woodridge Elementary School. The festival provided families with a unique opportunity to join their neighbors to share the many diverse cultures that are represented in our schools and community. Families came together to share their favorite foods, music, dances, and more. It was a great night of fun, fellowship, and learning for all. Photo courtesy of Ruth Bujanda-Moore and Tara Verwiebe
---
It's Pizza Delivery Night in Alamo Heights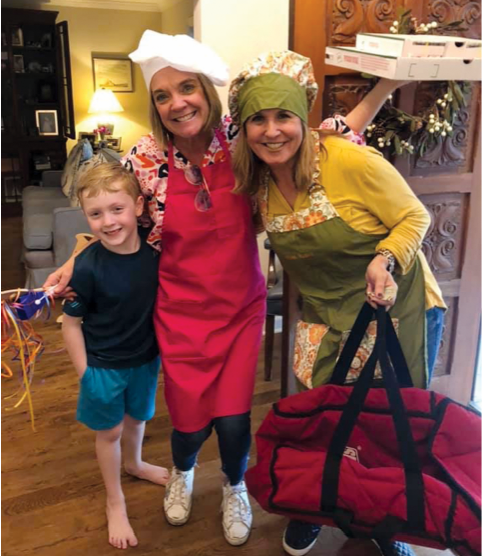 Teachers from Woodridge Elementary surprised their Alamo Heights Independent School District students and families, taking on the role of Pizza Delivery Team Members during the annual event in partnership with Papa John's Pizza. Families placed their dinner order by phone and had it delivered by their children's teachers, coaches, and school principal. A fun and delicious night for families and district staff. Photo courtesy of Barbara Iverson.
---
Mule Battalion on Campus
By Alamo Heights High School Journalism Student Natalie Lehmann
Junior Reserve Officers Training Corps, otherwise known as JROTC, is a military regulated program where students assume leadership positions and learn how to become better American citizens. At the high school, the JROTC Program is composed of around 100 students who are all regularly involved in the everyday classes. The program is led by instructors First Sergeant Jasper Miller and Lieutenant Colonel Victor Diaz Jr.
The program is made up of different teams that students can join. These teams are Drill, Color Guard, Marksmanship, Physical Training, Academics and Leadership, Cyber Patriot and Weekly Responsibility. Students can be a part of just one team but most are part of at least two.
"ROTC is a program that works to better yourself in all areas. A common misconception is that it's all about the military but it's really not," senior Cadet Lieutenant Colonel Gabriele Woodward said. "It's about pushing yourself in academics, physical growth and about personal advancement and creating the best version of yourself."
Every week, JROTC students, or cadets, must wear a uniform. Whether this is the classic shirt and jeans combo or they are completely decked out in the class A/B uniform with gelled hair, students are spotted the whole day because of their organized attire. Wearing the uniform instills a sense of pride in students.
As one of the main goals of the program, leadership is a very heavily taught skill. From their sophomore year, students have the option to apply for positions such as squad and platoon leaders. By senior year, they can earn positions with more responsibility like Command Sergeant Major. There is also a Cadet of the Month program for each level.
While a lot of students in high school struggle to earn enough community service hours and leadership positions, JROTC students breeze on by. Community service is achieved annually with organizations like Habitat for Humanity and is a part of being a cadet. Members can also help with putting up the flags and traffic duty at sporting events on campus.
JROTC provides students with many amazing opportunities but the greatest is scholarships. Students can earn a full ride to a four-year college by being in ROTC. Colleges understand the amount of commitment and time it takes to be a part of the organization.
JROTC is one of the proudest achievements that the school has implemented. The program has been a part of the high school for 27 years and ROTC students continue to exemplify what a good student and citizen look like in and out of school. From marching in parades like the Battle of Flowers to jamming out at the Military Ball, JROTC is one of the most rewarding programs at Heights.
"I like how ROTC is its very own little family," sophomore Cadet Private Anthony Wise said. "We all try to help each other out and it's a really fun environment. Being a part of ROTC has really made my high school years more fun."
---
Alamo Heights Festival of Learning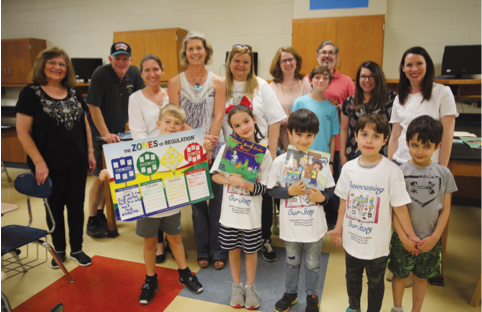 The Alamo Heights Festival of Learning, formerly the Showcase of Engaged Learning, is set to take place this year on March 25 from 5:30-7:30pm
The Alamo Heights Festival of Learning is a hands-on celebration of all of the classrooms, clubs, groups, fine arts programs, sports teams, and more that help activate the Profile of a Learner in the Alamo Heights Independent School District every day. They hope students will come and "show-off" at the festival just how they are accomplishing the profile in all they do.
Their dream for this evolved event is to see the space filled with academic, fine arts, sports and interest group activities, that demonstrate and celebrate Profile of a Learner connections.