January is School Board Recognition Month
Alamo Heights Independent School District will join 1,025 school districts throughout Texas to celebrate January as School Board Recognition Month. Serving as a link between the community and classroom, school board members are elected to establish the policies that provide the framework for public schools. "It's more important than ever before that communities support public education so that today's students are prepared to be productive citizens and the leaders of tomorrow. Please take a moment and tell school board members 'thanks for caring about our children and giving so much to our community.' Let them know we support them and that their dedicated service is recognized and truly appreciated," Dr. Dana Bashara, Alamo Heights Independent School District Superintendent of Schools said. The Board members serving Alamo Heights ISD are pictured above. In the front row are Brian Hamilton, Trustee; Dr. Dana Bashara, Superintendent; Lisa Krenger, President; Bonnie Giddens, Trustee; and Ryan Anderson, Assistant Secretary. In the back row are Perry Shankle, Vice President; Margaret Judson, Trustee; and David Hornberger, Secretary. We are grateful to these dedicated volunteers for their efforts for our students.
---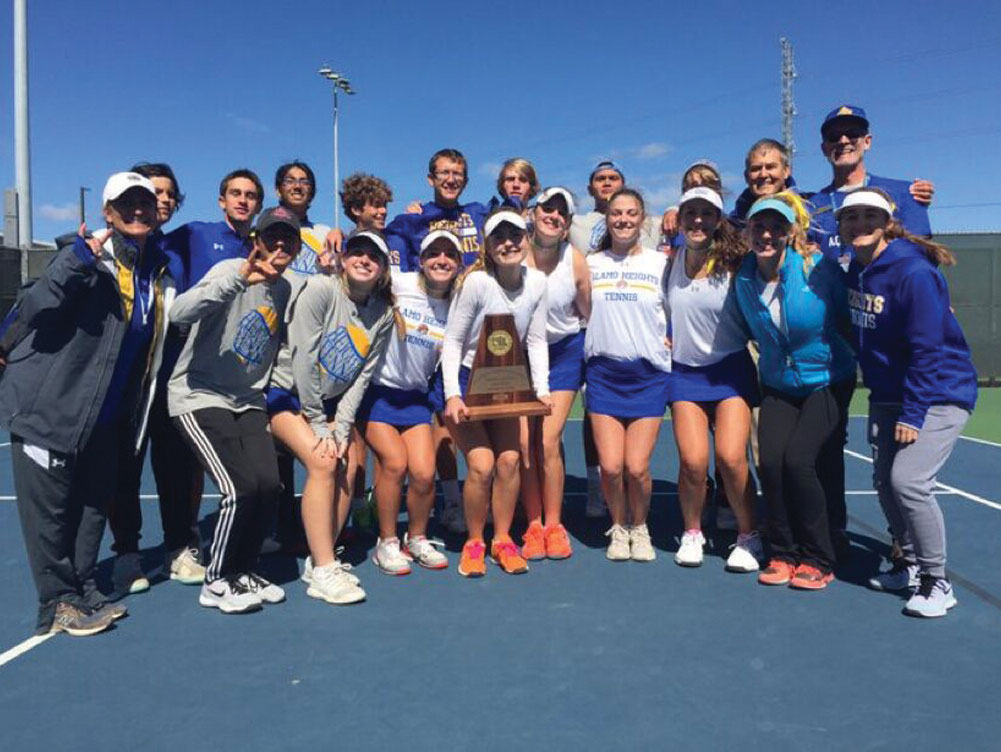 Lady Mules Tennis Take Silver at State
The Alamo Heights girls tennis team earned the title of 27-5A District Champs, they advanced to the regional semifinals and completed the Team Tennis season by earning the Silver Medal at the State competition.
---
Alamo Heights – 2020 Calendar of Events
January 1-3
NEW YEAR'S HOLIDAY/WINTER BREAK: No school for students.
Schools and offices closed.
January 20
MARTIN LUTHER KING, JR HOLIDAY: No school for students.
Schools and offices closed.
January 23
AHISD BOARD MEETING:
AHISD Board Room, 7101 Broadway, 6 p.m.
February 17
PRESIDENTS' DAY
PROFESSIONAL DEVELOPMENT: Students will not have school as staff attends professional development.
February 20
AHISD BOARD MEETING:
AHISD Board Room, 7101 Broadway, 6 p.m.
March 3-5
EARLY RELEASE:
Early Release at Elementary Campuses for Parent Conferences
March 5
EARLY RELEASE:
Early Release at All Campuses for Staff Development
March 9-13
SPRING BREAK: No school for students. Schools and offices closed.
March 26
AHISD BOARD MEETING:
AHISD Board Room, 7101 Broadway, 6 p.m.
March 28
AHISD CAREER FAIR:
AHHS, 8:30 -10:30 a.m.
---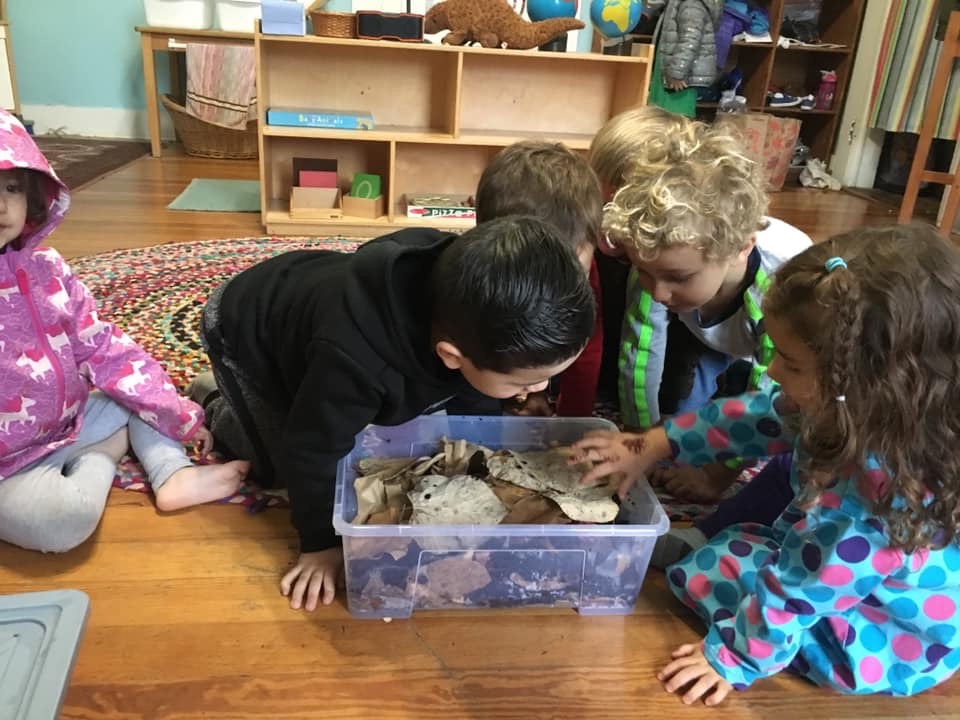 Preschoolers Learning About Gardening at the Circle School
During chilly weather the gardening classes have spent some time inside.  The 3 and 4 year olds in The Moon Room explored a worm bin full of lovely garden dirt and its earthworm inhabitants. Even when the weather keeps them inside, the exploration and learning doesn't stop at The Circle School.  Founded in 1965, this unconventional private school is a PreK-8th grade family cooperative. They combine academic excellence with a distinctive curriculum oriented around storytelling, nature-based education teaching gardening and sustainability, bridging the arts and sciences, respectful conflict resolution encouraging compassion and empathy. If you would like to learn about joining The Circle School community there is an information session on Tuesday, February 4 from 6:30 – 8:30 pm. You can RSVP on their website, thecircleschool.org.
---

St. Luke's Episcopal Selected by Duke Talent Identification Program
Over forty percent of St. Luke's Episcopal School's 4th-8th-grade students were selected this year to participate in Duke University's Talent Identification Program. Duke TIP is a nonprofit organization that supports academically talented students in 4th grade and above. Beverly Lindberg received state recognition  on both the English and reading subtests of the ACT.  She took the ACT as part of her involvement with the Duke TIP program for 7th graders.
---
Mules Invited to Play in All Star Game
More than 110 players have been chosen to showcase the area's top football talent in the Alamodome for an all-star football game. Players are nominated through their varsity coaches and selected by an all-star selection committee. Congratulations to AHHS Mules Aaron Proctor (WR), Curtis Gunn (DT), and Josh Galindo (DB) for being selected for the team. Watch them play January 4 in the Alamodome!
---
Soccer Teams Prepare for Season
BY ALAMO HEIGHTS HIGH SCHOOL JOURNALISM STUDENT MARK SECHLER
After a great year making it all the way to the state playoffs the soccer season is back for both boys and girls.
"Luckily we didn't lose many seniors and have a ton of returning lettermen from last season." junior and Captain Center Midfielder Morgan Musgrove said. "Hopefully, we can do what we did last year and maybe even win it all this year."
The girls' season begins with a tournament at Highland Park in Dallas on January 2 and the boys began their season in mid-December. With a ton of senior leadership, look for this year's boys' team to exceed expectations and, hopefully, make a long run into the playoffs.
"Last year's team was made up of really good individuals but this year we are better as a team," senior Center Attacking Midfielder Tyler Thronson said. "Hopefully, our hard work over the offseason will pay off and take us to a great run in the playoffs."
The soccer teams will not be able to play in Harry B. Orem Stadium since it will be torn down and the stands will be rebuilt, so the team will not have a real "home-field advantage" this season.
"I feel like it's partially unfair to the seniors this year since they won't be able to play their last season in the stadium" junior Center Midfielder Kennedy Massey said. "It would be a lot better for them if they got to play at their home field one last time."
Be on the lookout for the soccer teams this season as they hopefully can "take state" and have a strong year.
"Hopefully, all the hard work and practice we put in as a unit will translate to more wins on the field this year," senior Goalie Manuel Pazcual said. "I really hope this season turns out to be our best yet!"
---

Altar Server Commissioning at St. Peter's
Almost half of the middle school students at St. Peter's chose to participate in training to become altar servers for the school and parish. Fr. Agustin Estrada, Parochial Vicar and 7th and 8th grade religion teacher, held two training sessions during which students learned about the purpose, function, and roles of altar servers within the Mass. Students who completed the training were then commissioned and sent by Fr. Agustin, who encouraged students and their families by telling them their "service was just beginning."
---

AHISD's Profile of a Learner in Action
Howard's Stephanie Gomez wants her Kindergarteners' to think critically and creatively. Gomez accomplishes this goal of the district profile of a learner by engaging students in work that encourages them to be curious, investigate and explore. See Gomez and the Profile of a Learner in action on the latest edition of Powering the Profile available on the district's YouTube Channel: Alamo Heights Mules.
---
Historic Season for Mules Volleyball
The Mules Varsity Volleyball team finished district play undefeated and followed up with perfect playoff performance that led the team to the school's first ever trip to the state tournament.
The team accomplished all of this without an on-campus home facility due to construction of a new multi-purpose facility at Alamo Heights High School. Through a partnership with San Antonio ISD, the team played "home" games at Lanier High School and the Lanier Alumni Center.
The team earned the right to play in the state finals by defeating Dripping Springs to earn the Region IV Championship. The team traveled to Garland to compete in the state 5A semifinals against Canyon Randall. Despite a strong start in each set, the Mules were defeated by Canyon Randall, finishing their historic season with a 35-10 overall record. (Special thanks to Alamo Heights High School Journalism for contributing to this story.)
---
St. Peter's Spanish Spelling Bee
St. Peter School students competed in a schoolwide Spanish Spelling Bee under the direction of Spanish teacher, Mrs. Patricia DeMotte. Winners in two divisions have earned the right to represent the school at the Region 20 regional event. Congratulations to Alexandro Martinez and Lisa Rodriguez.
---
AHISD Names Campus Teachers of the Year
Alamo Heights Independent School District announced the Campus Teachers of the Year for each of the district's five campuses. Honorees were selected by their peers and will represent the campus throughout 2020. Honorees included: Valerie Alvarez, Alamo Heights High School; Erica Melle, Alamo Heights Junior School; Mary Ellen Cook, Howard Early Childhood Center; Suzanne Arevalo, Cambridge Elementary; and, Lisa Barry, Woodridge Elementary. The candidates will complete for the title of District Teacher of the Year, which will be awarded in January. The district honoree will move on to compete for the Trinity Prize and Region 20 ESC Teacher of the Year.
---
Saint Mary's Hall Senior Receives Duke of Edinburgh's International Award
Saint Mary's Hall (SMH) senior, Elizabeth Adams, has earned the Silver Standard of The Duke of Edinburgh's International Award. SMH is one of only three schools in Texas, as well as the first Independent Schools Association of the Southwest (ISAS) and the first San Antonio school, currently offering the award.
This self-development program, available to young people aged 14-24, focuses on creating global citizens ready for success in college and their careers. The award empowers young people on a journey of personal discovery and development of life skills through four or five main sections, depending on the level chosen. All participants complete a section of physical recreation, skill development, service, and an adventurous journey, consisting of a group camping experience created by the students.
Each award is individualized and based upon participants' interests and schedules. Participants are empowered to create their award program with any combination of clubs, sports teams, community service, or lessons based within their school programs, after-school programs, and in the community.
Founded by HRH Prince Philip in 1956, The Duke of Edinburgh's Award  ("the Award") is the world's leading youth development program, with more than 1.1 million young people currently earning the award in more than 140 countries and territories.
Service to the school and the community is a critical area of education that intertwines all of the core values at Saint Mary's Hall. The Duke of Edinburgh's International Award is indicative of the school's commitment to community service and development opportunities for our students.
---
Diving Team Makes Splash
BY ALAMO HEIGHTS HIGH SCHOOL JOURNALISM STUDENT WENDELL SNOW
The Mules Diving Team has begun their season strong. At their first meet, out of 40 girls, senior Jayne Burrhus placed second. The rest of the team followed close behind placing eighth -12. The team has several upcoming meets and hopes to make it to regionals and then state. Varsity Cheer Coach Ashley Johnson is also the diving coach. She takes her job very seriously, with practices lasting from 5-9 p.m. every Monday and Wednesday.
This years team is led by seniors Bernstein, Burrhus and juniors Sophia Ursone, Lexi Ramirez, Carli Bordano and sophomore Caroline Crosley, the team will soon face opponents East Central and Madison who have renowned diving programs.