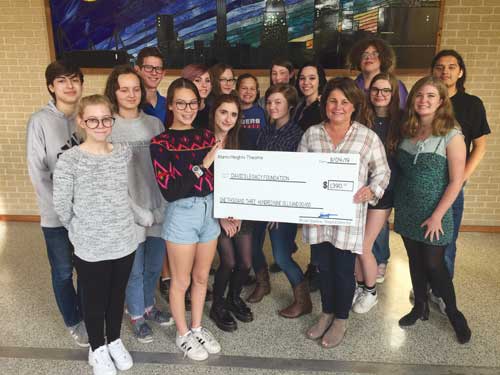 Cast of Carrie Presents Check to David's Legacy
The cast and crew of Carrie were honored to present a check to Maureen Molak on behalf of the David's Legacy Foundation. The Alamo Heights High School theater students collected $1,390 during the recent performances of Carrie the musical.
---
Mules Invited to Play in All Star Game
More than 110 players have been chosen to showcase the area's top football talent in the Alamodome for an all-star football game. Players are nominated through their varsity coaches, and selected by an all-star selection committee. Congratulations to Alamo Heights High School Mules, Aaron Proctor, WR, Curtis Gunn, DT, and Josh Galindo, DB, for being selected for the team. Watch them play, January 4, in the Alamodome!
---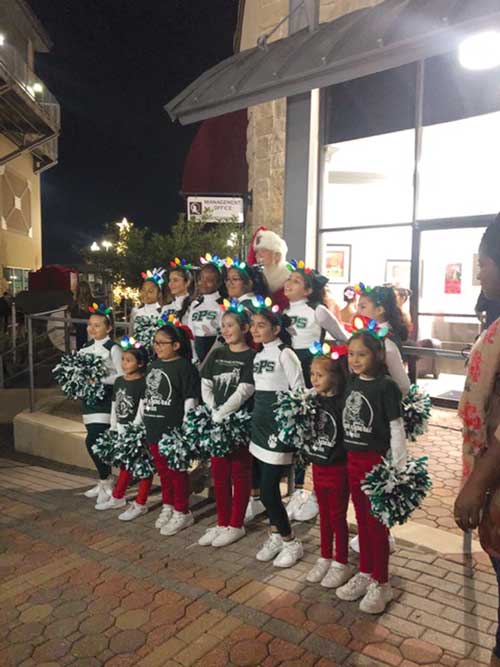 Winterfest
The St. Peter School cheerleaders were invited to escort Santa Claus into the party at Winterfest at the Quarry. Everyone yelled and cheered for the man in red at this festive and fun event for the whole family. It was a great way to kick off the holiday season with many businesses and groups from our community and the SPS cheerleaders were thrilled to be part of the occasion.
---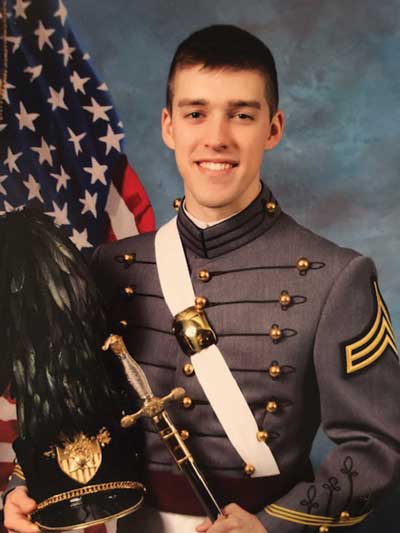 St. Luke's Episcopal School Launches "Operation Christmas" for U.S. Troops in Iraq
Over the past several weeks, the entire SLES community has rallied together to support their alumnus, U.S. Army 2nd Lt. Steele Sessions and his troops who are stationed in Iraq. Sessions attended St. Luke's Episcopal School from kindergarten to 8th grade. He then attended Texas Military Institute and went on to the U.S. Military Academy at West Point.
Students have brought in donations of books, cards, board games, and candy to fill care packages for Sessions and his platoon. Pre-K through eighth grade teachers have organized class activities such as handmade Christmas ornaments, reindeer decorated hot cocoa packets, and thank you notes. Parents donated their time at the monthly Parent Council meeting writing personalized notes to each of the 30 troops.
On Veterans Day, middle school members of Student Voice led a special chapel service honoring Sessions and all of our nation's servicemen. Sessions' mother and father who were in attendance that day, shared a letter written by their son that read, "Thank you to my family and the St. Luke's community as a whole. You taught me the importance of service and the beauty of self-sacrifice, the wonder that comes from trying your hardest and loving those around you well, and you never shied away from protecting my heart and covering me with the Truth of Christ. I pray that this school will continue to raise bright and innocent children into strong young men and women who learn to lose themselves in Jesus and discover who God has designed us to be."
---
Woodridge Elementary School's Kim Kainer EXCELS
Congratulations to Woodridge Elementary teacher Kim Kainer for receiving the EXCEL Award presented by KENS 5 and Credit Human.
KENS 5 and Credit Human have been recognizing local teachers since 1999 for their innovative teaching practices and for the difference they make in the classroom. Annually, one teacher from each of the 19 area school districts is surprised and honored with a $1,000 check!
Kainer was surprised with the EXCEL Golden Apple Award by KENS 5 and Credit Human on Tuesday, September 24. She was interviewed and shared the story of why her passion is supporting children in their academic needs.
---
Alamo Heights Girls Cross Country
The Alamo Heights High School Girls Cross Country team is led by Coach Brian Ricketts. Cross country running is a sport in which teams and individuals run a race on open-air courses over natural terrain such as dirt or grass. This years team of dedicated athletes are off to a great start. The team recently competed in a meet against Medina Valley.
"Our girls' team has been working hard, improving and getting better," freshman Trinity Warnicke said.
---
The Duke University Talent Identification Program (DUKE TIP)
The Duke University Talent Identification Program is a nonprofit organization dedicated to serving academically gifted and talented youth. Students from Alamo Heights earning State Recognition included: Caroline Cordts, Campbell Dixson, Natalie Markette, Reed McLallen, Aiden Monsen, Harrison Peacock, Petra Poenitzsch, and Alexander Zimmerman.
---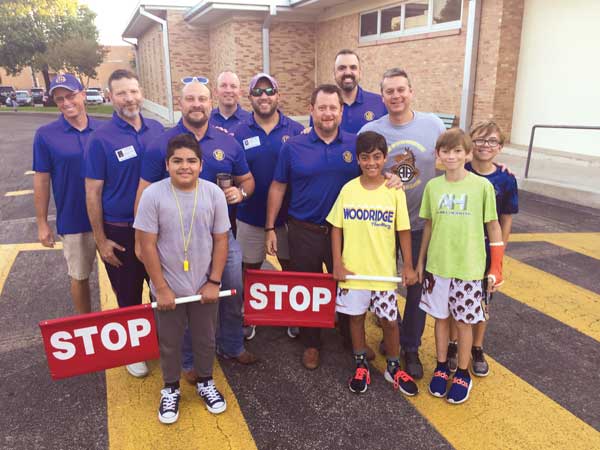 Dads on Campus
WATCH D.O.G.S. is one of the nation's largest and most respected school-based, family, and community engagement, organizations in the country. More than 6,450 schools across the country have launched a WATCH D.O.G.S. program of their own. In Alamo Heights, Cambridge Elementary is a WATCH D.O.G.S. (Dads of Great Students) member school and Woodridge Elementary launched a similar program, Woodridge Dads Club, with both making a positive impact on children.
The goal of both clubs is to provide positive male role models for students and to provide an extra-set of eyes and ears to enhance school security. Both clubs invite fathers, grandfathers, uncles, or other father figures to volunteer at least one day all day at their child's/student's school during the school year. Dads and volunteers perform a variety of tasks during their volunteer day including monitoring the school entrance, assisting with unloading and loading of buses and cars, monitoring the lunch room, or helping in the classroom with a teacher's guidance. These Dads are connected to the campus, children and the community!
---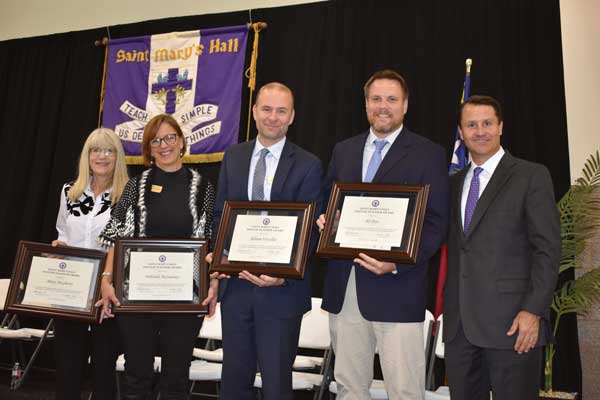 Saint Mary's Hall Teachers Earn Highest Award
Since 2002, faculty members who have distinguished themselves through exemplary service to the Saint Mary's Hall community and through extraordinary instruction have been awarded the title of Master Teacher. This is the highest honor the school awards to its faculty. Master Teachers are selected from each of the three divisions, along with an at-large selection. The four recipients are honored at SMH's annual Founders' Day celebration, and each winner receives a check for $10,000.
"Through the generosity of key donors, Saint Mary's Hall offers this unique and exciting way to reward outstanding teachers for the positive impact they have had on our students and their families," said Head of School Jonathan Eades.
The following extraordinary educators were surprised at Founders' Day with the Master Teacher Award in appreciation of their contributions to the school: Upper School Social Studies Teacher Adrian Viccellio, Middle School English Teacher Deborah McInerney, Lower School Science Teacher Bitsy Mayberry, and Middle School Art Teacher BJ Pyrc.
Founders' Day is a special event unique to Saint Mary's Hall in which the school annually celebrates a person or family whose faith, vision, and determination have made a lasting impact on the school. This year's Founders' Day Award recipient was Ruth (Ruthie) Bowman Russell (Class of 1966).
More than 70 teachers have received the Master Teacher designation since its inception. Sixty-one percent of the more than 90 full-time faculty hold advanced degrees. These passionate teachers and mentors are often leaders in their respective fields, and collaborate with others in the community. What makes SMH faculty special is their commitment to knowing each student individually, cultivating a passion for learning, and continuing their own professional education.
---
Outstanding Educator
The University of Chicago selected Alamo Heights High School's Nicole Lehmann to receive the Outstanding Educator Award.
Lehmann, was nominated by a first-year student of The University of Chicago, one of her former students, shared how Lehmann influenced, challenged, and helped them along the path toward intellectual growth. The University receives hundreds of letters from students annually, inspired by teachers who have changed the course of their lives, helping them to delve deeper into their studies, think beyond the classroom, and pursue a lifetime commitment to learning.