Alamo Heights Theater Arts Season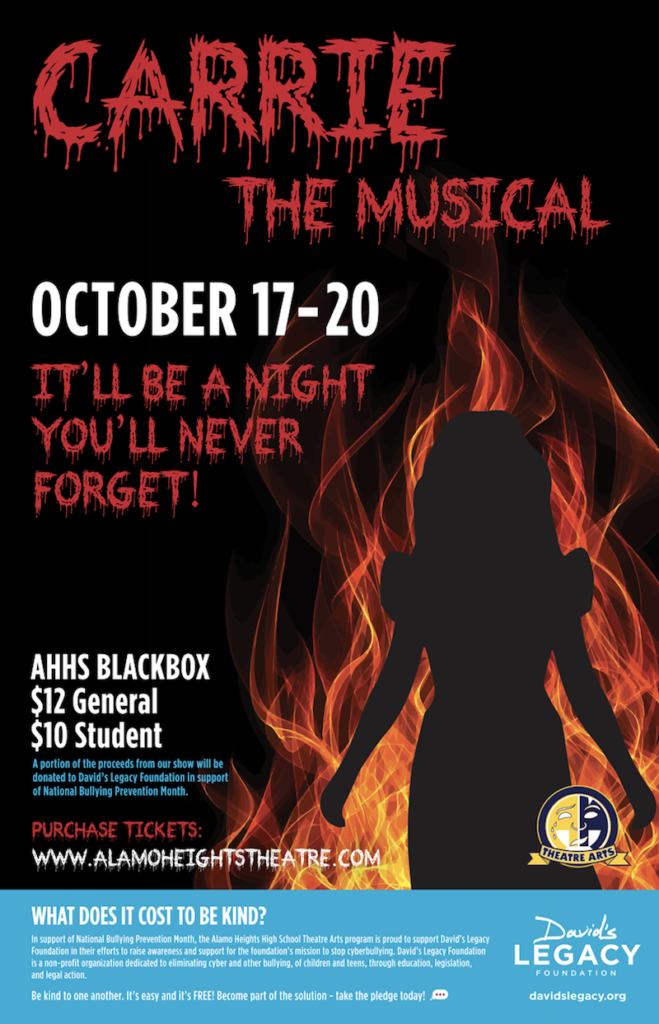 Kicking off this year's Alamo Heights High School Theatre Arts program season is the musical adaptation of Stephen King's best-selling novel Carrie. The set is being designed and built entirely by Alamo Heights students, and has two alternating casts. The performances will run every night from Thursday, October 17, to Sunday, October 20, beginning at 7 pm. The play runs two hours and may not be age-appropriate for all audiences. Part of the proceeds from ticket sales and merchandise will go to help the mission of David's Legacy. The student-led cast of the AHHS production is made up of ninth, tenth, eleventh, and twelfth graders who are putting on the show in partnership with the David's Legacy Foundation.  Following Carrie, our Unified Theatre students (a Special Olympics program) will present Mirror of Most Value, A Ms. Marvel Play.  The new year begins with the upbeat musical The 25th Annual Putnam County Spelling Bee. Next up is the powerful one act play I Never Saw Another Butterfly. Wrapping up 2019 is Arthur Miller's The Crucible. Unified Theatre will present True Confessions of a Bully on March 29, 2020. They will end the season with a Student Written Play Festival, a new collaboration with the Alamo Heights High School Creative Writing Program.
Special thanks to Burgin Streetman for contributing this story.  
The Alamo Heights Choir Madrigal Dinner
Hear Ye! Hear Ye! The Royal Court of the House of Alamo Heights High School Choir cordially invites you to a Royal Banquet. Their Lords and Ladies, jester and town criers will entertain you with song and dance whilst you dine on a sumptuous feast and celebrate the season with a traditional Wassail toast. The Royal Courts and their staff will be attired in exquisite traditional Renaissance attire awaiting your arrival on Friday, December 6 and Saturday, December 7, from 6 – 8:30 pm. Tickets are $25.00
Mules Cycling
The Alamo Heights Mules Cycling Team is open to 6th, 7th, and 8th grade students who want to be part of an inclusive group of students interested in learning about the sport of cycling, which encompasses many developmental attributes including improving self-confidence, learning and maintaining physical activity for a healthy lifestyle, developing friendships, and providing positive role models in the lives of student-athletes. Founded in December 2018, the team had a stellar first season with 12 trailblazing student-athletes including; 6th grader, Meghan Sansome, 7th graders, Hugh Jones, Gage Kacprowicz, Hayden Kerr, Cohen Kinsey, and Joshua Murguia, and 8th graders, Aidan Kane, Vance Matthews, Ethan and Logan Pittman, Ben Snowden, and Will Moser. Student-athletes competed against teams from across Texas in mountain bike races organized by the National Interscholastic Cycling Association (NICA). At the end of the season the Mules Cycling team finished in 7th place out of 26 teams—incredible success for their inaugural season. The team is open for females and males at AHJS and AHHS this Fall 2019 and Spring 2020. If you are interested or have any questions, contact: mulescycling@gmail.com.
National Merit Scholars: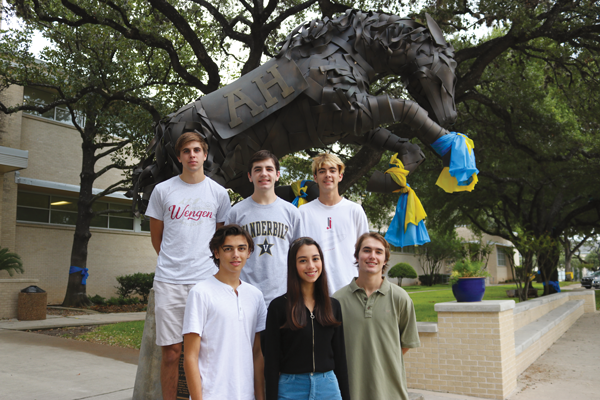 Congratulations to the following students from the Class of 2020 who are receiving recognition through the National Merit Scholarship Corporation for their performance on the PSAT/National Merit Scholarship Qualifying Test. Approximately 1.6 million high school students enter the program each year. The 2020 Commended Scholars are: Aiden Atlas, William Bentley, Leigha Forrest, Wendall Snow, and Sophia Weiss. The 2020 National Hispanic Recognition Program Scholars are: Nathan T. Bribiesca, Charles A. Eguia, Christopher Z. Llyod, Ines Lopez-Vazquez, and Griffin T. Mosqueda. High School students who meet published program entry and participation requirements enter the National Merit® Scholarship Program by taking the Preliminary SAT/NMSQT test at the specified time in the high school program, usually as juniors. Registration for the test is by high school rather than individual student. Interested students should see their counselor at the beginning of the school year to plan to take the PSAT/NMSQT at the school in the fall.
UIW Students Food Pantry
The University of the Incarnate Word Student Government Association officially dedicated the Cardinals' Cupboard food pantry on campus at the start of the school year. UIW community members and SGA leaders collaborated to develop the Cardinals' Cupboard to help tackle food insecurity on college and university campuses.
Heights Student Earns Leadership Summit
Alamo Heights High School student, Mckenzie Hervey was one of four San Antonio-area students selected as a 2019 Bank of America (BofA) student leader.  Hervey attended BofA's annual Student Leaders Summit in Washington, D.C., where she was able to connect with program members from across the country and meet with members of Congress. The Summit was an opportunity for the students to build critical skills, network with like-minded peers and collaborate on fostering a more civically involved society. Nearly 300 students were selected nationwide. Hervey is among the best and brightest San Antonio has to offer, and we're excited to see her contributions to the community in the future. During her leadership tenure and training, Hervey worked with the Communities in Schools program. Since 2004, the BofA program has helped young people gain paid work experience, broaden their perspective on how nonprofits serve community needs and advance their civic engagement. Student leaders from across the country also develop better money habits by working with Bank of America volunteers to increase their financial management skills, from building a budget to creating a savings plan.  In addition to the Student Leaders program, Bank of America is committed to youth workforce development. That is why across San Antonio the company funded 29 paid internships at 18 local nonprofit organizations through the Student Leaders program and a partnership with SA Works, San Antonio Economic Development Foundation's workforce development program. Nationwide, Bank of America invested more than $4 million in funding this summer to support 3,000 summer jobs for teens.
Saint Mary's Hall Football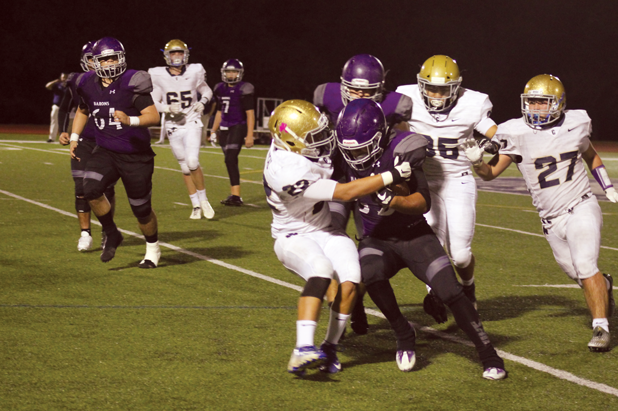 Saint Mary's Hall upper school will be playing six-man football in Texas Association of Private and Parochial Schools (TAPPS) next Fall. "While we are awaiting the final alignment numbers and divisions from TAPPS, we are excited about this step forward for the football program at SMH," said Athletic Director Barry Chamberlin. "Having the 'Friday Night Lights' experience is an important part of any school's culture." When asked if this was a permanent move, Chamberlin responded, "We look to build a strong foundation for football by competing at six-man for two years, and then re-entering 11-man in the 2022 TAPPS alignment. This model has been used by other strong private school 11-man programs in the state, so we know this can work for development and growth of a program." Saint Mary's Hall is looking forward to having Friday night lights back on campus in the fall of 2020.
St. Luke's Episcopal Wellness 101
BY JEN WENTLANDT, SLES MIDDLE SCHOOL TEACHER
In the afternoon, you might see St. Luke's Episcopal School (SLES) students sitting in middle level English teacher Jen Wentlandt's classroom with their eyes closed, quietly breathing. This is exactly what they should be doing. The new class, Health and Wellness is offered to all SLES 4th-8th grade students, who attend in small, multi- grade level groups. One of the great strengths and hallmarks of a SLES education is their holistic vision of educating the mind, body, and spirit of each child there. This new, innovative Health and Wellness class embodies this integrated learning ethos. Once a week, students meet with Mrs. Wentlandt to learn about mindfulness, self-reflection, nutrition, peer relationships, conflict resolution, and practical skills for physical, social, and emotional well-being.  Through class discussions, journaling, research, and documentaries, the students become better equipped to address the myriad of stresses and challenges of adolescent and adult life. This is one tangible example of the breadth and depth of a St. Luke's education. Studying mental health, mindfulness, and wellness has strong, long-lasting benefits for people of all ages, including young people. "The pre-teen and teen years are marked with significant and unique stressors, including identity and self-image, peer pressure, parent and teacher expectations, social media, you name it," says Mrs. Wentlandt. "Research shows that practicing mindfulness literally rewires the brain to become more powerful and able to concentrate. It can also decrease the likelihood of experiencing depression and anxiety." SLES students are experiencing positive results after just a few classes. "I love our class! Mrs. W has a passion for mental health and she puts a lot of thought into making sure we stay healthy. A healthy brain and a healthy heart will help us to be better and happier students," says SLES 8th grader Irene Sheerin.