AHISD ANNOUNCES NEW SECONDARY PRINCIPALS
In March, Dr. Cordell T. Jones was named the Alamo Heights High School principal effective June 2015, after the retirement of 24-year veteran principal Dr. Linda Foster. Dr. Jones has been an educator since 1993, spending the past 17 years in Alamo Heights ISD as an administrator at all levels. He served as the Alamo Heights High School assistant principal, the Woodridge Elementary principal and the Alamo Heights Junior School principal. Jones began his educational career as an eighth-grade history teacher in San Antonio Independent School District, soon moving into leadership roles in which he has been recognized as a top elementary principal in South Texas and was named one of the top five elementary principals statewide in recent years. He served on the national executive board for the School Leaders Network for five years and has now turned his attention to working with aspiring administrators by teaching at Trinity University.
Jones holds a bachelor's degree in political science from Davidson College and master's degrees in teaching and in school administration from Trinity University. He received his Ed.D. in school administration from Texas A&M University.
Mrs. Laura Ancira accepted the position of principal of Alamo Heights Junior School earlier in the school year, beginning her leadership role this summer. She has had a great career in AHISD as well as in two other districts. She has proven herself to be a highly successful teacher and assistant principal in AHISD for many years, also serving as a teacher in Laredo and an assistant principal in North East Independent School District. Not only does Ancira have the knowledge and skills needed for the job, but she also has a great passion for the Junior School in particular. Personable, intelligent, hard-working, team-builder and problem-solver are all characteristics that define Laura Ancira. She will embrace all of what is special at the Junior School and ensure that it continues to be an outstanding school.
AHISD'S KEVIN BROWN NAMED SUPERINTENDENT OF THE YEAR
Alamo Heights ISD Superintendent of Schools, Dr. Kevin Brown, was named the Superintendent of the Year (SOTY) by Region 20 Education Service Center. Dr. Brown will proceed to the state level competition this summer. The state SOTY will be named during the annual TASA/TASB conference in the fall.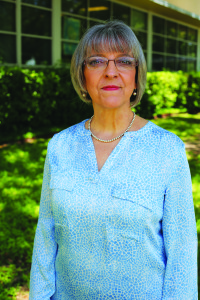 ALAMO HEIGHTS SPANISH TEACHER MAR AWARDED
Alamo Heights High School Spanish teacher Ann Mar has received the 2015 James F. Veninga Outstanding Teaching of the Humanities Award. Twelve teachers across the state are selected to receive this award. The Outstanding Teaching of the Humanities Awards recognizes exemplary K–12 humanities teachers. Each year, 11 teachers are selected to receive a $5,000 cash award and an additional $500 for their respective schools to purchase humanities-based instructional materials. One additional teacher, chosen from among the applicants for the Outstanding Teaching of the Humanities Award, receives the James F. Veninga Outstanding Teaching of the Humanities Award. This award was established to honor James F. Veninga, Humanities Texas executive director emeritus, for his 23 years of extraordinary contributions to the state council and to the public humanities in Texas and the U.S. As the recipient, Mar receives a $5,000 cash award, with an additional $500 for her school to purchase humanities-based instructional materials.
SUMMER AT HEIGHTS IN ITS 20TH YEAR
Summer at Heights is an AHISD enrichment program designed for students ages 5 and older. Courses are provided to students throughout the community by AHISD and other certified teachers and leading San Antonio professionals. Courses were offered June 8-July 3. The week-long sessions were held Monday through Friday with the majority of courses at Woodridge Elementary. The camps, held annually, are now in their 20th year. Summer evolved into a scientific exploration during the Extreme Dissection camp at AHISD's Summer at Heights. Campers explored a cow's eye, pulled apart a grasshopper and dived into the internal workings of a frog, earthworms, crayfish, squids and a starfish, learning the anatomy and function of various organs. Campers took home a portfolio of their work filled with exciting pictures of their dissections. Alamo Heights Junior School (AHJS) science teacher Melissa Soulas led the discovery for the 3rd- through 7th-graders.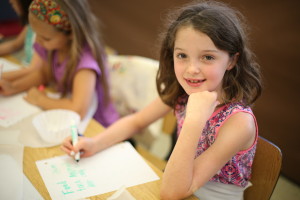 AHHS ENGINEERING STUDENTS SUCCEED WITH ROCKETS LAUNCH IN NEW MEXICO
Aerospace engineering students from Alamo Heights High School saw a successful launch of two custom-designed-and-built rockets July 8 in White Sands, New Mexico.Each school year, the AHHS aerospace engineering students are tasked with collaborating to plan out and assemble a launch-ready rocket. AHHS is among a handful of high schools invited each summer to test their rockets at the U.S. Army's White Sands Missile Range. The students from this past school year's program unveiled their rockets in a press conference July 2. One rocket designed and built during the 2013-2014 school year was preserved and improved. This past school year, juniors in the program helped to waterproof that rocket's ignition; the two 2014 rockets failed to launch following a storm. This time around, both rockets weighing 500 pounds or more and measuring 20 feet, left the launch pad. One rocket launched to a height of 17,000 feet at a velocity of nearly 3,000 feet per second, class teacher Colin Lang said. The second rocket reached a height of 36,000 feet above sea level. Lang said in the next school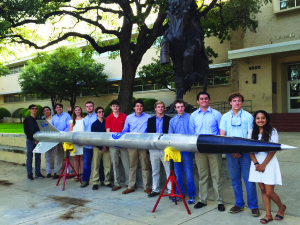 year his aerospace engineering students will incorporate dual management while planning for next summer's test launch, taking on more responsibilities.
NEW BUILDING AND INFANT/TODDLER PROGRAM MARK ST. DAVID'S EPISCOPAL SCHOOL'S 61ST YEAR
St. David's Episcopal School will be starting its 61st year of providing early childhood education (Pre-K 2 through Kindergarten) through its mission to "Love God, Love Learning, and Love Our Neighbor" in a new building, Lillibridge Hall, for the 2015-16 school year. The new building provides brand-new classrooms as well as offices, meeting spaces and facilities that will enhance the experiences of its school children, their families and its church and neighboring community. St. David's Episcopal Church is also beginning an infant and toddler program this August for children ages 3-16 months. For details, visit www.saintdavidschool.net (school) and www.saintdavids.net (church) or call 210-824-2481.
Important Dates:
Aug. 19 – Parent Night for enrolled students
Aug. 21 – Meet the Teacher
Aug. 25 – First day of school
Sept. 27 – Episcopal School Sunday and dedication of Lillibridge Hall
Oct. 8 – Fall Fling family carnival
ST. LUKE'S 2015 GRADUATE DANCES IN SAN ANTONIO'S
THIRD COAST St. Luke's Episcopal School graduate Shelby Atherton danced with the prestigious RPM Tap Ensemble in the Third Coast Rhythm Project's Summer Tap Festival held at the Jo Long Theater for the Performing Arts on July 18. The Third Coast Rhythm Project is a San Antonio-based dance organization that promotes American tap dance education. This performance marked Atherton's third year performing with the RPM Tap Ensemble. "I started dancing in the St. Luke's dance program, led by Paula Gorman, when I was in first grade," explains Atherton. She danced at St. Luke's for eight years until her graduation in May 2015. "Ms. Gorman gave me the foundation I needed to develop my skills and technique as a dancer. I would not feel as prepared to perform like this without Ms. Gorman and my years of training at St. Luke's."
Regarding the dance education and performance offered at the Summer Tap Festival, Atherton remarked, "I always feel a lot of anticipation and excitement about taking classes taught by world-renowned choreographers. I like getting to know other tap dancers my age who come to this festival from all over the United States and even from other countries." PROJECT'S JAZZED ON TAP SHOWCASE