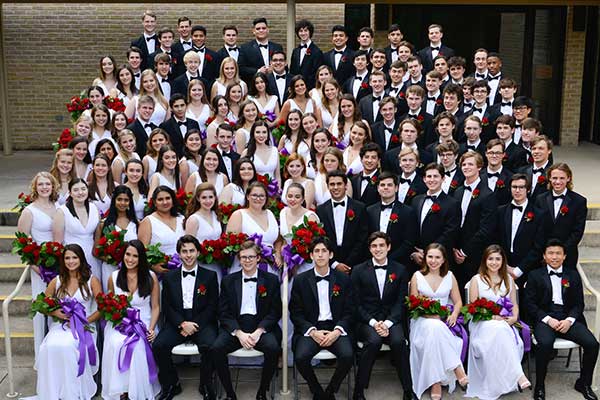 St. Mary's Hall Class of 2019 Embarks on Next Steps Toward Success 
Each year, Saint Mary's Hall sends another class of graduates off on a journey toward success in college and fulfillment in life after carefully preparing them. While it's always hard to say goodbye, we're excited to see our graduates go out into the world to pursue their destiny of success and accomplishment.
On May 24, a total of 106 graduates from the Class of 2019 came together on the SMH campus at the Alonso Ancira Event Center to take part in the school's Commencement Ceremony.
The students were not only part of one of the largest graduating classes, but they also proved to be one of the most impressive by earning nearly $11.3 million in merit scholarships. Other notable accomplishments included:
applying to a total of 198 institutions in 38 states;
attending 56 different colleges and universities, including two universities in England and Scotland;
56% of the graduates were admitted to their top choice university or college;
completing a collective total of 16,589 community service hours;
U.S. Presidential Scholar semi-finalist;
6 National Merit Scholars;
8 National Hispanic Scholars;
7 college-bound student-athletes, 2 of which are bound for Division-1 play; and
32 "Lifers," or students who have attended Saint Mary's Hall for 12 or more years.
Applying for college can be one of the most stressful and intimidating tasks any student will face before graduation, so Saint Mary's Hall makes sure all graduates are well-prepared by acclimating students to the college admissions process starting in Form 9. This graduating class definitely proved they were on top of their game! With years of experience and a vast array of resources, the school's dedicated, full-time college counselors helped the Class of 2019 assess their academic and personal strengths, as well as their goals and desires, to identify the right college for each student.
Through their curiosity, hard work, and determination, these graduates leave SMH as articulate, confident, and tenacious young adults prepared for their life journeys ahead. We're confident in our graduates, and look forward to their many successes in college and beyond.
St. Luke's Episcopal School Students Win Young Pegasus Poetry Competition
St. Luke's Episcopal School students Madeleine McCabe and Ethan Stone have been named winning poets in the San Antonio Public Library 2019 Young Pegasus Annual Poetry Competition.
Established in 1927, Young Pegasus is the longest running youth poetry competition in the nation.
SLES second graders McCabe and Stone were among 89 winning poets selected from over 1,700 entries citywide this year.
Last fall, second-grade students at St. Luke's began writing poetry in their language arts class under the direction of their teacher Cindy Zaldivar. Poetry is a highly valued component of the SLES curriculum – once a year every student in first through eighth grade performs a memorized poetry declamation before an audience in the school chapel.
"A poetry lover myself, I have always been a strong advocate for teaching poetry in schools," says Zaldivar. "Poems teach children grammar and phonics, strengthen reading skills, spark imagination and encourage even reluctant writers.
I hoped my students would not only come to appreciate reading poetry but also experience the joy of composing their own poems."
With her encouragement, Ms. Zaldivar's students began writing poems in the classroom, on the playground and at home on whatever topics inspired them.
Every year, thousands of poets ages 18 and under submit their poems to the San Antonio Public Library Young Pegasus Poetry Competition. McCabe and Stone were among 89 winning poets selected by an independent judging panel, which reviewed more than 1,700 poems this year.
As a further honor, both McCabe's and Stone's poems were among the 67 poems chosen for publication in the 93rd Young Pegasus Anthology, now available for check out at the San Antonio Public Library.
They join previous Young Pegasus poets, including former San Antonio mayor Henry Cisneros and poet, songwriter and novelist Naomi Shihab Nye.
On May 5, McCabe and Stone recited their poems in the Guadalupe Theater at the 2019 Young Pegasus Awards Ceremony.
St. Luke's Episcopal School Latin Students Impress at State Competition
St. Luke's Episcopal School announces four first place winners at the 2019 Texas State Junior Classical League Convention. All seventh and eighth-grade students enrolled in Latin at St. Luke's attended the statewide convention in Austin on April 5 and 6. The Texas State Junior Classical League (TSJCL) is a branch of the National Junior Classical League, an organization of over 45,000 middle and high school students dedicated to the study of Latin, Greek, and classical antiquity.
Every year, thousands of Latin students from all across Texas convene for the TSJCL convention, a two-day competition over all things related to the classical world. Students compete against their peers in a wide range of academic and creative categories that include Roman history, Latin and Greek derivatives, Latin sight recitation, dramatic interpretation, catapult construction, mosaics, and many more. For those new to the convention, it is quite the spectacle to see crowds of students dressed in full togas and t-shirts with Latin slogans.
St. Luke's has had a long and successful tradition of participation in TSJCL. This year's state convention, hosted by Anderson High School in Austin was no exception. Four SLES students won first place in their individual events, including Miley Hamilton in Roman Life, Mia Miller in Classical Art, Allison Poulter in Latin Vocabulary, and Charlotte Stevens in Costume. "My favorite part of learning Latin is seeing the similarities with English words and the connections between Roman culture and our own," says eighth-grader Miley Hamilton, a two-time TSJCL champion in the Roman Life contest. "I love going to JCL every year because there are so many different activities to experience and so many Latin students to meet. There is something for everyone." In addition to these four first place winners, every SLES student who attended the convention won an award for their performance in their individual academic and creative arts contents.
"Not many people understand the value of learning a language such as Latin, which is not spoken today," says SLES Latin teacher Amanda Kimura. "I am fortunate to teach at a school where there is a lot of support and advocacy not only for Latin but also for language learning in general. Our students have a passion for learning, which shows in their excitement for and success at the TSJCL convention each year."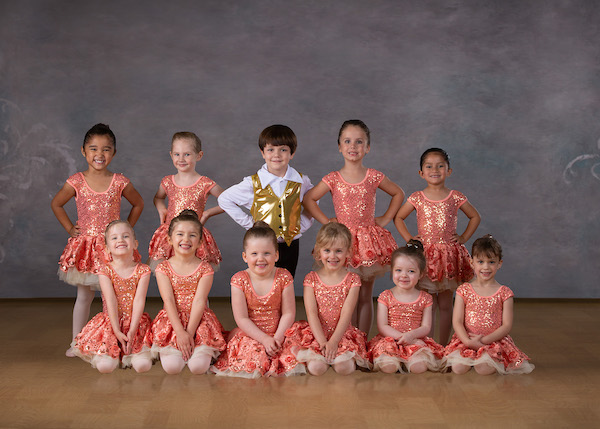 St. Luke's Episcopal In-School Dance Programs
St. Luke's Episcopal School and the Dance Center of San An-tonio have collaborated to provide in-school dance programs for its pre-K to eighth-grade students. SLES students are now able to enroll in dance classes taught during the school day under the leadership of DCSA founder and Artistic Director Vanessa Bessler.
Dance and academics work hand-in-hand to educate the whole child. Through this collaboration, we have an amazing opportunity to share the benefits and joys of dance with new students," says Bessler.
During the 2019-2020 school year, students at SLES will have the chance to sign up for ballet, contemporary, tap, jazz and hip-hop classes taught on campus by DCSA instructors. Classes will be available for all students after school with fourth through eighth-grade students having the added option of taking in-school dance classes during their physical education periods. "I have been impressed with the partnership between SLES and DCSA," says SLES parent Dr. Marquel McCabe. "My daughter has improved greatly as a dancer under the leadership of Vanessa Bessler and her team.
Holocaust Remembrance to be Taught in All Texas Public Schools
The Texas Legislature unanimously passed legislation in the recent 86th Regular Session to create Holocaust Remembrance Week in Texas public schools to educate students about the Holocaust. The bill was signed by Governor Greg Abbott on June 11 and will be effective at the start of the 2019-2020 school year. The bill, Senate Bill 1828, was sponsored by Senator Jose Menendez and Representative Richard Raymond.
The effort to create an annual week of Holocaust education in Texas was spurred by four San Antonio women concerned by data showing many students were unaware of the Holocaust, and a rise in anti-Semitic events in the United States.
The bill instructs each public school district to use age-appropriate instructional materials developed or approved by the Texas Holocaust and Genocide Commission.
During Senate committee testimony, lawmakers heard from four San Antonio women about the many lessons that can be taught through Holocaust education, including:  tolerance and empathy; the dangers of hatred, discrimination, propaganda, and censorship; whether to choose to be a bystander or to actively take part to protect victims of discrimination, bullying or harassment; and how to be good citizens.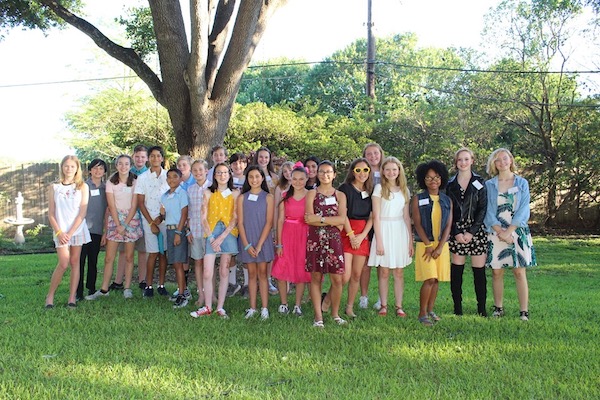 The Write Stuff – The Martha Spoor Young Writers Workshop
Thanks to the generous support of the Alamo Heights School Foundation, 7th-grade students with a love for writing can fuel their passion by attending the Martha Spoor Young Writers Workshop. The fund was established in 2008 in memory of Martha Spoor, a 1987 graduate of Alamo Heights High School and English teacher at Alamo Heights Junior School, which encourages Martha's hope, to inspire students to express themselves in their writing through the use of critical thinking and creativity.
St. Peter School Art Teacher Named Finalist for Teacher of the Year
St. Peter School is incredibly proud to announce their art teacher, Sara Edgington is a finalist for the Archdiocese of San Antonio's Teacher of the Year. Sara is a St. Peter's parishioner and alumna who has been teaching at the school for the past five years. She is incredibly passionate, talented, caring, and innovative in the classroom. She was nominated by her colleagues and will not only represent St. Peter's as the school's Teacher of the Year, but has been named one of three finalists for the Archdiocese of San Antonio Department of Catholic School's Teacher of the Year. Sara, along with all other nominees, will be recognized at the Catholic Schools Leadership Awards banquet.
Incarnate Word High Welcomes New Principal 
Incarnate Word High School has a new principal. Anna Downey, who accumulated 26 years of Catholic high school education experience as an administrator and English teacher in Cincinnati, Ohio, is beginning her new role as principal at (IWHS). A search committee, board of directors and the Ministry Council of the Sisters of Charity of the Incarnate Word all signed off on Downey's hiring following a nationwide search.
Hats Off to the Class of 2019!
Taking those final steps as an Alamo Heights High School Mule, the Class of 2019 embraced the transition from high school senior to Alamo Heights graduate, carrying just under $4 million in scholarships with them to begin the next chapter of their educational story.
The high school staff honored two students with Top Senior Girl and Boy, awards selected annually to recognize two students who exemplify great character, academic excellence, and a heart for service. The 2019 Top Senior Girl was Leslie Moreno, and Top Senior Boy was Brian Yancelson. Congrats Class of 2019! #MulesUp #AHISDMyStory