St. Peter School Kicks Off Holiday Season

On Monday, December 10, the students of St. Peter School shared their musical and theatrical talents in the Annual Christmas Program. The program was held at St. Peter Prince of the Apostles Parish and featured all elementary and middle school music and choir students who offered a variety of Christmas carols while the 6th-grade drama students performed nativity scenes. The celebration was a night of fellowship, faith, and family!
Business Incubator Nurtures Young Entrepreneurs
A common interest of students throughout their high school education is taking the application of lessons learned in the classroom and transitioning them into real life experiences. Through developing their mathematical skills, public speaking skills and presentational abilities, students have the tools to succeed in the real world. However, these individuals often lack the real-world application of their knowledge. This year, an opportunity to do just that arose for the student body when a class designed for providing hands-on business developmental experience became available. Since joining the curriculum offerings, this class has provided students with opportunities unlike anything the high school has seen before. Students are guided by mentors, various community members with business expertise. With these mentors, business groups and the opportunity to pitch ideas to real investors, students are finding many reasons to enroll in the Heights Business Incubator course taught by Fine Arts teacher Cathy Klumpp and Career and Technology teacher Patrice Bartlett.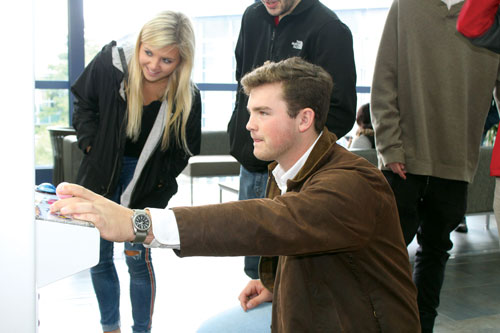 "I think the business incubator class is cool because it provides a hands-on experience," junior McKenzie Hervey said. "You not only learn about businesses but also develop your own company, which allows you to experience the challenges of that opportunity in a safe environment."
Students are presented with a business group through which they have to come up with a product to eventually pitch to a panel of actual investors. In order to develop a product, students go through the process of forming a clear idea of their product, asking themselves why this product is unique and identifying a target market. By considering all of these factors, the students are able to develop the best pitch possible. This process can be difficult for individuals who have never been exposed to the process before, which is why mentors are assigned to each group once the students form their concrete idea. These mentors are used as a resource to gain clarity on real-world questions regarding the student developed products, through the help of their experience in their own similar developments. The connections these mentors provide are critical for the process of product development as they offer students a place to start in the real business world.
"Meeting my mentor has enhanced my learning in class by exposing me to the real-world society of business people," junior Marina Batchinsky said. "We get to learn about the process of developing a company or idea through someone who has already experienced it before, which allows us to learn from our mistakes and make the best choices possible."
Not only do these opportunities help students with their entrepreneurial skills, but they also help with basic life skills. By learning how to collaborate, cope with failure and channel creativity into a concrete idea, these students become prepared for every aspect of the business world.
"The business incubator class teaches you that you are not always going to have success," Batchinsky said. "You need to have an open mindset to failure, because in order to succeed you have to learn from your mistakes."
Once students refine their ideas and perfect their product, an opportunity to pitch their creation is presented at the end of the year. Students are given the chance to find a sponsor to help kick-start the release of their product, with a grand prize of $10,000 for their start-up. First students must present their ideas to a panel of local investors. If their team is chosen as the top winner of the competition, the team advances to compete against the other first-place groups around the world for the grand prize.
"Making sure you have your numbers down is the most nerve-wracking part of the pitching process for me," Hervey said. "You need to have every detail about your company memorized and ready to present with confidence, which can be difficult under situations with such high stakes."
The business incubator model sets students up to be experienced business people by the time they complete the course. These students may even be independently running their own businesses by the time they graduate. This gives participants confidence and collaborative skills, an advantage of participating in the program.
"I think what makes this class special is that we have professionals who come in to teach all of our units," Bartlett said. "Our students learn from experience, not textbooks. Everything they learn is to help them develop their product. It is all applicable to the end result."
Swimmers and Divers Make Top Three at Meet
Alamo Heights High School had a great Texas Interscholastic Swim Coaches Association meet in Corpus Christi, with the boys placing 2nd and the girls taking 3rd place. They placed 2nd overall in combined points behind 6A powerhouse, Memorial High School. They had many outstanding performances by all of the swimmers and great travel experience. In all, 265 swimmers and divers from 12 teams competed in this highly competitive championship meet. Medal finishes included:
Diving:
Jayne Burrhus: 1-Meter Diving-1st; Qualified for
High School All American honors and established a new natatorium and meet record.
Anthony McCann: 1-meter diving-3rd
Relays-Girls:
200 Medley Relay-2nd
(Lila Foote, Elizabeth Walsh, Cate Pal-Freeman, Macy Helmer)
200 Free Relay-2nd
(Sophia Carroll, Lila Foote, Elizabeth Walsh, Macy Helmer)
Relays-Boys:
200 Medley Relay-3rd
(Connor Foote, McCoy Patterson, Andrew Crosley, Justin Du)
400 Free Relay-1st
(Andrew Crosley, Cameron Chan, Connor Foote, Justin Du)
Individual-Girls:
Elizabeth Walsh: 200 IM-1st; Established a new natatorium and meet record.
Lila Foote: 100 Fly-2nd; 100 Back-3rd
Sophia Carroll: 500 Free-2nd; 200 Free-3rd
Individual-Boys:
Connor Foote: 100 Free-1st; 100 Back-2nd
Cameron Chan: 50 Free-2nd
Luke Nester: 500 Free-3
High School Students Learn to be Teachers
At Alamo Heights High School, students are offered tons of electives from journalism to business and more. One of the electives offered is a two-step class in Child Development. The primary class offers instructional practices in education and training. The secondary class offers child development and interpersonal studies, and is partnered with instructional practices in education and training. "I am very passionate about this class," Academic Dean Venus Davis says. "All the students involved are so hardworking and compassionate."
Child development is open to any level high school student and is a two-semester course. One of the main projects in this class is the "baby project" where students are assigned a robotic baby to take home and care for during a weekend. The care provided to the "baby" is graded very strictly.
After completing child development, students are given the opportunity to participate in instructional practices the following year. This elective is valuable for high school students who are considering teaching as a career option. The class is held at Howard Early Childhood Center and participants help co-teach with a faculty member. "It is always fun going to Howard, and I get excited seeing the kids' faces as I walk in," shared Cathleen Marshall.
Currently, the class is held during first period, although students must arrive at the Howard campus at 8 a.m., not the 8:45 a.m. arrival time for the first class at the high school campus. Students are required to stay for an hour, but they can stay longer if they adjust their class schedule. The Howard faculty is excited to have these new high school helpers and they welcome them with open arms. The elementary students are also excited to meet their new "teachers." "It is hard to choose just one favorite thing about Howard but one of my favorite things is getting to see the kids learning abilities improve," says Savannah Brown. "Social skills are very important in the developing child and I loved to see each child's social skills grow," stated Carolina McCullough.
On a personal note, it took me about four days to learn each child's name and have them get used to me. Now it has gotten to the point where when I walk into the class, the children will turn and jump and run to me. It is an amazing feeling and the children are excited and eager to hear almost anything I have to say. "My favorite thing is seeing the kid's faces light up when I walk in, because they are always so excited and happy. It always makes my mornings," Maddy Wright shared.
Kayleigh Heath summed it up, "This class is such a great experience and I love getting to create bonds with the kids."
Vanessa Gonzalez Named CAST Science Teacher of the Year
Cambridge Elementary School's Vanessa Gonzalez was named the Science Teachers Association of Texas' Outstanding Elementary Science Teacher of the Year. Gonzalez was recognized for her creativity in the classroom and dedication to community involvement and professional growth. Award recipients were recognized during STAT's annual Conference for the Advancement of Science Teaching (CAST) and received an honorarium, complimentary CAST registration and CAST travel reimbursement.
Varsity Volleyball Makes Playoffs
The varsity volleyball team finished their regular season against Edison with a 3-0 win. The Mules clinched their spot in the playoffs. Head Coach Todd Dorgan has been working extremely hard this season and the team's overall record is 18-22. Their district record is 12-4 for the year.
"This season has been really fun," senior outside hitter Peyton Puhl said. "We have fought so hard and we have really come together as a team."
The team has had a long 40 game season. They began practicing over the summer and had their first game in early August. "Knowing that our volleyball season is coming to an end is sad," senior outside hitter Grey Simpson said. "I have really enjoyed our games, competitive spirit and friendships that took place throughout this year."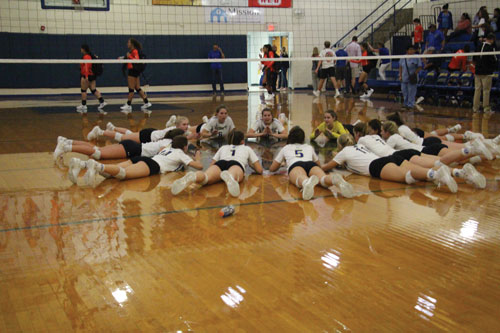 This is Dorgan's second year as the head coach. He has done well even though the team has faced a lot of challenges with the pressure of entering a new district. "No one really knew what this new district would be like," senior outside hitter Lyn Woodland said. "However, it's been really fun and the competition has been good." The season is winding down and no one knows how long playoffs will last, so the seniors could have their last volleyball game at any time.
"Being a senior this year in volleyball has been so much fun," senior defensive specialist Kendall Balmer said. "It's been a great last year and I'll miss it so much."
The team faced Medina Valley in the first round of the playoffs on Oct. 30. Although the Mules fought hard, they lost 3-2 to end their season. "One of the most memorable moments of the season was against Jefferson because we won the match in five," Dorgan said. "As a coach, I've truly enjoyed seeing that and I was extremely proud."
Cheer Squads Earn 4 Bids to Nationals
The Alamo Heights cheer squads are growing strong! Building talent at the Junior School level ensures the success of the high school program. All squads were represented beautifully at a recent regional's competition in Austin, in which all teams performed well and earned 1st Place honors. Four of the high school squads earned bids to the national level competition, that will be held at Disneyworld in the new year.
Congratulations Mules Cross Country Teams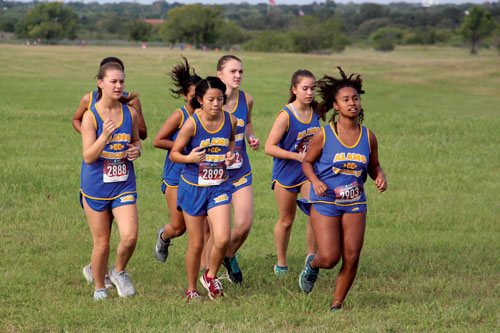 At the district cross country meet, the Alamo Heights High School Mules ran successfully as a team, finishing with great times as they crossed the finish line. They ran so great in fact, that both the girls and boys teams qualified for the upcoming regional meet.
"It was a good day to run and it was nice to see some familiar faces," sophomore Taunie Velasco said.
Mules Invited to Play in San Antonio Sports All-Star Game
More than 100 players representing Bexar County and the seven surrounding counties have been chosen to showcase the area's top football talent in the Alamodome for an all-star football game. Players are nominated through their varsity coaches, and selected by an all-star selection committee. The game features athletes already committed to play for some of the top universities in the country, as well as players looking for an additional chance to impress college recruiters with potential scholarships to offer before National Signing Day.
Alamo Heights High School is proud to announce that three of our Mule football players have been selected to play in the game: We are especially thrilled to have our Head Football Coach, Mike Norment, coaching the Gold Team. Norment has been coaching for 28 years, and he has had stops at Spring Independent School District, Floresville High School, Bradly Middle School and Lee High School. Coach Norment is in his 22nd year at Alamo Heights and his seventh as head coach of the Mules. During his tenure, the Mules reached the playoffs many times and captured the 2006 4A Division 1 State Championship while Norment was an assistant coach under Don Byrd. As head coach, the Mules reached the state quarterfinals in 2013, under Coach Norment's leadership.
Norment has an undergraduate degree from Texas A&M University, a master's degree from Texas A&M-Kingsville and teaches Government & Economics. He and his wife Tracey have been married for 32 years and have four daughters, Kasey, Lindsay, Haley and Carly.
Alamo Heights Independent School District Calendar of Events – January 2019
January 1-4
NEW YEAR'S HOLIDAY/WINTER BREAK:
No school for students.
Schools and offices will be closed. Winter break begins Thursday,
December 24, 2018 and continues through Friday, January 4, 2019.
January 21
MARTIN LUTHER KING, JR HOLIDAY:
No school for students.
Schools and offices closed.
January 17
AHISD BOARD MEETING:
AHISD Board Room,
7101 Broadway, 6 p.m.