Cross Country Begins Season Strongly
BY ALAMO HEIGHTS JOURNALISM STUDENT CAMPBELL SEALY
The cross country team began the year with a bang. Preparing for their season, they were out on the track on the first day of school with Head Coach Brian Ricketts. The team met even before school began, for a run up the dam to officially begin the 2018-19 season. This helped get the legs back under the players who may not have done much running over the summer.
"It was really hard for everyone coming back the first day of practice," junior Holden Lum said. "It was really hot, even in the morning."
The practices are extremely important because it prepares the runners for the meets. The training sessions are also guaranteed to improve running times. Most students stay in shape by attending the team workouts and pushing themselves further each time.
"Practices are super helpful. If you don't go to them, you'll probably pass out in the meets," junior Ally Adelman said. "People in cross country are super committed and show up every day."
The first varsity cross country meet took place on August 24, at Bear Branch Park in the Woodlands. The Mules had a great time with many of the runners placing well. The girls team placed ninth in the meet and junior Josiah Gonzales led the boys team, placing in the top 20.
"The race was really fun," junior Harding Rhyne said. "We ran well and after the meet, we made a Buc-ee's run."
The Mules also competed in a race on September 1, at the New Braunfels Invitational. Junior JP Flanagan led the boy's team by placing first out of the Mule runners. The girls also had a great race, placing fifth overall. Cross country runners are extremely committed to the sport, which is how they are able to place so well in the meets.
"I usually go to every practice, which is four times a week in the mornings," sophomore Keats Baggett said. "I would say I'm fully committed to the sport and the team as a whole."
Greater Heights Night
PHOTOS BY ROBERT AMADOR
The Alamo Heights School Foundation held their annual Greater Heights Night event on Wednesday, November 14, at the Witte Museum and Mays Family Center. They extended their sincere and heartfelt thanks to everyone who attended, sharing the amount of school spirit shown was simply unprecedented. The event boasted a silent auction, wine pull, raffle, and Mules Up live auction. Attendees collectively supported the Foundation and their goals, raising $570,000 to support AHISD teachers. That's 112% of the goal set for the evening. Executive Director, Heather McFarland, shared, "We are grateful for such an amazing community that places such a high value on education."
Volleyball Team Hopes to Continue Success
BY ALAMO HEIGHTS JOURNALISM STUDENT RYAN DOTSON
The varsity volleyball team opened their season before school began, playing their first game on August 3. The volleyball team had been practicing and playing for a couple of months now and is currently 9-21 after a tough non-district schedule. They have 10 games left on their regular season schedule and are hoping to secure a spot in the playoffs.
"It's really fun playing this year," senior Defensive Specialist Kendall Balmer said. "I've really liked getting to play with some of the younger girls."
The team is coming off a win against Fox Tech High School, 3-0. The schedule has been tough this year; however, the girls are hoping to keep building for their district season. So far the Mules have gotten off to a good start in district, as they're 4-3 after wins against Fox Tech and Lanier with a score of 3-0.
"I love playing in close games," senior Outside Hitter Peyton Puhl said. "It's even more fun to win those games."
The Mules have a new district which includes the following San Antonio schools: Brackenridge, Burbank, Edison, Fox Tech, Highlands, Sam Houston, Jefferson and Lanier.
Leading the team is Head Coach Todd Dorgan who is beginning his fourth year of coaching at the high school and entering his second year as the head varsity volleyball coach.
"It's fun to be a senior this year and have the opportunity to lead the team," senior Outside Hitter Lyn Woodland said. "All the girls are so sweet and it's great to be a part of the program."
The team includes seven seniors out of the14 total players. Outside Hitter Grey Simpson, Middle Blocker Catherine Herff and Middle Blocker Helen Hunter are the three returning varsity seniors. They are hoping to have a good regular season and go the distance in the playoffs.
"Everyone on the team is friends," Simpson said. "Our friendship and togetherness has helped us stay consistent so far this season."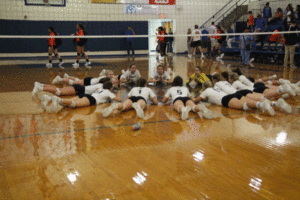 Warming up on the court, the varsity volleyball team prepares for their game against Fox Tech. "I always tried to focus and get ready for the game in warm ups," senior Outside Hitter Lyn Woodland said. The team did drills before every game to warm up. Photo by Emme Johnson
Happy 50th Birthday Starcrest Campus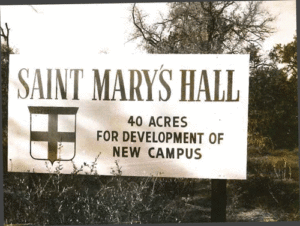 In November, Saint Mary's Hall (SMH) celebrated the 50th birthday of its current campus. Fifty years ago, on November 22, 1968, around 300 students, including 119 boarders (and faculty and staff), joined the Montessori School students at the new campus. Since 1879, SMH has called four campuses home. Originally located in Wolfe Hall in downtown San Antonio, SMH moved to the Woodlawn Campus at San Pedro and Woodlawn in 1916, and then relocated in 1925 to the French Place Campus (now San Antonio Academy) at117 East French Place. The school found its permanent residence in 1968 on 9401 Starcrest Drive.
It was determined in the early 60s that a new site was necessary for the school to continue growing. In 1964, a 60-acre plot of land was purchased at Starcrest, and included the Montessori School, which had been built adjacent to the land. Renowned Texas-based architect O'Neil Ford was commissioned to design the new campus using natural local materials and open spaces. Ford was influential in building the Tower of the Americas (designed for the 1968 San Antonio World's Fair), and the campuses of Trinity University and The University of Texas at San Antonio.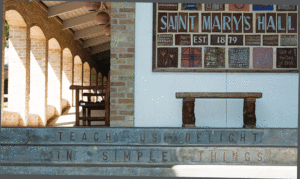 During the past 130 years, SMH has grown from an Episcopalian all-girls boarding school into a co-educational day experience that includes students from 3 to 18 years of age. In 2003, SMH made the transition from a boarding school to a day school. In 2005, the residence dormitories were converted into classrooms for what would become the Middle School. In fact, some of the names etched by former boarders can be seen on the brick walls of some current classrooms. The campus is now home to nearly 1,000 students and the strong sense of legacy, tradition, and academic excellence prevails at SMH.
Saint Mary's Hall holds a long, rich history at the Starcrest Campus, which has evolved and developed tremendously over the last 50 years. So, we could not let this year pass without celebrating the 50th birthday of our Starcrest Campus. To mark this historic milestone, the school celebrated throughout the week of November 12, including an Out-Of-Uniform Day, where the SMH community wore a limited edition t-shirt designed specifically for the occasion. And, what's a birthday celebration without cake? Birthday cake was served during all lunches on that day as well. Happy 50th Birthday Starcrest Campus!
To learn more about our story, visit www.smhall.org/about/at-a-glance/our-story
17 Second and Third Graders Announced as Finalists in State Art and Writing Contest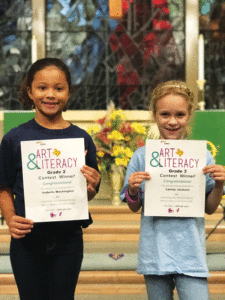 This fall, two St. Luke's Episcopal School students won first place in their grade level in the Texas Art and Literacy Summer Contest. Additionally, 15 of their second and third grade classmates were named state finalists in the contest, which is sponsored annually by the educational resource and learning publishing company Houghton Mifflin Harcourt.
Each September, Houghton Mifflin Harcourt receives hundreds of creative entries from all across the state. Entrants are tasked with describing their favorite literary hero or villain through two means, writing and art. Under the guidance of their language arts teacher Cindy Zaldivar, SLES students composed letters, poems, short stories, and essays about their chosen character. In art class, each student then depicted their character through a black and white piece of art using one additional color to highlight a noteworthy feature of that character. Out of 43 K-5 finalists statewide, St. Luke's second and third graders claimed 17 spots.
St. Luke's Episcopal School Students Attend World Scholar's Cup Tournament of Champions at Yale University
A team of scholars representing St. Luke's Episcopal School advanced to the third and final round of the World Scholar's Cup, the Tournament of Champions held annually at Yale University. The tournament, which took place from November 16-20, is the culmination of a competition that began in May of this year. St. Luke's team convened with international students from over 50 different countries to compete in various academic fields.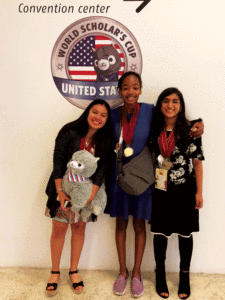 Eighth-grader Malaika Koreshi and alumnae Mikaela Miller and Melanie Sandoval, SLES class of 2018, accepted the invitation to attend the World Scholar's Cup Tournament of Champions at Yale University. Their journey first began with the regional round in Houston, and took them across the Atlantic this summer to Barcelona, Spain where they competed against over 2,500 international students. Their hard work and success in each of these rounds have earned them the opportunity to compete on the campus of one of America's oldest and most prestigious universities.
The World Scholar's Cup strives "to inspire a global community of future scholars and leaders." Teams of students compete against each other in events such as collaborative writing, debate, and the scholar's bowl, which draws on their knowledge in subject areas ranging from science to art and music. The 2018 theme, "An Entangled World," included topics such as the "history of diplomacy" and the "science of memory."
St. Peter's School Hosts Engineering for the Future Competition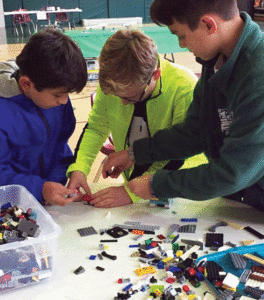 St. Peter School hosted a robotics competition for Catholic middle schools from the Archdiocese of San Antonio. The competition, Engineering for the Future, offered students a place to display and hone their robotic building and programming skills. The events included the Exploring Mars Challenge, the Skyscraper Building Challenge, and the Autonomous Driving Challenge. The 6th grade team from St. Peter's placed first in the Skyscraper Building Challenge and earned third place in the overall competition.
St. Peter's Students Participate in Elections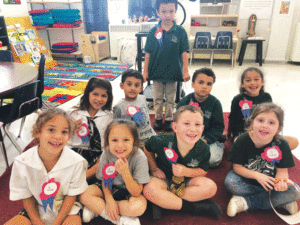 Kindergarten students at St. Peter School learned about the importance of democracy and the process of elections this month by participating in an important election of their own. One candidate's platform included more recess time, more lunch time, and more free time, while the other based their campaign on more art time, more computer time, and no after school care. The arts and sciences were victorious with the second platform winning with a clear margin of victory!
Renovations Underway at Alamo Heights High School
BY ALAMO HEIGHTS JOURNALISM STUDENT BRIAN YANCELSON
The Alamo Heights High School campus has undergone a massive renovation, thanks to a $135 million bond package voters passed in May of 2017. Some highlights of the bond include a new cafeteria that features culinary arts facilities, upgraded facilities for athletics and approximately 50 additional parking spaces.
All the changes have brought loads of excitement to the high school, but they've also caused some changes to students' everyday experience at school. The ongoing construction on the new cafeteria located in a space currently known as 'The Oaks,' has rerouted traffic from the middle of the campus to the interior hallways. This year, to ease the stress of longer travel times, passing periods were lengthened from five minutes to six minutes.
Another big change this school year came in the way of parking on campus. In previous years, juniors had to park in the junior lot and along Castano, while seniors were allowed to park on E. Fair Oaks. This year, because construction has taken up a lot of spaces, juniors and seniors now park on either street regardless of their grade. This has forced students to adapt and figure out not only where to park, but also what time they need to arrive to secure a good spot.
The kickoff to the athletic year took place once again at the annual Mule Team Barbecue at Harry B. Orem Stadium. Every sports team was introduced, the cheerleaders and Spurs Dancers performed, and blue and gold once again filled the stands to cheer on the teams.
For the first time in a few years, all students have to pay for tickets to school sporting events both at home and away. As a result, the school offered a season pass that covered all events with the exception of varsity football games, tournaments and playoff games. The pass costs $75 for adults and $40 for students. It helped prevent fans from worrying about getting a ticket before each game. It also encouraged people to attend more games to get the most value for their money, and more fans than ever were seen in the stands cheering on the Mules.