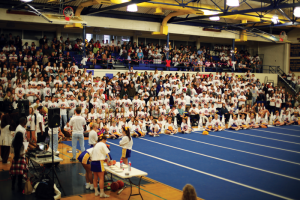 MACARTHUR HIGH SCHOOL STUDENTS ARE HONORED AS TEXAS MUSIC SCHOLARS
Eighteen students from MacArthur High School have been honored as Texas Music Scholars. The announcement was made at a special ceremony May 1. Those honored are Craig Adams, 12th grade, French horn; Samantha Ayala, 12th grade, violin; Nicole Aytes, 12th grade, cello; AnnMarie Burns, 11th grade, cello; Emily Bustos, 10th grade, violin; Calvin Carroll, 9th grade, cello; Kimberly Collins, 11th grade, violin: Clarissa Cupit, 12th grade, violin; Shannon Douglas, 12th grade, violin; Bella Garza, 12th grade, viola; Jacob Lambert, 12th grade, cello; Jacob Martinez, 12th grade, cello; Austin Moore, 12th grade, violin; Harper Paparelli, 12th grade, Bb clarinet; Claire Rose, 10th grade, violin; Hannah Rose, 12th grade, violin; Andrea Vigil, 11th grade, cello; and Zhaokun Xue, 11th grade, violin They were nominated for this honor by their director, Jan Garverick. The award is given by the Texas Music Educators Association, which sponsors the Texas All-State Bands, Orchestras and Choirs. Last year fewer than 2,100 students were named as Texas Music Scholars.
This award is given to students who have exhibited outstanding qualities in scholastic merit, musicianship and citizenship in their school and community during the 2014-2015 school year. The Texas Music Educators Association, headquartered in Austin, is an association of over 10,000 music teachers whose goals are to support music education in Texas, provide professional growth opportunities for educators, foster public support for music in schools and offer quality musical experiences for students.
ALAMO HEIGHTS SCHOOL FOUNDATION ANNOUNCES SCHOLARSHIP RECIPIENTS
Alamo Heights School Foundation (AHSF) will distribute $34,000 in scholarships this year. The AHSF annually selects and distributes scholarship monies for the Oma E. Vordenbaum Scholarship and the W.W. and Anna May Campbell Scholarship and also distributes funds for the Bob Ware Memorial Scholarship. Selection for that scholarship is made at the campus level.
AHSF is pleased to announce the 2015 Oma E. Vordenbaum Scholarship recipients:
Josh Armstrong, Abigail Gay, Austin Gay, Jared Hargrove, Greyson Kale, Mitchell Katona, Jonathan Meyer, Megan Spalten, Colin Sturrock and Victoria Young. The 2015 recipients for the W.W. and Anna May Campbell Scholarship and Bob Ware Memorial Scholarship were announced on May 29 at the AHHS Senior Awards Assembly For questions about the Alamo Heights School Foundation and its support of the Alamo Heights Independent School District, please visit www.ahschoolfoundation.org or call the Alamo Heights School Foundation office at 210-832-5957.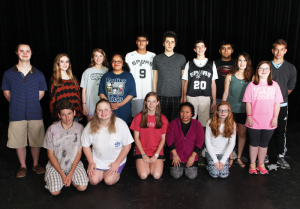 HOWARD TAKES LEARNING OUTDOORS WITH LITERACY ON THE LAWN
"Literacy on the Lawn" serves as the kickoff for Howard Early Childhood Center's annual Race to Read program, which runs for two weeks every Spring. Students read books on their own and have books read to them in order to earn a bookmark and reading medal. "As our students mature into readers, this is a fabulous opportunity for them to 'strut their stuff' and read, read, read," shared Howard librarian, Rachel Gurwitz. Medals and bookmarks were generously funded by the Howard PTO.
READING A RAINBOW OF BOOKS AT ST. DAVID'S SCHOOL
St. David's School made reading colorful for students with their reading week called "A Rainbow of St. David's Favorites". Teachers selected their most beloved children's stories that were read throughout the week by guests that included parents, grandparents and the Rev. Lisa Mason, who is rector of St. David's Episcopal Church.
The play structure on the school's playground was turned into a library, with cushions and books readily available for an outdoor read. Reading Week was capped off with a book swap, with students bringing gently used books to swap with one another.
"There are many things we do here to instill a love of reading in students while also supporting phonemic awareness and early literacy and language development," said Pre-K-4 teacher Kathie Moncravie. "Wrapping up our school year with Reading Week supports what we've been teaching all along and further cements a love of reading in our students."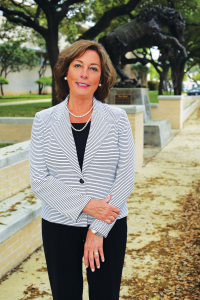 ALAMO HEIGHTS INDEPENDENT SCHOOL DISTRICT'S DR. LINDA FOSTER RETIRES
As the Alamo Heights High School class of 2015 crossed the stage at commencement on June 4, the principal, Dr. Linda Foster, shook hands with each graduate. This was her 24th high school graduation ceremony, celebrating 8,400 graduates, each filled with the promise of what their education would provide. This year, Foster sees not only the promise of a bright future for her students but also a new opportunity for herself. After 42 years in public education, she will retire. Foster started her career in public education in Mason City, Iowa, in 1972, as a home economics teacher. She easily moved into the role of department chair, quickly followed by a time as assistant principal and then as the director of special programs. She became the principal at Alamo Heights Junior School in 1986 and five years later moved into the leadership role at Alamo Heights High School. Foster shares her love of education at all levels, serving on the Early Childhood Education, Pre-K 4 SA board, to teaching college classes at the University of Texas at San Antonio. Her work has been recognized at the local, state and national levels, earning her recognition as a finalist for the White House Fellowship and one of only 34 school administrators in the U.S. honored with the Excellence in Educational Leadership Award.
Through it all, she has followed her life motto: Set your goals and strive toward them. She believes in the strength that collaboration brings to the organization and incorporates many individuals into problem-solving and the development of vision. Leaving a legacy of commitment to education has been tough. But Foster has new goals. There is some much deserved rest and relaxation in her future, but once they are complete, she will find new ways to serve.
ST. PETER PRINCE OF THE APOSTLES SCHOOL'S 8TH – GRADE CLASS VISIT TO WASHINGTON, D.C.
St. Peter Prince of the Apostles School's eighth-grade class had the honor of placing a wreath at the Tomb of the Unknown Soldier on their recent trip to Washington, D.C. Students were allowed to actively participate in the Wreath Laying Ceremony, along with the guards of the tomb. In addition to Arlington Cemetery, students visited the White House, the Washington Monument, the Capitol, Bureau of Engraving, National Archives, Supreme Court, Ford's Theatre, the Smithsonian Museum, Mount Vernon, Battle of Gettysburg, Independence Hall and Valley Forge. They saw several monuments including Lincoln Memorial, Korean Memorial, Air Force Memorial, MLK Memorial and the FDR Memorial. One of the most awe-inspiring sites was their visit to the Basilica of the National Shrine.
2015 COMMUNITY SERVICE BACKYARD BASH BBQ COOK-OFF
St. Peter Prince of the Apostles and University of the Incarnate Word (UIW) present the 2015 Community Service Backyard Bash BBQ Cook-off on Saturday, June 27, from 5pm to10pm. The event will take place on the UIW grounds next to UIW football stadium. Along with South Texas-style barbecue, the event will feature entertainment and a silent auction, and cook teams will be competing for UIW scholarships.
STUDENTS AWARDED SCHOLARSHIPS FOR EARNING TOP PLACEMENT TEST SCORES
Five students at St. Peter Prince of the Apostles School were awarded $1,000 scholarships based on their performance on the high school placement test. These students were selected by being the top scorers on the entrance exam. This scholarship is in addition to the $1,500 renewable Brainpower Scholarship that every eighth grader who graduates from St. Peter receives.
Awardees:
Bianca Escamilia — Incarnate Word High School
Caroline Satsky — Incarnate Word High School
Marissa Gutierrez — Incarnate Word High School
Adrianna Gonzales — Incarnate Word High School
Christian De Los Santos — Central Catholic High School
STUDENTS CELEBRATE DAYOSA 
St. Peter Prince of the Apostles School has a unique tradition of celebrating Dayosa. It is similar to NIOSA but with a St. Peter twist. This year, King Antonio and King Rey Feo visited St. Peter School to encourage students to achieve academically. King Rey Feo distributed ARK (Acts of Random Kindness) awards and TIGER (Tolerance, Integrity, Generosity, Empathy and Responsibility) SPIRIT awards.
After King Antonio's visit, the entire school enjoyed playing games, throwing cascarones, eating snow cones and even an obstacle course. Before early dismissal, the students enjoyed a free picnic in the gym from Jason's Deli for lunch.