Congratulations Saint Mary's Hall Class of 2018!
During their time at Saint Mary's Hall, students discover their place in the world, changing the trajectory of their lives. From their earliest days on campus, they begin building the essential knowledge and skills that prepare them for challenging, higher-level studies in college and beyond.
On May 25, a total of 89 graduates from the Class of 2018 came together to take part in the school's commencement ceremony. This year's graduates will attend 55 different colleges and universities. With a total of 166 college and university acceptances, 53 percent were admitted to their top college of choice. The group earned more than $8.1 million in merit scholarships. Additionally, the Class of 2018 consisted of three National Merit Scholars and eight National Hispanic Scholars. Collectively, the class completed 16,849 community service hours. Eight students from the class have committed to play sports at the collegiate level.
Finding and getting accepted into the right college can be daunting, thus Saint Mary's Hall begins familiarizing students with the college admission process as early as Form 9. Using a broad array of resources, the school's dedicated, full-time college counselors help students assess their academic and personal strengths to identify colleges that match their needs.
Through curiosity and hard work, these graduates have built lives as articulate, confident individuals who are well -prepared for college and are set on a course for achievement and fulfillment in life. We are proud of the Class of 2018 and look forward to their successes in college and beyond. To learn more about Saint Mary's Hall's rigorous academics, athletic opportunities and thriving fine arts program, visit www.smhall.org.
Poets Selected for Young Pegasus Anthology
For more than 80 years, the San Antonio Public Library has celebrated the talents of the city's young writers with the Young Pegasus Poetry Competition. The Young Pegasus Poetry Competition invites poets to submit their work, which is then reviewed by a panel of independent judges.
Fiona Briggs, a St. Luke's Episcopal School third grader, had her poem deemed worthy of publication, and her poem will be printed in the annual Young Pegasus Anthology.
Fiona will join other selected poets attending the awards ceremony on May 6. She will receive an award certificate and a copy of the year's anthology in which her work appears.
All selected poems are read aloud during the ceremony, either by the poets themselves or a member of the judging panel.
Alamo Heights Independent School District Hosts Summer Camps, School and Sports
You might think that when the last bell rings for the school year, the classrooms remain empty and quiet. That is not the case for Alamo Heights schools. Students can get a jump start on the year ahead by participating in a variety of learning opportunities via summer camp, summer school and summer sports programs.
Summer school provides lots of enrichment opportunities for students. Packed with extended learning through field trips and customized experiences, these short terms are packed with big learning.
Summer sports camps allow athletes of all sizes to learn more about a favorite sport, or enhance and improve upon their skill set in a sport they love.
Summer at Heights kicked off its 23rd year of summer fun June 4 -29. Students took part in interesting courses like Extreme Dissection 101, Woodworking, Learn to Speak Chinese, Coding and STEM classes. They also took part in yoga, meditation, baseball, basketball and arts and crafts camps.
"Students experienced new adventures, expanded their horizons, exchanged ideas, learned to be creativite and had fun in the process," shared Summer at Heights Director, Christa Stephens.
St. Luke's Episcopal School Student Winner of Prestigious STA Art Contest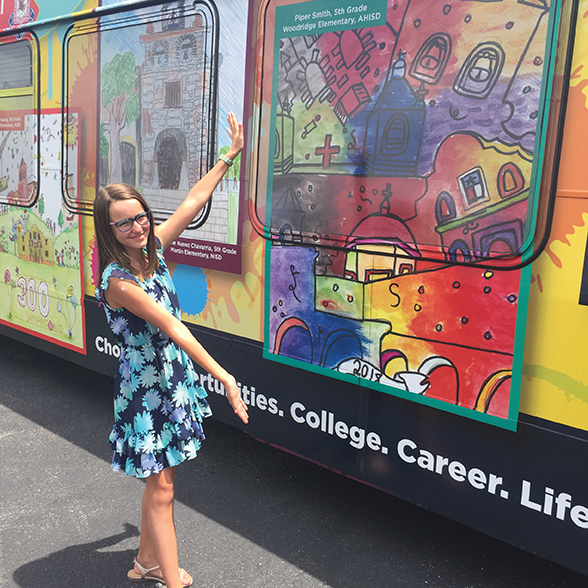 St. Luke's Episcopal School is delighted to announce that Mikaela Miller has been selected as a winner in the Southern Teacher's Agency 2018 Student Art Contest.
The STA contest required students to submit an original two-dimensional piece of artwork. Artists were asked to focus on a distinctive, recognizable architectural feature of a campus structure or building. Mikaela's chose the St. Luke's steeple and SLES logo for her inspiration.
Mikaela is an SLES 8th grader, and competed with students across the south in grades 8-12. She was selected as one of 12 top entries, and her work will be published in Southern Teacher's art calendar. In July, the calendar will be sent to more than two thousand private & independent schools around the country.
Visual arts are fundamentally important to the overall education of children. Through art, students cultivate an aesthetic sense and technical ability, as well as driving problem- solving, creativity and imagination.
Alamo Heights High School Graduation 2018
Alamo Heights seniors walked across the stage and received their diplomas on May 31 at the Laurie Auditorium at Trinity University. Faculty and families commend them for their hard work and wish them success in the future.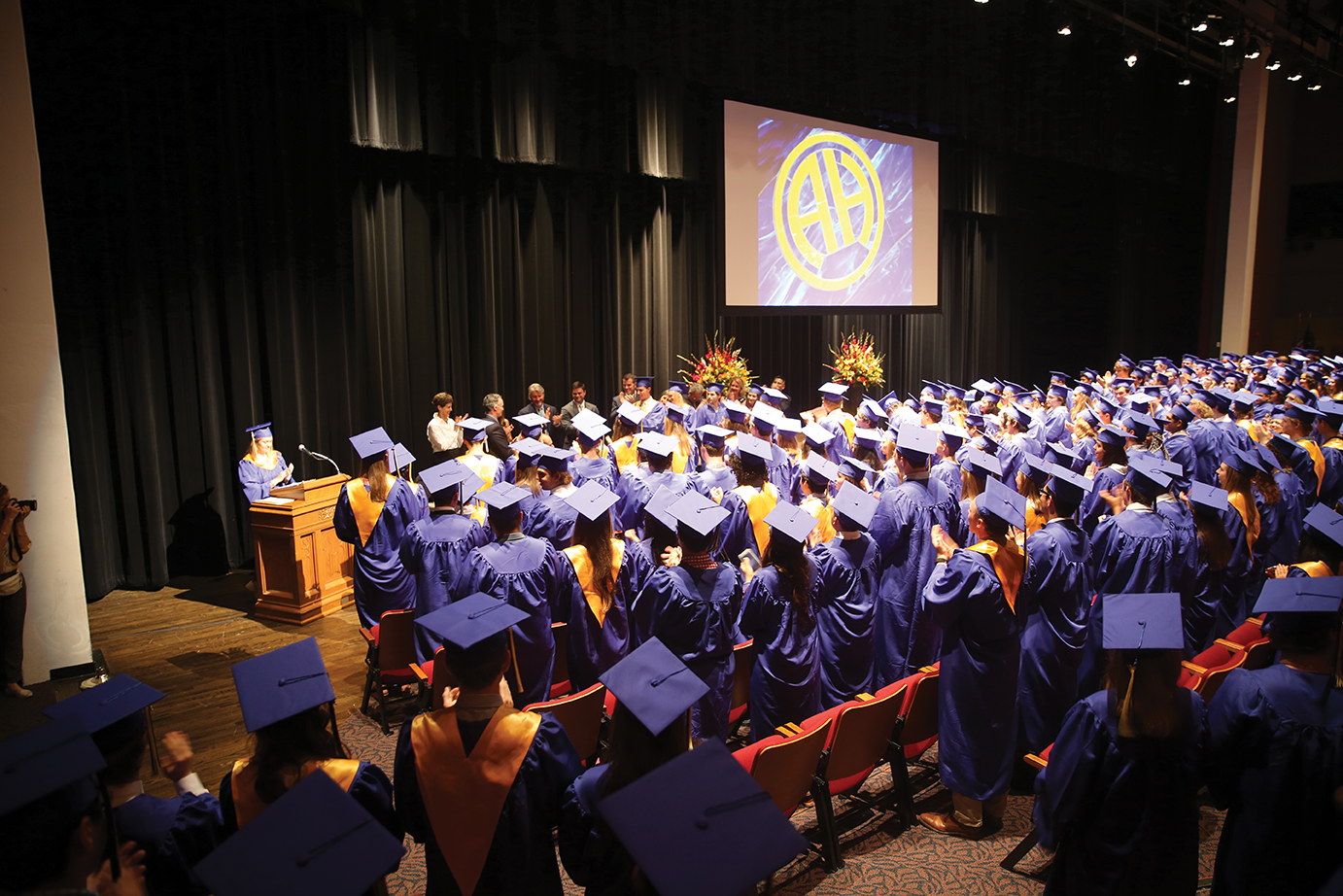 St. Luke's Episcopal School Receives International Invitation to World Scholar's Cup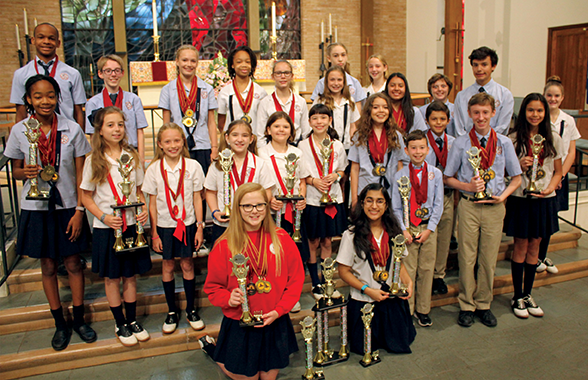 St. Luke's Episcopal School will send nine students to Barcelona, Spain for the international round of the World Scholar's Cup in July. The three teams of students will represent their school and San Antonio as they compete against 2,500 scholars representing 50 countries in a week-long academic competition consisting of team debates, collaborative essay writing, scholars challenge exams and the scholars bowl. The competition covers six subjects: science, literature, social studies, history, the arts and human relationships.
The students from St. Luke's Episcopal School qualified by reaching the international point threshold at the World Scholar's Cup regional competition in Houston on May 19. During the regional competition, St. Luke's students were awarded first place in the Writing and Challenge Exams. Additionally, three individuals placed in the top five overall scholars out of all the junior division competitors.
"I am very proud of how our students performed in Houston" said Christopher Luke, the middle level division head and World Scholars Coach. "There are pages and pages of material that are covered in the competition, and our students worked hard to prepare. I am excited for them to compete alongside students from all over the world in Spain this July. This will be a life changing experience for these students and an opportunity for us to proudly represent St. Luke's and San Antonio on a global stage."
Rocketry Students Seek White Sands This Summer
"Students seeking white sands" sounds pretty normal for a summer break option. It's not the walk on the beach that one might expect, however. Rather, itsan opportunity to launch a student-built rocket from a Missile Range located in White Sands, New Mexico.
Students have been working on the 20-foot-long rocket since late August 2017, and unveiled the finished product 10 months later in June, just prior to their departure for the White Sands Missile Range!
The students were tasked with launching a 35-pound payload this year a human blood sample up to 100,000 feet. The students hope to gather the effects of extreme acceleration on their payload during their launch.
Alamo Heights Independent School District Bond Projects Under Construction
Construction continues at Alamo Heights High School as the relocation of the new Central Plant is completed. There is much preparatory work in and around the south end of the campus as crews prepare for demolition of the old art building to prepare for the new collaborative spaces.
The old turf has been completely removed from Harry B. Orem Stadium in preparation for the new Hellas Matrix Turf with Helix Technology, the new Ecotherm infill and Cushdrain pad.
District officials selected Hellas' new Ecotherm infill over the traditionally-selected black crumb rubber. Ecotherm makes the temperature of the field up to 20 degrees cooler versus a synthetic turf field with black crumb rubber, and no irrigation is required.
Just down Broadway at Cambridge Elementary, demolition has been completed on the Fine Arts Building, making way for updated, engaging and collaborative spaces for students.
This is just a brief update of the ongoing work that is being done across the district. For future updates and more information visit the district website at www.ahisd.net and click on the About the District-Bond 2017.
Alamo Heights Junior School Transforms Learning
AHJS has been designatedas a 2018 Schools Transforming Learning campus. The school was honored during the Principals' Institute Summer Conference in early June.
STL was thrilled to share the campus' story of transformation and innovation. This campus was recognized for making exceptional strides in providing an engaging learning environment for all students. Under the leadership of The Principals' Institute Cohort Member Laura Ancira and her team, the junior school has transformed learning for both students and staff, creating a culture of engagement, communication and innovation.
To learn more visit the website at www.theprincipalsinstitute.org.