Sharing the Love of Dance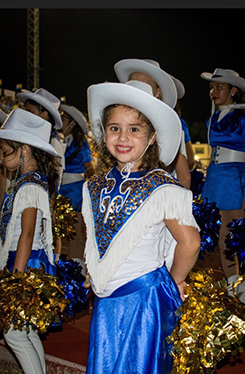 Future dance enthusiasts lined up to meet their local celebrity super stars during the annual Spur for a Day dance camp. These future Spurs had the opportunity to spend the day with the team that provides the highlights of Friday Night Lights, the Alamo Heights High School Spurs Dancers. The young dancers had the chance to get to know the girls and learn a dance routine, which was performed during the half-time show at the Mules vs. Marble Falls football game in late September.
AHISD Teacher Honored with ExCEL Award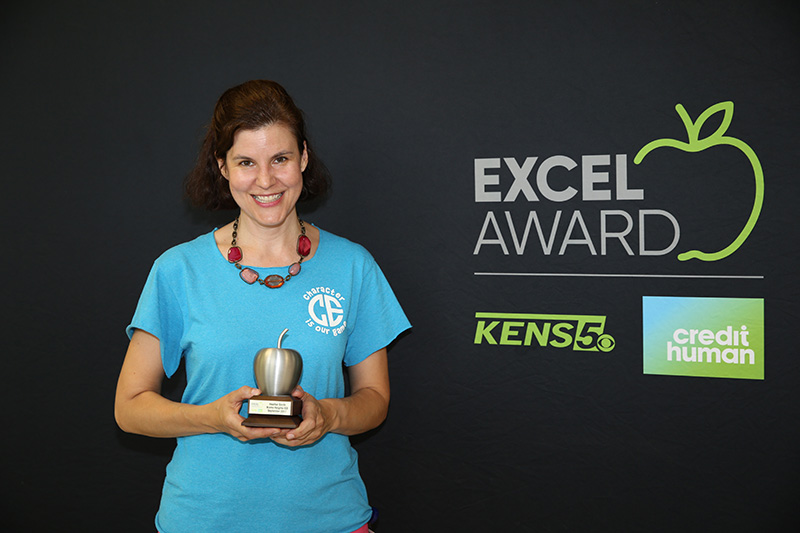 Credit Human and KENS 5 are proud to continue their commitment to education by honoring local public school teachers for their innovative practices and the differences they're making in the classroom and beyond. Since 1999, the EXCEL Award program has done just that.
This year, as in years past, the partners-in-education will recognize one teacher from each of the 19 San Antonio area school districts with a $1,000 check from Credit Human during an on-campus presentation, followed by a news feature on KENS 5.
Alamo Heights ISD and Cambridge Elementary 4th grade teacher Heather Smith earned the honor for her innovative work in the engaged classroom.
"Heather was selected by the district to be a trailblazer for our district's Engaged Classroom initiative. As an Engaged Classroom teacher, Heather provides a genuine student-centered learning environment to her students. Under her guidance she curates, researches and designs learning based on the interest and readiness levels of the students in her class. Technology is seamlessly integrated on a daily basis with the use of a variety of tech applications and learning platforms. Her students take charge of their learning in interesting and relevant lessons such as student-led goal setting and climbing the Writing Summit," shared Cambridge Principal Jana Needham.
Smith was surprised in her classroom in late September. See her in action on the KENS 5 website by searching the ExCEL Award.
Howdy! Welcome Home!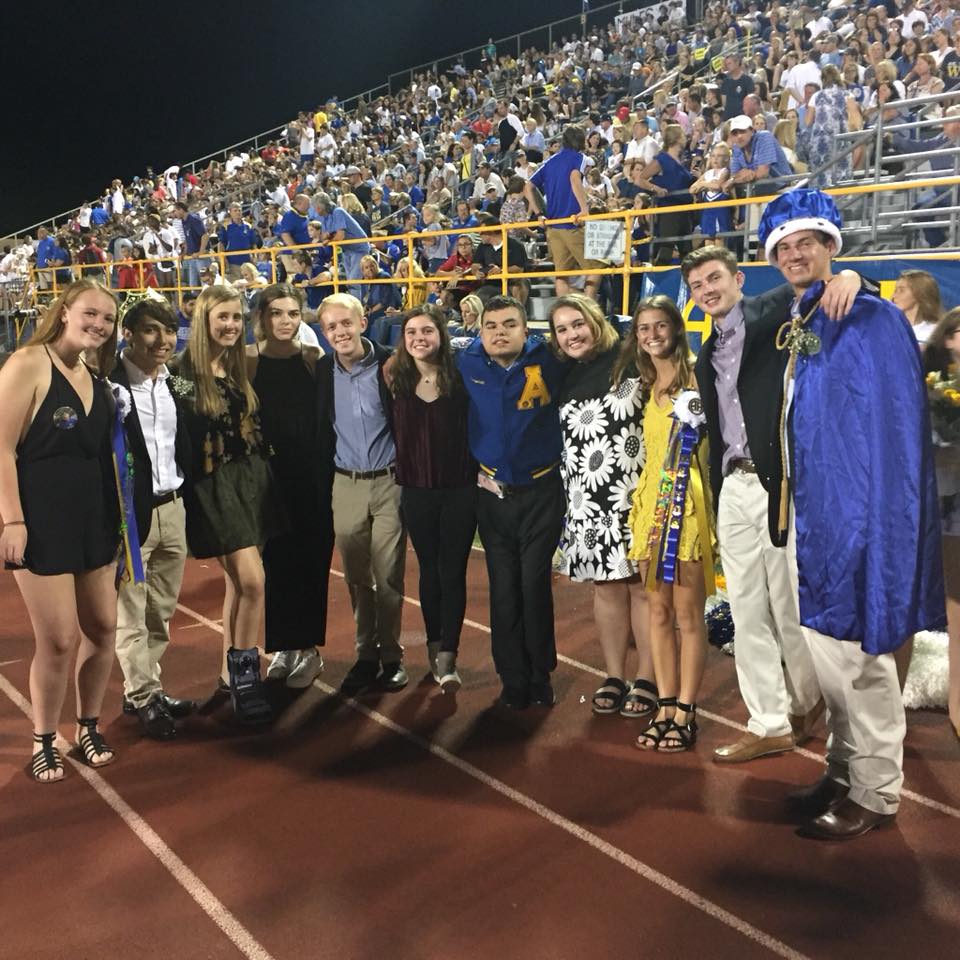 A Huge Howdy is an annual tradition at Alamo Heights ISD! It symbolized the start of a new school year and kicks-off the much loved Homecoming celebration. From the first Howdy of the Howdy Night Parade, Carnival and Pep-Rally and Bonfire, the celebration continues with the Football game and Homecoming Dance. It's a sea of blue and gold, as future Mules watch from the parade route with current Mules marching along to the tune of the Mules Fight Song! Current and former Mules love the tradition of a Mule Homecoming. Take a look!
P.S.  Our Homecoming King and Queen: King, Reed Sechler and Queen, Emma Holland.
Olympian Lacey Nymeyer-John Empowers and Inspires the Saint Mary's Hall Community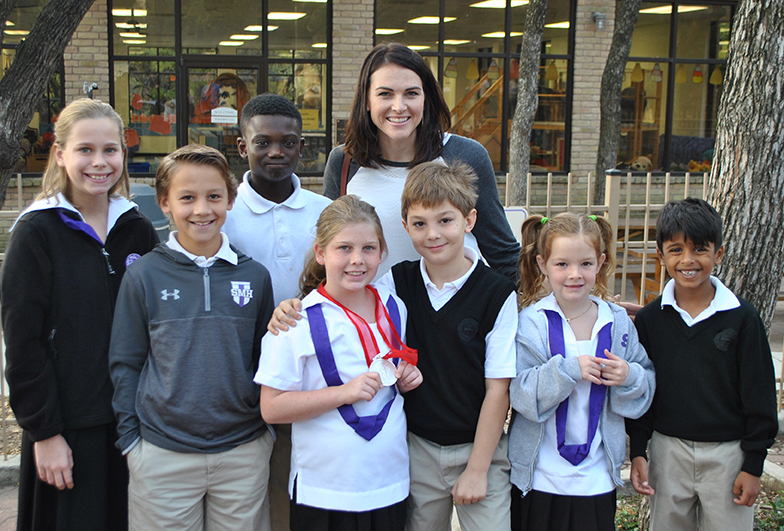 Last month, Saint Mary's Hall had the unique honor of hosting Olympian and 2009 NCAA Women's Athlete of the Year Lacey Nymeyer-John on campus. She spent the day speaking to the entire student body (kindergarten through seniors), parents, and athletics staff in a series of talks tailored to each of those different audiences.
First, Lacey spoke with Lower School students about setting goals and always doing one's best. She explained that one success or failure does not define who you are, and that goals take hard work and sacrifice. During the presentation, even the youngest students were awestruck at meeting such an accomplished athlete. After the presentation, students eagerly asked questions and took turns looking at Lacey's silver medal from the 2009 Summer Olympic Games in Beijing.
During the first of two assemblies for Middle and Upper School students, Lacey spoke about the power of knowing who you are and standing strong. One of the outstanding moments that struck students was when she said, "Look inside yourself and start to know who you are. You choose what you find good about yourself. If you want to find the bad, it's easy, you'll find it. Find the best, find the place to be you. Shed all expectations and identities that can inhibit your growth." Lacey also specifically spoke about ignoring the critics and expectations that are not true to who you are as a person. After the talk, Saint Mary's Hall junior Lauren Grazioli remarked, "It was amazing to see Lacey's message finally dawn on myself and the other students around me. She really made me reflect on everything I worry about and how pointless it can be."
At the all-school parent coffees, Lacey relayed how working within the University of Arizona's Athletics Department in life skills and player development has given her amazing insight into how to empower, support, and give perspective to student-athletes. In one poignant moment, Lacey explained how her NCAA Women's Athlete of the Year award, not her Silver Medal, was her best achievement because she was judged on her entire college career (academics, athletics and community service) not just one moment in time. Parents were quick to ask for tools to help their student-athletes be happy in life above all else. The visit from Lacey was inspiring as well as relevant to the pressures students and parents face today.
Saint Mary's Hall provides opportunities to broaden students' minds beyond the classroom as well as once-in-a-lifetime experiences that enhance the sense of community and culture of trust and encouragement that are the cornerstone of SMH. To learn more, visit www.smhall.org.
Chess Champion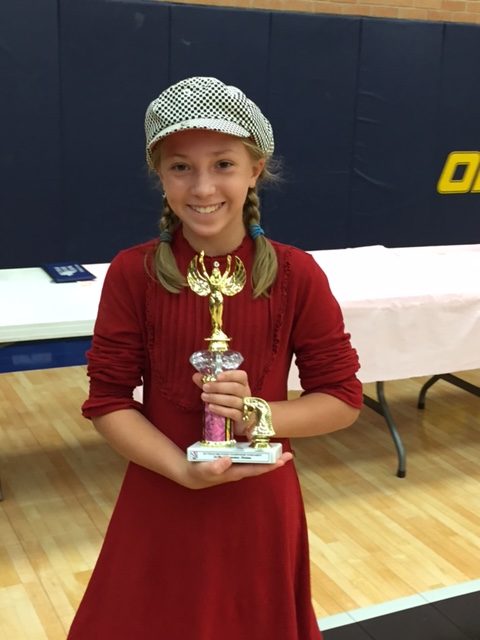 Ayre Seals, fourth grader at Cambridge Elementary, won the Texas Girl's State Chess Championship (Elementary Division) held in McAllen, September 23. A member of the United States Chess Federation or USCF, Ayre competed with girls in grades four – six.
US Chess represents the United States in the World Chess Federation (FIDE), connecting our members to chess players around the world. Founded in 1939 with the merger of the American Chess Federation and the National Chess Federation, US Chess has grown to serve over 85,000 members and 2,000 affiliated chess clubs and organizations today.
Every year, US Chess sanctions and rates over 10,000 tournaments and over half a million games. We host over 25 National Championships and award titles to both amateurs and professionals, ranging from elementary school students to senior citizens.