AHHS Graduation 2017
On Thursday, June 1, the Alamo Heights ISD community celebrated 405 students as they
graduated from Alamo Heights High School. Selected annually by high school staff, the
Top Senior Girl and Boy were announced and honored. The 2017 Top Senior Girl was
Ellery Parish and Top Senior Boy was Cameron Young. To date, students have accepted $2,730,556 in scholarships to begin their next educational journey. #MulesUp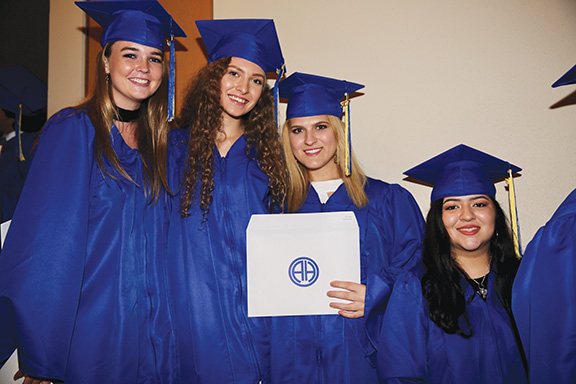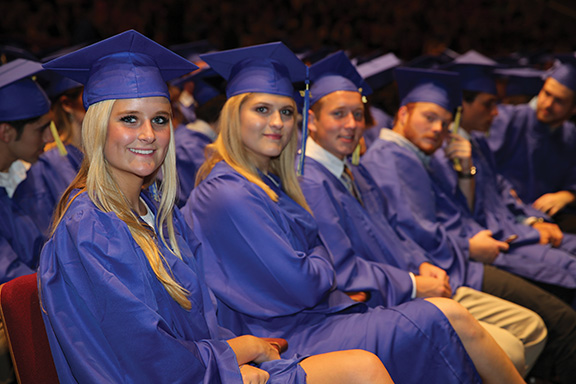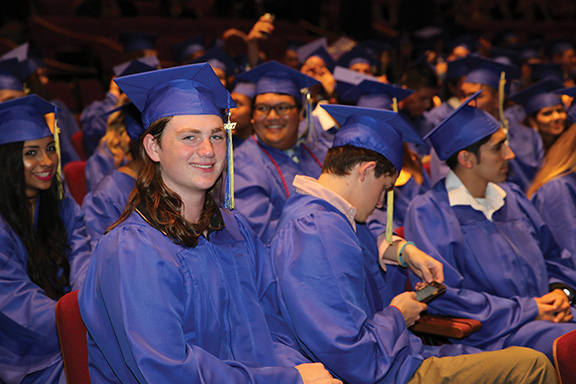 The Leukemia & Lymphoma Society Names San Antonio Teen Ella Behnke "Student of the Year" in National Fundraising Campaign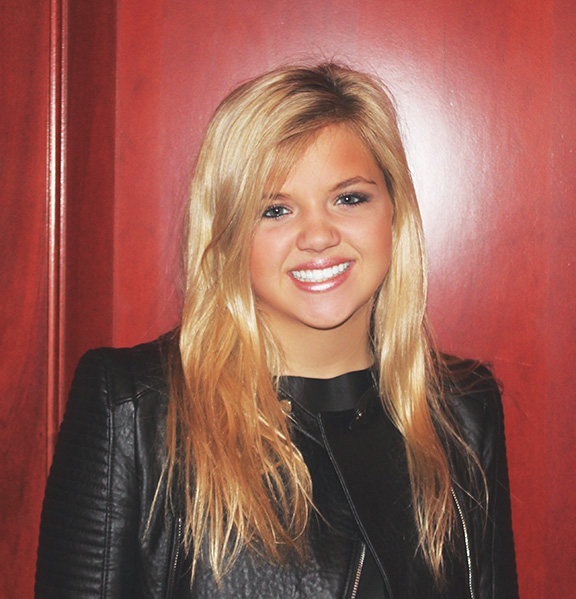 Ella Behnke, is a 16-year-old cheerleader who attends Alamo Heights High School, is making history as the winner of The Leukemia & Lymphoma Society's (LLS) national title "Student of the Year." Ella raised more than $334,768 for LLS to invest in cancer cures with an intense seven-week fundraising campaign involving everything from a very active campaign team, social media activations to visiting cancer patients at the Children's Hospital of San Antonio.
Ella knows firsthand about battling cancer — she was diagnosed with non-Hodgkin lymphoblastic lymphoma at the age of 2. This made her victory even sweeter "I'm honored to be able to have an impact for others who are still fighting this disease. I want to help find a cure, I believe I can make a change, I believe I will make a change," said Ella.
To help spread awareness, Ella, with support from her campaign manager and twin sister Berkley, visited young cancer patients in the hospital and shared their courageous stories on her fundraising page.
Ella is so grateful for her campaign team. They helped fundraise tremendously for her. Working as a squad, they used their social media expertise to launch a fundraising page on Facebook, "Open Your Heart with Ella," where Ella unveiled several fundraising activities including:
• A sold out fundraiser composed of prizes put together by her campaign leaders and families
• Shop for a Cause, an exclusive eating and shopping event at local shops, including Penny Lane, Baker Tatum and Meadow Boutique
• Crush for LLS, a baseball fundraiser held at the Gaylard Finley baseball tournament, where $25 was donated every time an Alamo Heights player hit the ball
• LLS Cheer Challenge, a social media campaign where local supporters posted videos in various cheering routines, and using the hashtag, #LLScheerchallenge
• The David Clark and David Dikin fundraising event benefitting LLS
In the campaign's inaugural year, this innovative take on peer-to-peer fundraising conceived by LLS, the world's largest nonprofit dedicated to fighting blood cancers, mobilized more than 400 motivated high school students across the country, who raised an astounding total of $6 million for LLS's cutting-edge cancer research and patient services.
Candidates for Students of the Year sign up for a fierce seven-week fundraising competition, for which they appeal to family and friends to raise critical funds, which LLS deploys to advance breakthrough treatments and to support the more than 1.3 million blood cancer patients in the U.S. Through programs like Students of the Year, LLS has invested more than $1 billion in research to advance breakthrough therapies. The candidates/teams who raise the most money at the end of the competition earn the title Student(s) of the Year. Top local fundraisers become eligible to win the national title. The students raise money in honor of a local patient hero who is currently battling or is in remission from a blood cancer.
"We're extremely proud that the national Students of the Year winner is from San Antonio," explained Clarissa Flores, LLS executive director. "Ella, her teammates and supporters are all helping LLS work toward its goal of a world without blood cancer."
To learn more about the Students of the Year program and how it might work for you or someone you know, visit: www.studentsoftheyear.org.
AHISD wins H-E-B's Best Small District in Texas Award
Earlier in the year, the HEB Excellence in Education Awards announced that eight school districts and five early childhood facilities had been selected as finalists for the retailer's 16th annual 2017 Excellence in Education Awards program.
Alamo Heights ISD was named one of the finalists!
Since the program's inception, H-E-B has awarded more than $8.5 million in funding to benefit outstanding Texas public schools. This year, H-E-B awarded a total of $85,000 to the finalists and school boards, who continued on to compete for even greater cash prizes at the statewide level.
To determine overall statewide winners, a panel of judges visits each district, early childhood facility and school board, tours campuses and talks with administration, staff, parents and community members.
Winners were announced at the H-E-B Excellence in Education Awards ceremony on May 7 at the Hilton Hotel in Austin. Alamo Heights ISD was named the Best Small District in Texas and received, a beautiful Tiffany Trophy, a commemorative plaque and a check for $50,000.
The 2017 small school district finalists included:
Alamo Heights ISD —  San Antonio, Texas
Hutto ISD — Hutto, Texas
Lake Travis ISD – Austin, Texas
To celebrate, the district hosted a community-wide pep rally and reception to honor the entire educational community. The district felt that it took the work of students, parents, teachers, support staff, support organizations, businesses and community members to help the district earn this prestigious honor. H-E-B launched the Excellence in Education Awards program in cooperation with the Texas Association of School Administrators in 2002 as a positive way to support public education in Texas. It has become the largest monetary program for educators in the state, spotlighting best practices and celebrating the passion and creativity of Texas educators.
Woodridge's Gonzales Earns Second Trip to State
H-E-B Excellence in Education Awards team made their way through the hallways of Woodridge Elementary in early March to surprise Alma Gonzales, 5th grade teacher, announcing that she was a two-time state finalist in the H-E-B Excellence Awards in the Lifetime Achievement Category. The Lifetime Achievement Category salutes teachers with more than 20 years of experience. State winners would receive $25,000 in cash for themselves and a $25,000 grant for their school.
Alma was surprised and honored, knowing she would be competing against the most talented and experienced educators in Texas.
"I'm so humbled and honored to be recognized by H-E-B. This is a tremendous honor and it means so much to me and public school educators across Texas," shared Gonzales.
When asked why she was an educator, Gonzales replied, "I am an ordinary person who wants extraordinary things for my students. I hope to help each one of them realize and reach their full extraordinary potential."
Gonzales was recognized during the state-level celebration as a finalist, recognized alongside her home district, Alamo Heights ISD, one of three finalists for the state Small District Award.
Principle Auto Preps Teacher of the Year to Cruise In Style
Principle Auto, an auto dealership management group headquartered in San Antonio, teamed up with Alamo Heights Independent School District to award the second annual Teacher of the Year, Eric James Cruz, with a "Vehicle 4 All Seasons."
Cruz, the creative writing director and English teacher at Alamo Heights High School, will receive car keys to four different Principle Auto vehicles throughout the year – A BMW, a Volvo, a FIAT and a MINI. "Our purpose here at Principle Auto is to be a trusted, caring friend helping people move through life in a sustainable way. We know that is what these teachers do every day, and we feel it is necessary to reward these amazing men and women for their exceptional care in helping students with their journey through life," shared Abigail Kampmann, CEO of Principle Auto.
Cruz was chosen because, according to Dr. Cordell Jones, principal of Alamo Heights High School, he is hardworking, with a generous commitment to improving his craft. He prides himself on developing challenging, relevant and engaging lessons for his students. He invites administrators and his peers to come into his class and share their wisdom.
"If you were to come to Alamo Heights High School, you might not notice Eric at first. He is quiet and reserved, works diligently and often flies under the radar. But ask students, and Eric is their world. He makes literature and poetry come alive. You can often find his classroom filled with current and former students at lunch who crave time with him to sit and discuss life, literature and issues in the world of teenagers," says Dr. Jones. "He tells me all the time that his goal is to be the best teacher he can be because his students deserve nothing less. Though quiet, this commitment to improvement is contagious across his department and the campus. He is a quiet leader, but a vital leader, nonetheless. The type of leader that, as principal, I realize helps move a campus from good to great."
Cruz, AHISD's Teacher of the Year, was surprised on May 4, 2017, in front of the Alamo Heights High School campus. Kampmann of Principle Auto presented Cruz with the keys to his first vehicle as Teacher of the Year.
Martha Spoor Young Writers Workshop
Each summer, students with a love for writing fuel their passion by attending the Martha Spoor Young Writers summer workshop!  With funds from the AHSF, this workshop was created to stimulate and grow enthusiasm for writing in 7th grade students. The fund was established in 2008 in memory of Martha Spoor, a 1987 graduate of Alamo Heights High School and English teacher at the Alamo Heights Junior School. The workshop inspires student attendees to express themselves in their writing through the use of critical thinking and creativity.
Summer Learning
Summer provides a wonderful opportunity for students to continue their learning. Alamo Heights ISD provides numerous ways for students to enhance current skills, acquire new ones, earn credits, or just enjoy classes in subjects where their interest is high.
Summer School provides students with options to enhance their knowledge through reinforcement made stronger by engaging activities. Smaller numbers of students allow for more direct and intensive instruction. Special events like Dino George, a guest speaker sponsored by the Sarah Chidgey Hughes Shine Bright Fund, sponsored through the Alamo Heights School Foundation, allows students to tour Dinosaur George's Traveling Dinosaur Museum, the largest of its kind in North America. The museum is filled with fossils and fossil replicas from some of the world's most amazing prehistoric animals.
Summer at Heights provides the summer camp experience lead by certified teachers and local experts! Students are engaged in a variety of subjects and related activities that include: coding, robotics, culinary creations, sports, music, rockets, legos, theater, science and more.
SAH offers students the opportunity to experience new adventures, expand existing horizons, arouse curiosity, exchange ideas and products, stimulate creativity and give them a chance to laugh and have fun in the process.