Alamo Heights Junior School and Woodridge  and Cambridge Elementary Compete In Destination Imagination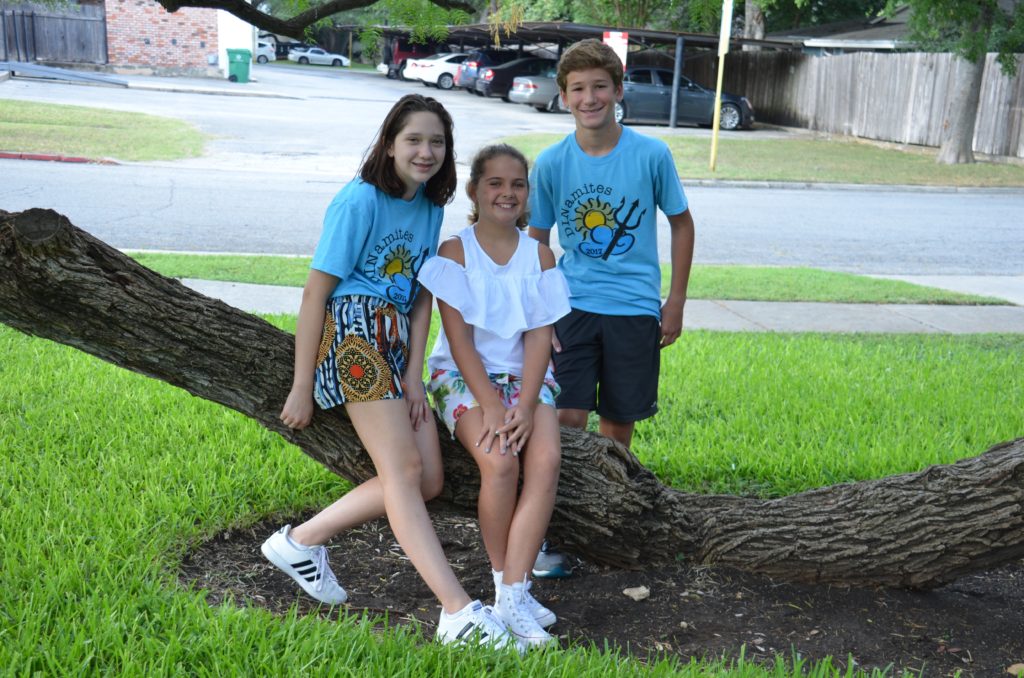 AHISD students from Cambridge and Woodridge Elementary Schools and Alamo Heights Junior School competed in the international finals for Destination Imagination in May in Knoxville, Tennessee.
More than 8,000 students from around the world participated in the event. To get to the global finals, the three AHISD teams had to finish first in their division in the state competition. Each team had six to seven members. The competitions are designed to showcase student creativity in a number of areas. Think of MacGyver, the action-adventure TV hero who solved incredible life-threatening problems with everyday stuff.
How did the AHISD teams do in the international finals? The AHJS team – the "DiNamites" — finished 13th out of 89 teams. Cambridge "Seven Chirping Birds" finished 11th; Woodridge "Quick Wits" tied for 19th , and Woodridge "Discoverers" tied for 24th.
AHISD schools have been competing in Destination Imagination for more than 20 years. For more on Destination Imagination see www.destinationimagination.org.
SPUR for a Day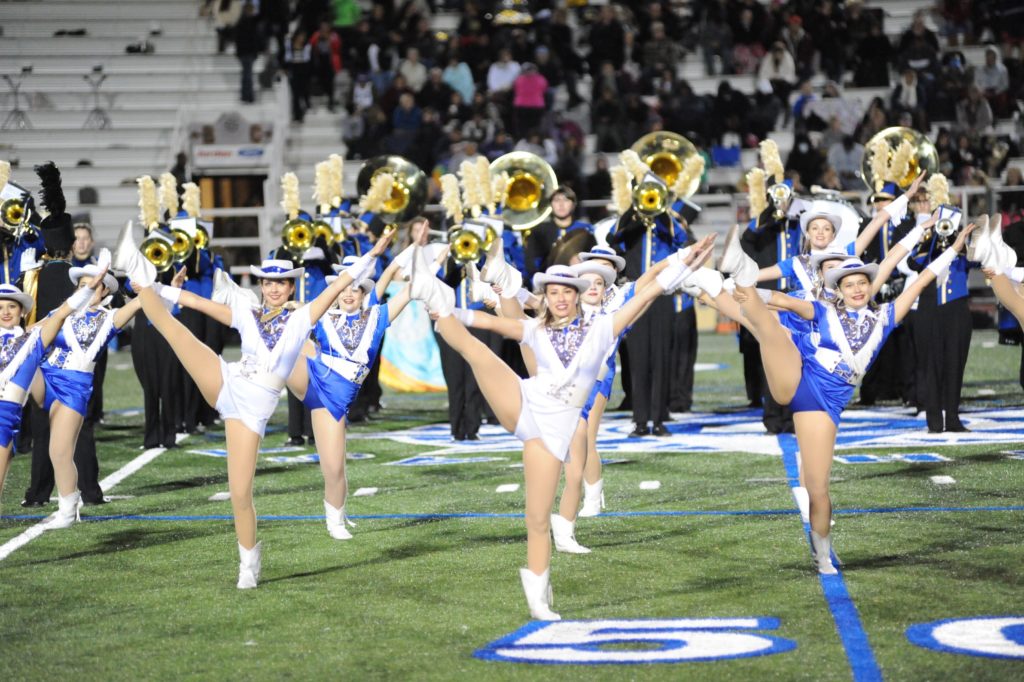 The Alamo Heights High School Spurs Dance Team will be hosting Spur for A Day on Saturday, September 16th, 2017 from 8:30 am to 12:00 pm at the AHHS Dance Studio. Come and join the AHHS Spurs Dance Team for a morning of fun and dancing. This event is for children Pre-K to through 8th grade. Children attending the clinic will be eligible to register for an opportunity to perform at the September 22nd, Mules Varsity Football Game. If you have any questions please contact Jessica Sanchez, Spur Dance Team Director, at jsanchez@ahisd.net or alamoheightsspurs@gmail.com.
The registration flyer and form can be found at the following website: www.ahhsptso.org/products/spur-for-a-day.
AHJS Band Invited to Perform at YOSA
The Alamo Heights Junior School Honors Band has been selected to perform at the Tobin Center as part of the YOSA Invitational on May 22, 2018! The group is one of only ten middle school bands and/or orchestras selected from the greater San Antonio area for this honor.
Football Season Tickets Go On Sale
Season football tickets went on sale Tuesday, August 22, and will continue to sell until Friday, September 8th, at the Alamo Heights Athletic Office. Ticket Sale hours are 8:30 am – 12 pm and 1:30 pm – 3:00 pm. Tickets are $50 per seat (5 home games at $10 each), no age limit. Cash or checks only.
NEISD Adopts Budget, Cost-Containment Plan
North East Independent School District has adopted a budget for the 2017-2018 school year. North East's general fund features $534.7 million in income and $551.1 million in expenditures. The budget includes a cost-containment plan, highlighted by no employee raises, reduced travel and a hiring freeze at the central office.
NEISD has also been able to cut the debt service part of tax rate by 2 cents while raising the maintenance and operations portion of the rate by 2 cents.
University of the Incarnate Word Officially Opens School of Osteopathic Medicine
Amidst great fanfare and with over 300 guests joining the celebration, the University of the Incarnate Word officially opened its School of Osteopathic Medicine (UIWSOM). San Antonio Mayor Ron Nirenberg and Bexar County Commissioner Tommy Calvert joined UIW Acting President Dr. Denise Doyle, School of Osteopathic Medicine Founding Dean, Dr. Robyn Phillips-Madson, Congregational Leader of the Sisters of Charity of the Incarnate Word, Sr. Tere Maya CCVI and other members of the San Antonio and UIW community in cutting the ribbon on the $50 million state-of-the-art facility.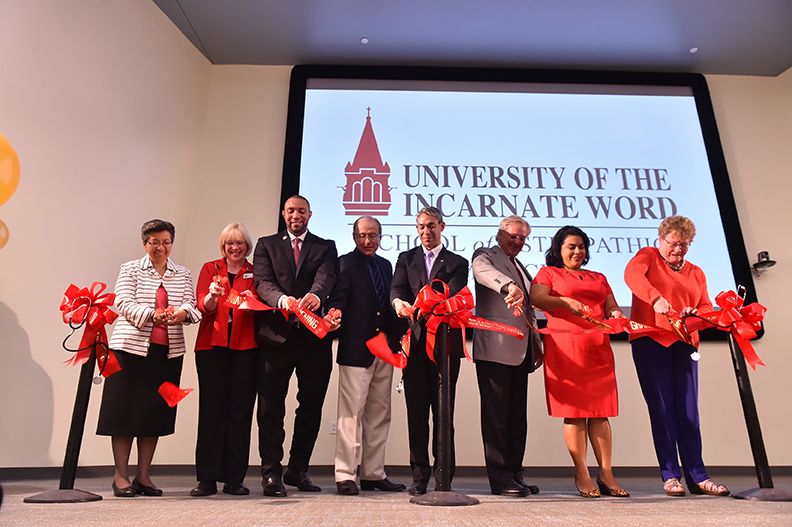 "What a blessing it has been to be part of the amazing UIW team which has built this School of Osteopathic Medicine and is welcoming our inaugural class of students next Monday. We are grateful to be situated in this historic and vibrant community, and look forward to working with our many partners and positively impacting the health of the people in this region now and in the years to come," said Dean Phillips-Madsen.
UIWSOM, located at 2510 Kennedy Circle, is on the Brooks campus (formerly referred to as Brooks City Base) and is the anchor of the area's public-private revitalization project. The 155,000 sq. foot facility is home to 45 faculty, 40 professional staff and 150 students comprising the School of Medicine's inaugural class. The facility features large interactive learning studios, a state-of-the-art structures lab (anatomy, histology, pathology, embryology and imaging), ultrasounds for clinical and laboratory use, interactive multi-purpose learning spaces, a simulation suite consisting of four simulation rooms, and a demonstration kitchen for medical education and community education. It also features a 12-room CIELO (Clinical Inter-professional Experiential Learning and Observation) clinic where standardized patients present with various symptoms to medical students. UIWSOM is training primary care osteopathic physicians to meet the health needs of Central and South Texas, particularly underserved and vulnerable populations. It is the only faith based osteopathic school in Texas and the only faith-based medical school in Texas. It is the sixth Catholic medical school in the U.S. UIWSOM is UIW's fifth health professional school
Saint Mary's Hall Blue Tie Parade and Convocation
On August 18, the Saint Mary's Hall community came together to kick off the school year with its annual Blue Tie Parade, Convocation, and Blue Tie Ceremony. Blue Tie traditionally takes place on the Friday of the first week of school. This treasured tradition was first held in September of 1940, when blue ties were awarded to the Class of 1941.
The morning's events included a Blue Tie Parade where seniors and parents drove decorated floats around the Upper School Circle and threw water balloons at excited underclassmen. Following the parade, students convened for a festive Convocation, held in the Alonso Ancira Event Center. Seniors high-fived SMH Montessori students as they entered the event center to inspire these young learners to continue their educational journey at Saint Mary's Hall until graduation.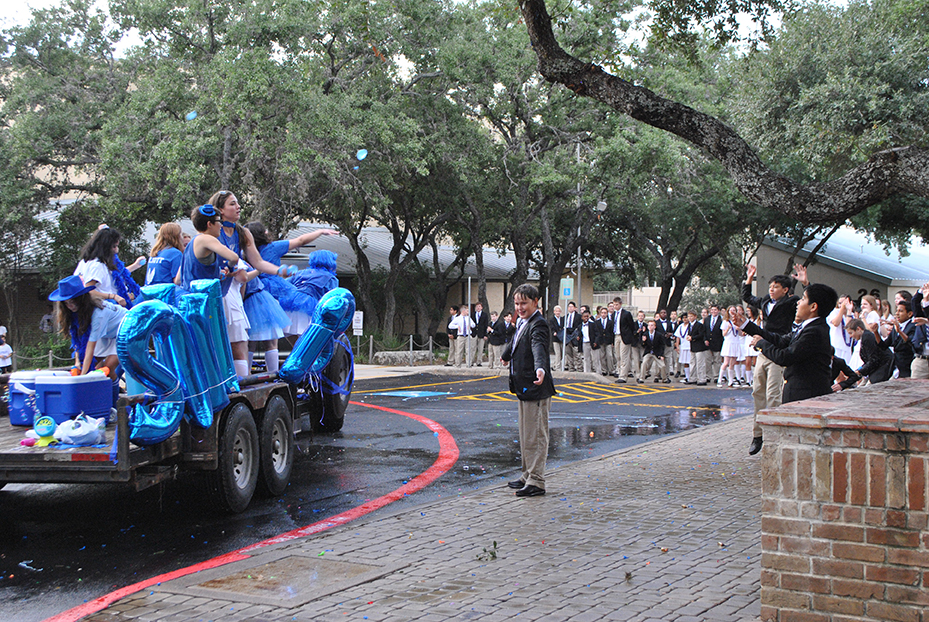 During the Blue Tie Ceremony, Head of School Jonathan Eades bestowed blue ties and senior rings to the excited members of the Class of 2018. In true SMH tradition, family members who were SMH graduates, faculty or staff members, and trustees were given the honor of presenting a blue tie to their senior. The blue tie stands as an important symbol of the culmination of the students' Saint Mary's Hall experience. By accepting their blue ties, seniors embraced the responsibility of providing leadership for the school year ahead as they neared the end their journey at Saint Mary's Hall. The Saint Mary's Hall Class of 2018 is made up of 88 members, including more than 20 "lifers," Saint Mary's Hall students who have attended the school for 12 or more years.
Blue Tie, even today, continues to be a momentous rite of passage for SMH seniors who, by the time they graduate, are well prepared for college and set on a course for achievement and fulfillment in life. After more than 70 years, the tradition of Blue Tie remains an indelible part of the Saint Mary's Hall experience.
A First Day Eclipsed by No Other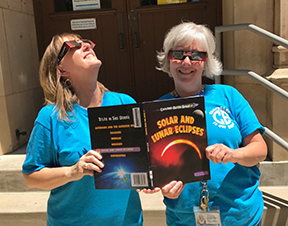 The end of August marked the first day of school for Alamo Heights ISD. The first day is always special, but this year will be remembered like no other. As all students returned to classes, some attending school for the first time, many were connected via the global classroom, catching a real-world, hands-on lesson made possible by a solar eclipse.
Armed with special eclipse viewing glasses, students across the district shared in the opportunity to experience an eclipse first hand.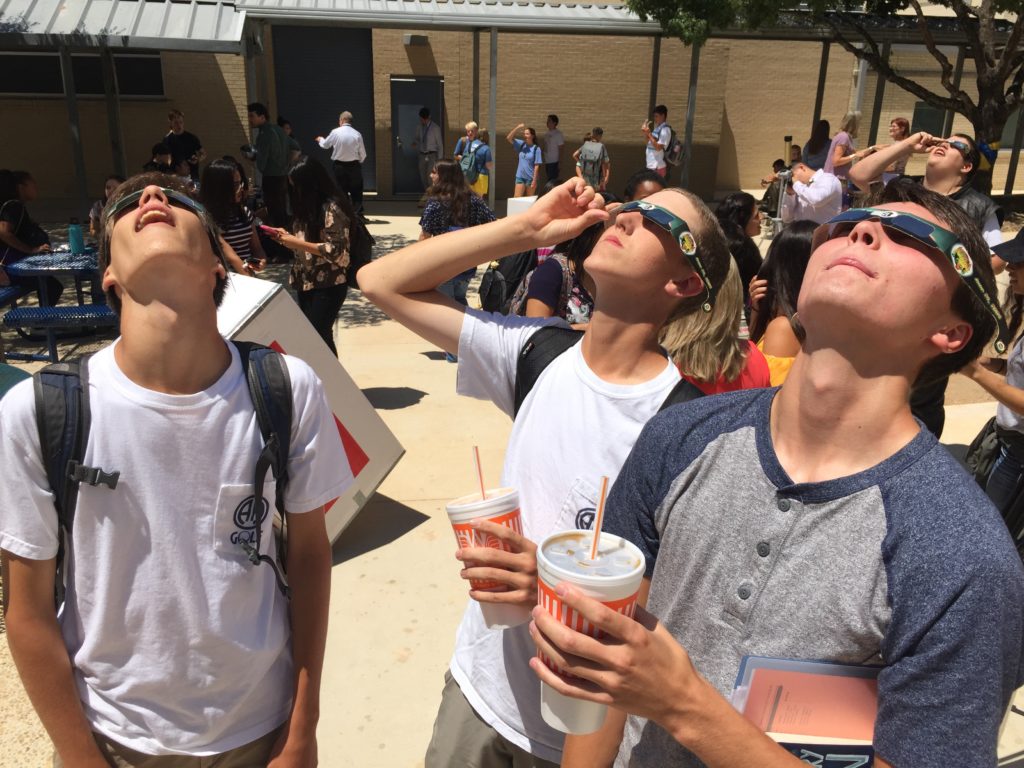 Students at both Alamo Heights Junior School and Alamo Heights High School were able to see the projection of the moon crossing in front of the sun through high powered telescopes provided by their science classes, many of which were funded through the generous support of the Alamo Heights School Foundation!
Howard, Cambridge and Woodridge students followed the NASA live stream, watching as the most powerful telescopes and professional photographers provided the optimal view!
In a first-day global event like no other, students, staff and community were connected by a lesson in science.