AN ARTIST DRAWING ON MANY INSPIRATIONS
BY ERNIE ALTGELT
PHOTOGRAPHY BY MARTIN WADDY
Artists find compelling inspiration in many different and uniquely individual ways – through personal experiences, via cultural influences, from geographical encounters and in response to social, economic and/or political situations, among others. And the result, when well executed, is usually an emotive reflection of the same.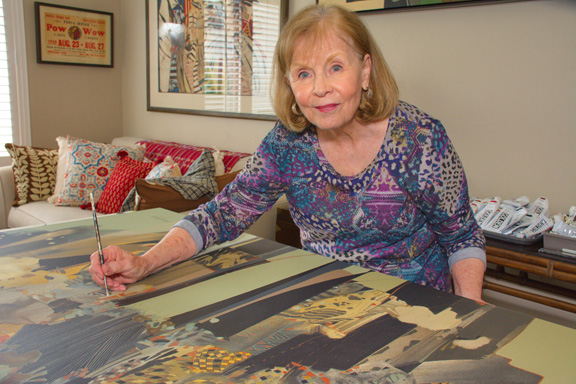 Nowhere is this more evident than in the stunningly optical collective accomplishments of 78209's remarkable Brenda Kingery. Thanks to a life rich in all facets of diversity, coupled with her natural abilities for observation, empathy and abstract as well as realistic rendition, this gifted visual communicator is able to bring a much broader focus and multi-dimensionality to each artistic (and even altruistic) project undertaken. Whether working on an easel in her Alamo Heights studio or researching, absorbing and reaching out to those in remote locations throughout Central America, Africa and the Far East, this dynamic and productive whirlwind of creativity continues to draw inspiration from near, far and everywhere in between.
Aside from the finale spot of Game of Thrones Season 7 Episode 7 stream on HBO Game of Thrones S07E07 Watch Online you will witness a considerable measure in the total season
Born in Oklahoma, Brenda was the product of an Anglo mother and one-half Chickasaw father. And even though her parents divorced when she was 7 years old, leaving the youngster primarily in the care of her loving mother and maternal grandparents, there was always some interaction with her father's family members as well. However, early exposure to her American Indian roots, while admittedly limited and sporadic, would fortunately increase in subsequent years and ultimately prove to be a powerful influence on her later artistic output.
As a child, the observant Brenda always exhibited exceptional abilities in capturing images on paper. She simply loved to draw. An early teacher, determined to encourage the nurturing of this talent, wisely suggested to Brenda's mother that she "get her daughter the materials she needs to create but hold off on any structured instruction." The thought was to let her develop her own style without any initial outside coaching. Formal training could and did come later, but when considering the vital, self-discovered originality of Brenda's later work as an adult, this was sage advice indeed.
And after marriage to a career military man, then earning a master's in fine arts from the University of Oklahoma, followed by years of motherhood and professional teaching, Brenda never stopped visually creating while constantly honing her skills and evolving the particular "look" that would eventually become hers alone.
Download Psiphon for Windows now from Softonic: 100% safe and virus free. More than 28451 downloads this month. Download Psiphon latest version 2017. Psiphon for Windows learn how to install Psiphon app for PC on Windows(7/8.1/10) using Bluestacks Downloads is famous for both for Windows
However, one seminal event in her life as an artist came when her husband received an assignment to Okinawa, Japan. Spending seven years on the island, she happily immersed herself in the culture (even attending graduate school at Ryukyu University, where she was able to work with various practitioners of traditional Japanese art forms), which ultimately introduced her to the timeless Oriental themes and techniques that are visible in so much of her current output. It was there that she developed the labor-intensive process of layering color upon color, slowly and exactingly building to a stunning climax. Much of her painting from this period is easily recognizable from its overt Eastern influence.
But those who follow Brenda's successful, prolific and still vibrant career today might be more familiar with her much-in-demand Native American themes. As was mentioned, she is proudly one-quarter Chickasaw, and even though she "wasn't raised in the culture," she grew to embrace it, thanks to the time spent later with her grandmother, who gladly shared tribal history, customs and anecdotes. Enthralled by the pageantry of more recent ceremonies and other events, Brenda has perfectly (albeit subtly) captured the spirit and energy of the age-old dances, symbolism and mythologies passed down from generation to generation by her paternal lineage in her current canvases.
Her work, whether reflecting Japanese, American Indian or, thanks to later involvements, Central American influences (see below), graces countless spaces throughout the United States and the world in private homes, corporate offices, top-tier galleries and many museums. Her awards, national and international, have been justifiably numerous and include her selection as "Artist of the Year" for 1995 from the San Antonio Art League. And as further kudos, in 2007 Brenda received a prestigious presidential appointment to the board of trustees of the Institute of the American Indian and Native Alaskans, where she's been very involved. How inspiring!
ON A MISSION
Creating fine art for a clamoring global public isn't Brenda's only far-reaching contribution. As a founding member of Threads of Blessing International, a San Antonio-based nonprofit devoted to helping women in the developing world better themselves through the sale of artistic embroidery, this tireless crusader travels between branch locations in Honduras, Haiti and Uganda, teaching, sharing and encouraging. The monies raised from this mission have benefited many communities in the targeted countries. New locations are in the planning.
For Brenda, the success and satisfaction of being intimately involved in such a worthwhile undertaking continue to add to an extremely full life. And as a creative benefit, the additional experiences no doubt add to her broad base of influence, which ultimately ends up being incorporated into her extraordinary and ever-growing artistic body of work.