LOVINGLY LINKED TO '09
JAKEY & MARTIN WEILBACHER
BY ERNIE ALTGELT
PHOTOGRAPHY BY ELIZABETH WARBURTON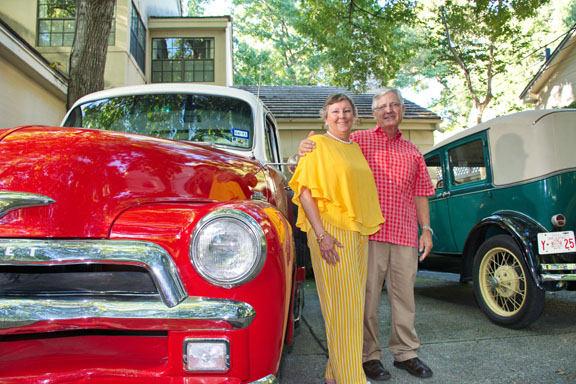 Our neighborhood is filled with many wonderful stories of lives lived lovingly and long within its shaded, welcoming boundaries. Remarkably, it's not uncommon to meet those who've gladly spent their entire existence, personally and professionally, anchored in what is today 78209. And as a testimony to the success of the community, that's pretty impressive. But upon consideration, that success is only a reflection of those who call the same home.
As a perfect case in point, meet Jakey and Martin Weilbacher, married for 43 years — two native '09ers who've grown, built and prospered, privately and publicly, by demonstrating a shared devotion to each other, their family and, of course, to their many friends and acquaintances that likewise comprise the 'hood. The Weilbachers' story is an inspirational example of two individuals who have found extended happiness, purpose and well-being all within a few square miles of where each began, and in a world in constant flux, that's really neat.
As you can probably guess, both Jakey and Martin's beginnings start in '09. Jakey's mother and father lived, respectively, in Olmos Park and Monte Vista before marrying and relocating to Alamo Heights and then eventually to Terrell Hills, where Jakey spent her early childhood. In 1961 her father, Humphrey Price, a builder and developer, constructed a new family homestead in the up-and-coming Oak Park subdivision. It was there that Jakey spent her teen years. Her parents remained in that house until their recent passing.
For Martin, his '09 roots run even deeper. Both his parents' families lived in the old part of the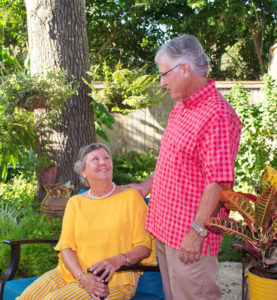 neighborhood in houses that predated the township. As Martin recalls, "My paternal grandparents even raised cows and chickens on their (almost rural) Joliet Street property." When Martin's parents, who as a young couple lived near Mahncke Park, decided to build their own home, they also chose the same Oak Park area where Jakey's father would later build. That was in 1953, and their house was the first to go up in the area.
Even though Jakey and Martin as youngsters lived only three streets apart, they didn't meet until high school. Jakey remembers, "We had the same advisory all four years and became good friends, but we never dated each other. We knew we liked each other, however." During this time, the two often socialized since they shared the same group of acquaintances, but love would come later.
And that "later" would be after both graduated from college. It all started with a debutante party where the women were paired with the gentlemen through a third party. When Jakey was asked by the arranger if she had "any preference," she suggested her old friend Martin as a possible escort, knowing he was in town. After making that suggestion, however, she became concerned that maybe Martin would want to attend with someone else. Breaking with protocol, she called him in advance and told him of her desires. Remembering that episode, a nostalgic Jakey relates, "Martin was delighted. We went to the party, had a great time, and from then on, became inseparable. Frankly, I don't know why it took us so long to discover that we were a perfect match!" By 1973, they had married and, as Martin smilingly attests, "Even though we each have our unique characteristics – I'm a neatnik where she's a bit less tidy, but definitely a wonderful cook – it's been great ever since."
They were ultimately blessed with two children — a son, Clayton, and a daughter, Katie, both now grown — but admit to currently loving the empty nest that they share in the Alamo Heights house they built in 1980.
Beyond parenthood, each has enjoyed a productive, AH-based career in related industries. Jakey is a respected Realtor specializing in residential listings (many in the neighborhood). She's done this for 37 years, and thanks to her warm personality coupled with an inherent commitment to service, has become a sought-after specialist for those seeking a property or desiring a sale.
Martin is known as one of the area's most gifted and capable builders. Many custom and remodeled homes throughout 78209 and greater San Antonio are "Weilbachers." As the son of a detail-minded accountant who also "liked to build things in his home workshop," Martin inherited his father's sensibility and passion to create that ultimately led to his involvement in the construction business. Thanks to a series of early employments that included an entry-level position working with his future father-in-law, then his later assignment as a job superintendent with a large homebuilder, Martin was able to hone the skills needed to eventually open his own company, which occurred in 1982. He's never stopped enjoying what he does, and even after many successful constructions spanning almost 50 years, still looks forward to each new project.
For the Weilbachers, however, building and selling aren't everything. The energetic twosome have a vacation home (that they remodeled) in Aransas Pass as well as Hill Country property. Both offer an appreciated change of scenery, but as each emphasizes, "Coming back home is a joy too." And beyond travel, Jakey likes to garden, while Martin can often be found in his garage, tinkering with his vintage 1928 Ford Model A (a car he's owned since he was 14) or his equally classic 1954 Chevy pickup. It all makes for a good life.
The Weilbachers truly do represent what's good about living, and living and living, in '09. As they both attest, "After so many wonderful years, we're part of this community, and it's definitely part of us. We're not going anywhere!"