Tom Christal Comes to the Rescue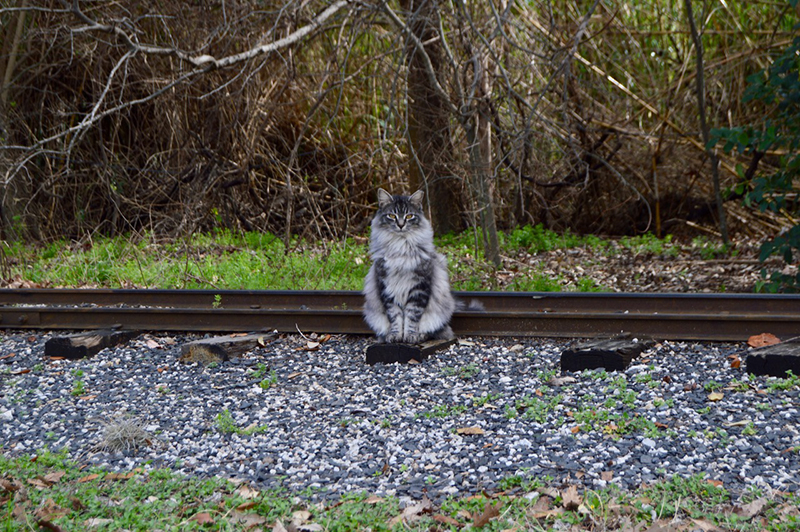 You wouldn't think that an established '09er with a vacation house in Carmel who is an executive with a busy to-do list is the on-call guy for tiny stray kittens. But Tom Christal is the savior of dumped cats that nobody wants. He's also vice president of the board of trustees for the Brackenridge Park Conservancy.
How did the roles of cat savior and V.P. come together? Actually, for one simple reason: Brackenridge Park is a hotspot for cat dumping. "It's far too difficult to surrender an animal and far too easy to dump it," said Christal. He refers to the city's full pet shelters and the long, long lines of San Antonians coming to surrender animals as discouraging many who have unwanted pets.
Many have taken to dumping unwanted cats at the park. They are known to push bewildered kittens from cars and carriers, jump in their vehicles and speed off, leaving the felines to fend for themselves.
Cats then will bond into colonies, which subsequently become small neighborhoods inside of the park. Christal helps to oversee the park and therefore has become the one to set up watering and feeding stations and even monitor their health. But when he took on the job of working with the conservancy, he didn't know it came with a title of Cat Keeper or the time it would require to give the "residents" proper attention. "I'm a business guy, and though I grew up with animals, what do I know about the animal situation?" he asked.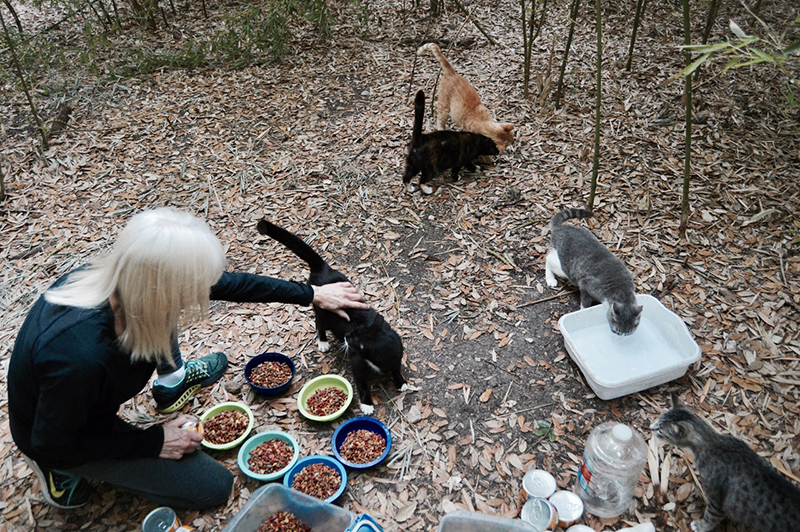 He's learning a lot, even consulting with experts on the care and management of feral cat colonies. He was told there are always going to be feral cats at Brackenridge Park. Even if he shot them all or delivered them to a sanctuary, it wouldn't be long before the cats would be back.
This is predominantly due to neighborhoods surrounding the park that have their own colonies, meaning the Brack Cats will stay where they are.
"Mahncke Park and River Road are big time with feral cats," said Christal. "So even if you take these cats out, they are just going to come back in. But if you keep a stable population inside of the park, they will keep the other cats out."
Animal Care Services did extensive research on the cat colonies and created a heat map showing where the furry felines live in the park. Some are under bushes, some under trees. The ground zero of this little cat country is at the Japanese Tea Garden.
However, the situation is more complicated than just managing unwanted cat colonies. The cats cause environmental concerns. The conservancy exists to manage the park's growth. It protects the park and its wildlife, especially as the park undergoes renovations and expansions and is continually cultivated to greet newcomers moving to San Antonio.
Cats are NOT a natural part of the flora and fauna. But Christal says he cares for them because they have no place else to go. "There are environmental issues. Brackenridge Park is an environmentally sensitive area," he said. But neither is the park a good place for the cats. Some starve, thirst for clean water or die from illness and disease, and some are victims of people, specifically occultists.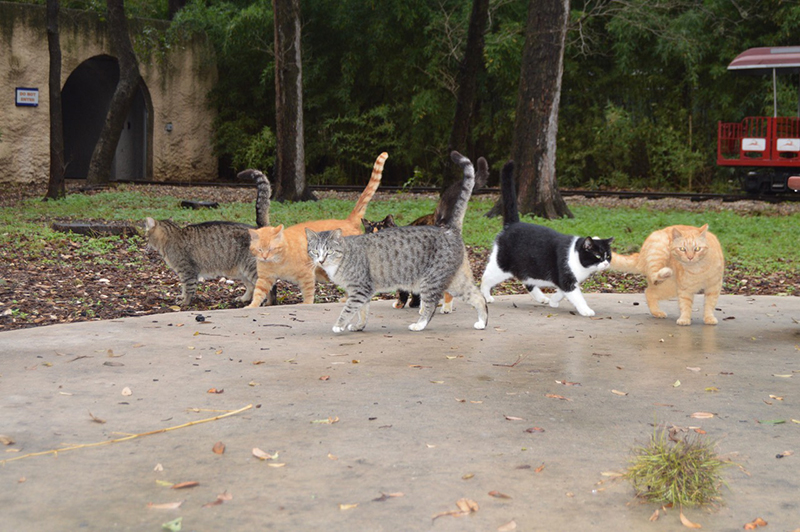 That's why the Brackenridge Park Conservancy has established the Brackenridge Park Community Cat Program, which is now seeking volunteers to join a small, dedicated group that brings fresh water and food to the cats.
All you have to do is put on jeans and a pair of sturdy boots and show a willingness to spend an hour or two bringing some water and kitty vittles to the feeding stations. You will find the cats near train tracks and scattered around the park. Each cat has been given a name, and most are friendly. The BPC also supplies mosquito repellent, neon-colored vests and other supplies to equip volunteers.
If you think this is too much, then just think about Christal. He's been called to parking lots to rescue an abandoned kitten when he was about to jet off to Carmel.
Christal says he gives much of his time to finding homes for the cats. "Generally, when people see my number on their phone, they don't answer," he says. They're worried that he will try to place a cat in their home.
But that doesn't frighten him. He and his wife have even built a large cat enclosure hugging the back of their home to help the cats. One does what one needs to for social responsibility.
Woof, woof! – Roxie
By Berit Mason