The Ormes Are Parrot Parents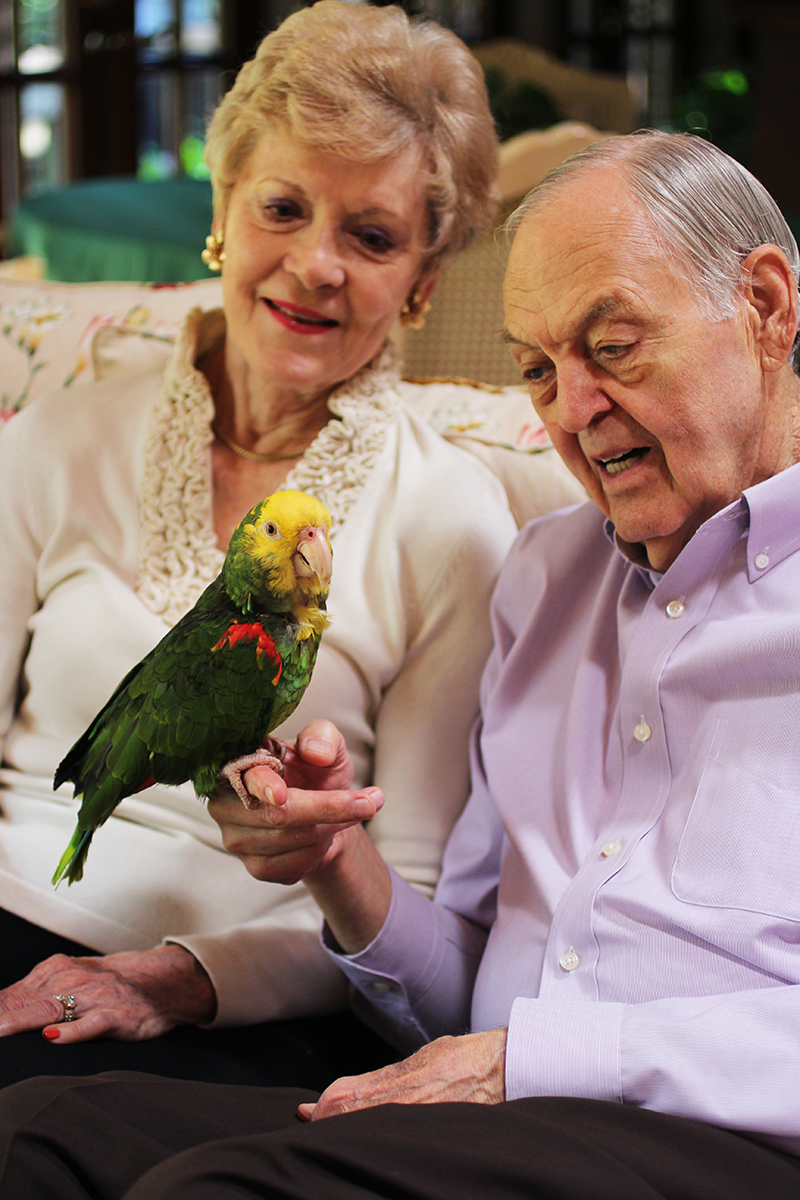 Doggone it, do all of our pets in greater '09 always have to be four-legged, furry, flea-prone, and at least during puppy/kitten-hood, frisky as well? Are there no animalistic alternatives? What's up with this?
Well, for one Terrell Hills couple, "up" is literally "where it's at" when considering their choice for non-human companionship, and after the formalization of an avian adoption (33 years ago – wow!), it's been high old times ever since. For long-term residents Pat and Keith Orme, the 1984 inclusion of a beautiful, intelligent and much-loved parrot into the household has proven to be a soaring experience blessed with regular flights of fancy that continually provide additional entertainment and excitement to their otherwise traditional 78209 lives. Yep, for the Ormes, as the vintage rock tune intones, the "bird" is the word, and that's a hoot!
The fabulous fowl in question is no less than an extraordinarily hued double yellow-headed Amazonian replete with feathers in vibrant greens and reds with ample amounts of bright yellow adorning its crown. Couple its coloration with a distinct and loving personality, cast-iron constitution, 50-plus-year lifespan and an eerie ability to vocally mimic, and all in all, it makes for a pretty awesome package that surprisingly goes by the somewhat modest moniker of Squeak. As the Ormes have to admit, "Our flapping friend seems to actually realize how special he really is when compared to the rank-and-file pet, but even if he is a bit conceited, that's just one more reason why we adore him so."
Maintaining Squeak for more than three decades has become pretty routine in many ways but does require an ongoing attention to detail. As Pat attests, "Squeak isn't particularly demanding, but throughout the day, we ensure that his cage stays clean, his food is fresh, varied and nutritious (he's omnivorous), he gets lots of physical and mental stimulation and, of course, love." And based on his outstanding condition, this formula has been working well for a long, long time. So can anyone adopt a parrot? Keith is quick to add, "Of course, but you've got to give as much as you get, and that's a lot. However, it's supremely worth it!"
Regarding the acquisition, Squeak was born to a registered breeder right here in 78209. Keith took possession when the recent hatchling barely had any feathers. For six weeks, the youngster was spoon-fed baby cereal and fruit twice a day before being able to finally dine on his own. Such devotion is required to ensure a healthy start as well as to foster the essential bonding process.
Character-wise, Squeak is truly remarkable. He's good-natured, smart, curious, and he likes company – especially the ladies. And since he is allowed flying privileges throughout the house (outdoors is a no-no), he gets plenty of opportunity to mix and mingle with Pat, Keith and any and all guests present. He's very popular at their social events – especially since he's "toilet-trained!" Squeak only "goes" in a few authorized locations, so your shoulder, should he park there, will remain unsullied.
And since he's a parrot, after all, can he talk? You betcha. Squeak has a range of phrases and sounds that he's mastered over the years – "Night, night darling" and "My name is Squeak Orme," to name but a few. He even learned to imitate the security alarm's "beep," which initially caused some distress before this additional talent was discovered.
In closing, parrot ownership may not be for everyone, but if you're the right '09er and feel the feathered urge, prepare yourself for the joys, camaraderie and commitment that having such a wondrous and wise creature entails. And just imagine, no barking. Yep, the bird is the word!
By Ernie Altgelt