PUTTING ON THE DOG
'09 Pets and the holiday season
By Berit Mason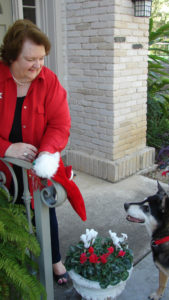 The idiots who tossed Bandit into a dumpster didn't know that the puppy was a purebred, an Australian Kelpie. Owner Maggie Houston says Bandit today enjoys a pampered existence, complete with his own Christmas stocking.
"When I put the word out that I needed a Christmas stocking for an Australian Kelpie, eventually one man told me he carried them at his shop," she explains. Houston also chauffeurs Bandit around to look at Christmas lights, which she says he thoroughly enjoys.
Lucretia Ingram Williams Nerio says that after losing her mother and her husband, comfort came from her daughter and a 2-ounce parakeet, Lady Brett: "She is all love, and she is so happy for me when I am feeling well and she starts chirping."
But a candy cane piñata for parakeets? Just Google "holiday gifts for parakeets."
The piñata allows birds to forage, chew and shred to retrieve the snacks and treats inside.
Enter Wag More dog store at Sunset Ridge, and an elderly black Labrador will greet you. Owner Tina Kukyendall says the shop pup ate rocks to survive homelessness.
Today, Buster follows Kuykendall as she shows customers Christmas gifts for dogs like Hook 'em Horns jerseys, cowboy hats and neck ruffs. And dresses for dogs! "We also have all kinds of toys as stocking stuffers or for putting under the tree," she says.
Fifi and Fido boutique owner Diana Farrar dedicates a holiday shop window to blue and white. "There are a lot of Jewish families in the district, and Hanukkah is also part of the holidays," she says.
Busy airline staff is what San Antonio International Airport travelers expect.
What they don't expect is Harley, a friendly black Airedale-Poodle mix. Owner Suzanne Powell and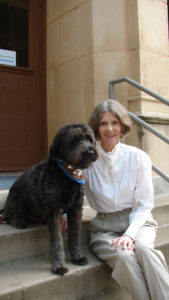 her therapy dog are members of the Pups and Planes program.
"I walk up to a line of passengers and ask if anyone needs a 'dog fix,'" she says. "After Harley interacts with them and we walk away, people are talking about their dogs with smiles on their faces. It's the best Christmas we could ever have."
And you'd think the pets residing in the finest '09 houses lap up smoked salmon, roast turkey and filet mignon at Christmas. But it's nine scrawny feral cats who feast at the San Antonio Country Club. Security chief Gary Ryno is the "Cat Master" in charge of the club's feral cats. They live on the grounds, keeping the greens free of rodents.