The routine drabness that accompanies being stuck in an office week in, week out means by summer time you're ready to pack your bags and go on vacation!
And it's the same with animals. They get bored and lonesome and irritable when cooped up. So instead of kenneling your pet this summer, here's advice from pet sitters who can offer Fluffy and Fido a real vacation.
For some 30 years, former WOAI 1200 AM managing editor Michael Main would arrive at his newsroom cubby hole at 1:30 a.m. to write up fires, scan newswires and fix reporters' copy. After retiring, he took up pet sitting and dog walking, which he says keeps him almost as busy.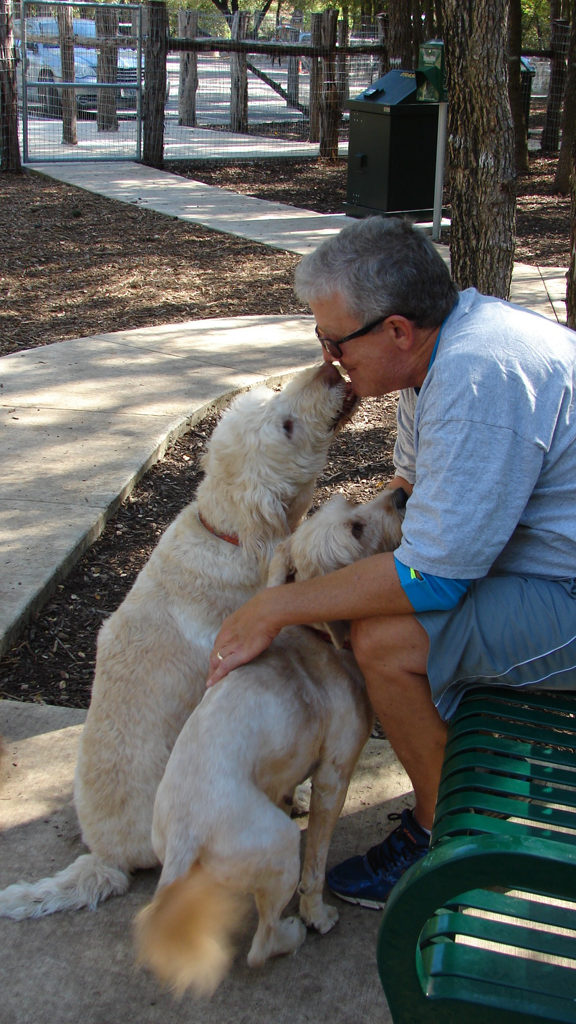 "The best parts of the job are being around some really cool dogs," he says. "It's a lot like fostering or adopting, except you know these dogs have good, caring homes and you can give them back. Sort of like grandkids."
He cautions pet owners to sleuth for clues and ask lots of questions before hiring a pet sitter.
"Knowing that a pet sitter is reliable is tricky. With Rover.com and other similar sites, clients leave reviews, which is a great place to start, but even those can be misleading. I dropped two sitters for my dogs when I realized their profiles didn't show that they were taking in a bunch of dogs … they both had great reviews," he says.
"First off, meet with the sitter and any dogs they are going to have in the house at the same time," he advises. "Find out if they take in dogs from different clients at the same time — for the most part, I don't do this unless I know the dogs real well and all clients agree. Find out if they have small children in the house. Ask questions: 'Do you have a well-fenced yard? Will my dog be left alone? How do you handle food with multiple dogs?'"
As with any job applicant, Main seeks promptness and attention to detail from sitters.
"Four dogs in any house is probably as much as anyone can normally handle. I personally don't want to board my dogs with someone who's also running a full-fledged doggie day care with multiple dogs coming in for the day. If the potential sitter isn't very responsive to my texts or calls, they're off the list. If they don't send me regular updates (at least daily), they're off the list," he says.
The worst part of the job, naturally, is poop scooping. But Main loves dogs. Just check out his Facebook page with its pics of happy, slobbering pups. That's the kind of pet sitter Roxie wants!
Out in the country
Arrive at pet sitter Monique Wellesley's country home, where gentle deer graze in her front yard and a cool fountain splashes in her backyard, and you definitely want to spend your vacation here. Wellesley operates Good Life Pet Sitting and has spent most of her life helping strays.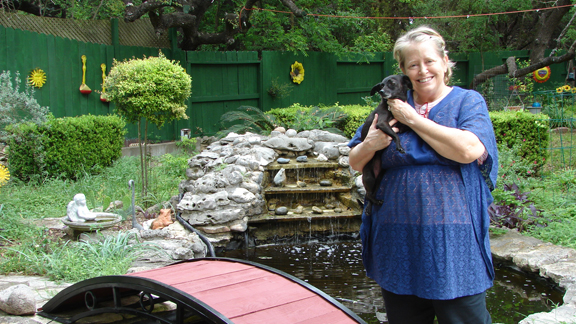 "I was about 15 when I got interested," she explains. "I am from Corpus Christi, and we've always had a pet overpopulation problem there. It's among the highest in the state in Nueces and Bexar Counties, with unwanted populations of dogs and cats." Her motto is: "No birth is the first step to no kill." And: "Don't breed or buy while pets die." She and her husband have spent a lot of money spaying and neutering other people's animals.
Pet lives improve as more owners hire pet sitters, even for the day, while they're at work.
"They're lonesome, destructive — they need interaction," she says of dogs and cats left home alone.
Alamo Heights Pet Clinic refers many customers to her. "I have one Alamo Heights client who goes to Italy, and sometimes we just stay at her house," she says.
Wellesley says it's not overreach to do a background check on sitters, to ask if they are bonded and insured. She also accepts hospice patients because, she says, "they need the comfort of knowing someone is there." She volunteers with the San Antonio Feral Cat Coalition and the TNR program —Trap, Neuter, Return — to reduce cat overpopulation.
So if you find a good sitter and your dog comes home wagging his tail, clean and in good humor, then it was no doubt the right thing to do.
Until next month! Woof, woof! – Roxie

By Berit Mason