Restaurant News
El Maracumbe at 1518 Austin Highway, a Tex-Mex fave since 1978, has shut its doors. Luke, sitting above the River Walk, closed its doors, too, at the end of February.Bexar Pub, the new burger and fried chicken joint from the team behind Folc Restaurant, has opened at 114 Brooklyn Ave. (Check on food availability before you head over.) Fairview on N. St. Mary's near Brackenridge Park has closed.
Texas country star Pat Green is opening a bar and restaurant this summer at The Rim; The Rustic will offer Texas-inspired menu items, 40 Texas beers on draft and nightly live music. Keep your eyes peeled for a week's worth of opening celebrations. Zócalo at 175 E. Houston St. No. 115 serves Mexican recipes using fresh authentic ingredients. Build your own burritos, grab-n-go sandwiches, or place an order to go for caldo. Catering is available also.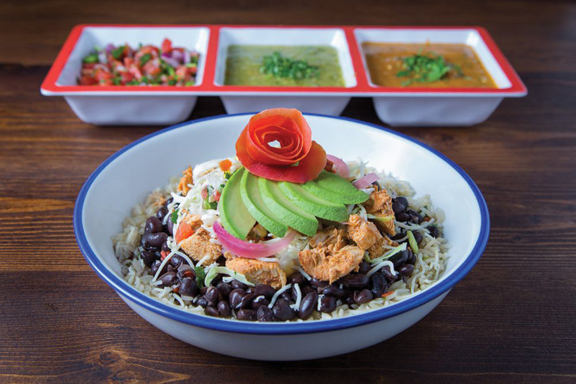 Atlas Mediterranean Grill is settling in at 6828 San Pedro Ave., serving baba ghanoush, beef, lamb or chicken tikka plates over rice and baklava along with other Mediterranean specialties.
Battalion, the new Italian restaurant from the team behind Feast and Rebelle, has opened in the renovated Fire Station No. 7 at 604 South Alamo St. Check out 10 pastas for $10 each or coffee roasted especially for the restaurant by Rosella Coffee. Sarita's Mexican Restaurant held a grand opening on March 1 at its second location, 8224 Fredericksburg Road. NOLA Brunch & Beignets has opened in Tobin Hill at 111 Kings Court. Look for the turquoise bungalow and give the fried oyster salad or the praline bacon a try. Happy eating to all!
Salsa Dancing at Jazz, TX
The Pearl's newest upscale music venue, Jazz,TX, announces a partnership with Semeneya, San Antonio's No. 1 studio for Latin and salsa dancing, to host salsa lessons and provide a special drink menu to all guests.
Every Saturday from 1-4 p.m., Semeneya will teach guests different styles of salsa dancing. Each hour will feature a lesson, followed by a social free-style salsa dance with live music on the dance floor. Students of all levels are welcome to join the fun and learn new dancing skills. Each salsa session costs $12 per person, and tickets can be purchased at the door. Lessons at 1 and 2 p.m. will be followed by a salsa social from 3 to 4 p.m.
Along with the lesson, Jazz, TX will feature drink specials including a Jazz, TX-infused bloody mary, a Jazz, TX-style michelada, fresh fruit mimosa, the cha cha  (blanco tequila, fresh lime, Mexican cola and crushed ice), an Aperol refresher, and la isla Hernandez (black strap rum, blanco rum, gin, Cointreau, fresh lemon, simple syrup and Mexican cola).
What's New at NIOSA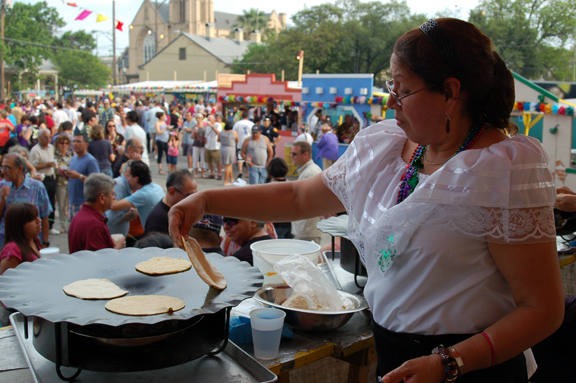 "A Night In Old San Antonio"® (NIOSA®) will be held April 25-28 from 5:30 to 10:30 p.m. at La Villita. These new foods will join perennial favorites: Mangonadas (Frontier Town); Jamaican Jerk Chicken Wings (International Walkway); Fried Dill Dippers and Chicken & Waffles on a Stick (Main Street), new craft beers and a new NIOSA medal. Paperless entry is also new. Visit www.niosa.org — and remember: NIOSA benefits the SA Conservation Society, so every penny spent preserves our city's cultural heritage.
The Rose Bush
Close to St. Mary's Strip at 2301 San Pedro Ave. is The Rose Bush, food truck dining at its finest with indoor and patio seating, wine-friendly and BYOB. Great food, comfortable seating, family and pet-friendly, nicely lit, awesome music — what's missing? YOU; get over here and try it out. Check for times and other details at 210-621-8908, or find the food truck schedules on Facebook.
Valero Texas Open
It's time once again for the annual Valero Texas Open, April 17-23. Some 156 of the world's top professionals will take on the AT&T Oaks Course at TPC San Antonio and compete for their share of the $6.2 million purse. Besides golf, there are other offerings such as a children's golf clinic, a Night to Honor our Heroes, and an executive women's day. If you're into golf and stargazing, this is the place. Volunteers are needed, so sign up early. Last year's tournament raised $10.5 million for charity, totaling $116 million in total funds raised. Tickets, events and tournament information can be found at www.valerotexasopen.com.