Several media are hailing San Antonio as the place to be. Our city is getting the street cred it deserves as we continue to populate our avenues with creative eateries, craft beer, festivals, unique hotels and displays of art and culture. Check out the new happenings in and around the Alamo city in this Outside '09.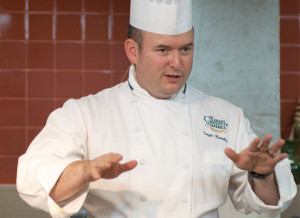 What's for Dinner?
Join The Culinary Institute of America's director of Latin studies, Sergio Remolina, and his students for an exclusive opportunity to dine in the CIA's authentic Latin Cuisines kitchen, where you will be surrounded by the sights and smells of ingredients indigenous to Latin America. In the intimate setting of the students' teaching kitchen, you and just 15 others will share a communal table and have the opportunity to see how the dishes are prepared for you while also interacting directly with the students and chef Remolina. The date is Thursday, April 14, for food from the South Cone (Uruguay, Argentina and Chile). Price is $65 per person prepaid and includes wine and beverage pairings. Each pop-up dinner begins at 6:30 p.m. Reservations can be made at www.centerforfoodsoftheamericas.org/education/latin-pop-up-dinners/.
15th Annual Night of Artists Art Sale and Exhibition
A weekend showcasing the works of over 70 of the country's top Western artists is coming to the Briscoe Museum: April 1 – artists' awards and preview reception; April 2 — art sale and dinner; April 3 – public art exhibition opens. Enjoy cocktails, food, live entertainment and a chance to mix and mingle with artists and collectors alike. The public art exhibition is free with museum admission and runs through May 15. More details can be found at www.briscoemuseum.org/night-of-artists.
Grayze
Grayze at 521 E. Grayson St. is a hip and affordable gathering spot that offers a modern take on classic dishes at affordable prices. Owned and operated by Center Cut Concepts, Grayze features a chef-driven menu and craft cocktail bar of recognizable and approachable favorites. Centrally located in Government Hill on East Grayson Street and minutes from downtown and the Pearl Brewery, Grayze strives to provide exceptional fare and friendly service in a casual and laid-back atmosphere. And Grayze is serving breakfast tacos to go every Monday through Friday from 7 – 10 a.m. Guests can choose from a variety of tacos, including one that features barbacoa, egg, cilantro, salsa verde and onion – yum! Or opt for something a bit healthier and try their egg white taco with sautéed mushrooms, braised kale and a roasted tomato salsa. You really can't go wrong. This grab-and-go style is perfectly suited for those with busy schedules or who want to relax and enjoy dining on their front patio. So next time you are in the neighborhood, stop for tacos to go. Sunday brunch is available too. Guests can choose from Captain Crunch Berry French Toast, Smoked Brisket Hash, Poblano Mac and Cheese or Barbacoa Benedict, to name a few. Their selection of fresh ingredients paired with a casual atmosphere makes it the perfect Sunday brunch spot. Enjoy your meal in their dining room or out on the patio on a cool spring day.
Maverick Music Festival
The fourth annual Maverick Music Festival announces the second round of bands to be added to the festival, including The Reverend Horton Heat, Bright Light Social Hour, Young Fathers, Wild Child and Mother Falcon. These artists will perform on the main stage along with already announced headliners The Flaming Lips, Public Enemy, The Drums and The Church. The Maverick Music Festival brings a first-rate lineup of regional, national and international acts to the heart of San Antonio on April 8 and 9. The two-day festival will be held at La Villita Historic Arts Village in downtown San Antonio. The self-proclaimed King of Tex-Mex rock and roll, Joe King Carrasco, will also be performing, ensuring that April 8 and 9 will be a "party weekend" in downtown San Antonio. For more information visit www.maverickmusicfestival.com. And for regular festival Maverick Music Fest updates, check out Twitter @MaverickFestTX.
Savoureux Patisserie
This new patisserie, which opened a few weeks before Valentine's Day, is serving sweets for the sweet: cakes, cupcakes, croissants, cookies, macaroons, smoothies, coffee and more. Make sure to ask for a punch card, because this is one place your sweet tooth will be craving to come back to time and again. It's conveniently located at 602 NW. Loop 410, Ste. 126, across from Alamo Drafthouse North. Call 210-348-0888 for special orders, or grab a sandwich or treat after the movie. Savoureux (sa-vo-ru) in French means tasty, and I am sure you will agree.
Alchemy Dining
Alchemy, at 123 North Flores, features a menu using the finest ingredients sourced from local Texas farmers. Alchemy is proud to be the official tap room for Element Kombucha, brewed at Alchemy. Learn more about Element at ElementKombucha.com. Private events can be custom-tailored to your specifications, and take advantage of the happy hour specials. You might want to serve Loncito's lamb shank, eggs in purgatory or a grass-fed burger and wash it down with a Milk Oolong. Closed on Mondays and Tuesdays. Call 210-320-1168 or visit www.alchemysanantonio.com for details.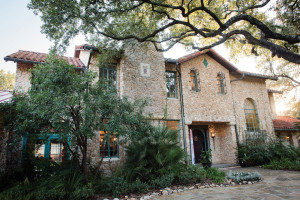 Summer Shindigs Popping Up At The Veranda
Celebrated San Antonio chef Michael Bomberg plans to put some sizzle into summer with a series of pop-up parties at the Veranda, a 1920's mansion once owned by the founders of The Slimp Oil Company. Situated on a rise in the heart of Castle Hills, the stately manse – once known as "The Castle" – is where Castle Hills derived its name. Savory summer edibles and ice-cold libations will entice guests to dine alfresco for the first Once In A Blue Moon Supper, to be held on Saturday, May 21, under a full moon. The repast will feature four courses executed by chef Bomberg paired with seasonal craft beers. Cost is $75 per person and is limited to 100 guests. Bring out the blankets and lawn chairs on Tuesday, June 22, beginning at dusk for the Veranda's Full Moon Movie Nite featuring the classic Disney movie, The Moonspinners. A waxing moon will illuminate the grounds as chef Bomberg grills hot dogs to perfection. A movie-time candy bar, hot buttered popcorn and ice-cold drinks for both children and adults will also be available for purchase. Admission is free. No food, ice chests or beverages may be brought onto the grounds. The Veranda is located at 1746 Lockhill Selma Road. For more information and a list of all of The Veranda's summer series pop- up parties call 210-366-1220 or go to www.theverandasa.com.
Vintage Goes On Display
House to Home Artisan & Vintage Market will take place on May 7, 10am-4pm, at 2015 NE Loop 410 (at Los Patios), San Antonio 78217. Juried artists, artisans, jewelry designers, food vendors and antiques dealers will show and sell their wares on the beautiful wooded grounds of Los Patios on the banks of Salado Creek. Food and beverages will be available. Admission and parking are free. Call 210-280-8451 for details.
Edera Osteria – Enoteca
A new Italian restaurant has opened, owned by state Rep. Roland Gutierrez, his wife, Sarah, and former Osteria Il Sogno manager Cesar Amadore, along with newly acquired Chris Carlson, former chef and partner at Brigid. Edera, which is Italian for ivy, located at 1903 San Pedro, (former home of the Rose Shop), just north of downtown, is serving a menu featuring Italian specialties, including house-made burrata, osso bucco and egg dishes served with Spanish ingredients during Sunday brunch as well as crepes, frittatas and omelets. Mediterranean, Spanish and Italian influences imbue the flavors, along with the freshest ingredients. The cava is stocked with the finest wines of the world. Go to www.ederaosteria.com for hours and specials and great reviews!
By Leslie Foley