San Antonio Town Club's Fiesta Party
Event planners and hosts Rob Marshall, David Hildebrand, Rob Finney, and Dan Mullins planned the annual Fiesta Town Party at the Tobin with entertainment by Mothership, a Led Zeppelin feature band that performs classic rock favorites.  There were dressed up gals handing out tequila shots and Jell-O shots from their fancy trays, stilt walkers in big demand for selfies, a photo booth provided vintage black and white photos, and a mac and cheese bar.
A few partiers included: Bonnie Giddens, Holly Turner,Kim and Trey Azar, Shelby Coleman,Anna-Laura Howell and Michael Block, Amanda Ternan, Jill and George Vassar, Jimmie and Harry Balling, Jessica and Ryan Berg, Tracee and J.J. Feik, Kathryn and Ed Howie, Cynthia Kerby, Nancy and John Woodall, Courtney and Chris Schultz, Kori Williams, Sharon Adelman, Renee Wright, and Raymond and Debi Flume.
The Town Club Fiesta Party is the most popular Town Club event of the year.  Throughout the year, other parties hosted for members include a Summer Party, Christmas Happy Hour, a New Member Luncheon for husbands and wives, and a men's skeet shoot, but the Fiesta event allows members to invite guests.  The Town Club Fiesta Party takes place every year on the Tuesday of Fiesta.
Make It Your Mission Celebration 
Celebrating Mission Heritage Partners' 35th anniversary of working with the National Park, this evening event took place at Mission San José in early April before the Fiesta frenzy. Established in 1984, Mission Heritage Partners is the official friend group to the San Antonio Missions National Historical Park. The group has raised more than$4.25 million for special projects at the historical sites. The celebration kicked off with music by USAA Jazz Combo and Mariachi Campañas de America, followed by a Spanish Colonial dinner under the starlight sky.
Attendees Maryanne and Tom Guido, Kathleen and Curtis Gunn, Rita Feik, Jimmie and Harry Balling, Theresa and Fred McComas, and Libba Barnes were encouraged to purchase hand-punched tin star centerpieces, bid high at the auction and donate to the Centennial Challenge Grant Match. Gala chair Brook Rosser(who was ill and didn't make the event) along with husband Steves Rosser and chairman of the board Allison Elder planned a beautiful event with live auction items including a magnificent Mission Party at San José for 100 guests, a party for 150 guests at Seersucker Distillery and Tasting Room, and a quail and chukar hunt for 4 hunters in Freer, Texas. Other committee members providing auction items and securing donations and sponsors included Leslie Kuhn, Felicia and Tom Baldwin, Nancy Avellar, Heather and Jeff de Rojas, Peggy and Freddie Cervera, Catherine and Joe Taylor, Debbie Margozewitz, Steve Elder, Pamela and Henry Bain, Geoff Crabtree, Traci and Bill Hunter, Terry Gay Puckett and Les Sachanowicz.
Camp Broadway 
Broadway's original summer camp will shine its spotlight at the Charline McCombs Empire Theatre Monday, August 5 thru Friday, August 9. In partnership with Las Casas Foundation, it is the only dramatic camp in San Antonio that immerses young aspiring artists in a week of theatrical training and rehearsals with professional actors from Los Angeles and New York.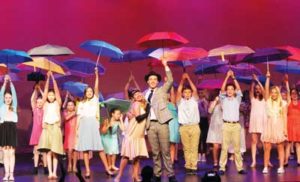 Open to all skill levels, Camp Broadway is a five-day summer camp from 9 a.m. to 5 p.m., designed to immerse children ages 10 to 17 in an authentic Broadway rehearsal process. No previous theatre experience is necessary to enroll in the camp.  After a week of training, the program culminates in a special on-stage performance for family and friends with professional actors at the Charline McCombs Empire Theatre. The Mainstage package includes 5 days (40 hours) of instruction and activities including intensives in singing, acting, and dancing taught by Broadway professionals, t-shirts, headshots, a keepsake playbill and more.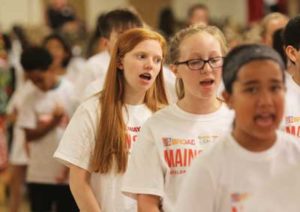 Hurry to reserve your child's place in the spotlight, as registration is limited. Registration is available online at www.campbroadway.com.
The Briscoe's National Day of the Cowboy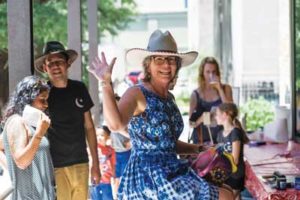 The Briscoe Western Art Museum invites everyone to their celebration honoring the legacy of the cowboy on July 27, from noon til 4 pm. This family-friendly event was inspired by the Museum's new Summer exhibit Into The West. The event will include live music by the Barditch Hippies, cowboy character actors, roping and branding skills, cowboy crafts and even a Briscoe jail where event-goers can send friends and then bail them out with cash donations that benefit the Briscoe Western Museum.
By Leslie Foley