FIESTA FINALE
[ezcol_1half]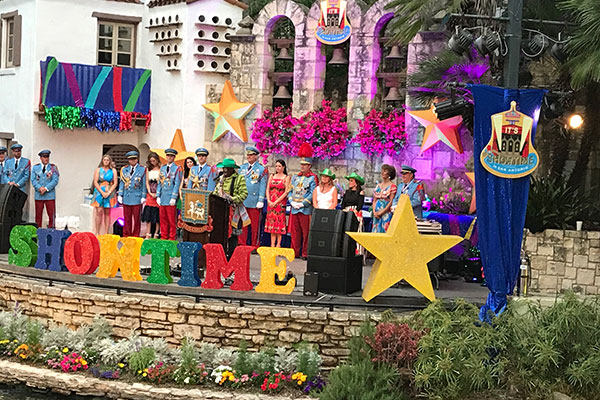 [/ezcol_1half] [ezcol_1half_end]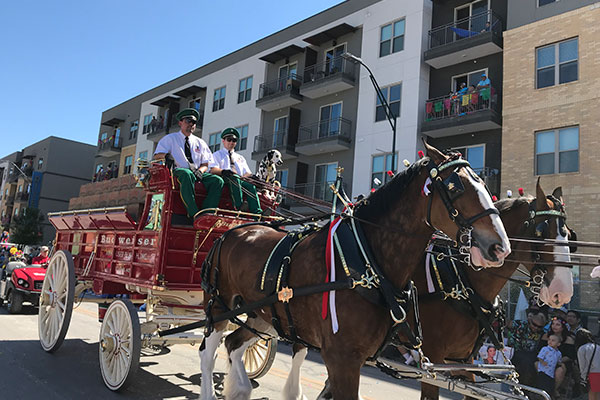 [/ezcol_1half_end]
Whew, another year of Fiesta, and what a doozey! In case you were temporarily knocked out by a cascarón, or blinded by a Fiesta medal, here is the rundown of Fiesta Royalty: La Reina Linda, Denise Smith-Schlaudt, Fiesta Teen Queen, Kyndal Keller; Charro Queen, Victoria Rodriquez; Battle of Flowers president Anna-Laura Block; King Antonio XCVII Roger C. Hill, III; Rey Feo LXXI, Dr. Salvatore Barbaro, III; Miss Fiesta San Antonio, Victoria Gonzalez; Queen of Soul, Rayleen Brown; Reina de la Feria de las Flores, Montana Rowton-Kiolbassa; Miss San Antonio, Rebecca Mendoza; President of the San Antonio Fiesta Commission, Byron LeFlore, Jr., and the coolest Fiesta poster by Nik Soupé and David "Shek" Vega AKA Los Otros.
And let's not forget Happy Happy Hazel, El Rey Fido, XVII; Michael Quintanilla-parade judge, event emcee and chapeaux designer extraordinaire, Tencha La Jefa-WEBB party's drag queen legend and Ada Vox-WEBB party headliner; Tawana Timberlake-boot designer and parade judge, and winner of the glitz and glam best hat category for her Cher meets My Fair Lady ensemble at the Women's Club Fiesta Hat Contest and Luncheon… The Fiesta King's Cup Polo Party catered by Chef Brian West, And over at an almost washed out Taste of the Northside, the sun came out at the last moment and it turned out to be a beautiful night, and speaking of beautiful… Marshall T. Steves III, President of The Order of the Alamo, crowned Claudia Leudemann Kiolbassa, Queen of the Court of America the Beautiful. Mistress of the Robes Elizabeth Roberts brought beauty to the stage. A few words that come to mind…stunning, breathtaking, impressive, and magnificent. The colors were spectacular!
Reina de la Feria de las Flores Montana Rowton Kiolbassa

Rey Feo LXXI Dr Salvatore Barbaro III and his wife Jennifer Gabriel Barbaro

Michael Quintanilla and Naushina Mukhtar
Did you, along with 500,000 others, see Pat Green as Grand Marshall of the Battle of Flowers Parade, and by chance did you get down and do the twist with Chubby Checker, Fiesta Flambeau's Grand Marshall? Beautiful weather held for the 35,000 plus crowd attending the King William Fair, and thousands of high school band members rocked the Battle of Flowers Band Festival. And let's not forget our four-legged friends frolicking in the Fiesta Pooch Parade. With so much to do and so many choices during Fiesta, it can sometimes be hard to cover it all, but rest assured, everyone had fun. A big thanks to all the volunteers, Fiesta Commission officers, and staff for a Fiesta well done!
Whoopie Ti Yi Yo!
Dru Van Steenberg And Nancy Avellar

Honoree Chris Carson FAIA
Villa Finale Museum & Gardens celebrated and honored Chris Carson, FAIA, with the 2019 Recipient of the Walter Nold Mathis Preservation Award. Guests in their western attire dined on upscale Texas cuisine food stations by Don Strange of Texas and musical entertainment was provided by The Rick Cavender Band. The evening was inspired by the art of Mary Bonner.
Sponsors and guests included Eugene Simor with ALAMO BEER, William A. Dupont, FAIA, San Antonio Conservation Society executive director Vincent L. Michael, Ph.D., H-E-B, Steves & Sons, Inc., Dru Van Steenberg, Nancy Avellar, Jessie and Richard Kardys, Marline and Clint Lawson, John Newman, Leland Stone, Susan Hall, Conrad J. Netting, IV, Kathy and Lionel Sosa, Jill Torbert, Ann McGlone, board chair Michael Guarino, event chair Robert Brown and executive director Jane Lewis.
THE 28TH ANNUAL LUNCHEON
Stephanie Shelton UT Health San Antonio president and event moderator William L Henrich M D MACP mistress of ceremonies Leslie Mouton Copy
SA Cancer Council recognized and thanked the SA Cancer Council past presidents (32) during its annual Spring Luncheon, while also celebrating 35 years. KSAT12 Anchor and 19 year cancer survivor Leslie Mouton welcomed guests and Reverend Irv Cutter, Rector of St. Luke's Episcopal Church, gave the invocation. SA Cancer Council president Cheryl Wright recognized Elizabeth Conklyn and Ginny Peacock with Distinguished Service Awards to recognize their outstanding dedication to the organization. Director, Mays Cancer Center, Ruben Mesa, M.D. FACP, followed with special remarks.
James B. Milliken, chancellor of the University of Texas System, was the featured speaker. He was interviewed during a Q-and-A session by Dr. William Henrich, president of UT Health San Antonio. This year's theme, Honoring the Past & Celebrating the Future commemorated the SA Cancer Council's 35th anniversary.
Sheri Ortiz pinned a purple rose on the lapel of the past presidents in attendance including Rose Marie Banack, Beverly Birnbaum, Mary Ballenger Brook, Lisa Howlett Cohick, Liz Conlyn (honoree), Rhonda Gurinsky, Karen Heintz, Laurie Kaplan, Nancy Kelley, Beverly Koehn, Diana Morehouse, and Andi Rodriguez.
Luncheon chair Ann Vineyard, and committee Beth Coyle, Beth Eby, Cheryl Wright, Heather Webb, Emily McMichael, Pamela Nelson, Judy Ezra, Judy Gilby, Tricia Schwennesen, Tesa Gonzalez, Angelica Ramirez, Jeanette Russell, Vicki Shapiro, and Agatha Wade put together a beautiful luncheon to raise funds for cutting-edge, cancer research and patient assistance at the Mays Cancer Center, home to UT Health San Antonio MD Anderson Center.
Supporters in attendance included Lynn Thompson, LeeAnn Kramer, Rudy Arispe, Shawne Zakaria, Gretchen Burkholder, Gloria Clingman, Susan and Jeff Edwards, Peggy and Taylor Eighmy, Mary Henrich, Randy Harig, Ann Ownby, Jimmy and Jane Satel, Alice Ball Strunk, Carolyn Tolar, Debbie Tolar, Barbara Tolar, Teri Wenglein, Mike Birnbaum, Don Cohick, Pat Krueger, Keri Moses, Marti Raba and Cathy Ritter.
JEFFERSON BANK BUILDING APPROVED
Courtesy/HKS Architects
The San Antonio Historic and Design Review Commission gave conceptual approval to Jefferson Bank's plans to build a multi-story building for its corporate headquarters on lower Broadway.
The bank wants to develop a 10-story, 180,000-square-foot commercial structure at 1900 Broadway with developer Milam Real Estate Capital as its partner.
Some space will be leased out to other tenants. Jefferson Bank's current main office is located on the Northeast Side.
Jefferson Bank's new corporate campus would be in a part of the Broadway corridor that is busy with redevelopment. Silver Ventures is nearby constructing a 10-story office building that will serve as a new headquarters for Credit Union.
GrayStreet Partners plan to develop a 20-story office building in the 1600 block of Broadway, a structure that is said to include an upscale W Hotel from Marriott.
GrayStreet has plans to convert a neighboring 23-acre tract, into a mixed-use retail and office development. Alamo Colleges is developing its new main offices in the same area.
By Leslie Foley