FIESTA PASSION, FIESTA FASHION
By the time you read this, Fiesta will be a fading memory…but this wasn't an official Fiesta event, this was an opening night exhibition in early April featuring the works of local designer Graciela Carrillo of Graciela's Creations and the magnificent, over-the-top Michael Quintanilla. Nearly 500 guests and Fiesta revelers were greeted with Mariachi performers and Grupo Folklorico de Bendiciones, as they viewed the installation inside the UTSA Institute of Texan Cultures. Fashionistas, friends and Fiesta fans included Bexar County Sheriff Javier Salazar, Judges Alfonso Alonso and Laura Salinas, San Antonio Bexar County Sheriff Javier Salazar and his wife Sarah Salazar, Virginia Van Cleave, Martha Tijerina, Dr. Yvonne Katz, Ellen Riojas Clark, Olivia M. Villa, Tawana Timberlake, Cindy Taylor, Lillian Villanueva, Duchess Annette Sanchez-Piñatas in the Barrio, Becky Reina, River Walk Duchess April Gomez, River Walk King John Nunez, Aquila Mendez-Valdez, Angela Zarnoti, Gloria De Hoyos, Diana Aguirre Martinez, Miguel Antonio DeHoyos, and Claire Golden, Michelle Newman, Nancy Fullerton, Blue Rose Alvarez and UTSA Institute of Texan Cultures senior communications specialist James Benavides.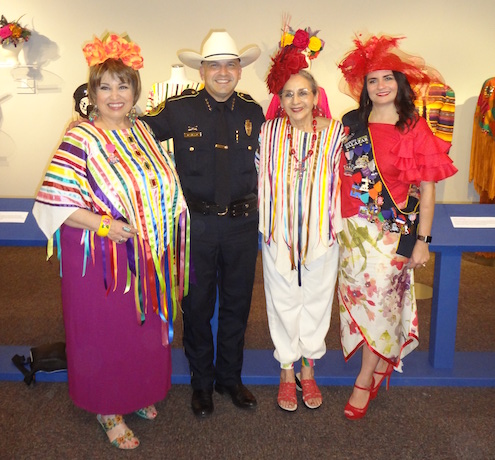 HAMILTON COMES TO MAJESTIC
The much-anticipated Hamilton will be playing at the Majestic Theatre on May 7-26th. An American Hip-Hop Musical is a sung-and-rapped through musical about the life of American Founding Father Alexander Hamilton, with music, lyrics, and book by Lin-Manuel Miranda, inspired by the 2004 biography Alexander Hamilton by historian Ron Chernow.
OLMOS PARK – PLANT THE PARK
Olmos Park was the setting of a beautification project, Plant the Park, on April 13. A year in-the-making, the project was shepherded by resident John LeFlore who forged a partnership with San Antonio Parks and Recreation to beautify the intersections of Contour Drive at Dick Friedrich Drive and Olmos Drive to make these more charming and welcoming gateways into the Olmos Park neighborhood.
Members of Olmos Park Youth Commission along with the Frank Peterson-led Boy Scout troop 809, founded 26 years ago by Olmos Park neighbor Jim O'Brien, turned out to help with the planting.
San Antonio Parks and Recreation donated 43 trees, dirt, mulch, tools, gloves and staff. Ross Hosea, Special Projects Manager of San Antonio's Urban Forestry Division gave a lesson about how to properly plant a tree.
After the trees were carefully planted into the ground, San Antonio weather provided a heavy dose of rain. The sun followed later to finish the job.
The city of San Antonio will maintain the plantings for three years and will host an annual event to assess their progress.  The plantings, which are labeled, include Anaqua, Crape Myrtle, Desert Willow, Dogwood, Eve's Necklace, Mexican Buckeye, Mexican Olive, Mountain Laurel, Possumhaw Holly, Redbud and Retama.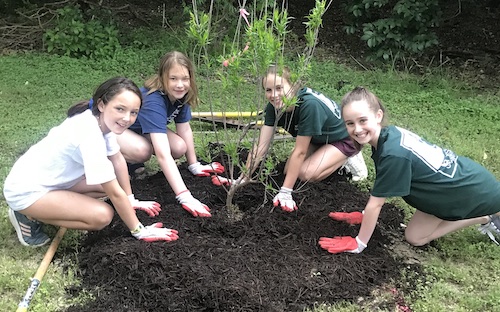 LADY BIRD TOUR
Class of 1977 Alamo Heights girlfriends had a great time walking the trails and enjoying lunch at the Lady Bird Johnson Wildflower Center during the bluebonnet frenzy. Friends from bottom row included: Cindy Craig Timmins, Rhonda Brannon Low, and Betsy Matthews Akins. Top row: Lynn Stanley Thompson, Mary Frances Churchill, and Alexine Smith Graves.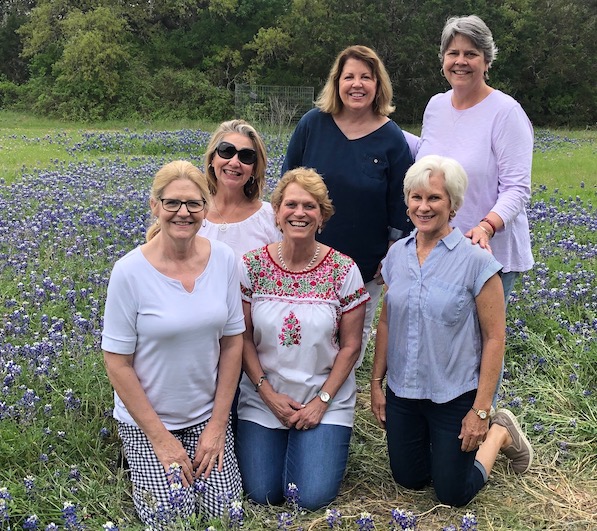 SYMPHONY BALL
The San Antonio Symphony League hosted the 49th Annual Symphony Ball: An Evening in the Gardens of Versailles, with the presentation of the 2019 Symphony Belles and escorts:
Elizabeth Allison and escort Benjamin Louis Fitch, Sadie Mae Bashara and escort Brady Reed Hunter, Berkley Behnke and escort Jaden Paul Martin, Ella Behnke and escort Hunter McLellan Campbell, Lauren Bellinger and escort Berni Gomez, Abigail Burk and escort Jackson Alexander Kiesle, Faith Christianson and escort Donald Cage Flannery, Hana Cole and escort Sean Spencer O'Neill, Chloe Collins and escort Benjamin James Chapman, Alexa Connolly and escort Parker Joseph Ambrose, Camille DeWees and escort Robert Christian Raney, Carly Fuhrmann and escort Christian Matthew Guerra, Lauren Gillespie and escort Connor Thomas Ding, Caroline Granados and escort Konner Drew Fox, Emily Heard and escort Daniel Christopher Offield, Madeleine Lee Hulse and escort Maki Augustus Carabin, Catherine Jacob and escort Patrick Miller Bowen, Mollie Kelleher and escort Patrick Thomas Brierty, Sarah McFarland and escort Robert James Ellwood, Michaela McTee and escort Benjamin Stuart Zeller, Caroline Medellin and escort Braedon William House, Madeline Miller and escort Evan Anthony Will, Rachel Miller and escort Emory Owen Scott, IV, Elizabeth Mueller and escort Jay Thomas Mulligan, Emily Noble and escort Brandon Maverick Rubsamen, Caroline Oliver and escort Reed Anderson, Renata Olson and escort Matthew Jacob Giddens, Julianna Rendon and escort Alexander Michael Jimenez, Erica Schmueckle and escort Douglas Ernest Karam, Lindsay Speck and escort Dylan Mackaid Charlton, Caroline Vassar and excort Cole Walker Thompson, Alexandra Vaughn and escort Frank Michael Wood III, Sydney Vaughn and escort Luis Medina Bordes, Samantha Ward and escort Jack Elliott Chapman, Jacquelyn Welsh and escort Brandt Adams Basso, Ava Wheeler and escort Zachary Alexander Story and Emily Zeller and escort Quin William Barry were recognized.
Ball chairs Rebecca and Keith Long and Belle chair Angelia Wagner along with emcee Mike Osterhage and Symphony League president Maureen Hillman welcomed sponsors, honorees, guests, families, and friends to the 49th annual ball. Following introductions, guests were treated to a performance by Youth Orchestras of San Antonio – An American in Paris-George Gershwin, followed by the Belles presentation, dinner and dancing to Finding Friday.
And other Symphony League volunteers included Cathy Siegel, Laura Soules, Renee Bailey, Debi Flume, Andrea Olson, David Kinder, Danny Cuellar, Paul Overstreet, Matson Multimedia and (2020 Ball Chairs) Heather and Jac Craig.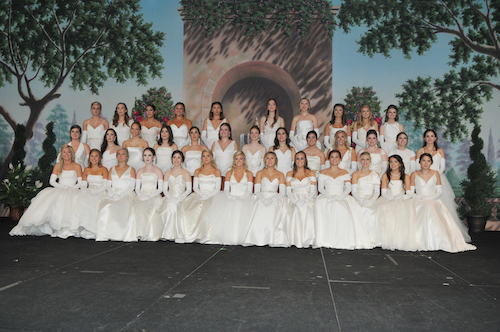 NEW BUSINESS OPENINGS NEARBY
Macy's Backstage
Macy's plans to open its third Backstage outlet store at the North Star Mall sometime in June. They have two other locations in San Antonio at the Rim and Ingram Park Mall.
LEGOLAND
Discovery Center LEGOLAND is a new indoor kids play space at the Shops at Rivercenter in downtown San Antonio. The entrance is on the street level next to Alamo Plaza. LEGOLAND has two rides where adults can ride with their children. There is also a classroom for LEGO building workshops and private rooms for birthday parties.
Mo's Irish Pub
Mo's Irish Pub, located in the Quarry, has happy hour from 3PM-6PM Monday through Friday.
They have live music every Thursday, Friday and Saturday night. They have a reasonably priced full menu with lunch specials, dinner and a kid's menu. Word on the street is that their Wisconsin Fried Cheese Curds are AMAZING!
Baklovah Bakery & Café
This new Turkish bakery and café is located in Southtown near Blue Star complex. They have an outdoor patio and are dog-friendly. Some of their specialties are their pizza, Gyro plates, Turkish delight and cannoli's.
Kilwins
Kilwins will be located downtown at 109 Alamo Plaza. They plan to open sometime this summer. They will serve hand crafted fudge, old-fashioned peanut brittle, caramel apples,
chocolate confections and over 40 flavors of their "original recipe" ice cream in a nostalgic setting.
By Leslie Foley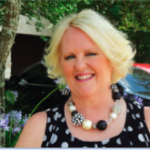 Leslie Foley, columnist for The Buzz and Outside 78209, was born and raised in Oklahoma, where she earned a public relations and journalism degree from Oklahoma State. She moved to Texas over 30 years ago and has made it her home ever since.  Aside from her work with 78209 Magazine, Leslie works full time with the Ronald McDonald House as their capital campaign coordinator. She enjoys the opportunity to stay connected to people, events and happenings across the city. In her free time, she likes spending time in her gardens, visiting with friends and family, photographing events, catching a Spurs game or simply relaxing by watching an old classic movie.